Best Western Plus Panama Zen Hotel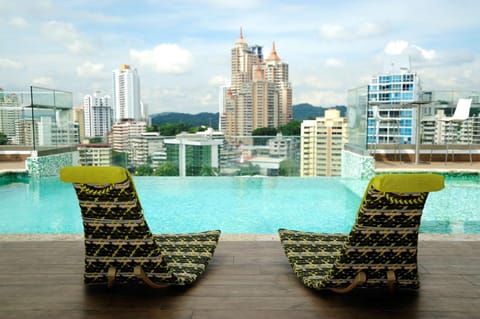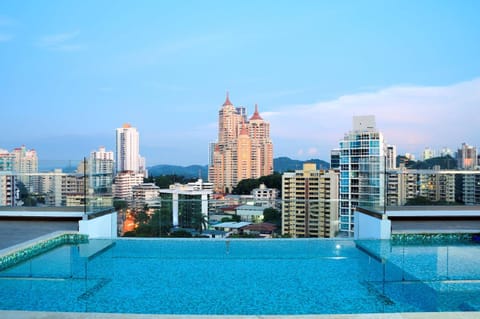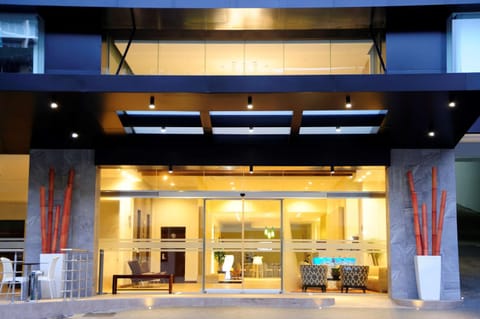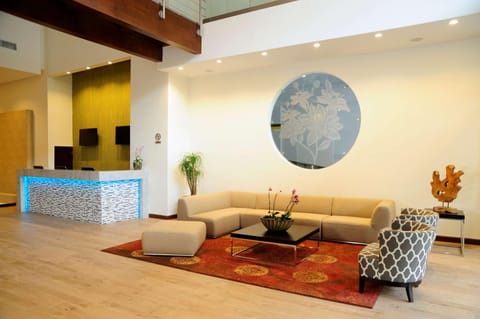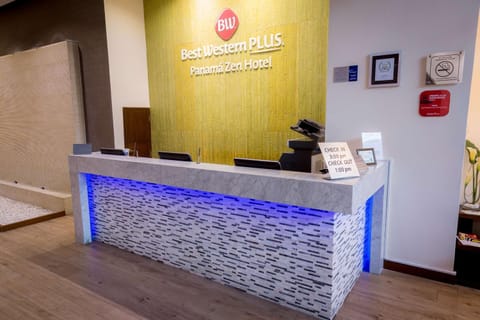 Hotel in Panama City, Panama
Pool
Klimaanlage
Küche/Kochnische
Eingebettet in Panama City, Panama, dieses attraktiv room in hotel für EUR 41 pro Nacht ist ein großartig Option für Ihr nächstes Pause. Das Best Western Plus Panama Zen Hotel erfreut sich einer privilegierten Lage in nur 8 Fahrminuten Entfernung von den Hauptverkehrsstraßen Avenida Balboa und Corredor Sur. Die Unterkunft bietet einen Infinity-Pool sowie eine Bar auf der Dachterrasse.
Pool
Klimaanlage
Küche/Kochnische
Internet/WLAN
Waschmaschine
Balkon/Terrasse
Fernseher
Rollstuhlgerecht
Fitnessraum/Fitnessstudio
Familienfreundlich
Karte von Panama City, 

Panama
100 % verifizierte Bewertungen
4.3 / 5

"Ausgezeichnet"

(1'720 Bewertungen)
Excellent staff!!!
Aug 2022
Rather uncomfortable bed/mattress.
We enjoyed a very pleasant 8-night stay at the Best Western Plus Zen Hotel. Our 11th floor room had a nice city view. Every staff member we encountered was friendly & provided exceptional service. The hotel was impeccably clean. Breakfast offered a number of choices, including fresh fruit and hot dishes. Easy walk to restaurants and Via Argentina. Will definitely stay here on our next visit to Panama City.
very nice staff and location
beds a bit too small to sleep two comfortably; smoke alert flashing
Great option with a view in a nice area of Panama City
Jan 2022
Very large, modern and beautiful hotel. Nice large room with nice view of the city. Nice area of Panama City too. Breakfast was very good, with a lot of options. Staff was kind and able to check me in early which I highly appreciated.
Gym equipment is a bit old.
No real major complaints. staff is very helpful
Jun 2021
They currently don't have breakfast. I think because of covid concerns, but everything was fine. The infinity pool is pretty amazing and they clean your room every day . They also have a gym and roof top sky bar. I would recommend. Many things like restaurants ,bars , and stores are within walking distance.
shower temperature could have been a little hotter but nothing to cry about.
The staff were very friendly and helpful
Excellent Location! Amazing Views! Comfortable and spacious rooms!
Sep 2022
The staff were extremely polite and friendly. I loved how roomy and comfortable the room was and the views from the window and the rooftop pool were stunning!! The cleaning staff did a fantastic job. I did not get a chance to try any of the food at the hotel restaurant as there are many other restaurants nearby with Latin America and Caribbean food options which I wanted to try out. The hotel is in a convenient location as there is a plethora of restaurants, convenience stores, shopping stores, pharmacies and the metro station. also, most tour operators will only offer pickups at hotels within Panama City. I would definitely stay on my next trip to Panama! 10/10
I wish they had a microwave in the room or at least one on each floor.
The first days the breakfast was not good but we understand so on those days (pandemia) everything can be different but after the second day the staff surprised us with a pretty good breakfast The issue was solved
A great stay in a clean and quiet hotel!
Nov 2021
The rooftop pool was great! they provide towels at the pool area.
The water in the shower was not hot
Comfortable, easy stay with excellent service
Jun 2022
The rooftop pool was gorgeous and the large windows of the king suite were fantastic. The room had fast reliable wifi and had a great desk to work. The breakfast was very nice and I had an excellent impression of each member of the staff. Short walk to the metro station and the neighborhood has many restaurant options. It feels generally safe to walk around the area.
Nothing major was a problem The room was not stocked with coffee when I arrived so I had to ask but they brought some right away. It would have been helpful if there were more plugs for electronics near the desk for devices while working. If there was a way to integrate plugs into the desk, that would be an ideal upgrade. I did think the breakfast and the airport shuttle were included but they were an extra surcharge so be aware of that.
Good accomodation for the price paid
Jan 2022
The roof top pool, the breakfast bar and the location of the hotel were great. The area is safe and offers multiple opportunities to explore via foot and transit.
The hotel is a little dated. It could use an update, but all facilities were operational and clean.
Not up to standard
Jul 2021
Ac and flush very loud. The room is dark as no overhead lighting. The shower water is cold. Breakfast was bought from an outside shop and doesn't taste good
the location within walking distance to restaurants
great value for money
Feb 2022
The location was great, close to the metro and several restaurants. great roof top bar and pool
often no towels at the pool area, missing towels in room
- the location - the rooftop pool (although it was a bit small), and the fact that there was a restaurant/bar at the pool too - good variety of breakfast selection - the room was spacious and very clean - we had a big terrace with our room but we didn't enjoy it - the staff were really nice and let us use the common facilities even after we checked out (we had a flight at 5pm)
we would stay here again for the location and great restaurants nearby
Nov 2021
the tiles in the rooms were water damaged and curled up a bit
The location is excellent.
This is my second stay at the hotel and I have no problems.
One bad receptionist which made the nice experience fade away
Jun 2022
The hotel was nice, swimming pool was excellent in the late afternoon after the visits, breakfast was ok, fresh fruits available. Neighborhood was fine too. The room has space and was clean.
All the service employes were were nice APART one indian origin receptionist (could be even the manager), which I do not have the name unfortunately and which was horrible, rude and useless while staying with a fake smile. She drove us mad after a car ride of more than 3 hours she wanted us and our kids wait more than 45 min for a stupid thing. We have lost some time and gained stress. Worst service ever in a best western and hence the downgrade of the rating. Hopefully another receptionist came at some point and was able to find a solution very quickly. PLease fire such people, they should not work at the front desk with clients !
the bed was really comfortable and the location was good!
the breakfast was really really basic and at the pool other guests used their own loud music while there was music playing already. Also the pool bar was closed and without notice they closed the pool for maintenance.
staff was very nice and friendly the view from the room espectacular ,location excellent I will recommend to friends and family.
the pool was slippery we reported to the front desk about the steps.
Quiet room, helpful staff, nice hotel
Mar 2022
Staff was friendly and very helpful, they booked me a taxi back to the airport. The room was quiet and clean. Breakfast was not extraordinary but it was okay.
There was a used coffee pad left in de coffee machine
staff is incredible!!! so nice, helpfula nd kind!!!
breakfast was not good. weak selection. sad because food in Panama is so delicious.
Smiling staff, Clean rooms, parking, Nice breakfast
The rooftop view is the highlight of the hotel
Jun 2022
size of the room, gym, view from the top-floor especially in the evening, the location, I was able to leave my luggage for 1 night (off for a day trip)
First room was so (!!!) dirty, it wasn't cleaned in a very long time, I could check out a different room, the reaction from the reception was very poor, no sorry, no excuse, no offer...... I never had this in all my travel experiences. The cleaning stuff surprised me once when I came back from breakfast at 7:30am, which I don't appreciate, all my value was laying around. They forget refilling water, giving you new towels. The breakfast is basic.
room was nice, pool was nice
the breakfast was a joke. The quality was very basic and you only get one plate. no going back or even having two pancakes or two croissants wasnt possible. Not sure why but the lady was rather unfriendly and it ruined the experience in this hotel for me. Also would be nice if the pool openend before 9am for people that like to swim early in the morning.
the rooftop bar had no alcohol and was not operating
Rooftop pool with a nice view. We were the only guests using it when we were there. Overall good value for money.
Rooms feel a little dated, could use some fresh paint here and there. Ventilation is noisy.
Rooftop pool beautiful views, clean front of house staff was helpful .
Breakfast was just OK not much of a selection, had to go to front desk for ice a bit of a pain, had to call front desk most days for towels, service at rooftop pool and bar was poor and unwelcoming.
Lovely property in the middle of everything. I will be back.
Jun 2022
Romm was large, clean and comfy.
Need to run air conditioning in the gym. It was very hot.
Reception was very friendly and happy. All facilities very clean and comfortable.
when there are two people, would appreciate two coffees. two hand towels would be nice. the lady that was "serving breakfast" (even though covid prevented full service), she had packed up before 9:30 and I felt that she wished I did not want anything. coffee and toast was all I needed. All other staff were very accommodating.
reasonable variety, good fruits. Comfortable beds, lots of toiletries. Very good big towels.
English speakers at front.
Have stayed here many times and will stay many more
Jan 2022
Quite. Central. Many good restaurants within walking distance.
Would be nice to order food and drinks at the pool anytime. We were there before the lounge/restaurant opened, and were hoping to have a drink and appetizers. We had to go down to the front desk to ask for some service. Suggestions: an app that would allow you to order drinks and eats if no one was attending the pool restaurant .
Very dirty, The bedsheets where very dirty and the smell was so bad in the room
Tv not working and when asked the staff they said it is normal due to weather while tv was fine in the lobby. The beds were hollow. Do not recommend this hotel
Para estancias cortas.
Apr 2022
They charged my credit card without consuming
the rooms in the 14th floor was relativ loud and should need to renew
Everything was great except for he American news channels did not fit on the TV screen. Some import
Nov 2022
The American news channels did not fit on the TV screen. Some important chyrons and other information were not visible.
Wie viel kostet dieser hotel im Vergleich zu anderen in Panama City, Panama?

Der Durchschnittspreis für eine Anmietung in Panama City, Panama beträgt EUR 82 pro Nacht. Diese Miete ist EUR 41 günstiger als der Durchschnitt.
Ist das Parken in diesem hotel inbegriffen?

Das Parken ist nicht als verfügbares Ausstattungsmerkmal bei Best Western Plus Panama Zen Hotel angegeben. Für weitere Informationen empfehlen wir Ihnen, sich mit dem Anbieter der Unterkunft in Verbindung zu setzen, um zu erfahren, wo Sie parken können.
Gibt es in diesem hotel einen Pool?

Ja, bei Best Western Plus Panama Zen Hotel steht ein Swimmingpool zur Verfügung. Genießen Sie das Wasser!
Ist Best Western Plus Panama Zen Hotel haustierfreundlich?

Leider ist dieser hotel nicht haustierfreundlich. Versuchen Sie erneut zu suchen und filtern Sie nach "Haustiere erlaubt"
Welche Ausstattungsmerkmale sind bei Best Western Plus Panama Zen Hotel verfügbar?

Wir haben 10 Ausstattungsmerkmale für diese Unterkunft gefunden. Dazu gehören pool, klimaanlage, küche/kochnische, internet/wlan und waschmaschine.