Brown Beach House Tel-Aviv, a member of Brown Hotels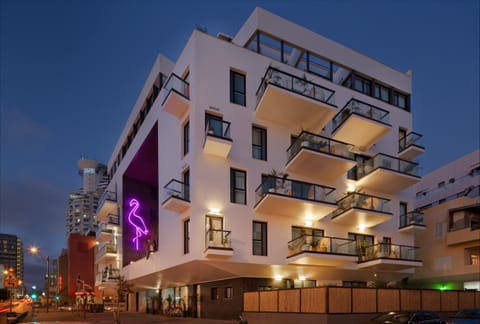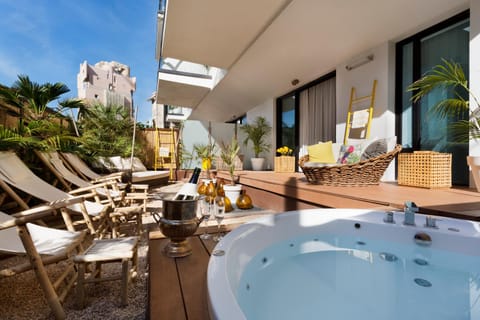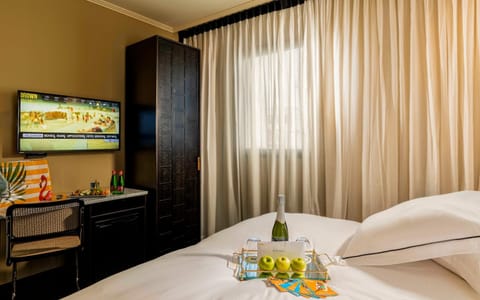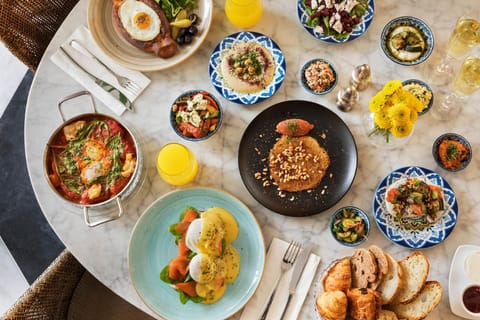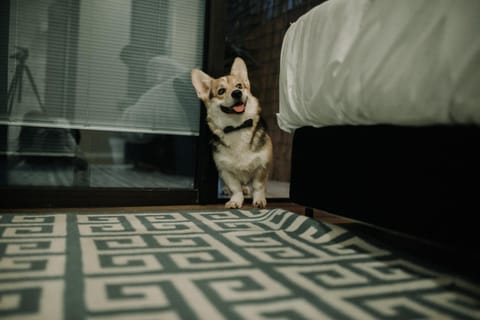 Hotel in Tel Aviv-Yafo
Pool
Klimaanlage
Haustiere erlaubt
Befindlich in Tel Aviv-Yafo, dieses charmant room in hotel für EUR 174 pro Nacht ist ein großartig Auswahl für Ihr nächstes Reise. Das Brown Beach House Tel-Aviv, a member of Brown Hotels in Tel Aviv liegt 100 m vom Meer entfernt. Freuen Sie sich auf einen Wellnessbereich und einen Whirlpool.
Pool
Klimaanlage
Haustiere erlaubt
Internet/WLAN
Rauchen erlaubt
Parkplatz
Waschmaschine
Balkon/Terrasse
Whirlpool/Spa
Fernseher
Rollstuhlgerecht
Strand/Ufer
Fitnessraum/Fitnessstudio
Garten
Familienfreundlich
100 % verifizierte Bewertungen
4.1 / 5 (1'197 Bewertungen)
Wow! Highly recommended! I've Been to couple of places in TA and this one is the best!
Oct 2021
Wow Wow Wow! Perfect room, perfect bed, perfect shower perfect location right on the beach and near all central places. The breakfast was beyond our expectations Highly recommend !
Wowowow 😍 I don't know if you could stay at a nicer hotel. Staff is superb. Room far exceeded expectations with cleanliness, view, and was exceptionally nice overall. Get the included breakfast - it is quality Israeli food from the attached restaurant. Lots of vegetarian options available with it. So happy I took my husband here for his first time in TLV
Wonderful experience! The best location in Tel Aviv, professional and caring staff and the suite was superb -- extremely spacious, beautifully appointed, with a patio facing the sea. A perfect place to unwind. We loved the gourmet breakfast too. Our special thanks to Nofar from the reception and Tal, the manager of the restaurant. They gladly attended to all our wishes, including restaurant and transport bookings. We will be back soon!
We received a room with many problems including a dirty toilet and water blockage in the shower that made the whole room overflow. Eventually we were upgraded but it took time and persuasion.
can't wait to be back :-)
Aug 2022
we loved so much the service at the hotel . the reception department is so helpful and especially Venessa which helped us a lot!!! we def will be back
We really enjoyed
Mar 2023
Welcoming friendly and helpful reception team Location and Proximity to the beach the Shuk Resturant's and other main streets and areas Good room sizes. Balconies with views of the sea. Great breakfast menu served till 1pm. Snacks savoury and sweet as well as coffee and other drink's available in the reception most of the day free for hotel guests. We have stayed many times and Browns Beach house is where we prefer to stay.
We got an upgrade when we arrived so we stayed in a junior suite with a balcony from where you could see the ocean! Beautiful! Our highlight was definitely the breakfast! Typically israeli food and soooo delicious!
The room we stayed in was nice, the furniture and the curtains could use a refresh though.
A great stay for our wedding
May 2022
We enjoyed the service and the facilities. Overall, our expectations foe the suite were fully met.
Very nice staff / great location / very good equipment. Good qualify / price. Highly recommend
it was comfortable, facilities good and breakfast was lovely . staff we do good and helpful
Oct 2022
very good location small boutique but everything we needed . staff incredibly helpful, friendly and met our needs very well . they sorted out our room problem which was appreciated.
the guest room we were put it was supposed to be a large well-appointed room with sun terrace and hot tub. however it was a really small room, no wardrobe, no drawers, toilet didn't flush properly, lights flickered. not what we expected for the price we were paying. the photos from the website and booking.com did not reflect the reality .
Cool hotel with great staff and breakfast
Nov 2022
Very friendly, helpful staff, superb breakfast and great location.
Like most Israeli hotels, could do with a bit of an upgrade.
Very cozy, clean, big room and bathroom Fabulous breakfast Great location
A little hiccup with a broken side lamp Not a biggie 😉
Very comfortable, great location, very cheap considering we went there for independence day. Overall, very good experience!
Some bugs were in the room (spiders, mosquitoes)
Started poor, finished strong.
Jul 2022
This hotel has the best hotel breakfast ever, wonderful location and spacious room size.
Our only complaint was the 1st room we were given while large in size was not at all like the photos. After we raised this with management it was quickly rectified and we were given a room which perfectly matched the photos - we would have left if this action was not taken. We would stay again, however would be sure to confirm the room layout as the same style as advertised before accepting - suggest other customers do the same / hotel updates to include all options in photos.
Would definitely return in the future and recommend to friends.
Aug 2022
The staff was so helpful and went above and beyond. The breakfast was convenient and delicious to start the day.
It was more on patrons to put back weights in the gym.
Staff is awesome. We should have not taken the breakfast in the hotel.
Jun 2021
The staff was great and they upgraded us, which was fabulous! The location is also wonderful and easy.
The all-and-all environment and vibe were somewhat lacking. We chose this hotel for its breakfast and that turned out to be so bad we had to go out looking for something to eat. The room itself was great, but the overall maintenance of the place was not up to our expectations.
The staff are amazing Especially the resepionist Canar and the manager Dikla. Their service was beyon exceptional and they made my stay more joyful and welcoming.
That we had to pay for parking
perfect vacation at the brown beach hotel, amazing service and great rooms
Dec 2022
the service and the room were great
The room was large, clean and comfortable. The stuff was nice and kind!
You can check out any time you like 🎶🎶🎶 But you can never leave 🥰
Perfect room, Perfect location, Highly recommended
Mar 2022
The room was big, quiet and beautiful
The reception team is the Best! Nofar took care of us and we will def will be back! Thanks a lot ! C u soon .
Highly recommended! luxury, quiet and in the perfect location
Oct 2022
The location, the room and the shower!
It wasn't clean, the rooms were dusty the furniture was worn
Great place to stay in Tel Aviv
Jan 2023
The location is fantastic. A few steps from the beach and near the center. The staff is extremely friendly and helpful. Especially the Manager Dikla and the front desk Nofar and the whole crew. It was a beautiful stay and we can warmly recommend this hotel! Micheline Bibi and the whole family.
great location, beautiful place but not maintained well
Jan 2023
the location and the food was great. we had a balcony with sea view, I loved it.
the rooms were dirty, outdated. old carpets, dirty walls and so on.
The jacuzzi suite room was spacious and comfortable, big queen bed and a nice shower. Clean room and professional staff. The breakfast was super tasty and service was pleasant. I would definitely stay again.
very recommended!
Aug 2022
The hotel is 2 minutes walking from the beach, very convenient rooms
The hotel exceeded my expectations, both in terms of the level of comfort and the service from the personnel - everyone I met was kind and made my stay wonderful. Will be happy to return!
i had a great time I'm very satisfied
Nov 2021
the design the location very nice breakfast
highly recommended!
Apr 2022
Stylish and beautiful! a real joy! Has parking. one minute from the beach. great breakfast.
Staff were very pleasant and the room very comfortable
The shower cubicle could do with a good clean as well as the communal areas. Carpet in passageway near the lift and room needed shampoo.
overall it was a good stay thanks to the staff making is comfortable & being accommodating
Sep 2022
staff was great! location was great.
room was run down, shower was impossible without flooding bathroom, dark walls in the halls.
t.v. wasn't working. worked earlier in day, then stuck on a menu screen
Stay away from this hotel unless you enjoy cockroaches
Jul 2022
This hotel is the worth hotel I've been to in Tel Aviv. I had cockroaches crawling in my room all along the 4 days I stayed despite flagging it 3 times to staff. Level of soundproofing is 0 and noise coming from the street + traffic lights prevent from good sleeping. Not mentioning the AC extremely noisy and weak. Finally, I asked for a refund of the stay which was refused by management. I will never go back to this hotel. Ever.
At first, when I ordered via booking I understood that I can get my room for cheaper price at their website. I tried all day to reach them until the reservation center almost closed. I reach them and they told me it was the same price. I asked about the massage and the breakfast and they gave me price X. I asked if I can return to the reception and confirm with then in this price? she said of course. I called the reception and a half hour later and they gave me much higher price. I had to talk with many people and they weren't very nice. They gave lower price but not the one like the beginning. I was very heart from the disparaging attitude. When I came to the hotel on the check-in the guy there was so nice and really understand, listened and helped. The stuff and the hotel is perfect but the reservations call center not really nice.
Wie viel kostet dieser hotel im Vergleich zu anderen in Tel Aviv-Yafo?

Der Durchschnittspreis für eine Anmietung in Tel Aviv-Yafo beträgt EUR 176 pro Nacht. Diese Miete ist EUR 2 günstiger als der Durchschnitt.
Ist das Parken in diesem hotel inbegriffen?

Ja, das Parken ist als Ausstattungsmerkmal bei Brown Beach House Tel-Aviv, a member of Brown Hotels aufgeführt. Für weitere Informationen empfehlen wir Ihnen, sich mit dem Anbieter der Unterkunft in Verbindung zu setzen, um zu erfahren, wo Sie parken können.
Gibt es in diesem hotel einen Pool?

Ja, bei Brown Beach House Tel-Aviv, a member of Brown Hotels steht ein Swimmingpool zur Verfügung. Genießen Sie das Wasser!
Ist Brown Beach House Tel-Aviv, a member of Brown Hotels haustierfreundlich?

Ja! Diese hotel ist haustierfreundlich. Für weitere Informationen empfehlen wir Ihnen, sich mit dem Buchungsanbieter in Verbindung zu setzen.
Welche Ausstattungsmerkmale sind bei Brown Beach House Tel-Aviv, a member of Brown Hotels verfügbar?

Wir haben 15 Ausstattungsmerkmale für diese Unterkunft gefunden. Dazu gehören pool, klimaanlage, haustiere erlaubt, internet/wlan und rauchen erlaubt.