Sarai Resort & Spa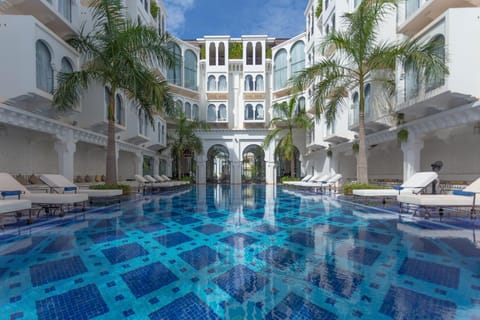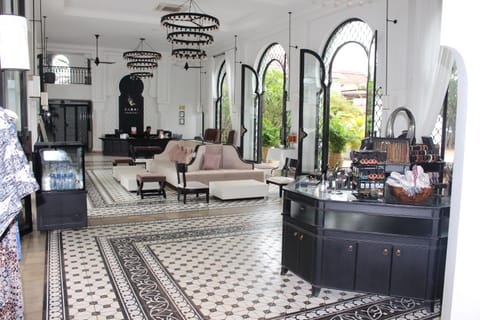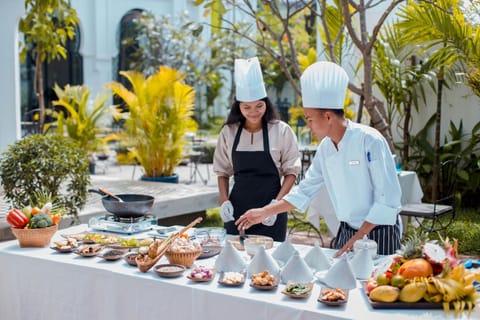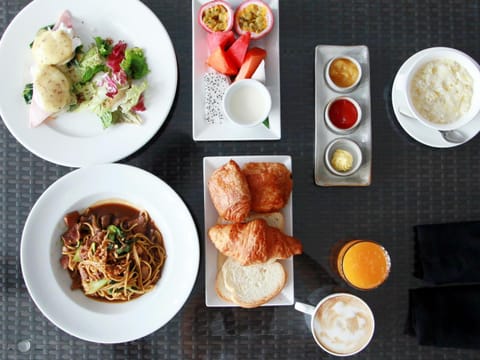 Hotel in Krong Siem Reap
Pool
Klimaanlage
Küche/Kochnische
Befindlich in Krong Siem Reap, dieses charmant room in hotel für EUR 40 pro Nacht ist ein großartig Option für Ihr nächstes Reise. Das Sarai Resort & Spa befindet sich in Siem Reap, nur 800 m von der Pub Street entfernt, und bietet Ihnen einen Außenpool, einen Wellnessbereich und kostenfreies WLAN. Die eleganten und geräumigen Zimmer verfügen über eine Außenterrasse.
Pool
Klimaanlage
Küche/Kochnische
Internet/WLAN
Rauchen erlaubt
Parkplatz
Waschmaschine
Balkon/Terrasse
Whirlpool/Spa
Fernseher
Rollstuhlgerecht
Fitnessraum/Fitnessstudio
Garten
Familienfreundlich
Karte von Krong Siem 

Reap
100 % verifizierte Bewertungen
4.0 / 5 (83 Bewertungen)
well presented and comfortable truly excellent staff
wonderful hotel experience in amazing Siem reap
Dec 2022
The suite was lovely, pool was beautiful, breakfast was excellent and location very good. Staff were also very attentive and helpful.
Lovely two level room with plenty of space to relax and unwind.
Jun 2022
The staff was very friendly and helpful
The property is starting to show its age. The restaurant was only open for breakfast.
The staff was friendly and help us a lot about many things. The staff and reception is available at every time.
Don't have hot water in the shower, the open bathroom was a bit unfamiliar for us.
Thanks so much to Lakhina for arranging my massage, tour and cookery lesson before I arrived
Dec 2019
The staff, teh warm welcome back, the letter from the GM in the room, the welcome from the Rooms Division Manager who I met there three years ago. the massage in teh spa, the beautiful breakfast buffet, the relaxing setting around the pool, the friendly helpful staff
The noisy south Africans who had rooms on either side of me, came in at maybe 1 am shouting and joking outside, and then left at 430 am doing the same and waking me up twice in one night
The rooms where excellent, the pool was superb
The restaurant service was very slow and staff english language profficiency was not very good
A gorgeous hotel with an amazing staff
Aug 2022
The property is gorgeous and was the backdrop for a. couple bridal photoshoots while we were there. The family suite was so cute and had an awesome, private patio area. It is close enough to walk to old market and pub street. The staff was amazingly friendly and just so pleasant- they made us feel so welcome. The breakfast had a great selection and was delicious. We would definitely stay here again.
everything was perfect from start to finish wish I could have stayed longer
Apr 2022
Beautiful people, lovely resort with a twist of Morroccan architecture. Will stay again.
Aug 2022
The location was easily accessible snd relatively wuiet whilst not being far from anywhere we wanted to go. It is a lical neighbourhood area. The staff were exceptional and always eager to assist with a smile.
Wonderful wonderful wonderful
Feb 2020
The ambiance, the staff were wonderful,the pool,the spa, absolutely everything
Nothing. It's the best boutique hotel
Staff were very friendly and helpful.
Really enjoyed the hotel, friendly staff who would go above and beyond to help. The room and service was fantastic. The breakfast was very good as well as most dishes were made on the spot for you as opposed from selecting from the breakfast bar. Day spa was very enjoyable and great value as well to spoil yourself after a long day walk in Angkor Wat. Very clean outside the hotel as well, its a bonus I will recommend this hotel for family and couples.
Very quiet location but very accessible by TUK TUK to town.
lovely hotel and very friendly staff who make the stay worthwhile
Sep 2022
really beautiful building and the staff couldn't do enough to help you. location was good too.
the property is in need of some repair and covid has obviously taken its toll so hopefully with more tourists the hotel will get back to its best.
The pool dirty. Room smelly
Our suite was lovely. We were greeted with a cool beverage at check in. Our room had a welcome bottle of red wine and a fresh fruit platter. The en-suite pool was refreshing. The view from the upstairs en-suite patio was amazing.
1. Room is dirty 2. Whole night my room was annoyed because of the noise from the room above my room. There was a sound nonstop for 4hrs, sounds of people moving chair etc. 3. Hotel seems not really well maintain 4. Gym so dirty and broken equipment 5. The water of swimming pool is dirty
Nice place to relax after a long day at Ankor wat.
Feb 2023
Lovely hotel , friendly staff. Good choice at breakfast. Lovely pool area.
I had chosen sarai hotel because it's a reminder of my home country Morocco. The rooms has this modern Moroccan touch bed was comfortable . Pool was nice and attractive with that typical Moroccan blue mosaic. I wanted to thank all the employees who tried to make my stay comfortable Yamko,William, Na ,David the smiling driver who picked me from the airport , lin and jasmine from the spa and the unforgettable Mr.Bourong the hotel manager who was efficient and highly professional towards me.
The sarai hotel unfortunately doesn't have 24/h room service. Last order is by 2300. Eventhough the staff they were smiling but still for a luxury boutique category this kind of hotel should give a better costumer service and care to the guest which i believe Mr. Bourong the hotel manager is the best example to give, approachable when he heard that i had complain about one of the employee working at the restaurant by giving a such attitude while talking and that was unacceptable to take a such behaviour from him or from any person who talk to you im a such rudeness. Same employee took my order as my breakfast box because was going to Anghor wat by 4am by taking the order had to confirm to me 6 to 7 times with attitude (i asked for an apple 1 banana. And brown bread cheese sandwich ) employe after 10 min coming and inform that no brown bread is availabe then was okay with normal bread . Cpl of min after employee is informing me that no white bread only toast and i said its fine . 5 min after employee approached again with attitude and Confirmed back to him then another time to check the order was kinda alot while having my 1st dinner in the restaurant. Next day night called room service asked for 2 scoop of ice cream i have asked the employee abt the price includind service charge and the discount ,was choked emplyee told ( you can check your self) had to wait for 7 min to know the price and still till now dont know how much i just canceled the order i wanted . As i mentioned to Mr. Bourong that im not here to make drama or ask free things just i want to have the same respect i give to everyone's in that hotel . I paid for a service am expecting to have a good one otherwise hostels and self service restaurant are so many in siemreap. Mr. Bourong offered me an upgrade to one of the room , was nice from him but had to refuse and not to acxept it was my last night in sarai didnt want to move.
great service and rooms with private pool
Jan 2023
Great helpful staff. Went over and above to make our stay pleasant
Nothing. great stay start to finish
Excellent stay - perfect hotel!
Jan 2023
Fantastic hotel! Maybe not cheap, but it's worth every single dollar. The staff was very polite and helpul (especially that one of our baggages was lost on the airport - they called and manage to find it). Beautiful swimming pool, spacious and modern rooms. Great breakfast (a la carte!) and fancy restaurant. We recommend the hotel!
David and the rest of the staff provided fantastic service and were extremely helpful and well informed.
Nice resorty stay in the quieter side of Siem Reap
Oct 2022
Breakfast is yummy. Service of staff is good.
Decent value for money, amazing front desk staff, not quite as shown in pictures.
Feb 2022
awesome room for a family, very clean, amazing front desk staff
green and murky pool, spa not open yet, limited western options for breakfast, limited coffee options for breakfast.
Wie viel kostet dieser hotel im Vergleich zu anderen in Krong Siem Reap?

Der Durchschnittspreis für eine Anmietung in Krong Siem Reap beträgt EUR 37 pro Nacht. Diese Miete liegt EUR 3 über dem Durchschnitt.
Ist das Parken in diesem hotel inbegriffen?

Ja, das Parken ist als Ausstattungsmerkmal bei Sarai Resort & Spa aufgeführt. Für weitere Informationen empfehlen wir Ihnen, sich mit dem Anbieter der Unterkunft in Verbindung zu setzen, um zu erfahren, wo Sie parken können.
Gibt es in diesem hotel einen Pool?

Ja, bei Sarai Resort & Spa steht ein Swimmingpool zur Verfügung. Genießen Sie das Wasser!
Ist Sarai Resort & Spa haustierfreundlich?

Leider ist dieser hotel nicht haustierfreundlich. Versuchen Sie erneut zu suchen und filtern Sie nach "Haustiere erlaubt"
Welche Ausstattungsmerkmale sind bei Sarai Resort & Spa verfügbar?

Wir haben 14 Ausstattungsmerkmale für diese Unterkunft gefunden. Dazu gehören pool, klimaanlage, küche/kochnische, internet/wlan und rauchen erlaubt.