Central Hotel Panama Casco Viejo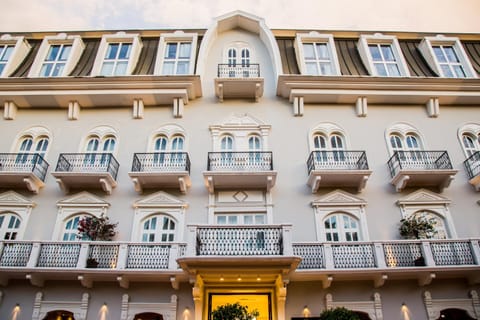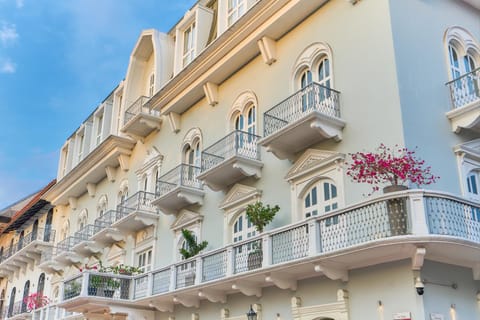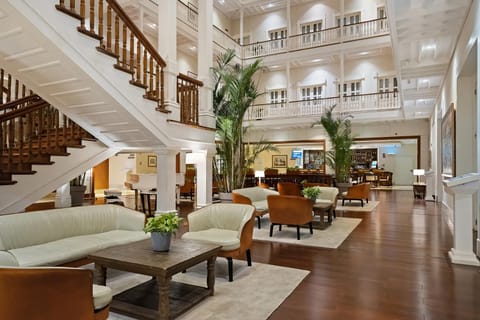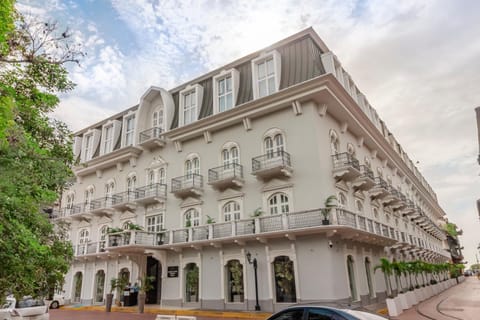 Hotel in Panama City, Panama
Pool
Klimaanlage
Internet/WLAN
Befindlich in Panama City, Panama, dieses schön room in hotel für EUR 301 pro Nacht ist ein phantastisch Option für Ihr nächstes Reise. Das Central Hotel Panama begrüßt Sie mit einem Außenpool und einem Wellnesscenter in der Altstadt von Panama City, 200 m vom Präsidentenpalast entfernt. In diesem Hotel erwarten Sie eine Sauna, ein Fitnesscenter und ein hauseigenes Restaurant.
Pool
Klimaanlage
Internet/WLAN
Parkplatz
Waschmaschine
Balkon/Terrasse
Whirlpool/Spa
Fernseher
Fitnessraum/Fitnessstudio
Garten
Familienfreundlich
Karte von Panama City, 

Panama
100 % verifizierte Bewertungen
4.3 / 5

"Ausgezeichnet"

(687 Bewertungen)
Great potential, but not perfect.
Jul 2022
You couldn't ask for a better location within Casco Viejo. It's a solid 30-35 minutes from the main airport (PTY). With that, however, comes the traffic inherent to the area. The presidential residence and one way streets add to the congestion.
Noise, noise and more noise. I recommend you ask for an exterior facing room. Our room was in a corner but picked up on the loud piano player in the lobby. It's an open space with echoing acoustics and it was difficult to get rest later in the evening. The piano player played continuously until around 11:30 pm, often with guests joining in (think bad versions of 'La Cucaratcha, etc). The sewer pipes also banged against interior walls and was very loud. Light pollution was also an issue as it was hard to make the room dark. The shower was a major point of frustration. It was a wand in a slippery bathtub without a shower curtain. It really sucked and they need to remove the tub and put in a proper shower.
We were upgraded and had a lovely room. Location was what were wanted in the old city. No breakfast as we were flying out early.
A third stay at this lovely hotel
Oct 2022
We had stayed at this hotel before and had cancelled another hotel to stay here.
A great place to stay in old Panama City
Apr 2020
We had a room overlooking the square... loads of atmosphere. In this hotel, you are transported into a bygone era.. with its huge wooden central staircase leading up to the floors which surround the central atrium. The service personnel were extremely helpful and paid a lot of attention to our needs.
Great place to stay in the old town
May 2022
We had a great stay here. The staff where excellent, the location was excellent, Bed and room was great. What more could you want.
We enjoyed our stay here!
A beautiful and historic hotel perfectly located in Casco Viejo.
Jan 2022
We absolutely loved our stay here and would highly recommend! Firstly, the location is amazing- it is directly across from the cathedral and one of Casco Viejo's quaint sqaures. It is also central to most of the areas great bars and restaurants. The hotel itself has a lot of history and has been beautifully restored. The staircase and architecture are gorgeous. The staff was friendly and accommodating. Plus the rooftop pool has great views of Casco Viejo and the city!
The original room we stayed in was a little tight and faced inwards so you could hear whatever was happening in the central part of the hotel. However, the front desk was super helpful and allowed us to move into a more open room with more privacy. The pool does face a dilapidated building, but that is part of the charm of Casco Viejo!
very nice staff, clean everything, good location.. I like this place so much …
I didn't like the breakfasts ...(((
Very helpful staff. Beautiful building in a perfect location.
This is most likely the most welcoming and comfortable four star hotel in Casco Viejo. The property was renovated beautifully and the staff are warm and wonderful. Special thanks to Reynaldo who never misses an opportunity to help and knows the best restaurant and bars like the back of his hand. The reception team Lyan, Priscila, Alfredo, Euclides never missed an opportunity to say good morning or afternoon… checking in and out was easy accurate and fast. When I bought whole fresh coconuts at the tienda next door (and couldn't carry all three), John and Franklin immediately stepped in to help (was a funny scene). I had some team members picked up at the airport and booked transport with the hotel and Edward made their arrival seamless. My room was extremely comfortable. Housekeepers did a fine job. The only area for improvement is the hotel restaurant. Breakfast is very simple and the coffee is terrible (which is sad in Panama because of its amazing coffee). The good news is there are many many amazing food options within a block or two. A decision to stay at this property won't disappoint you!!!
Stylish hotel in a great location.
Apr 2022
This is a stylish "Grand Old Lady", lovingly restored to modern standards. The location is excellent, in the centre of the old town, yet quiet. My room and bathroom were spacious. The bed was comfortable, the shower hot and the WiFi fast and reliable.
Environmental policy can be improved. Bigger and/or refillable water bottles, no small disposable bottles for shampoo etc. Teabags in the room were not replaced. Breakfast was a bit hit and mis. Not all staff spoke English. Laundry was expensive.
Good hotel without much personality.
May 2022
This is a big clean hotel with BIG rooms (big bathrooms) and comfortable beds (and robes!). The staff were helpful. The neighborhood is fantastic. Our room had amazing natural light and the main area of the hotel is beautiful with an ornamental staircase.
The shower is poorly designed and water goes all over the floor. The in-house restaurant/bar left a lot to be desired. Breakfast was ok, not great. The hotel told us we could check in early but were not able to deliver on that promise. Overall this hotel is a little bland/corporate in feel.
This hotel should be rated in a league of its own. It is designed like a palace, with all the luxury you can't even imagine. The service was superb, or more exactly Nobel.The price is higher than other hotels nearby, but worth every penny. Once in a life time experience !
The view from the swimming pool terrace but it doesn't make up for all the bad stuff. That's it.
Where to start?? way too overpriced. Building was originally gorgeous, now it's like a fake copy (not restoration) too modern to fool people. Staff might be friendly (not all) but they see you as dollar bills with legs and have no training. Check in is late, I had to wait like 45 min to check in to be told the room was not ready (it was ready at 6pm!). Staff was unhelpful. When I complained they gave me two tickets for free drinks at the bar (non alcoholic). This happens all the time otherwise they wouldn't do it as fast as they did it. Breakfast was awful. Very dirty breakfast rooms, horrible food, cold, 2 star level service. People helping with suitcases were super nice /fake nice - they live for the tips and make sure they are constantly asking for them (you see bills flipping hands among staff all the time). Swimming pool is tiny and there's hardly any space to sit around it. Nobody explains services available, where towels are, where dinning room or swimming pool is, nothing at reception. I got a room to the back so light and view totally blocked by another building but at least it was quiet. Other hosts might not sleep at all. I'm sure there are way better options in town. I would never pay more than USD 60 for that - it cost me 3 times as much.
I love the location, but the accommodations don't quite match the price.
Feb 2023
The staff were really helpful and the hotel's appearance as you enter is really elegant.
Temperature control in the room was not working, and there was a washcloth stuffed into the vent that was left by housekeeping.
Great Service and Location!
Jul 2022
The staff was exceptionally kind and very helpful. The room was clean and comfortable. It is in an excellent location and the view from the pool was beautiful.
The breakfast buffet was not amazing. The hot food was either undercooked or it had been out for too long and the selection was very limited.
I would definitely stay at this hotel again.
Feb 2022
The staff was courteous and very helpful in answering questions. One staff person actually escorted me to show where a particular museum was located. They also recommended an excellent restaurant walking distance from the hotel.
The staff is amazing! So friendly and helpful.
This hotel is amazing
Dec 2021
The room was beautiful, with a stunning view of the Cathedral. Staff super friendly and professional. Perfect location. Good Breakfast
nice room too expensive
Dec 2022
the smell in the public area of mold
Beautiful hotel in the heart of Casco Viejo
Apr 2023
The room had a very nice balcony overlooking Casco Viejo, the location was central and we enjoyed the pool. The hotel itself has a very nice decor and the atmosphere inside with the guitarist playing is just very calm and pleasant. The pool staff was very nice and helpful. We booked the hotel for 4 nights but due to exceptional circumstances we had to change it to 1 night and the Manager allowed us to reschedule for free which we are very grateful for.
This is a very atmospheric hotel but could do with some refurbishment, especially in the bathrooms in the rooms. For breakfast we got very old bread that was so hard that it was impossible to even bite it. I have mixed feelings about the staff working at the reception, because on the one hand the Manager was extremely helpful and very nice, but the rest of the staff working at the reception were incompetent. The first time I met two different people working at the front desk and both were not doing a good job. The receptionist who checked us in was not a nice person, she seemed to have done her job and wanted us to leave. On the second day we wanted to have a late check out and waited 1 hour in our room for a call back from the receptionist and when we went to the desk a second time to check for an update she didn't even remember us, only after going to the desk for the third time did we get a response from manager that it won't be a problem. For me, this is an unacceptable experience for a 5 star hotel.
Lovely Historic Hotel with nice amenities and restaurant but the rooms can be NOISY!
Apr 2023
The restaurant & F&B Manager Raimundo Chen were great! Had a wonderful dinner. Breakfast with cooked-to-order eggs or omelets was excellent other that rolls didn't seem fresh. Hotel is well-maintained, historic and well-decorated.
There was no small change available at the front desk. In fact, we were told to go to the mini-market for that. They wouldn't give us change Our room, altho, nicely appointed, was over a street in the back of the hotel and TERRIBLY NOISY!! In the evening at bedtime, there was people outside talking loudly but even worse the noise from people talking loudly started at 5:15am both days!
The hotel was lovely and the location was great.
Aug 2022
The property is beautifully decorated and well kept. Drinks were slow, but I think that's more of a culture difference.
great hotel to discover the casco Viejo
Jan 2023
the location was great. good breakfast. nice staff. small pool on. the roof
great location , stuff friendly but need more proposal to enjoy also the pool the living room that it was always Empty
Jan 2023
the location was great ! capacity to organise an excursion amazing !
it was very noisy during the night , difficult to sleep ! we had a wonderful view to the church but the windows were not soundproof ! the Wi-Fi in the room didn't work ! we did also what the concierge suggested to us , to reinstall the Wi-Fi , but the Wi-Fi was not working at all and the telephone as well !
The location was excellent and breakfast scrumptious!!. excellent variety.
More complimentary coffee and tea in the suite.
- the location - the historic building of the hotel - the spacious room - the diverse breakfast
- our room, on the 2nd floor facing the square, was very noisy; we were very tired after a long flight and jetlagged and we couldn't sleep; I informed the reception staff about it the morning after but all they could offer instead was a small room with no windows and with lots of noise from the inside piano bar, in low season! Very bad for high end hotel -
it is just a nice building that's it , the amenities does not worth the money you pay. too expensive
Would expect way more for a 5 stars hotel
May 2022
breakfast and service were below expectations and the room way smaller than expected also
beautiful place but with minor flaws
Apr 2023
the location is very nice if you want to see colonial architecture. the hotel itself is beautiful with fantastic rooms
breakfast only buffet type ($20 per person) and nothing à la carte. the shower flooded the bathroom and when I informed the front office I was told all rooms had the same problem. I was flabbergasted
Ideally located hotel..
Mar 2023
The location is phenomenal. All the good shopping spots, restaurants, squares are within walking distance. Staff at the reception were very courteous and helpful.
The view from the room was not very nice. We noticed a bit of racial discrimination which was disconcerting. We were asked to move into a conference room kind of a place for breakfast when there were tables available at the main breakfast venue
The location is just perfect. Great staff and service, breakfast and rooms. The best hotel I have stayed in Panama City by far!
Struggle to find anything that could have been better. This hotel just exceeds all expectations. I love coming back!
The location is great, very quiet around but at a walking distance of restaurants and bars. Very safe around because the government palace is near the hotel, and there is tons of police. Safest place in Panama
Disappointing stay at the Central Hotel.
Nov 2021
The location is great, very central in the heart of Casco Viejo. The hotel is nice looking with a big bar area and beautiful staircase.
The room was small, and not very clean. We couldn't use the coffee maker because it was completely covered in dust. There was only one soap bar despite us being 2...
The location is great and the building is beautiful, they have done a beautiful restoration work. Unfortunately most of the complaints from previous guests were true. The biggest issue was the shower. It doesn't have a glass panel and there was no way to prevent the water from spilling. It also felt unsafe since it was a high tub with no glass panels and no safety handles. For the price and the kind of hotel they are supposed to be this should have been solved already. During our last night there was constant noise of vacuum cleaning and furniture moving. The staff was nice but they didn't seem very knowledgeable about what was going on in the hotel. I would blame the management for this. Also, we actually chose the hotel because it has a pool but being so small they should have had some sort of reservation system, we never got to use it because it was packed.
Uncomfortable bathroom. No booking system for such a small pool. Loud cleaning noise during the night.
The location is fantastic. Alfredo at the front desk is fabulous. If you need anything, be sure to ask him. View from the rooftop is great. There is always someone playing a musical instrument in the lobby, which is a nice touch.
There are a few things that I was not fond of...First the food for the buffet breakfast is horrible, like barely edible, I read this on other reviews so my expectations were realistic going in. Better off eating breakfast elsewhere. Unido Cafe was our favorite and a close walk. Second was the 24 hour gym located directly above our room. Make sure you specifically say you do not want room 135 or 136 or you too will be woken through out the night by people dropping weights and playing loud music. I tried to tell the guy that checked us in about how horribly loud people were all night and he just said "ok". They did not offer to switch us into a different room or even offer us earplugs, they simply did not seem to care about it, so we spent 6 nights being woken up at crazy hours by gym goers (who is working out at 3am?!?). Pool is not kid friendly (no shallow end and no stairs, only a ladder)and the deck around the pool is scorching hot. There is also no shade at the pool, hopefully they put up some shade in the future...
A very centralized local from which to visit the old city
Feb 2022
The hotel was located in front of a beautiful square and in the center of the old town. It was a very convenient location
Not a complaint but it would have been nice to be able to get a grab and go breakfast when we had to leave with our guide before the normal breakfast hour. We had to travel without any food.
The Central Hotel is a wonderful choice for travellers looking to immerse themselves in the real Panama. The staff are f
Apr 2022
The hotel is located in the heart of Casco Viejo, and has been beautifully restored to its former glory. All the staff were very friendly and professional, ensuring that we were made to feel at home. Our junior suite (room 101), which had a fantastic view of the plaza and cathedral, was airy and spacious with a large bathroom. The hotel's central location ensures that it's easy to explore the area and enjoy the many restaurants and bars which the area has to offer (we'd recommend the Santa Rita restaurant - excellent steak, in addition to Lazotea rooftop terrace for delicious Latin American cuisine, great cocktails, live music and an incredible view of the city).
The quality of the breakfast on offer sadly doesn't reflect the high standards of the rest of the hotel. Served buffet style, the choices on offer were disappointing, especially the hot food. Given the hotel's traditional style it would have been lovely if some traditional Panamanian breakfast cuisine could also have been offered. Additionally, with our room being at the front of the property, the downside was that noise from the plaza was very disruptive to sleeping. On our first night, workmen were setting up stands during the early hours, and on our second night, a group staying at the hotel for an event were playing music into the small hours. One point to also note in regard to noise, is that the hotel has two excellent guitarists playing live music both in the interior bar area and the exterior bar area until 10pm. Trying to get to sleep after a very long flight was tricky, as we had two different guitarists in stereo.
Ideal location on the cathedral square - a piece of history
Apr 2022
The hotel is a charming combination of the historical style and the modern comforts. Our room looked right out onto the square and the cathedral, providing us with a great view of the Easter activities there. The staff was so very friendly and helpful with transportation and with locating a COVID testing clinic.
We chose not to eat in the hotel because the prices in their restaurant were substantially higher than in restaurants nearby. The windows did little to reduce the volume of the person who played guitar and sang until about 10 PM out on the square - it wouldn't have mattered if we weren't so early to bed.
The hotel has transport services, that take you anywhere you want, wonderful drivers
Wie viel kostet dieser hotel im Vergleich zu anderen in Panama City, Panama?

Der Durchschnittspreis für eine Anmietung in Panama City, Panama beträgt EUR 82 pro Nacht. Diese Miete liegt EUR 219 über dem Durchschnitt.
Ist das Parken in diesem hotel inbegriffen?

Ja, das Parken ist als Ausstattungsmerkmal bei Central Hotel Panama Casco Viejo aufgeführt. Für weitere Informationen empfehlen wir Ihnen, sich mit dem Anbieter der Unterkunft in Verbindung zu setzen, um zu erfahren, wo Sie parken können.
Gibt es in diesem hotel einen Pool?

Ja, bei Central Hotel Panama Casco Viejo steht ein Swimmingpool zur Verfügung. Genießen Sie das Wasser!
Ist Central Hotel Panama Casco Viejo haustierfreundlich?

Leider ist dieser hotel nicht haustierfreundlich. Versuchen Sie erneut zu suchen und filtern Sie nach "Haustiere erlaubt"
Welche Ausstattungsmerkmale sind bei Central Hotel Panama Casco Viejo verfügbar?

Wir haben 11 Ausstattungsmerkmale für diese Unterkunft gefunden. Dazu gehören pool, klimaanlage, internet/wlan, parkplatz und waschmaschine.