Lina Point Belize Overwater Resort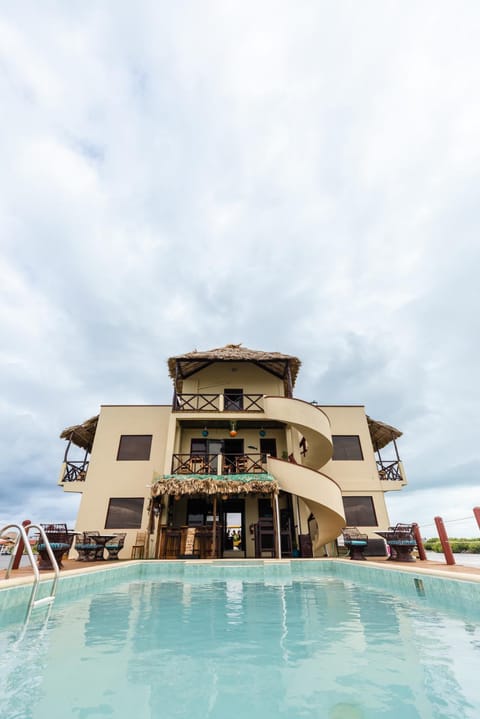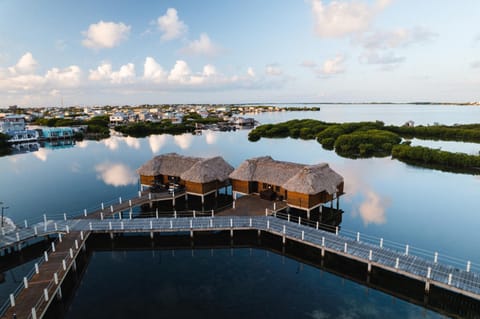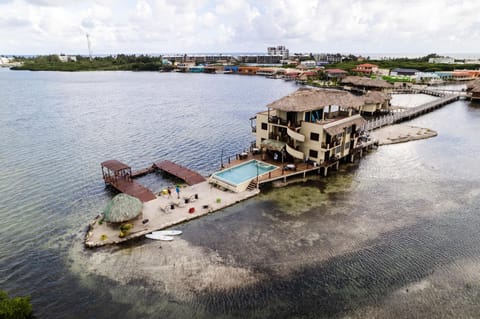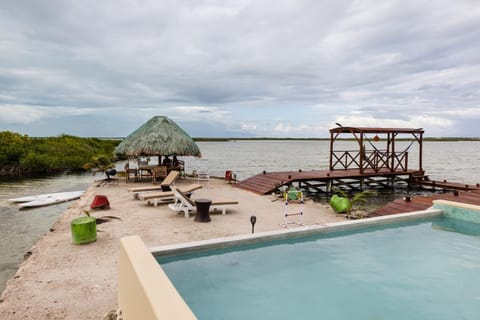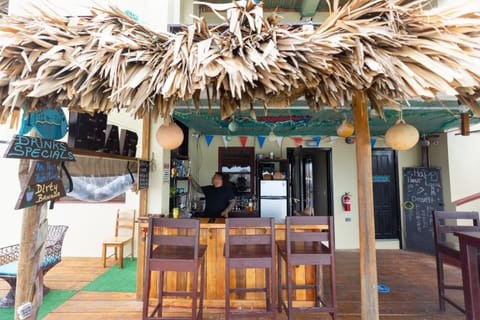 Hotel in Corozal District
Pool
Klimaanlage
Küche/Kochnische
Eingebettet in Corozal District, dieses attraktiv room in hotel für EUR 84 pro Nacht ist ein phantastisch Option für Ihr nächstes Reise. Das Lina Point Belize Overwater Resort in San Pedro erwartet Sie 1,7 km vom Strand Playa San Pedro entfernt mit Unterkünften mit einem Restaurant, kostenfreien Privatparkplätzen, einer Bar und Wassersportmöglichkeiten.
Pool
Klimaanlage
Küche/Kochnische
Internet/WLAN
Rauchen erlaubt
Parkplatz
Waschmaschine
Balkon/Terrasse
Fernseher
Strand/Ufer
Karte von Corozal 

District
100 % verifizierte Bewertungen
4.5 / 5

"Ausgezeichnet"

(82 Bewertungen)
Not a 'destination' resort but good home base for our trip.
Dec 2022
We did really like the location of this property being centrally located on the north side and back by some houses. It felt very safe. Liked the different view of the lagoon versus the ocean and the pool area on the property was inviting. Also liked having the ability to park the golf cart right outside our door and having separate bedroom and living space. Having a fridge, wifi, air conditioning, and bottled water at all times was a huge plus.
As nice as it was to have the kitchen it was missing some key essentials including wine glasses, wine opener, and wash cloths/towels for that area and any time we tried to open or move the curtain over the sink the whole thing fell down. The bedroom lighting would be better if it had some kind of dimmable light or a table lamp as it was all or nothing. Was really excited to have the see-through floors but they were all foggy/dirty and we couldn't see anything. We had an all-day excursion planned and needed to meet the guide up by the entrance to the area this property is located out on the main road. We asked if someone from the resort could drive us up there so we didn't have to leave our golf cart up there the whole day and they said they would not be able to do that unless we booked an excursion with them. Just overall not a lot of 'love' or 'pride' or attention to details in this resort. Lightbulb out on the closet area, some of the towels and floor mats were torn, never replaced or removed the dead flowers that were there the day we checked in, took our beach towels but didn't give us new ones, the sheets had a funky odor, safe never worked, and just not well-kept.
A very unique "over-the-water" experience!
Dec 2022
Very unique location that offered great access for activities and to San Pedro Town. David was very helpful in arranging a hopper flight from the airport in Belize City to the island. The shuttle service was prompt for pick-up at the airport on the island and the driver provided a great tour on route to the resort. A shuttle was also provided to take us to the water taxi terminal upon our departure from the island. David was also very accessible to provide additional information prior to our trip regarding electrical outlets and tour activities. Meals were very reasonable priced and the food was excellent! Thank you for a wonderful experience!
The mosquitoes! But we appreciate that is out of control of the resort and our pre-trip research had prepared us for the inevitable. Everything at the resort was great!
Great accommodations, very scenic and quiet
Apr 2022
Very clean, pleasant staff, easy to arrange for golf carts.
Wireless internet was pretty unreliable. Faded in and out, password provided didn't always work. Unfortunately people need the internet to check on travel arrangements, see what there is to do in the area, order food for delivery etc and the wireless didn't work that great while we were there. Perhaps it was just a fluke.
This property is very close to the bridge so easy to get to San Pedro, You do have to go down a very rugged road of other properties to get to the point where you then drive your golf cart on the docks to get to your unit. While the bungalow is very private, no one can see into your patio area with plunge pool the accommodations are pretty basic and not as glamorous as many of the other locations in the area. I know this because we were working with a realtor looking at property to purchase. The feature of being over the water was novel for about a day and the glass bottom floors were cool except their was a film of debris on top that made it very cloudy looking. We did see fish through it however, and the lighting underneath was cool. The property faces mangroves as it is in the marsh and we saw a crocodile on our last morning. Also bird watching was cool. The sunsets would have been spectacular if it hadnt been cloudy. Post COVID when the pool and restaurant were open may have made the place sexier. The manager was quick to respond to our requests and was present on the property!
Amazing stay on the lagoon
Jun 2021
The views were exceptional, the staff were incredibly accommodating and the room was comfortable. The added coffee machine was a nice touch. The property is a little way from San Pedro town so renting a golf cart would be advisable, but Karen was also incredibly gracious in driving us if we needed to be somewhere quickly.
When staying in the main building the sound carries, so opening and closing of doors to the hallways and rooms adjacent from you can be heard at all hours. Overall though, it was a quiet stay.
The view from the rooms were amazing. It was very quiet and staff was really nice.
Lina point was the perfect destination for a relaxing and rejuvenating getaway.
Mar 2022
The staff were all super nice and helpful. Also the food was great, best fish and chips I had my whole vacation, still dreaming about them.
The staff was very friendly and upgraded our room for our anniversary stay. The overwater bungalow was amazing and we were able to see tarpon and other fish through the glass floor during our entire stay. Overall, a great experience.
Excellent 5 stars David Ramon and Karen were beyond awesome!
Feb 2022
The staff was friendly service was beyond my expectations family environment will definitely return
beautiful overwater stay
May 2023
The staff was extremely friendly and helpful with suggestions for restaurants and excursions.
Celebrity Treatment
Aug 2021
The Staff was exceptional! David, Lucky, Enrique and Aloya went above and beyond to make my family comfortable.
it's a great place to stay the staff are amazingly helpful and fun to talk and interact with.
Mar 2023
the staff, the location the company used for tours is fantastic!
the pictures are a little outdated at least for the honeymoon suite. the website could be updated some of the information for the tours which is a separate company is not correct, like the prices, etc.
Beautiful and peaceful
Feb 2020
The rooms were gorgeous and the bathrooms were modern and had great hot water for showers. Staff was fantastic and always helpful. Loved the swing & plunge pool on our deck. Loved the layout of the room with the two large sliding patio doors out to the deck. Quiet and peaceful room.
The bathroom had an open air concept so you could hear someone going to the washroom if you were in the bedroom. Hotel restaurant was small & limited but we bought groceries instead and made use of our kitchen in our room.
The staff was like no other! EVERYONE went out of their way for us!
Feb 2023
It could use some updating
the staff were amazing they helped me in every possible way they made my stay immaculate
Aug 2022
the peace and quite and the view
The overall experience was amazing
There were lot of mosquitoes outside the room on the wall and quite a few got in the room and my partner got multiple stings.
Lovely gem away from the crowds
Feb 2020
The restaurant is tiny, not very appealing. The front desk staff weren't very welcoming but the bartender was super nice. 😊
Enjoyed the stay here . Low key and quietness
Apr 2022
The breakfast was great A TRUE BELIZIAN COOK! My son loved the fry jacks .
Property Could use some TLC due to the location I think that then it would be well worth the price . I booked last minute so unsure of what a better rate might have been
The best property I have ever stayed in excellent views and extremely calming
A very special stay in this beautiful cabin
Aug 2022
Staying in a Lina Point cabin was the highlight of our trip. We stayed only one night as a treat (staying elsewhere for our other nights) and so spent the entire time in the cabin. The glass bottom floor was so exciting, especially at night when a light at the bottom showed all the fish. We also had a brilliant time watching the sunset from our hammock/swing and having a late night swim in the private pool. A beautiful property which made for a very special visit. The staff were also so kind - a lovely welcome drink, tasty dinner, taxis in and out of the property and we were even allowed to check out later! Fully recommend staying at this property.
We did most of our activities and exploring of the island from our other hotel, but would say this property is slightly distant from the restaurants / beaches (which for us was very nice as it was very quiet)
scenery and layout design
Was a short visit but everything was great! Karen was awesome in helping us plan the perfect excursion, would definitely
Nov 2022
quiet, great view, great food, staff were exceptional.
Quiet and small, friendly helpful staff at all times.
Don't forget the bugs pray!
Wie viel kostet dieser hotel im Vergleich zu anderen in Corozal District?

Der Durchschnittspreis für eine Anmietung in Corozal District beträgt EUR 176 pro Nacht. Diese Miete ist EUR 92 günstiger als der Durchschnitt.
Ist das Parken in diesem hotel inbegriffen?

Ja, das Parken ist als Ausstattungsmerkmal bei Lina Point Belize Overwater Resort aufgeführt. Für weitere Informationen empfehlen wir Ihnen, sich mit dem Anbieter der Unterkunft in Verbindung zu setzen, um zu erfahren, wo Sie parken können.
Gibt es in diesem hotel einen Pool?

Ja, bei Lina Point Belize Overwater Resort steht ein Swimmingpool zur Verfügung. Genießen Sie das Wasser!
Ist Lina Point Belize Overwater Resort haustierfreundlich?

Leider ist dieser hotel nicht haustierfreundlich. Versuchen Sie erneut zu suchen und filtern Sie nach "Haustiere erlaubt"
Welche Ausstattungsmerkmale sind bei Lina Point Belize Overwater Resort verfügbar?

Wir haben 10 Ausstattungsmerkmale für diese Unterkunft gefunden. Dazu gehören pool, klimaanlage, küche/kochnische, internet/wlan und rauchen erlaubt.