Pullman Oceanview Sanya Bay Resort & Spa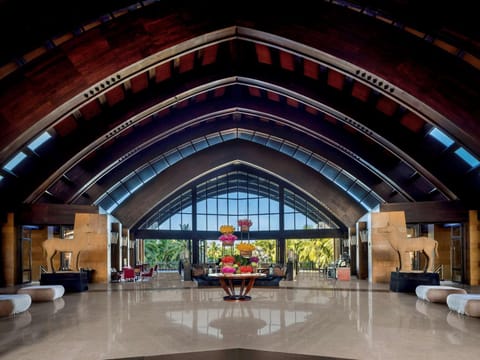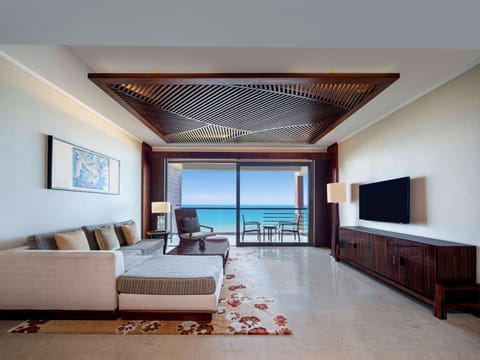 Hotel in Sanya
Pool
Klimaanlage
Küche/Kochnische
Befindlich in Sanya, dieses charmant room in hotel für EUR 96 pro Nacht ist ein phantastisch Auswahl für Ihr nächstes Reise. Located in Sanya Bay, Pullman Oceanview Sanya Bay Resort & Spa is only a 2-minute walk from the beach and the Coconut Dream Corridor. Southeast Asian style and surrounded by lush tropical plants, it features day spa and several landscaped pools.
Pool
Klimaanlage
Küche/Kochnische
Internet/WLAN
Rauchen erlaubt
Parkplatz
Waschmaschine
Balkon/Terrasse
Whirlpool/Spa
Fernseher
Rollstuhlgerecht
Strand/Ufer
Fitnessraum/Fitnessstudio
Garten
Familienfreundlich
100 % verifizierte Bewertungen
4.4 / 5

"Ausgezeichnet"

(339 Bewertungen)
A great holiday full of activities for the kids and a great time with family and friends.
Jan 2022
You have all what you need in the hotel, breakfast was good, Restaurants too. We spend the whole week at the hotel and beach 👍👍👍
it can be more beach Loungers
When you are choosing a hotel of this level, of course you expect a clean and nice room, a big swimming pool and everything else. This hotel is great in all of this and more, but what really makes the difference is the staff. Cindy is incredible, on the breakfast she could realize that my soon was not enjoying the drinking, so she came offer a hot chocolate for him (his favorite breakfast drink). This is just one example of many from her... Hanks, this guy is great! He gave me his phone contact and was always solving something for me, as example, one day I was not feeling well so he came to my room and played with my soon to let me rest, can you imagine a hotel staff like this? Bella, also no words to say thanks to all she did during my stay! Many other helpful staff that unfortunately I don't know the name, like the climbing playground guy that climbed with my son (not his job), because my son would like to go very high and I was tired or the kids activities girl that stayed with my soon while he was sleeping in a very nice hammock under the shadow while I was swimming (photo attached to the review). I went for a 3 nights stay and enjoyed so much that I ended staying 10 nights :-)
Great Experience!
Oct 2021
We were travelling with a group of 6 friends for a getaway, booked a villa with private pool! From start to finish our experience was amazing at Pullman resort! The Pullman really excels with its customer service. Even before arriving we were contacted by customer service liaison to see if we had room requirements. On arrival check in was pleasant and were treated with VIP service. Throughout our stay, we were able to take advantage of complimentary afternoon tea from 2-4pm as well as free flow and snacks from 5-7pm on the 17th floor. Basically an all inclusive package which was a pleasant surprise. Hotel amenities were also great. Many pools to choose from and not crowded, beach is across the street with easy access. Lovely early morning walks along the beach and then to breakfast, which had great varieties of both western and Asian choices. A big shoutout to staff, Jerry and Bella as well as a lovely chef Brant who accommodated our vegan friend daily with meals. Some of us took advantage of the spa and massage parlour and was also high quality! All in all, was a 5 star experience with incredible service, which is hard to find these days!
come here for an easy and perfect family time
Mar 2023
We visited the Pullman with 2 kids (3y and 1y). The service was exceptional and we had a wonderful time and missed nothing. Several playgrounds, kids entertainment, a very beautiful beach, heated pools. perfect
i liked everything. if there was one thing which I didn't like, than I would say that the room cleaning was not too passionate
The perfect place with really nice facilities and friendly staff.
Jan 2023
We really liked our weekend at Pullman, the staff is really friendly, helped us a lot. There are several swimming pools, one of them is heated, 31-32 degrees, really nice. It was my birthday during our stay and hotel staff decorated our room and game me little presents, it was so sweet of them. Especially thanks to Eva, who took care of us during our stay there and Mickey for decorating the room. Definitely would spend another vacation here!
perfect stay for family- a whole paradise so close to the airport
Nov 2021
Warm and friendly staff- all willing to their best for u- matches HK's Mandarin Oriental level of service.
Very noisy (military airbase nearby) + from other occupants of hotel , poor sound isolation
Nice apartment, awesome villa
May 2021
Very good food and very nice staff. Affordable prices. Nice and warm pools. 3-bedroom apartment with excellent sea view, spacious, but very hard mattresses, so that we were upgraded and moved into a villa which is beautiful (split level), a little dark, but huge and with a big pool and several terraces. The whole place is beautiful with lots of trees and close to the beautiful beach. Highly recommendable for families.
The mattresses have to be exchanged, much too hard in the apartments. The furniture looks a bit old (some pieces) and some bathrooms should be refurbished.
Very friendly, helpful staff. Excellent food. Great beach.
Only 1 small pool was heated. Cinema only had Chinese films.
Very friendly and helpful staff. Throughout exceptional customer service.
live music performance has room for improvement.
Big thanks to Shyla and Bella for their help and professionalism.
Apr 2021
Very comfortable. Several swimming pools well maintained.
A relaxing and refreshing holiday with great customer service.
Jan 2022
Throughout our whole trip , we loved staying at the hotel and never wanted to leave on our last day. All of the Covid tests to get Sanya was totally worth it. We would highly recommend the Pullman Oceanview at Sanya Bay to anyone! The hotel went above and beyond with customer service. This included answering questions prior arrival regarding Covid tests. The staff always tried to ensure you were supported. They took the time to engage in conversation with you and always made you feel welcomed. This began with Rebecca showing us to our room and then answering any of our questions via wechat. Later, Wayne was especially friendly towards us during our stay, often sharing information about Hainan. We even had the opportunity to share a moment with Ohad. This enabled us to express how grateful we were to him and his staff, for creating such a warm atmosphere in this Pullman hotel branch . We loved the beach tunnel access as crossing the road could be quite dangerous. The beach was beautiful and sun chairs with tables were great! Also, it was wonderful to have a hit nearby with towels and lockers for valuables. The grounds of the hotel were breathtaking and Christmas and New Year decorations were beautiful. The mini shops and power banks throughout the hotel was very thoughtful. The pools and gardens were amazing, with soft towels for guests to use. I will honestly miss the view from our window . The overall experience was fantastic! This trip we decided to have package with access to the executive lounge and it was worth it. The view and chilled environment while watching the day turn to night with cocktail.
We loved everything about the hotel and how they are always looking for ways to improve themselves.
Brilliant stay. Would definitely visit again. Peter and his team are kind and accommodating.
Aug 2022
This was the perfect holiday. My son had so many options: beach, infinity pool, water park, arcade, etc. we did not need to leave the hotel. The food was good. Breakfast had a variety each day. I feel so rested and rejuvenated.
The rooms are clean and has everything you need. It just needs a facelift. Needs to be modern and trendy. Ceiling had some damp spots.
A very memorable stay at the Pullman. Will definitely come back!
Jul 2022
This was our first time in Sanya and we are so glad we stayed at the Pullman for these reasons: * all the staff at the Pullman were great--extremely friendly and helpful. Some notables were Perou (our booking liaison), Wendy, Leila, Lily, and a few more who went out of their way to make our stay so memorable. Perou welcomed us with fruit and cakes and a children's play tent in our room; and sand toys, shell bracelets, teddy bears for the kids. Perou even had mailed us some stuff that we had forgotten in the apartment when we left. She went above and beyond our expectations! * very good for families with young children. The kiddie pool had a little beach/sand area for the kids to play in. There was also an arcade, trampoline, playground, and playrooms (with supervised activities) * they were doing some maintenance of the lift but forgot to tell us so we ended up walking down 14 flights of stairs with 4 young kids, a double stroller, and bags of stuff. No big deal but that night they sent us sandwiches, cakes, fruit, wine, and fancy water * beautiful view of the ocean from our balcony * gorgeous, well-maintained, and extensive grounds * really good breakfast with lots of selection, both Chinese and Western * very good value for money
The WiFi in our apartment was really poor. It kept dropping for the first couple of days. The staff tried to help but it didn't really work until several days into our stay. The A/C in the master bedroom didn't work very well. Staff came to fix it but it was still blowing warm air in the room. It wasn't a big deal as the A/C in the living room was strong enough to keep the whole apartment cool. The 2-bedroom apartment that we stayed in was clean but poorly designed with wasted space. No large mirror in the ensuite bathroom, unnecessary closets, unnecessary glass door to the toilet, bedside tables were dangerously high (above the mattress level)--2 of my young kids slipped on the bed and fell on the corner of one of the bedside tables, hitting their mouth and throat 😔. The apartment had a kitchen but no dishes, cutlery, pots or pans, or more importantly, a microwave.
An exceptional resort experience!
Aug 2021
This is an exceptional property, the service , staff and amenities are all exceptional. It far exceeded my expectations . The beds were super comfortable , the room was big with a delightfully big bathtub. There are so many choices of swimming pools in this resort that they were never overcrowded. There is also very easy access to the beach , with towels provided as well as food and drink service on the beach. This is a wonderful place for families with children, with so many activities to entertain them. Breakfast was a gourmet buffet and the other food options in the hotel were all very tasty indeed. This was a wonderful stay and it's definitely on my return to list!
The only thing I can think of is that the drinks prices at the resort are a little too high.
The service was great. Pools were super fun to spend time in. Loved the food. The beds were very comfortable. Great value for money!
The area to swim at the beach could have been larger. The roped area to swim was not very out.
The service, the staff is great and helpful beyond duties
The water scooters at the beach are a real danger for the swimmers, driven by teenagers. The level of noise everywhere and all the time.
Quiet location with beach access
May 2021
The rooms were exceptional, extremely comfy and we enjoyed the pool facilities. It was nice to have a pool for adults away from the children's pools too. Poolside bar service was speedy and the staff kindly accommodated extra requests written in the comments section of the order for additional drinks. I would suggest to the hotel that the pool drinks menu is extended to include soft drinks and more variety of alcoholic drinks. The beach had a more extensive menu which we also enjoyed. Nightly entertainment by the singers/musicians was a nice touch. As a club access guest, it would've been my preference to eat breakfast in a different, smaller and quieter location than the busy breakfast restaurant. The club floor with afternoon tea and happy hour was excellent though. Bella, the manager, was outstanding and helped us with our every request. She really made our experience at The Pullman the best it could be. Overall, I'd stay again and recommend this place to friends.
The only drawback is the location is slightly outside of the busy bars and restaurant areas, which are perhaps a 30 minute cab ride away.
The rooms are nice, and the staff are very professional. The breakfast is good.
I didn't like that you have to take an underpass to cross to go to the beach and that the beach was not private. There was a lot of noise from streetcars passing in front of the hotel. Finally, it was disappointing that only one small pool out of all the ones available was heated. The others were really cold in December when we visited.
The Resort is very nice, rooms are clean, good food, very nice personal. Thank for your help Alison and Jerry.
Lovely hotel and stay, but we were constantly comparing it to other Pullman's we have stayed at which were a little bett
Jul 2022
The pool was beautiful and we enjoyed having the separate pool which was a little quieter from the family pool.
Throughout the night for our entire stay, there was a continuous drilling sound from above. We weren't sure if it was from flushing or not; but this was every evening we were woken by it.
Great hotel for a vacation with kids.
Jan 2022
The pools were beautiful and the beach was really nice. Breakfast was amazing. The water slides were fun (though the long one was slow) and the kids club had lots of activities. The room was quiet.
The room was nice but a little smaller than comparable hotels. The pools were all a bit cold in January (except for the one small heated pool, which was crowded). The service at the restaurant was a little slow and forgetful.
Our stat at the Pullman Oceanview Sanya was fantastic. Perou (our host at reception) was amazing.
Dec 2022
The Pool selection was excellent. Each pool was very spacious and set in wonderful scenery. The heated pool was fantastic, especially as travelled in December. Highly recommend the Pullman! Perou (our host at reception) was amazing. She gave daily updates about the weather, checked in with us daily to make sure we were comfortable and made us feel really welcome! the food selection at breakfast was excellent. The beach access and all the facilities were absolutely fantastic! We definitely recommend the Pullman Oceanview to anyone wishing to visit Sanya!
The pool options were good even though one was closed. The Spa was really good. Good value for money.
The hallway on my floor (4th floor) were not carpeted causing all noise from the hallway to be audible from the bedroom.
The minute I walked into the property, Bella greeted me and gave me her wechat. She helped me so much during my stay finding recreational activities and restaurants. My room was gorgeous, clean. But my favorite part was all the pools and the easy access to the beach. It was truly amazing. I will 200 percent be back! And soon!
There's nothing to put here.
The location was great for the beach, town and airport. The bed was very comfortable, room was spacious and lovely view of the sea because we were upgraded. We really liked the spacious balcony too! Hank and the rest of the team were very helpful. The housekeeping staff were very friendly and room service was good value for money.
The property and the staff are incredible.
Dec 2021
The location is perfectly situated so you are near the beach, but away from the crowds. The swimming pools are well-maintained and convenient for families and for swimmers. The staff is amazing. Hanks and Jojo took amazing care of us with the rooms and property. Cindy was marvelous in the dining area and the massages were definitely worth the time and money.
The Internet was very difficult to stay connected.
THE place in Sanya Bay
Aug 2021
The hotel Sanya Bay is fairly close to the city Centre and other bays, the staff was absolutely fantastic from start to finish, definitely an outstanding experience. The pool has a few areas which are very relaxing and very well take n care of (even in low season which is when I went). The access to the beach in the back is very convenient, ordering food/ drinks to the pool and the beach very convenient. Specially recommended for a couple or Family looking to relax .
Very friendly staff, good facilities, nice beach
Mar 2022
The hotel is very pleasant, comfortable and clean, staff is lovely and helpful, the private beach is great although not always that private but still mainly Ok, BF is very good. Would definitively repeat.
The hotel is just incredible and offers everything you need, the location is also amazing with a view on the ocean. The staff is also very attentive, especially manager 周晶晶 and Herro at the reception. Looking forward to coming back again soon!
The hotel is fantastic for any kind of guests. It means nearly everything inside and outside the hotel is wonderful and satisfactory. I was tanned every day and exhausted playing in Hainan. However, as soon as coming back to my room, I could totally relaxed and enjoyed the coolness. Most amazing is the swimming pools which is located in front of the hotel. Morning time is the best for swimmers, I think.
The hotel is a real piece of paradise, everything is made for guests to relax and enjoy wonderful rest. The breakfast was very tasty and had a vast choice of dishes, even ice-cream, the deluxe twin room with ocean view was very comfortable. The panoramic sea view was awesome. The pools and territory of the hotel were great, very attentively taken care of. Also, the beach is really wide and beautiful and has palms on it, which make it look like a picture from a commercial
The only minus is not about the hotel, it's about sandyflies, that bit us on the beach in the evening on the last days of our trip. Be aware, their bites itch badly and stay for two weeks... So use repellent and better go away from the beach before evening comes.
The hotel and the staff were amazing, particularly Perou! She was able to help with all my requests, including organising a birthday surprise for my friend. There are so many facilities, and the staff patiently communicate with foreigners who have little Mandarin skills. I would definitely return in the future. A big thank you to the team for making my trip so enjoyable.
With a more adequate and efficient general manager, it could have been worth the money.
Jul 2022
The grounds are well maintained and the pools are beautiful. Very good location as well. Susan at the terrace bar and Eva at the villa check in were incredible. Professional, kind, helpful, and organized. If they are not managers yet, they should be promoted ASAP. All the staff were well organized, helpful, and professional. Good breakfast, afternoon tea, and happy hour.
1. Our villa wasn't ready at check in time. it was not ready for another 3 hours. We were recommended to go to afternoon tea and happy hour (which are included in our room rate). Upon hearing that our villa wasn't ready, the general manager was dismissive of our frustration, blasé and condescending. He arrived at our table in shorts, a t-shirt, and flip flops. His attire did not instill a sense of luxury for which the resort is known. Especially with the price of the villa, the general manager upon hearing of a problem, should appear professional and attempt to make up for the blunder. Nothing was offered as an apology from him. The staff were very apologetic and lovely. 2. The wifi in the room was non-existent. 3. The villa was not well maintained. The pond behind the pool was stagnant and overrun by algae and mosquitos. Half of the lights in the villa did not work. The showers did not drain. The fridge smelled like old seafood and durian. The bottom floor smelled like mold.
Relaxing stay with warm, friendly and trustworthy service.
May 2022
- The cleanliness, service, proximity to the beach and facilities are impeccable. - Service from the staff in assisting foreign guests for Covid test(s) and ensuring their well-being is absolutely worthy of praise. (special thanks to Bella, Kitty, Coco, Erica and 朱洪侠). - Treat guests with utmost care. It feels overall, authentic. - Good quality breakfast. Facilities of the hotel were well maintained and the swimming options are variant.
A very pleasant stay slightly spoiled with endless nucleic tests.
Aug 2022
The beach is very suitable for babies. The hotel itself has nice swimming pools, especially the big one with some sand for kids to play. Interior has some good vibe of nature. Even if you are in the hotel room you can feel that you are still united with nature.
The place for testing in the hotel got closed. It was super inconvenient to go and get tested at the fruit market or the hospital. There was one place nearby but it was open just for a couple of hours per day and the staff couldn't give us the decent information about its working hours.
The beach is amazing, very big and very funny sea waves. Perfect for long walk. One of the best part of the hotel was the bar at 17th with executive service.... I really enjoyed have appetizers and drinks at the end of the day.
The internal grocery is really small and with few stuffs on sale.
Extremely noisy and disappointing.
Jul 2021
The adult pool was lovely and deep, even though it was a constant battle for the lifeguard to keep children and adults with floating devices out of it.
My room was dirty with bits of dry old food stuck to the desk and the floor not clean, so it made dirty marks on the bedding. The rooms were extremely noisy. There are no carpets in the corridors or rooms and so the sound carries. There are many people in one room, and they leave the door open to shout at families in rooms several doors down. Afternoon tea and happy hour are chaos on the 17th floor and best avoided. Adults and children piling their plates high while shouting at each other and children running around screaming. It was a struggle to communicate- even though there were many expats staff who could speak English were scarce. Hanks tried to help- but said they received many similar complaints from other people.
Amazing stay at the property.
Sep 2021
Thank you for making our stay so so so memorable. we really enjoyed a lot and being a vegetarian it was very helpful to get pure vegetarian food at pullman(chefs really helped us in our request). We really enjoyed the property , the beach and 4 swimming pools. Thank you for taking care of us. Special thanks to HANKS ,WAYNE & BELLA for taking care of us every minute and providing us with every small help 24x7. Their hospitality were superb. When i will go again i will stay at the same property. Never had such a wonderful experience before at any property. Really the helpful staff made the difference.
Wie viel kostet dieser hotel im Vergleich zu anderen in Sanya?

Der Durchschnittspreis für eine Anmietung in Sanya beträgt EUR 51 pro Nacht. Diese Miete liegt EUR 45 über dem Durchschnitt.
Ist das Parken in diesem hotel inbegriffen?

Ja, das Parken ist als Ausstattungsmerkmal bei Pullman Oceanview Sanya Bay Resort & Spa aufgeführt. Für weitere Informationen empfehlen wir Ihnen, sich mit dem Anbieter der Unterkunft in Verbindung zu setzen, um zu erfahren, wo Sie parken können.
Gibt es in diesem hotel einen Pool?

Ja, bei Pullman Oceanview Sanya Bay Resort & Spa steht ein Swimmingpool zur Verfügung. Genießen Sie das Wasser!
Ist Pullman Oceanview Sanya Bay Resort & Spa haustierfreundlich?

Leider ist dieser hotel nicht haustierfreundlich. Versuchen Sie erneut zu suchen und filtern Sie nach "Haustiere erlaubt"
Welche Ausstattungsmerkmale sind bei Pullman Oceanview Sanya Bay Resort & Spa verfügbar?

Wir haben 15 Ausstattungsmerkmale für diese Unterkunft gefunden. Dazu gehören pool, klimaanlage, küche/kochnische, internet/wlan und rauchen erlaubt.