Summit Grace Boutique Hotel & Spa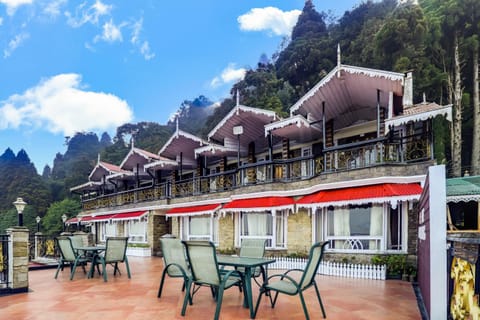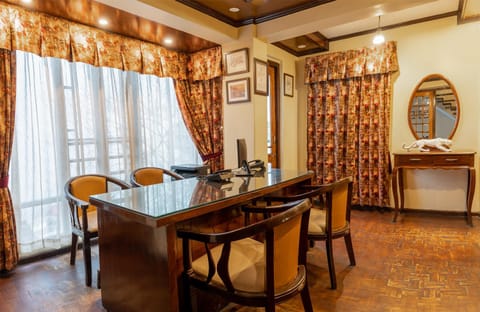 Hotel in Darjeeling
Internet/WLAN
Rauchen erlaubt
Parkplatz
Eingebettet in Darjeeling, dieses charmant room in hotel für EUR 29 pro Nacht ist ein phantastisch Auswahl für Ihr nächstes Reise. Das Summit Grace Boutique Hotel & Spa bietet Ihnen einen Panoramablick auf die Singalila Range sowie gemütliche Zimmer mit einem TV und einem Sitzbereich mit einem Sofa. Freuen Sie sich auf ein Restaurant, kostenfreies WLAN und Parkplätze.
Internet/WLAN
Rauchen erlaubt
Parkplatz
Waschmaschine
Balkon/Terrasse
Fernseher
Garten
100 % verifizierte Bewertungen
3.5 / 5

"Durchschnitt"

(69 Bewertungen)
We stayed in the hotel for two days in March first week but I felt quite disappointed with the service. First of all they provided us a very small room where there was just a feet space beside the bed. I don't know how could a hotel room be like with the tarriff of 6000/- including breakfast. Then they offered a complimentary lunch or dinner as they understood that they have given a honey comb like room. But the complimentary dinner has the possible worst menu one could get. We rejected that and had dinner with paying the money by ourselves. They even didn't arrange car for returning airport. We simply didn't hope to get such service with the above mentioned price. Really a bad experience
Do not book through booking.com
Nov 2022
View of Kanchenjunga as it is located higher
Small rooms, "dynamic rates", the Suite we booked was not comfortable and we had to shift to deluxe room but no discount
Except for the view and the staff, nothing is worth mentioning for this hotel
Jan 2023
The view of Kanchenjunga and the behavior and attitude of the staff.
In the suite room - 1. bathroom was smelly due to the fact that the exhaust was not working 2. wooden planks on the floor were uneven, noisy, and poorly maintained 3. the curtains or drapes in the room were not up to the mark 4. bedside charging points were not working 5. there was no room heater and we had to request one In the Deluxe room - 1. the room heater broke and had to be replaced 2. the build quality of the room's electrical switchboards were below the mark During our 2 nights stay, the food was average for the first day and below average on day 2. While checking out, we were even presented with food bills we did not order and this confusion took almost 30-40 mins to be sorted. Overall, the experience was not at all nice given the premium amount I paid.
Overall stay was good but could have been better if room would had hegenic feeling
Feb 2023
The View is ultimate. Upon complain about room size and bad smell of bathroom, the manager gave us big room (suite), without any extra cost.
The property is very old and refurbished. The bathrooms are stinking/bad odours may be because old drainage system. It gives very unhingenic feeling. This issue may be probably beyond property owners control.
the suite rooms , staff especially " saurabh " he's your go to man for all things Darjeeling
The stay at the hotel was nice and the food was good.
May 2022
The location was little above the main Mall Road which provided a good Mountain view though communication was little difficult. The natural view from the terrace was really nice and the property is well maintained and the staff were helpful with all the necessary amenities. The Food was really good and tasty although little overprized.
The size of the room was really small with a kid and compared to the money charged by the hotel authority. with this amount of money they should provide bigger rooms for 3 people or should reduce the rate.
Stressful stay due to being double charged
Dec 2021
The location of the hotel and the hot water system were pretty great (for Darjeeling).
The hotel double charged my foreign bank card when I checked in. Staff and central reservations were apologetic but clueless and incompetent about refunding my money. My holidays and time off while staying at the hotel were ruined chasing up my considerable amount of money with my bank, the hotel company, the travel website and the hotel staff, rather than being able to relax. Still waiting for issue to be fully resolved after days since I stayed there. Don't book this hotel through booking.com or other international travel websites, this hotel and the company are not ready to handle international guests. No apologies or gestures to make amends for absolutely ruining my time off had been mad from the company so far. Breakfast varied between inedible to indigestible. Communication between staff was very poor. Instructions, requests and orders needed to be told to multiple people. The rooms themselves haven't been repaired or kept up. Bathroom was smelly and had weird holes in two places where the smell came from. The hotel had tried to mask it with overpowering room fresheners. The result was aromas of poo with hints of industrial chemicals which give you a headache. No shower curtains. There were salt crystals forming on the perpetually wet walls in one of the rooms. The other had mold growing everywhere and the warped wooden frame window wouldn't close fully against the elements (we were there during winter). One of the towels we were given was already torn and frayed to shreds at the edges, and only changed after requesting several times. Avoid if you actually want your money's worth (or double my money's worth in my case).
it's was not as expected
May 2023
The food of the restaurant and the hospitality of the staff
The backdrop view is awesome. The hotel staff are very cordial and helpful.
lovely stays for couples
Feb 2023
Staff was very efficient, service was amazing. The rooms a little small, due to the wood, the rooms are little damp. The view is excellent! Balcony is beautiful, on a good day one can definitely get an amazing view from the top! Staff is very kind and helpful, room service and restaurant staff are exceptional. Overall had good experience, the rooms are very clean. Not sure if it is worth the price just for the beautiful view and delicious food!
The rooms were a little damp due to the wood although the rooms had heaters to address it.
Spacious, comfortable mattress
worst food bad food qulity
Very nice and comfortable stay
Mar 2021
Provides very nice view of the city and kanchenjunga is visible if weather is clear. Hotel is clean and staff is very polite and helpful.
The hotel is far from the mall road. The walking distance is around 20 mins and quite sloppy. Wandering around on foot is difficult around the hotel.
the hotel is charging atrocious prices for unhygienic, uncomfortable and below standard experience. Which you can easily get at half the price and better facilities. Would not recommend this hotel to anyone. My experience was terrible to say the least.
Dissatisfied with the room features and facilities offered. Particularly, two floors in the room - while being a representative of pretty poorly designed rooms, was injury-prone. Moreover, there was a difference in what was claimed on the website and what we actually experienced.
Nothing,money waste ,don't keep such hotel in booking.com
I have booked a Deluxe room ,but after reaching there they have given a small room which was in worst condition ,food also not good , location is worst can't even park a car .
everything including soiled linen, bad behaviour of staff, bad room condition, etc
fantastic experience nestled in nature
Jun 2022
fantastic location, a good walk to Mall Road
Everything is was good and the food, staff and services are very good.
The rooms are little bit small than expected.
Wie viel kostet dieser hotel im Vergleich zu anderen in Darjeeling?

Der Durchschnittspreis für eine Anmietung in Darjeeling beträgt EUR 36 pro Nacht. Diese Miete ist EUR 7 günstiger als der Durchschnitt.
Ist das Parken in diesem hotel inbegriffen?

Ja, das Parken ist als Ausstattungsmerkmal bei Summit Grace Boutique Hotel & Spa aufgeführt. Für weitere Informationen empfehlen wir Ihnen, sich mit dem Anbieter der Unterkunft in Verbindung zu setzen, um zu erfahren, wo Sie parken können.
Gibt es in diesem hotel einen Pool?

Wir haben keinen Pool gefunden, der als Ausstattungsmerkmal für diesen hotel aufgeführt ist. Es kann sich lohnen, noch einmal zu prüfen, ob ein Pool für Ihren Aufenthalt wichtig ist.
Ist Summit Grace Boutique Hotel & Spa haustierfreundlich?

Leider ist dieser hotel nicht haustierfreundlich. Versuchen Sie erneut zu suchen und filtern Sie nach "Haustiere erlaubt"
Welche Ausstattungsmerkmale sind bei Summit Grace Boutique Hotel & Spa verfügbar?

Wir haben 7 Ausstattungsmerkmale für diese Unterkunft gefunden. Dazu gehören internet/wlan, rauchen erlaubt, parkplatz, waschmaschine und balkon/terrasse.