Kempinski Hotel Muscat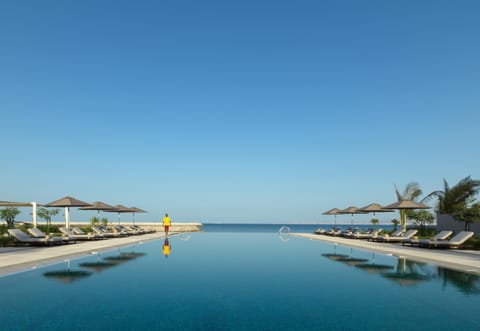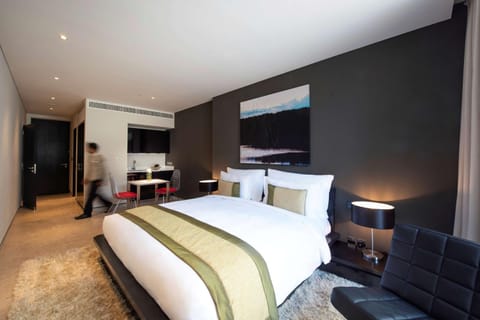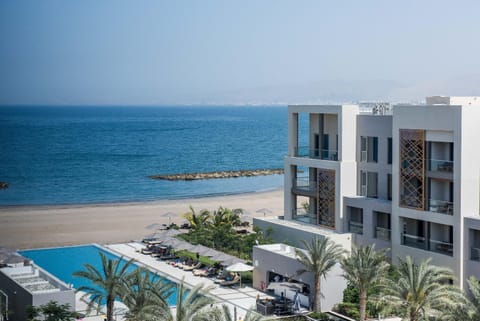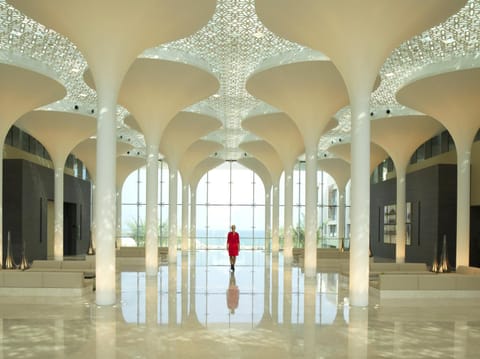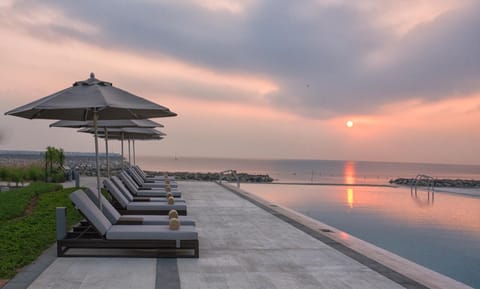 Hotel in Muscat
Pool
Klimaanlage
Küche/Kochnische
Eingebettet in Muscat, dieses schön room in hotel für EUR 196 pro Nacht ist ein phantastisch Option für Ihr nächstes Pause. Dieses 5-Sterne-Hotel begrüßt Sie im Küstenort Al Mouj, dem "neuen Herzen von Maskat". Freuen Sie sich auf einen unvergleichlich luxuriösen Aufenthalt in der faszinierenden Hauptstadt des Oman.
Pool
Klimaanlage
Küche/Kochnische
Internet/WLAN
Rauchen erlaubt
Parkplatz
Waschmaschine
Balkon/Terrasse
Spülmaschine
Whirlpool/Spa
Fernseher
Rollstuhlgerecht
Strand/Ufer
Fitnessraum/Fitnessstudio
Garten
Familienfreundlich
100 % verifizierte Bewertungen
4.5 / 5

"Ausgezeichnet"

(2'040 Bewertungen)
Highly recommended
May 2021
Wonderful facility, very clean spacious room, comfortable bed, amazing shower and bath tub, nice room view, variety of activities (3 pools are available, private beach, kayaks, and a lot more), the area is quite and private, suitable for couples and families, Hotel is walking distance to The wave mall and marina.
We had an issue regarding our dinner but it has been solved.
We stayed in Oman for 2 weeks, 9 days of sightseing with rented car, then 5 days in Kempinski hotel. Everybody were so firendly. The breakfast is a food festival, your time at the beach/pool feels like someone is really taking care of you. Yes, this is pricy, but if you count every details of it, this is how much worth is the stay in this hotel. I rarely give 10, but this is 10/10 hotel. Thx you Oman for thesr 2 weeks.
I tried to come up with some, but failed
Great option on the beach within walking distance to the marina and The Walk.
Oct 2021
We liked everything from the nice rooms, great wifi, beach, dinning options were all delicious... especially Indian and Thai restaurants. Staff was super friendly and helpful and the gym was very clean and nicely equipped. All for super reasonable price. Would highly recommend. Not to mention when we showed up I found out that the rate I paid included breakfast and dinner. I thought the rate was reasonable when I thought only breakfast was included.
There. was nothing we didn't like.
Probably to be a respective destination for me.
Jun 2022
Welcoming was warm and professional. Breakfast offered a wide variety of energy fresh juices and a wide range of food options. Pool did not enjoy due to the heat wave but others did. Unique Indian restaurant and excellent piano performer. Rooms excellent and cleaning nests top class. Location unique with close proximity to marina and external food areas.
Obviously there was room availability and it would have been appreciated to have a room with a veranda.
Highly recommended Hotel. And the people are very friendly.
Apr 2022
We couldn't fault this hotel as the service was Excellent, from the time we arrived to the dinners that was recommended for the evenings by the check-in staff whose names I can not remember but you guys know who you are. The concierge Francis recommended tours of the city and surrounding places of interest to the shopping which was excellent. The hotel is close to the beach and the airport and no traffic congestions.
The Main Reception Lounge has sunken seating areas, for meet and greet, which great but it is a Tripping and Falling Hazzard. As one gets up to meet someone, if not careful you can trip and fall as my wife did on the second last day. Luckily she managed to get up without any serious injury. This is a Safety Hazzard which must be immediately addressed, and removed to avoid any future Compensation Claims.
Room little bit not comfortable, bed and cold room
Very nice Hotel, just perfect
Some restaurants are closed on some days which is annoying. It could be more clear when is what open. Same for Bowling
Amazing hotel and country!
Mar 2022
very nice hotel. Breakfast was really good, rooms were clean and comfortable. The staff was very friendly! We definitely will go back.
de pillows were to low and to soft.
very helpful and friendly staff! high quality rooms, restaurants and overall location.
Very enjoyable stay
Feb 2022
Very good breakfast and very helpful staff Ability to schedule additional activities was nice
Location is not very practical to visit most of Muscat's sight without a car
Very friendly Staff. Great views and lovely food. I recommend spending more than one night to fully enjoy the comfort and sights.
Very friendly staff, especially at the reception. The hotel is beautiful. This was our third time in Muscat, but the first time staying at the Kempinski hotel. The location is pretty good in Al Mouj. You can walk to many shops and restaurants and enjoy the Al Mouj marina at night. And the infinity pool was amazing. However, we found the hotel a little bit confusing to navigate - it took us 2 days to fully understand the way to get to the the room / pool, etc easily. Also, since we had been in Muscat before, we found the hotel a little bit too far from some of the attractions we love (the Opera house, Muttrah, etc.) We had a car, so it was not a problem for us, but if you don't have a car you may be restricted to what you can see / do - unless you want to spend your days in the hotel. They had a great happy hour in the evenings, which was a very nice touch.
Beautiful place for great vacations
Dec 2021
Very clean, very well organized, very nice staff, excellent food.
lovely stay. concierge was very helpful in organising excursions. Yasser was excellent.
Mar 2023
very aesthetically pleasing. modern facilities and very helpful staff. breakfast was great!
Top place , everything is perfect , really its almost impossible to ask for anything to be better as all perfect.
impossible to comment on anything , for someone who lives in hotels most of year and find it impossible to give one thing to improve really amazing , credit to their amazing staff
amazing and comfortable stay!
Aug 2022
this is hotel was amazing we really enjoyed our stay. the room was wonderful and big, the pool and the beach staff were amazing. and the breakfast was very delicious. staff are very friendly and helpful
This hotel is AMAZING! Service, location, design, people and food! It is fabulous I will come back for sure! Well done guys! I am blown away and It is usually not easy to impress me!
A bit of confusion at the pool to use mobile phone power station
They have one of the most beautiful hotel receiptions in Oman. The staff were humble and pleasant. Although our room was not ready but they took us to thier wonderful Amouge Lounge for free coffee which was a comfortable seating and live piano music. The room was spacious and comfortable, breakfast was delicious and had a lot of variety and selection. We definitely will come back again.
They have a basement garage for your car.
The breakfast buffet is unorganized and the staff are all over the place. Room service is slow, requested multiple times to clean my room without any hope. The location is fat out close to the walk but nothing else you can do there. Sea view rooms are quiet as promised which I didn't like. The bed is uncomfortable and you need time to adjust to it.
it was my first marriage night
Sep 2022
bugs bad stuff at the reception
mant thanks for the receptionist miss Amal .. she was so friendly and sweet and she made everything easy for us .. she's
Aug 2022
the veiw the food the staff almost everything
the bed was not comfortable
very far away from the center
Nov 2021
The staff were veryhelpful..specially Mohammad and Maisa in Reception.
The staff were very helpful and friendly. There is a variety of excellent restaurants around the hotel like Soi Soi (an exquisite ambience and delicious food). This is my first visit to Muscat and would not be the only one after my stay in Kempinski.
It was excellent thanks to the Staff
Jan 2023
The staff was very helpful and very nice
The staff was very attentive and extremely friendly. We felt very welcome at the Amwaj Lounge, where Rhea was taking care of us every night with great hospitality
At the main restaurant there were no warmed / heated plates. So all dishes were cold, when we brought them to the table. The food looks good, but the quality was slightly disappointing. This does not concern the other restaurants, where the food quality was extremely high.
The staff was really nice and friendly. The hotel was really clean with gorgeous rooms.
an Omani Scope with good vibe
Sep 2022
the staff is very welcoming and always smiling with is a good vibe. very big thanks to Mohammad alryahi, tabarak, and Abdul aziz for their good attitude.
The staff are very friendly and professional.
wunderbar zum entspannen
Nov 2021
the service! the pool and the food
The room was nice, clean and spacious with a beautiful view of the pool and sea. The hotel is located in a gated area with close proximity to the airport. The food is great with huge selection of cuisines.
the room service and staff.
the place is so nice and excellent
Sep 2022
the pool the Resturants and the breakfast were super
luxury hotel with amazing pool and beach view
Jan 2022
the location next to the beach, the amazing breakfast, the Zale cocktail bar, the staff really friendly
I found it a bit impersonal
the location is very nice, food was amazing, we had half board and they had different dinner theme every night
we had an issue in the room and they were slow in handling it and didn't handle it properly
best home in oman 🇴🇲
Jan 2022
the location is perfect with a lot of services and actives nearby
good hotel, good location, bad restaurant service
Jun 2022
The location is excellent, a lot of restaurants, malls and coffee shops around.
The restaurant where we went for breakfast we found the staff to be really disappointing. started from the restaurant reception the lady who was standing there was not welcoming !!! further more the staff handling food service was also un inviting. they seem to be upset about something!!! we got a feeling that we are not somehow welcomed!!! in a 5 star hotel you are expecting a 5 star service and here in the restaurant we felt the opposite… we did order eggs from the chef and waited for an hour and nothing came. we asked again one of the servant to check on our egg order. similarly the family sitting next to us did not receive their ordered eggs, we have continued eating hoping to receive the eggs but unfortunately neither did we nor the family next to us get it eventually !! the food was nice though but the faces and attitude of the staff makes the experience bad.
Wie viel kostet dieser hotel im Vergleich zu anderen in Muscat?

Der Durchschnittspreis für eine Anmietung in Muscat beträgt EUR 41 pro Nacht. Diese Miete liegt EUR 155 über dem Durchschnitt.
Ist das Parken in diesem hotel inbegriffen?

Ja, das Parken ist als Ausstattungsmerkmal bei Kempinski Hotel Muscat aufgeführt. Für weitere Informationen empfehlen wir Ihnen, sich mit dem Anbieter der Unterkunft in Verbindung zu setzen, um zu erfahren, wo Sie parken können.
Gibt es in diesem hotel einen Pool?

Ja, bei Kempinski Hotel Muscat steht ein Swimmingpool zur Verfügung. Genießen Sie das Wasser!
Ist Kempinski Hotel Muscat haustierfreundlich?

Leider ist dieser hotel nicht haustierfreundlich. Versuchen Sie erneut zu suchen und filtern Sie nach "Haustiere erlaubt"
Welche Ausstattungsmerkmale sind bei Kempinski Hotel Muscat verfügbar?

Wir haben 16 Ausstattungsmerkmale für diese Unterkunft gefunden. Dazu gehören pool, klimaanlage, küche/kochnische, internet/wlan und rauchen erlaubt.