Koulen Hotel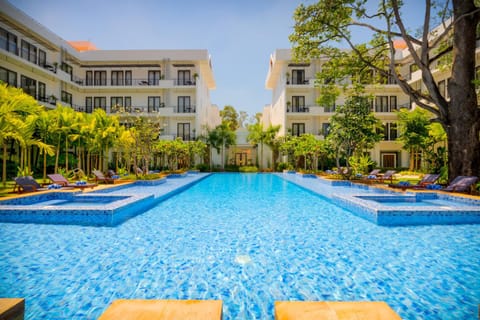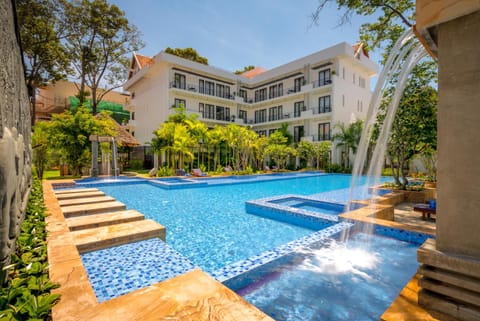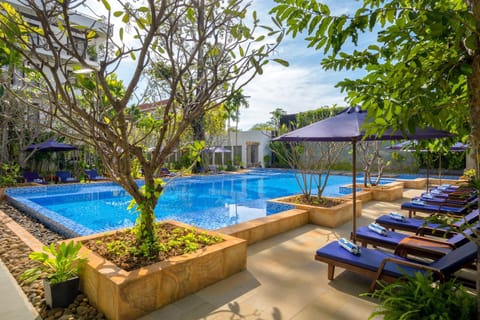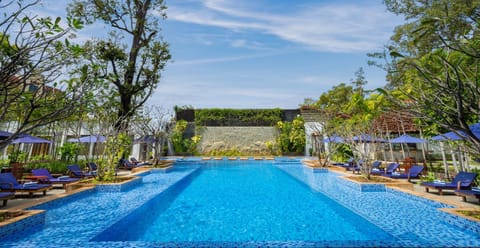 Hotel in Krong Siem Reap
Pool
Klimaanlage
Küche/Kochnische
Befindlich in Krong Siem Reap, dieses charmant room in hotel für EUR 122 pro Nacht ist ein großartig Auswahl für Ihr nächstes Reise. Einen Außenpool und Grillmöglichkeiten bietet das Koulen Hotel im Zentrum von Siem Reap. In der Nähe erwarten Sie die Vergnügungsmeile Pub Street und der King's Road Angkor. WLAN ist in allen Bereichen der Unterkunft kostenlos verfügbar.
Pool
Klimaanlage
Küche/Kochnische
Internet/WLAN
Rauchen erlaubt
Parkplatz
Waschmaschine
Balkon/Terrasse
Whirlpool/Spa
Fernseher
Rollstuhlgerecht
Fitnessraum/Fitnessstudio
Garten
Familienfreundlich
Karte von Krong Siem 

Reap
100 % verifizierte Bewertungen
4.6 / 5 (230 Bewertungen)
Very good quality for the price, huge suite, great location
Mar 2023
We took a 3-bedroom suite because we had 6 people in our group, and it turned out to be the largest suite any of us have ever stayed in. There is a huge living room and kitchen area, and there are three bathrooms for the three bedrooms, and each room has a door that closes, so lots of privacy as well. The pool is really nice, and the happy hour deal at the pool is great, and some of the pool snacks even came with a free beer. The location cannot be beat either--literally across the street is a small mall with Starbucks, a grocery store, and two ice cream options for the kids (DQ and Swensen's). Plus you are downtown and walkable to lots of things, including Pub Street, though that is more like a 8-10 minute walk.
The breakfast was fine, as they had an omelet station and noodle soup station too, but the prepared food in the breakfast buffet (as well as the bread options) were just okay, not amazing. All in all a small issue and we would definitely stay here again, especially if we came with 5-6 people again.
Beautiful, clean and comfortable - would recommend to friends!
Aug 2022
We (family of 4 with kids ages 8 and 7) stayed at Koulen in June of 2022 and had a wonderful stay. We had a 2 bedroom family suite and it was wonderful for us - big size with A LOT of space. We had a kitchen but only used the fridge. (If staying for a longer period of time, you should check with the hotel about stocking the kitchen as far as pots/pans/dishes/etc.) After a long day of sight-seeing, the kids loved the pool and the adults loved the loungers and cold drinks. And of course the staff - everyone was helpful and friendly. We walked to the Pub Street area one night, but otherwise grabbed tuk tuks to get around.
For us the location was great but if you want to be in the middle of the action, it's about a 20 min walk to the tourist zone.
very spacious and accommodating. kids loved the pool
I little bit of a walk to Pub street, especially with young children.
Nice Hotel with apartment type facilities.
Jan 2023
Very nice and friendly staff .
Very large suites. Excellent service and great breakfast
Great stay, convenient location .
Oct 2022
Very helpful staff esp Lin at reception and the person in the breakfast room ( a man , i have forgotten his name). Lin went out of her way to endure all our queries were answered, made suggestions for restaurants and made bookings as and when needed.
Very friendly personal, individual relationships!
Very clean, food was great 👍 Would recommend 👌
Very beautiful pool, great breakfast, great location, sweet staff
Incredible value for money and the friendliest staff
Sep 2022
This was a fantastic hotel! The staff bent over backwards to make sure we had a perfect stay. The suite was enormous, the size of an apartment with a kitchen too. The pool was great with such attentive staff. Very cheap drinks and food. The breakfast buffet was kept hot and great fresh cooked selection as well. Could not fault our stay and would highly recommend the Koulen Hotel. Cambodia has suffered greatly with the impact of COVID on tourism and this is a great destination to help boost the local economy.
This place was exceptional!
fantastic stay in Siem Reap
Jul 2022
the staff were so very friendly and helpful. we loved the location as it was quiet, near to shops, and an easy walk or Tuk Tuk to markets, pub street etc.
honestly - nothing. it's not cheap, but it is value for money.
A great wat to start our visit to Cambodia
Jan 2023
The staff were fantastic and the room/hotel etc were really good. Helped organise my trip and transfers and everything went very smoothly. Thank you
The staff were extremely kind and helpful. We had to leave the hotel at 4am to go catch the sunrise at Angkor Wat, and they packed breakfast for us. They also arranged a ride for us to go to the airport, which was very affordable compared to other 5-star hotels, only $10.
The room was strange, it had a kitchen but no utensils, no pans, nothing. Also the electricity in the kitchen didn't work, so the microwave, even attached to the plug, could not be used. Also, the kettle was in the bedroom but the cord was so short that it didn't reach any of the power outlets, so I ended up having to use an outlet in the living room, on the floor. Also, the room was facing the street, and on the 1st floor so it was quite noisy, being so close to the street.
Amazing hotel, we definitely recommend staying here!
Jan 2023
The staff were amazing, so welcoming and friendly. They even decorated our room and gave us a cake for our honeymoon! Very thoughtful. Big clean rooms, great facilities, excellent location. We really enjoyed our stay and would definitely stay again! Thank you!
Great location, staff, and facilities!
Nov 2022
The staff were all VERY friendly and attentive. we were impressed by them at every point of contact.
The ONLY issue we had was the shower drained slow. aside from that the entire stay was marvelous.
A lovely place to stay in Siem Reap (away from the main traffic and yet pretty central to the heart of Siem Reap)
Jun 2022
The staff at the hotel were exceptional in their service, especially those at the reception who were always so ready to give us a smile and render any help we needed. The staff at the morning breakfast buffet who served us were also very cheerful and quick in their service.
perhaps the only downside was that the water from the shower wasn't that hot and the air-con was not that cold too. Else everything else was good.
If I ever visit Siem Reap again, I will be back to Koulen Hotel!
Oct 2022
The room was spacious, felt like comfort at home. The shower in the bathroom was really good -- strong water pressure and proper water heater. The housekeeping staff kept the room nicely cleaned each day during my stay.
My balcony view was directly opposite a "police/political training school", which occasionally could see some gentlemen taking shower topless. Not at all the fault caused by the hotel, but FYI if you do mind.
The room, more curtains than a cinema, 4 beds 4 bathrooms massive living room and kitchen. Very large balcony. Blown away with the place. Breakfast was good but needed more for the price.
Balcony was very empty but spacious
Luxury stay at an affordable price!
Nov 2022
The property is located a quick 10 minute walk to pub street and the main markets. it's situated next to a small shopping mall with a pharmacy and supermarket to get essentials. The pool and facilities were fantastic and the staff always went above and beyond to assist us.
Helpful and friendly staff at an intimate hotel. The pool was great after a long day at Angkor Park.
Oct 2022
The property felt very intimate.
The pool was incredible. Set in a beautiful garden, we spent a lot of time in the pool, especially after hot days exploring the temples. Location was also quite good, not in the immediate center, but easy walking distance and very quick tuk tuk ride.
fabulous value for your money !
Mar 2023
the pool and garden area were so charming and the breakfast was the best buffet we have had . All the staff were absolutely lovely !
Great location and excellent service
Sep 2022
The location is excellent. There's a shopping mall nearby for food and essentials stuffs. The service staffs go out of their way to ensure our trip is enjoyable We especially love the large suite with living area and a kitchen with the two bedroom 3 cheers to Somney for been a great driver and provided us suggestions on the places for food and massage during the temple tours
Relaxing vacation in Siem Reap
Aug 2022
The location is convenient for sightseeing and for food. The staff are extremely friendly and make us feel welcome . They will help us with all our requests .The size of the hotel is just right and not crowded .
I will stay there again.
Apr 2022
Their pool is very nice, The suit suite room is spacious with a functional kitchen and kitchen utensils. Buffet staff were well trained and the service is very good.
The air-condition in the living room was very loud.
The hotel is few minutes away from pub street. The suite was just amazing. Large terrace. Nice pool. Good gym. friendly staff.
Great location and great people running the property.
Jul 2022
The employees are the best, helpful and extremely nice to the guests.
Because of the Cambodian lock down during Covid the entire tourist sector is just gearing up again, the dining room was closed but a cafe was available for guests.
8.5 for my overall stay with staff service pulling most of the weight.
Feb 2021
The beds were comfortable and the staff was amazing. Very much enjoyed the bathroom amenities and the great service from all staff. The pool was lovely and very clean. The morning breakfast had good variety and tasted fresh.
The room could use more dusting on the lamps and shelfs. The light fixtures had quite a few dead bugs and it took away from my overall critique of the room. I also saw a dead cockroach in the dinning area but the staff took it away.
Thanks for all staffs. They were very kindly. espacially I appreciate everything of Mr.sam. He was wonderful kind and every time he said hello to me with my name. Thanks to friendly staffs, my trip was perfect.
i stayed for six days. but every day the breakfast was the same.
staff were great Bee was very helpful
a bit disappointed
Jan 2023
Staff were good. Good location. Bed was ok.
Not as posh as you would expect for Cambodia. Luxury suite didn't have a bathtub. Rather an ordinary bathroom. No minibar facilities. Room service items on menu were expensive (for the quality and how this hotel is). Couldn't use the pool as they were using it for their own advertisement photoshoot. This is more of apartments than hotel.
Very good hotel but noise from road is loud.
Jan 2023
Staff is absolutely fantastic and they try so hard to make you welcome and happy. Typical of Khmer people, they are always happy to assist you and to smile. The room was good but it was noisy as it faced the road. The hotel has a nice pool and is located in a good area.
The breakfast is ok if you stay one day but it is very limited and never changes. I requested a quiet room but it was on the first floor facing the road so it was very noisy. Although the hotel was really good, the noise would prevent me from going back again especially since I specifically requested a quiet room.
with old parents and young children, six of us enjoyed the stay in 3 bedroom apartment
Oct 2022
staff and value for money
Spacious with good pool and staff who arranged tours.
Most staff lacked English language and though they bowed and scraped they merely did what they had been taught and failed to make a genuine attempt to build rapport or to respond to our personal needs.
Size of the rooms. Pool. Lightining on New Years' party
Bad English of the waiter. No white whine available. No cold cut at the breakfast.
Great option to visit Angkor Wat
Oct 2022
Room was great really spacios with all the comfort needed to rest after a tough day in Angkor. Breakfast was really good with vast variety. Great pool and pool bar to relax. Location is great, 5 min tuk-tuk trip (1-2usd) to pub street and close to the Angkor avenue to visit the temples. Great lick up aervice from the airport for free.
Tuk-tuk prices offered by recepcionist were outrageous. Same service if you take a tuk-tuk from the street will be half price (20usd) for all day.
Recommended place
Sep 2022
Really big room, clean and comfortable. Good breakfast. Close to shopping malls and restaurants.
Great hotel - we would visit again
Jul 2022
Really beautiful hotel in a great location. The room was immaculate and the staff were extremely helpful at all times. We particularly like the pool area in this hotel.
The water in the shower, was tepid not warm most of the time of our stay.
Wie viel kostet dieser hotel im Vergleich zu anderen in Krong Siem Reap?

Der Durchschnittspreis für eine Anmietung in Krong Siem Reap beträgt EUR 37 pro Nacht. Diese Miete liegt EUR 85 über dem Durchschnitt.
Ist das Parken in diesem hotel inbegriffen?

Ja, das Parken ist als Ausstattungsmerkmal bei Koulen Hotel aufgeführt. Für weitere Informationen empfehlen wir Ihnen, sich mit dem Anbieter der Unterkunft in Verbindung zu setzen, um zu erfahren, wo Sie parken können.
Gibt es in diesem hotel einen Pool?

Ja, bei Koulen Hotel steht ein Swimmingpool zur Verfügung. Genießen Sie das Wasser!
Ist Koulen Hotel haustierfreundlich?

Leider ist dieser hotel nicht haustierfreundlich. Versuchen Sie erneut zu suchen und filtern Sie nach "Haustiere erlaubt"
Welche Ausstattungsmerkmale sind bei Koulen Hotel verfügbar?

Wir haben 14 Ausstattungsmerkmale für diese Unterkunft gefunden. Dazu gehören pool, klimaanlage, küche/kochnische, internet/wlan und rauchen erlaubt.