Belize Budget Suites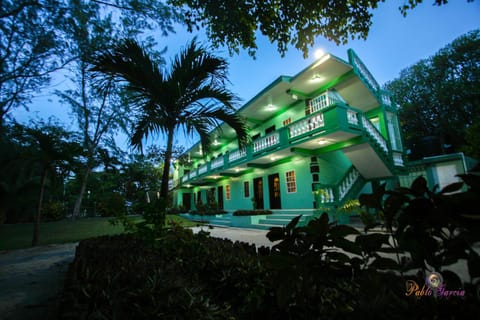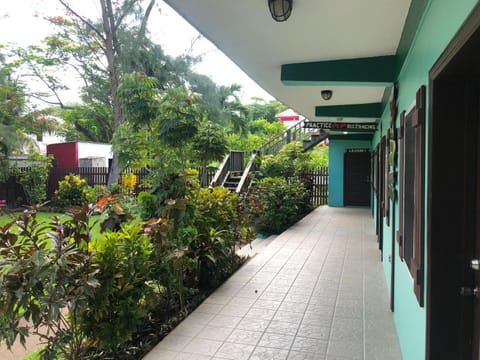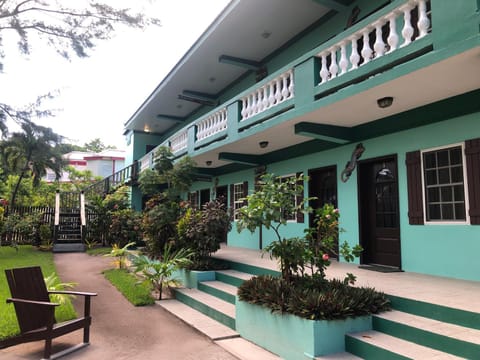 Hotel in San Pedro
Pool
Klimaanlage
Küche/Kochnische
Gelegen in San Pedro, dieses charmant room in hotel für EUR 58 pro Nacht ist ein großartig Option für Ihr nächstes Pause. Die Belize Budget Suites begrüßen Sie in San Pedro, 300 m vom Strand San Pedro entfernt. Freuen Sie sich auf einen Garten, Grillmöglichkeiten sowie kostenfreies WLAN in allen Bereichen. Sie genießen Gartenblick.
Pool
Klimaanlage
Küche/Kochnische
Internet/WLAN
Rauchen erlaubt
Parkplatz
Waschmaschine
Fernseher
Garten
Familienfreundlich
100 % verifizierte Bewertungen
4.5 / 5

"Ausgezeichnet"

(111 Bewertungen)
A gem for thrifty travelers!
Feb 2022
We really enjoyed staying here. Beautiful grounds. Helpful owner & staff. LARGE suite which included a kitchenette and full-size fridge. Very good Wi-Fi. The neighborhood was very quiet. At the same time, the local roads were not paved which meant GIANT mud puddles of clay. It wasn't really possible to walk in flip-flops as they could get sucked into the mud. Great little neighborhood grocery store within 5 minutes walking distance. Close to Robin's Kitchen, a fruit stand, and a wonderful ice cream/popsicle stand. Beach about 5 minutes walk away. Ask Jose to tell you where to cut through the buildings. Lucinda (owner) booked us two snorkeling trips with Belize Pro Dive shop which were awesome. As a bonus, they were very close to BBS. Although, Jose did insist on driving us the first morning to ensure we got there on time. The only negative was being quite far from San Pedro--about 1.5 miles. We didn't want to pay for a golf car rental since we would be snorkeling 1/2 of the days, so we used taxis ($5US) or walked.
As mentioned, the distance from San Pedro and the mud.
Very nice place - looked better that on the pics! I loved all the greenery around. Far from the noise of the city. Rooms and bathroom were clean and beds comfortable. Super nice and helpful staff will tell you all you need to know and help you with any arrangements - taxi, where to rent a cart, etc. It was a lovely stay :)
I would give this place 10 stars
Apr 2023
This accommodation is absolutely fabulous. The apartments are well equipped and everything you need for catering g for yourself. The bedroom was clean and the bed very comfortable with enough storage facilities for a longer stay. The bathroom was big with an excellent shower. There is a small sitting area which is extremely comfortable. We had interconnecting apartments so the young people could have their own twin room and bathroom which was very helpful when they wanted to shut themselves away (as young people do!! Outside there are lovely gardens and chairs outside each apartment where you can sit and watch the birds, even a humming bird. Jose is so helpful and nice. He welcomed us warmly, showed us where everything was and was always on hand for queries. He very kindly sorted out a golf cart for our stay, booked a local snorkelling trip which was excellent and booked a taxi for our departure. I loved this place and wouldn't hesitate to stay there again if I could get to that part of the world. There are loads of restaurants within walking distance of the apartments.
Nothing could improve the accommodation. Belize has a problem with seaweed on the beaches so you do need a golf cart to get around but that just makes it more fun.
The staff are very friendly and always care about us,The wifi is very fast and I would definitely recommend it to my friends.
The size was great! The bathroom was beautiful and clean!
Great stay, good value, lovely and helpful host José. Number one place to stay in San Pedro :)
Apr 2022
The rooms are fantastic, a lot of space, small kitchen and lovely courtyard. José is a super nice, always very helpful host. We felt like home :)
Our matress was e little too soft for our taste.
The property manager is awesome -- very helpful with everything we had questions about. Room was nice, convenient, and quiet. Property is situated in a local neighborhood instead of the hustle and bustle of downtown.
Home like stay in belize budget suites
Oct 2022
The place was amazingly maintained and clean. You could really feel there like at home. The owner is very helpful and gave us all the tips for the San pedro we could hope for. But the most heart warming moment was the help we received when we had to leave since our ferry was leaving at 6 am and no taxi driver was answering our messages. She offered to drive us there herself despite the ungodly early hour. We will definitely come back there again.
Clean and quiet - good value for the money
Mar 2022
The Owner and Manager were both very responsive to our needs. Jose quickly brought us anything we needed. We liked the fact that the area was quiet and away from the bustle of town. We made coffee each morning and appreciated the refrigerator and dishes.
Modern hotel suite provided in a neighborhood setting.
Jun 2021
The location is in a quiet neighborhood, yet close to restaurants and a convenience store. The manager is very friendly and walked us over to the dock where we picked up our fishing excursion the morning after we checked in. The suite had a microwave, full size refrigerator and coffee pot. They provided coffee grounds and sugar to use in the coffee pot. The bathroom was recently renovated.
A fantastic find!
Dec 2021
The location is 1 block off the main road, which was enough block the road sounds, ensuring complete peace & quiet. They are situated in a jungle setting with manicured grounds & everything was kept spotlessly clean. The owner & staff were all exceptionally responsive, wonderful people. I didn't want to leave & HIGHLY recommend the place. There were lots of little stores & restaurants close by. The suite was decorated like many Five Star Hotels I have stayed in. The beds were super comfortable with designer bedding & lots of pillows. TV in both the living room & bedroom. Wifi was good & reliable. Lots of hot water & good water pressure.
There is thick mesh over the entry door window for security (which is great), but could use a curtain. It isn't a big problem as it's not easy to see through, & there were rarely people walking by. The owner mentioned that she is putting curtains on them.
The hotel is in a quiet neighborhood. Has good kitchen facility
The mattress sunk in the middle
not much value for money
Mar 2022
the host is extremely friendly wifi is good
only 2 chairs for a 4 prsn appartment the bed is terrible no kitchen
The apartment was very complete, clean, hot shower. Most of all, there was no loud music in the neighborhoud. The host was very friendly and helpfull.
Small quiet hotel, with lovely decoration and very nice garden, away from the busy main road trafic but not too far from down town restaurants and shops. We absolutely love our stay at Belize Budget suites. Very confortable and clean rooms. The personnel was very much helpfull and nice. We highly recommend this place in San Pedro. Renting a golf cart is a must to get around the island and is a kind of attraction by itself !
Nothing ... except the sargassum which tend to invade the beach front but it is general in central america apparently. We found a way around the problem, there are nice places to swim though, like Secret beach and snorkeling at Hol Chan marine reserve is just magical.
lovely place to stay
Sep 2022
quiet, off the beaten track, not a resort!! price was fantastic!
there were lots of mosquitoes! but that was also lots of places on the island
out tuck in a quite area where all you hear is just birds chirping and wind swirling
Nice place to stay, a bit outside of the city, but great if you are diving in the south.
Jun 2022
nice host, quiet, clean, close to dive school, very comfortable and cozy
a bit too far away from the center (30min walk), but it's also a good exercise after some big dinner :)
Best value in San Pedro if you're just looking for a place to stay while going on excursions.
Jun 2022
My room had a full kitchen with a full sized refrigerator. That came in handy for the water and fresh fruit juice that I bought and all the restaurant leftovers that I had.
The WiFi signal was weak and I couldn't connect with my older iPad
Lovely property and hosts and very reasonable rates. Quiet and within walking distance of many shops
May 2023
Lucinda was a lovely hostess. Very responsive to the minor issues I had. Also, she is an amazing artist and is painting gorgeous murals in the rooms that are now being refurbished. Jose was always available to help out as well. Lovely property within walking distance of many eateries and shops.
I was in Belize for scuba diving and the property was a little distant to walk to dive centers. However, the taxi service was great so never had a problem getting to docks.
I would definitely stay there again.
Nov 2022
Lucinda the lady who checked us in was amazingly helpful and prompt. My what's app had issues and she became the middle person and handled any reservations we needed. She seemed to be working hard at completing some renovations too while caring for tenants needs. LOVED the bed and kitchenette was very handy. Location was great being close to several grocery type stores or veggie/fruit stands.
The front living area of rooms has no sound insulation and so we heard our neighbors when sitting in that area. But the bedroom was very quiet and super COMFY beds!!! Being above 50, these old bones need those great beds with memory foam. The only other thing was the mosquitos and 'no see ums' since there is not much wind on this area with lots of greenery and not being on the coast.
True gem in San Pedro - at a reasonable price!
Apr 2023
Lucinda and her team as well as the entire property are just awesome: so friendly, helping out with anything they can, everything set up with so much love - from the well-curated book with all kinds of information one might need as a guest, to the awesome jungle garden and nicely set up and spacious rooms. A bit outside busy San Pedro downtown - which we perceived as a true bliss after having stayed there before moving over to Belize Budget Suites.
Only one thing: Wish we would have come here earlier and stayed a bit longer!
Location was good, not far from the beach. During the windy days we were pleased to be a little away from the beach. Very shady, nice little garden.
Would be nice to have more comfortable chairs for patio. We used ours form the room. When you in tropics you spend most of your day outside so nice to have lazy chairs outside.
Location, cleanliness, staff
Wie viel kostet dieser hotel im Vergleich zu anderen in San Pedro?

Der Durchschnittspreis für eine Anmietung in San Pedro beträgt EUR 152 pro Nacht. Diese Miete ist EUR 94 günstiger als der Durchschnitt.
Ist das Parken in diesem hotel inbegriffen?

Ja, das Parken ist als Ausstattungsmerkmal bei Belize Budget Suites aufgeführt. Für weitere Informationen empfehlen wir Ihnen, sich mit dem Anbieter der Unterkunft in Verbindung zu setzen, um zu erfahren, wo Sie parken können.
Gibt es in diesem hotel einen Pool?

Ja, bei Belize Budget Suites steht ein Swimmingpool zur Verfügung. Genießen Sie das Wasser!
Ist Belize Budget Suites haustierfreundlich?

Leider ist dieser hotel nicht haustierfreundlich. Versuchen Sie erneut zu suchen und filtern Sie nach "Haustiere erlaubt"
Welche Ausstattungsmerkmale sind bei Belize Budget Suites verfügbar?

Wir haben 10 Ausstattungsmerkmale für diese Unterkunft gefunden. Dazu gehören pool, klimaanlage, küche/kochnische, internet/wlan und rauchen erlaubt.