Copthorne Hotel & Resort Bay Of Islands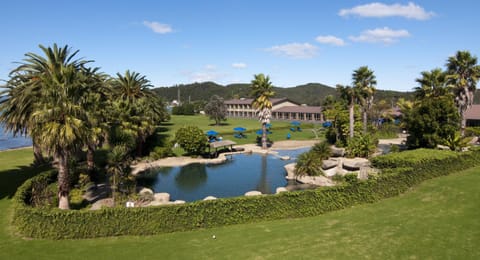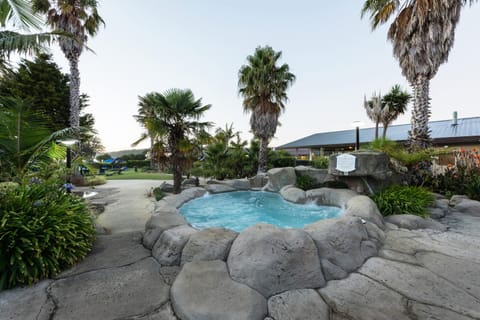 Hotel in Northland
Pool
Klimaanlage
Küche/Kochnische
Eingebettet in Northland, dieses attraktiv room in hotel für EUR 114 pro Nacht ist ein phantastisch Auswahl für Ihr nächstes Pause. The 4-star Copthorne Hotel & Resort Bay of Islands offers an amazing location next to the historic Waitangi Treaty Grounds, a 20-minute drive from Keri Keri Airport. Guest enjoy free WiFi throughout.
Pool
Klimaanlage
Küche/Kochnische
Internet/WLAN
Parkplatz
Waschmaschine
Balkon/Terrasse
Whirlpool/Spa
Fernseher
Rollstuhlgerecht
Strand/Ufer
Garten
Familienfreundlich
100 % verifizierte Bewertungen
3.7 / 5

"Gut"

(2'016 Bewertungen)
yes it was very entertaining
We love the location and we got an upgrade to a sea view room which was awesome
One of the room next to us keep banging their doors when they exit & enter their room.
We didn't have breakfast.
No Extractor fans in bathroom which made it quite humid after bath. Drinking water had to be requested at multiple occasions. No microwave or provision to heat food. Room had space for 1 more mirror to help get dressed faster, as an improvement think of putting one besides the wardrobe.
We could park close to our room.
Went with an open mind and knew they would be understaffed. Greeted by unfriendly staff, delayed checkin, get to room and a random guy runs in saying he was just in this room and then walks out? Unsure if it was a staff member or? no room servicing even though we left from 9-4pm as staff were leaving for the day. Had to wait 20 mins for pool towels and then went to the pool that had no spare room for anyone to fit. Went back for a shower to find pubes all over the bath mat and in the shower. Waited 15 mins for breakfast and kept asking only to be told will be a minute mean while five staff are clearing tables and waiting on the other three tables. The only thing we asked for was ice, this was forgotten. Called back to be told with attitude we are too busy even though they said sure when we first called at 4.30pm. Got charged room service to our room even though we didn't get any. We are very chilled people but this was hands down the worst stay we've ever experienced!!
we always stay here because of the great location
this time was a total opposite experience. We were told to wait an hour for our room. At 3 we got a pool side room, however we booked sea view. When questioned we had to wait another couple of hours for the correct room. So much of our time was wasted just waiting and was difficult as we had kids. Upon checkout no had the decency to even ask how was our stay or even a thanks. Robyn was very unfriendly and lacked people's skills. We did not enjoy our stay at all this time unfortunately. Cobwebs on the ceiling fan and hair on the bedding/ terrible
Good location and dessert was delicious.
Oct 2021
View was excellent. Bed was comfortable.
I booked a superior room, but the room was just like the standard room our friends had booked. The only difference was the seaview. Room was dated. The bar closed at 8.30pm.
I have asked for kettle replacement. The replacement kettle was full of corrosion
Very comfy beds. Wonderful staff, especially at the reception desk!!!
Needs some updating. Carpet etc
Overall pleasant time.
Apr 2022
Utilised the pool and tennis court this time! Plenty of towels and fresh towels the next day. Composting rubbish bags. Comfy beds.
Beds very comfortable but pillows too firm. Heat pump operation was inconsistent between the two nights we stayed. May need filters cleaned? Fridge very noisy and it did not fit well in cupboard so made shutting door difficult. Good to be able to use tennis racquets. Spa was a little cold.
Thoroughly enjoyed feeding the ducks it was an absolutely amazing experience.
the whole thing was amazing, the property is absolutely beautiful.
Great breakfast buffet and stunning views.
Sep 2022
The weather made it more beautiful with the stunning view.
I arrived late and did not check in. However, I went the next morning to check in and the guy working on Saturday morning had told me they sent a no show the night before. I try to explain that their were a lot of us and some how I had overbooked my room. I felt that he did not give me a chance to cancel the room properly and he made judgement of my situation.
wouldn't recommend if you are staying more than a day
Jan 2023
The view was amazing!! The room was nice but not the greatest the pool was great definitely good for family's with kids. Staff are nice.
The rooms have no kitchenette but have a jug cups and a fridge. The funny thing is you don't have a sink to fill your jug up and wash your cup, you have to fill it up in the bathroom which for hygienic purposes is gross.. The sliding door in the room was jammed so with a little rough tug you could get it open the side blinds were broken so you couldn't open those..The sheets on a bed we had were ripped and had stains, the bathroom had little brown spots around the sink which we cleaned our own self, the buffet is over priced and has the most blandest food ever.. mussels tasted like watery rubber same as the tasteless shrimp and also not much options for the price you pay. wouldn't recommend 4/10
the view! very peaceful & can't forget the swimming pool 🤩
Probably wont be back
Aug 2022
The intensive smell of cigarettes in the room and on some of the hotel staff, The inaccuracy of the photos
Fantastic staff great views.
Oct 2021
The staff were very accommodating & made us feel special. Dinner was absolutely amazing & they went out of their way to do a vegan dish which was very tasty.
I was disappointed with the breakfast. I requested a fruit platter & I received an whole apple, a pear, a mandarin & a kiwifruit on a plate uncut no knife to cut with. Will never do breakfast again. Not impressed at all. I ordered hash browns which were very nice.
The staff were friendly and helpful. The setting is so peaceful and tranquil. The family enjoyed the pool and spa area.
Sadly this hotel is so run down and in need of a drastic refurbishment. The windows were dirty and the stairwells full of spiders and cobwebs. The buildings are run down and poorly maintained....a sad visit to what was once a lovely resort.
loved it and will be back
Dec 2022
the staff were awesome. outdoor area where tables were were nice.
the fact there was no jug or bowl in the room. we would've love a hot tea at night time + we'd brought noodles to snack on later in the evening but there were no bowls.
The staff are very friendly and extremely helpful.🤗 The pool is beautiful and clean.
Filthy rooms - Toilet had what looked like spew at the bottom, beds had old crumbs and dust underneath when moved to locate powerpoint. Open Food packets left in drawers from previous guests!
The spa pool was really nice and the view was amazing
There wasn't anything we didnt like
A fantastic location, room and facilities
Sep 2021
The room was great and the deck out to the massive lawns was fantastic. We had great access to the amazing pool area and just wished it was summer so we could have enjoyed it more - although we did have a wonderful spa. The staff were friendly, the included buffet breakfast was great. The walk to the Waitangi grounds was lovely and the tennis court looked great too.
Great pool area for to relax for the day
Dec 2021
The pool, the patio outside the room. Beds were comfortable too.
Room was quiet small & the bathroom.
The pool is awesome Staff are amazing and clean
Amazing Location.
Dec 2022
The location is amazing and the place is quite nice. With nice restaurant, swimming pool. Feels like a tropical island.
The faucets in the bathroom are very low pressure ones. Both the sink and the shower, which isn't too great.
Old, outdated and needs a big spriceup
Aug 2022
The location and Scenery is fantastic
Old, outdated, facilties not working, needs a huge update to modernise, Having to pay for Wifi is also bad.
A great place for families. The pool area is fantastic.
Jan 2022
can't walk to the restaurants etc
The facilities and everything was great and the spa and massage was amazing. the view was a soo amazing, such a nice relaxing place.
place could be a lot cleaner, the curtains looked mouldy and when we moved the couch there was half eaten crackers underneath.
The cream burle dessert is amazing
We stayed here 4 years ago and it was stunning , however this time its very run down , our room was dirty , bed had a broken leg , bath/shower dirty , swimming pool looked amazing but was very dirty when we got in it . Sheets have stains the list could go on . We wont be back as im sure you can get better value for money
Will definitely come back again!
Sep 2022
The breakfast buffet selection was good! The room itself was clean as well, and the facilities were good.
I really wish the pools were heated! They have a spa which we enjoyed, but it was still a little bit cold when we visited so we didn't get to enjoy the beautiful pool as much!
the beautiful view and pool. kids had a blast.
We were reluctant to shower as the water smelled bad. Mentioned to front desk, who told us they'd have maintenance check it out the next day (no good to us as we were checking out the next day!). No offer to move us to a different room or discount our stay. Pretty unimpressed when I paid >$300 a night. Definitely won't be back nor will I recommend
perfect place to getaway
Aug 2022
such a relaxing environment and everything you needed was close by
Great staff and a great location
Mar 2022
Staff were very attentive, excellent service
Stay was not too bad but didn't meet our expectations for a "resort"
Jan 2022
Staff were all lovely, friendly and helpful! Bed, blankets and pillow was comfortable. Pools were nice.
Room was not properly cleaned when we arrived, there were stains on the white bath towel and rubbish from previous guests left on the bedside table. Rooms are not well sound proofed, could hear talking in the corridor with our door closed. The place felt more like a motel than a hotel. The menu was not in the room and have to go down to the restaurant to see what they have - defeats the purpose of room service a little.
Spa pool, tennis court and games room were great to keep the kids entertained. The pool looked great but we never tried it due to cold weather. Beds were comfy. Free parking was available. Reception staff were very friendly.
Rooms/hotel was dated. The toilet flush was 'sticky' so wasted water and was noisy. The hotel is a long walk to Paihia beach, shops and restaurant, so we had to drive with 2 young kids. Happy hour took too long with 1 bartender- we ordered drinks which we got after 50 mins (and after asking twice).
There seemed to be a lack of continuity between staff- not passing info on. Made check-in difficult
Oct 2021
Rooms were good. Location suitable for our activities. Good parking. Good bar.
Unfortunately we were hit with level 3 lockdown on Friday night and had to depart on Sat morning which cut our stay in half. There was no breakfast available on Saturday. Very unfortunately but probably couldn't be helped and definitely not forseen. Because I paid for all our 19 guests in advance I'm now waiting for the hotel to send me the credit for the 2nd night. I was told this would be processed on my credit card.
Wie viel kostet dieser hotel im Vergleich zu anderen in Northland?

Der Durchschnittspreis für eine Anmietung in Northland beträgt EUR 146 pro Nacht. Diese Miete ist EUR 32 günstiger als der Durchschnitt.
Ist das Parken in diesem hotel inbegriffen?

Ja, das Parken ist als Ausstattungsmerkmal bei Copthorne Hotel & Resort Bay Of Islands aufgeführt. Für weitere Informationen empfehlen wir Ihnen, sich mit dem Anbieter der Unterkunft in Verbindung zu setzen, um zu erfahren, wo Sie parken können.
Gibt es in diesem hotel einen Pool?

Ja, bei Copthorne Hotel & Resort Bay Of Islands steht ein Swimmingpool zur Verfügung. Genießen Sie das Wasser!
Ist Copthorne Hotel & Resort Bay Of Islands haustierfreundlich?

Leider ist dieser hotel nicht haustierfreundlich. Versuchen Sie erneut zu suchen und filtern Sie nach "Haustiere erlaubt"
Welche Ausstattungsmerkmale sind bei Copthorne Hotel & Resort Bay Of Islands verfügbar?

Wir haben 13 Ausstattungsmerkmale für diese Unterkunft gefunden. Dazu gehören pool, klimaanlage, küche/kochnische, internet/wlan und parkplatz.