The Leela Palace Bengaluru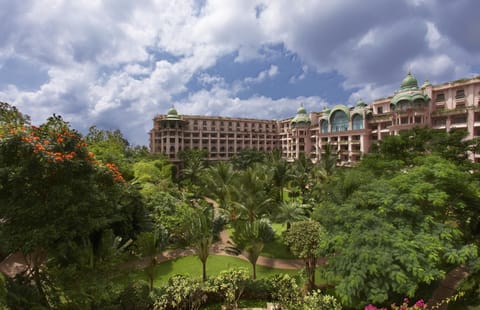 Hotel in Bengaluru
Pool
Klimaanlage
Internet/WLAN
Gelegen in Bengaluru, dieses charmant room in hotel für EUR 71 pro Nacht ist ein großartig Auswahl für Ihr nächstes Pause. Das The Leela Palace Bangalore begrüßt Sie inmitten üppiger Gärten, die sich über 2,8 ha erstrecken.
Pool
Klimaanlage
Internet/WLAN
Rauchen erlaubt
Parkplatz
Waschmaschine
Balkon/Terrasse
Whirlpool/Spa
Fernseher
Rollstuhlgerecht
Fitnessraum/Fitnessstudio
Garten
Familienfreundlich
100 % verifizierte Bewertungen
4.5 / 5 (1'676 Bewertungen)
Zen restaurant too good. Suchi and Jayita were excellent. amazing people with amazing food.
Wow, staff talking to us and making us comfortable is more than delicious breakfast. Loved it!
Outler maintanance (Building outerside need some attention) :)
Recommended for a luxury stay.
Dec 2021
well maintained and opulent
Breakfast could have been better. As compared to other premier rooms, ours had a tiny balcony .
Well it was pretty good. The spread was nice and we enjoyed a lot. We had dinner and also breakfast both were so good.
There is some delay in checking in rooms. As i was traveling from 7 hrs of drive and working, there could be even more quicker check-in process.
excellent experience
May 2022
very clean, very friendly staff, excellent breakfast
Amazing hotel and very nice staff!
Sep 2022
the staff were friendly and accommodating and the food at jamahvar was excellent.
1) the terrace needs cleaning and refurbishment. 2) wine list in the hotel must be available. 3) the buffet at cirrus lacks a balance variety.
The staff was really sweet and proactive. The room was nice and had all the amenities. The food was really good, particularly the breakfast spread.
There was a slight stale smell in the room. The pool on the first day was really dirty and smelled bad (however the staff got it cleaned overnight after we notified them, so kudos to that)
We had a lovely stay & would like to thank Leela for even sending me a cake to the room
Jul 2022
The staff at reception was really friendly & they also upgraded our room since it was my b'day.
The house keeping staff was relatively slow
The services was awesome. Special thanks to Neha and the team for providing us a great stay
Everything was great just our room was a little too far
Fantabulous Service
Jul 2022
the services from the driver, porter, room service, front office staffs all are extra ordinary
Perfect place to stay and enjoy Bangalore
Mar 2022
the service and staff is exceptional. the hotel itself is very good. the restaurants and in room dining is excellent too. perfect place to stay and enjoy BLR. loved it.
Very royal property
May 2021
The rooms are spacious and the service is amazing!
Nice hotel; great location but more friendly and warm service will make it fantastic
Aug 2021
The rooms are large and spacious. The restaurants are superb and the food excellent. The response by some staff was very good. When we wanted a Netflix connection, they managed to source a more modern TV and a Chromecast quickly. The response was excellent at least by some staff.
Given a smoking room and despite their best effort the smell could not be removed and finally we had to get used to it. The equipment in the room seem very old. Imagine a TV without an HDMI port in this day and age when other hotels are providing Netflix connnectivity They seem to overestimate their restaurants' popularity. We were told that we will not get a table for dinner when we checked in the morning but when we walked in we found the restaurant almost empty!! The rooms in terms of furnishing and fitting do need an upgrade.
Well maintained place, great staff
Aug 2022
The rooms and amenities are very clean and well maintained. The staff are very courteous and attend to all your needs which made the stay really comfortable and pleasant.
There is a calmness in this property that is hard to find anywhere in Bangalore. Amongst the greens this hotel is truly a refuge. The staff, food and aesthetic only add to an already great experience.
The long check in and check out process was less than ideal
Amongst the best New Years 2020
Jan 2021
The property is centrally located in Bangalore and hard to miss. We were welcomed by the welcome desk and because of COVID19, it was a touch less greetings and entry and we were escorted to our room. Room was exceptionally spacious and overlooked the city center but not noisy at all. Clean washrooms, good in-room dining. The best was the evening on 31.12.2020. Had a wonderful options to select from and great cuisine to choose from. The check-out process was equally simple, straightforward and touch less.
Was a disappointment after being at the Leela Palace in Chennai, mainly in terms of service.
Jan 2023
The property is beautiful and they have nice live music and incense most of the time, which is great.
The service is terrible. We ask for standard things and don't get them most of the time. Even a cup of coffee or a dosa at breakfast can take up to an hour or never arrive. The location is also not that good. It takes about an hour to get to most places we wanted to visit. We came here after staying at the Leela Palace in Chennai which was a much better experience for us, in terms of food and service. But also the clientele in Bengaluru was less pleasant to be around (everyone seemed to be a young and entitled techie, as opposed to the older and more chill crowd in Chennai)
Best place to stay in Bengaluru
Feb 2022
The overall experience .. food , luxury , stay , spa was a memorable here
Amazing Hospitality at Leela
Jun 2021
The opulence of the hotel will just put you in awe right from the entrance. All the staff is extremely humble, helpful and very professional. They go out of their way to make your stay comfortable. Each and every member of the staff greets you with a pleasant smile at all times. The rooms are wonderful, spic and span and super comfortable. The hotel is following all COVID-19 protocols very strictly which puts you at ease. Thank you Leela, Bangalore.
The male waiter who attended to us at the Thai food restaurant & the team at breakfast launch
We had a good day at Leela
Mar 2022
The Luxury and Ambience heals your mind. Very neat and gorgeous property.
Service wasn't prompt. The complimentary cake was given to us after 2-3 times of follow ups. It dampened the occasion for which we stayed there. Pool Side Food menu can have few more options for sure. High floor stay wasn't provided as a request.
the lobby grandness and quality of the hotel in general
empty mini bar, room furthest point from elevator when hotel was clearly not full
A spectacular oasis in Bengaluru with exceptional service.
Jan 2023
The Leela Palace is an oasis in Bengaluru. The grounds are spectacular – a beautiful, opulent building, immaculately kept and stunning gardens, gorgeous swimming pool, spa, and interior design. The staff was also exceptional, always polite, always present but never too much. And the breakfast buffet was one of the best I've ever had – everything from traditional English breakfast options, healthy fruit and fresh juices (including coconuts), and a huge range of delicious Indian fare.
Comfortable, Relaxing and a tranquil filled stay
Mar 2022
The hotel room was very clean and the lawn is outside is beautiful. Enjoyed the breakfast buffet as well..they have a wide range of breakfast items to select from, the food is made fresh and it tasted amazing 😍
I think there could have been a mini fridge in the room with a few better snack items. I was also looking for a bubble bath bottle but didn't find one..since this is a five star hotel they could have have kept a bubble bath bottle in the washroom
I would like to Sanks horseshit the duty manager from 7 PM to 7 AM
Feb 2022
The hotel is wonderful and the most amazing of it is the staff. The food is delicious and varied. In short, I can describe it as God's paradise on earth
Amazing staff for if you like an ultra deluxe experience
Jan 2023
The hotel is amazing and the staff so helpful
pool was closed during my stay due to a wedding
Good property not so Good staff
Jun 2022
Staff. The staff doesn't care at all. You request salt and pepper shaker at restaurant and it takes 20 mins to get it. Alot of such events happen often
totally worth it and lives upto the hype ! LUXURIOUS
Jan 2023
the hospitality and food was amazing !
Average quality stay
Feb 2022
The greenery, breakfast and lunch, check-in process.
Spread of items on buffet dinner, bathroom and toilet (bathtub was small and flush cistern has a mind of it's own), items in the snack bar / mini bar (hardly any choice).
Exceptional as always.
Oct 2021
The entire property, ambience, staff, rooms, safety standards, quality of the food, everything was top notch.
Wifi connectivity could have been much better.
The Conservatory room was amazing but the service from the staff and attention to detail was incredible. We never felt anything was out of place or that anything was lacking.
the ambiance was good and the room interior design was great
the selection of food need to be improved
Spaciousrooms,,LocationExcellent , great staff. Spa is very good.
Asked for a Premier room with balcony, Got a corner room with a tiny balcony with no furniture
spacious rooms, ambiance.
Rooms were huge, well furnished
Their service , their corridor stinks, they gave premium room far far away from the lift, then when i order from Zomato, i had to fight and shout at reception, they were rude Each time i had to receive my zomato parcel with stress Its not a joke to walk 1 km up and down from room for anything and once i stepped out of the room, i was getting stench, very bad smell For the exorbident price they charge, its a total waste
amazing experience and this property is one of the finest in the city. Rooms are at par and infact better with global fi
Aug 2022
Rooms were amazing, food was amazing, both dinner and beeakfast buffets, very friendly and helpful staff
Room is good, Location is good Property looks grand and gives a good feel.
Food could have been better. We more variety. At the price, it was not worth it. The TVs in the room is cheap.
Best Staycation Experience
Nov 2021
Room, Food, Service everything was excellent.. Breakfast spread was just awesome. Mainly the pastry section was the best we have had till now.
Absolutely amazing experience
Jan 2023
Right from the entrance to the room it's absolutely amazing
it's very close to the city but keeps you away from all the hustle from the city
Wie viel kostet dieser hotel im Vergleich zu anderen in Bengaluru?

Der Durchschnittspreis für eine Anmietung in Bengaluru beträgt EUR 37 pro Nacht. Diese Miete liegt EUR 34 über dem Durchschnitt.
Ist das Parken in diesem hotel inbegriffen?

Ja, das Parken ist als Ausstattungsmerkmal bei The Leela Palace Bengaluru aufgeführt. Für weitere Informationen empfehlen wir Ihnen, sich mit dem Anbieter der Unterkunft in Verbindung zu setzen, um zu erfahren, wo Sie parken können.
Gibt es in diesem hotel einen Pool?

Ja, bei The Leela Palace Bengaluru steht ein Swimmingpool zur Verfügung. Genießen Sie das Wasser!
Ist The Leela Palace Bengaluru haustierfreundlich?

Leider ist dieser hotel nicht haustierfreundlich. Versuchen Sie erneut zu suchen und filtern Sie nach "Haustiere erlaubt"
Welche Ausstattungsmerkmale sind bei The Leela Palace Bengaluru verfügbar?

Wir haben 13 Ausstattungsmerkmale für diese Unterkunft gefunden. Dazu gehören pool, klimaanlage, internet/wlan, rauchen erlaubt und parkplatz.