Siem Reap Palace Hotel & Spa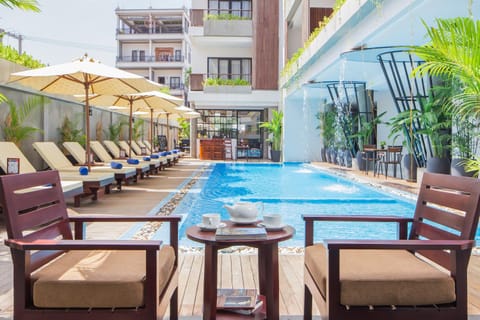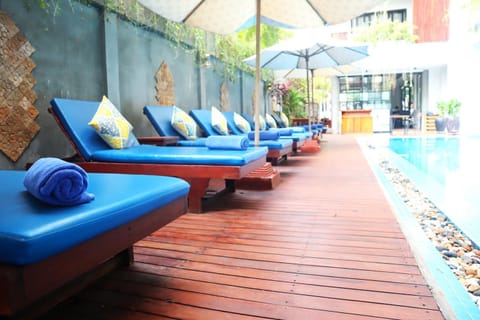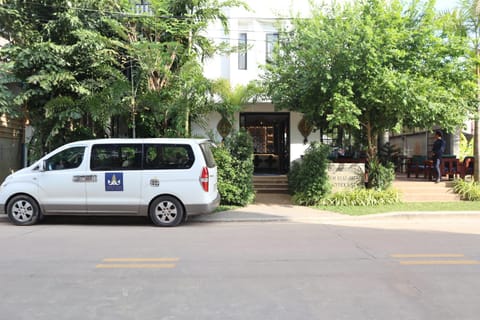 Hotel in Krong Siem Reap
Pool
Klimaanlage
Küche/Kochnische
Befindlich in Krong Siem Reap, dieses charmant room in hotel für EUR 80 pro Nacht ist ein phantastisch Option für Ihr nächstes Urlaub. In Siem Reap, 700 m von der King's Road Angkor entfernt, bietet Ihnen die Siem Reap Palace Hotel & Spa Unterkünfte mit einem Restaurant, kostenfreie Privatparkplätze, kostenlose Fahrräder und einen Außenpool.
Pool
Klimaanlage
Küche/Kochnische
Internet/WLAN
Rauchen erlaubt
Parkplatz
Waschmaschine
Balkon/Terrasse
Whirlpool/Spa
Fernseher
Rollstuhlgerecht
Fitnessraum/Fitnessstudio
Garten
Karte von Krong Siem 

Reap
100 % verifizierte Bewertungen
4.7 / 5 (237 Bewertungen)
highly recommended, we stayed 5 nights
Sep 2022
wonderful small hotel within walking distance to to many restaurants, very attentive staff and delicious breakfast with cappuccino
Best place to stay in Siem Reap! Highly recommended!
Nov 2022
We had an amazing stay! The hotel was beautiful and very peaceful. Staff were so helpful and attentive and it was great value for money especially the airport transfer & included breakfast. It's in the perfect location, a short walk to pub street, great food spots and the markets. Wifi was great and the pool was perfect after a long day of seeing the sites.
My stay in Siem Reap
Oct 2022
Very good location, staff provided cold towel after return from temples and other activities.
No lift, limited selections for breakfast.
it was absolutely amazing and will definitely going back again
Jan 2023
very friendly stuff and so professional helpful and accommodating
we love everything during our whole experience
Staff were very welcoming, lovely room and great pool.
Nov 2022
Very clean. Room was large and toilet and shower area was good. Air con was great. Best part was the Tuktuk driver, he did our airport transfers and also took us around the temples on a half day tour. Breakfast has been westernised but it was ok. Pool area is great. They are putting in a lift so when we got back from our tour it was very noisy but staff offered us a free cocktail to make up for it, much appreciated. Will stay again if the opportunity arises.
will definitely stay here again when coming back to Siem Reap
Jul 2022
the wonderful staff of the property. i have never had anything like them in my entire travelling experience. they really go out of their way to make sure you are comfortable. i once went back late and the chef has gone home so the staff offered to order me food from food panda and set it up beautifully in the restaurant. it was such a nice gesture esp for someone who was tired and hungry having worked for 12hrs straight. i also liked the room. they upgraded me to a junior suite where i get to enjoy a spacious room with a big tub. i also like the food and their beverages! always a hearty meal.
very minor but the property doesn't have a lift
Really great staff
Jul 2022
The staff were extremely well-trained and friendly and eager to help with anything. The breakfast was huge and good- they have a Western menu and a Khmer menu, so be sure to check both. The pool and property were very clean. The tuk-tuk drivers they supplied were also great. Wifi was fairly good. Beds were comfortable and there were black out curtains.
We couldn't get the tv to work, if that's important to you. The a/c was not very cold and it's central a/c with no in room control. Be aware that they've got that "bathrooms don't need solid walls" trend for the shower all the hotels seem to do now, so it can be a bit awkward if you're sharing with a friend. There's no elevator although supposedly they are working on it.
Great boutique hotel quietly located but central enough for walking
Jul 2022
The staff was very welcoming and super attentive and visibly eager to ensure all guests complete satisfaction. I also noticed that they learned our names to be able to greet us by name whenever we came from somewhere, right from start.
The staff was incredibly friendly and attentive. Additionally, the breakfast was wonderful. Location was good, it was near the old market but in a quiet spot which was perfect to rest after the busy days.
Do not book here until the works finish
Nov 2022
There were noisy works from 8:30 am to 19 pm, approximately. During this period, it was impossible to rest in the room. We were unaware of this situation and only get the information upon checking in. The hotel should have closed in the period foreseen to finish the works (until january, it seems) or at least published an advertisement accordingly.
The staff is more then nice! The rooms are clean and spacious, the design of the building is great! it is better then on the photos!! strongly recommend!
The breakfast portion was too small for me. I am 183cm 95kg male. But you can order extra or just grab something outside the hotel!
The staff at the hotel is excellent - they made sure our stay was comfortable and even upgraded our room!
Food quality during breakfast.
Quiet and friendly
Aug 2022
The staff are wonderful and so helpful, even having our breakfast packed for a 4am start. The pool is lovely and Sunshine the waiter serving cocktails with a smile is a delight.
Large comfortable room quiet area
Mar 2022
The room was large and clean. The shower was great and had hot water. The staff were incredibly welcoming and friendly and always ready to help. The swimming pool was a lovely temperature and great to cool off in. Free transfer to the airport after our stay was also a nice addition.
The breakfast options were limited. The Western breakfast as an option was awful (unless you like honey on your eggs) so we opted to eat out for breakfast as there were many options close by. The Khmer breakfast looked nice, though on a long trip we were favouring western breakfast during this particular part of our trip! We also desparately needed laundry doing but the hotel does not facilitate. There are however several options nearby which we used.
Great Hotel option in Siem Reap
Dec 2022
The room was a good size. It has a nice tub and shower, a bidet as well. The room was clean and the staff were fantastic.
The rooms are very spacious, and the location is excellent. It's just a short walk to restaurants, the river, markets and Pub Street. The staff are fantastic and nothing is too much trouble. Breakfast is a good choice of western or khmer food (I recommend the noodles with pork from khmer menu). The pool area is lovely with waterfall features. They can pick up or deliver to airport and the hotel is also easy to find for local transport such as tuk tuk.
There is no elevator, so after a day of walking over the Ankor ruins, the last thing you feel like is climbing more steps (we were on 3rd floor). Also, while the idea of having in-house facilities is nice, the things such as massage and laundry are very expensive compared to just around the corner. Finally, the bar fridges are not cold but the staff will put whatever you need chilled in the 'big fridge' for you and deliver it when wanted with ice.
Lovely friendly hotel that enhanced our stay. We would definitely recommend it .
Dec 2022
The location was very good with easy access to the river and Pub Street. The staff were all very friendly and helpful and the tours organised for us were excellent and very good value. The breakfast was limited but very nice and the service very good. All the food and drink we had at the hotel was always very nice and good value for money. The pool area was perfect especially after a day of exploring the Angkor temple complex.
We would struggle to complain about anything as this hotel suited us perfectly it felt small and welcoming and all the staff were excellent. We thoroughly enjoyed our stay here and that was in large part due to the staff what a great team they have!
fair hotel and a bit under value of paid amount
Aug 2022
the location is ok and breakfast is good.
facility is a bit old. toilet door not able to close completely and seat cover is loose at one end. No lift in the property but it is under progress of installing.
Nice, comfortable hotel very near the city center
Sep 2022
The hotel is in a great location, right next to the town center. Many of the other higher-end hotels in Siem Reap are on a big, soulless avenue with nothing around but other hotels and resorts, so we appreciated the lively location. The swimming pool is not enormous, but very nice after a long day sightseeing.
Our room was on the 4th floor and at the moment there is not an elevator (one is being installed they said). They were asking nearly 40 US dollars for a massage, which is about 10 times the rate you'll find outside the hotel.
Nice and clean and a good swimming pool. Not a 5-star hotel - more a small, cosy boutique hotel.
Jan 2022
The breakfast was simple and Khmer - not western at all
I had expected a much better breakfast related to the price given before reduction.
Mentally relaxing
Jul 2022
The attitude of the frontvof house staff ,exceptionally curtous and warm smiles ,nothing was too much trouble ,the quiet location and easy access to what you need ,was a stones throw away.
Nothing at all hope to return someday 🙏
Thank you for staying in your beautiful new hotel! The hotel is located in a quiet street but close enough to the center and has a swimming pool. The staff was very friendly and helpful and my room was very big, clean and comfortable. I enjoyed my time in your hotel!
Good hotel excellent but pricing should be around $40_50 not more than it
May 2022
Staff are very good and good location
It's costlier comparing to the many good hotels in Phnom Penh city
Starting from the staff, hotel service basically everything was excellent. I highly recommend for everyone to come and enjoy. Special thanks to Nicky ❤
Wie viel kostet dieser hotel im Vergleich zu anderen in Krong Siem Reap?

Der Durchschnittspreis für eine Anmietung in Krong Siem Reap beträgt EUR 37 pro Nacht. Diese Miete liegt EUR 43 über dem Durchschnitt.
Ist das Parken in diesem hotel inbegriffen?

Ja, das Parken ist als Ausstattungsmerkmal bei Siem Reap Palace Hotel & Spa aufgeführt. Für weitere Informationen empfehlen wir Ihnen, sich mit dem Anbieter der Unterkunft in Verbindung zu setzen, um zu erfahren, wo Sie parken können.
Gibt es in diesem hotel einen Pool?

Ja, bei Siem Reap Palace Hotel & Spa steht ein Swimmingpool zur Verfügung. Genießen Sie das Wasser!
Ist Siem Reap Palace Hotel & Spa haustierfreundlich?

Leider ist dieser hotel nicht haustierfreundlich. Versuchen Sie erneut zu suchen und filtern Sie nach "Haustiere erlaubt"
Welche Ausstattungsmerkmale sind bei Siem Reap Palace Hotel & Spa verfügbar?

Wir haben 13 Ausstattungsmerkmale für diese Unterkunft gefunden. Dazu gehören pool, klimaanlage, küche/kochnische, internet/wlan und rauchen erlaubt.