Cassa Luxury Homes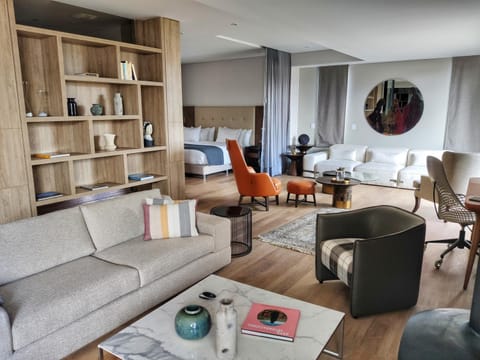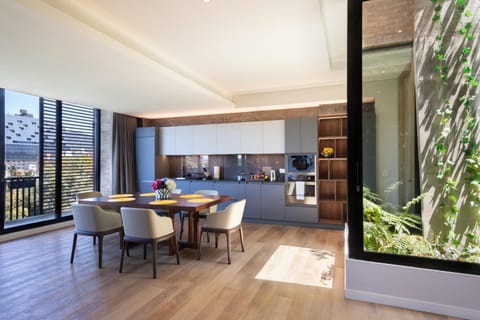 Hotel in Bogota
Pool
Haustiere erlaubt
Küche/Kochnische
Eingebettet in Bogota, dieses attraktiv zimmer im hotel für EUR 80 pro Nacht ist ein großartig Option für Ihr nächstes Urlaub. Das Cassa Luxury Homes liegt 5,4 km vom Einkaufszentrum Unicentro entfernt und bietet Unterkünfte, ein Restaurant, einen Außenpool, ein Fitnesscenter und eine Bar. WLAN nutzen Sie in allen Bereichen der Unterkunft kostenlos.
Pool
Haustiere erlaubt
Küche/Kochnische
Internet/WLAN
Rauchen erlaubt
Parkplatz
Waschmaschine
Balkon/Terrasse
Whirlpool/Spa
Fernseher
Rollstuhlgerecht
Fitnessraum/Fitnessstudio
Garten
Familienfreundlich
100 % verifizierte Bewertungen
4.6 / 5

"Herausragend"

(425 Bewertungen)
We really enjoyed our stay. However the only negative was the fact that I reserved a 2 bedroom apt with kitchen and the first night I had to stay at a one bedroom apt without a kitchen. I found it a bit disorganized and disappointed. Staff was very friendly and breakfast was really good. I'll be back but make sure they have available the room you have reserved.
exactly what I wanted for family Travel. I'll be booking this for work travel in the future as well! Great stay!
May 2022
well laid out, great location, comfy beds, amazing breakfast.
Very modern, clean, spacious!
Exceptional Accommodation 5*****
Oct 2021
very Large modern rooms, small balcony, huge bed very comfortable, kitchen in room, huge flat screen and sound bar, better than 5 star Hotel. Great staff very helpful, fantastic breakfast and very safe location.
Next time in Bogota. Will stay there
Jul 2022
Very Clean, updated, great breakfast, very secure.
very chic excellent service
Very central, well located with the park Virrey across the street. Large & spacious rooms nicely decorated & very comfortable. Housekeeping service very good & extremely clean. Wonderful & very attentive staff at breakfast, reception. Everyone & everything about this boutique hotel was wonderful
Everything you need to feel pampered & enjoy Bogota
Jan 2022
This property and location was perfection! On a beautiful park full of people walking their dogs, doing yoga, reading and catching up with friends, it was full of life. We were walking distance to Fresh Market and nice shops, restaurants and Andino Mall. The staff went above and beyond to be helpful and the breakfast was much more than your typical buffet. They made eggs, waffles and pancakes to order along with the usual fare. We loved it so much we want to return and stay here for a few months. Also the bed & bedding were luxurious and comfy.
this place is just perfect. the breakfast was so delicious, the bed was super comfortable and the staff very nice
everything was so good the only small detail is that you need to reserve ahead in order to use the gym or the pool for just 1 hour. and the times that those are available aren't convenient at all so we couldn't be able to use any of them
This is nice hotel in an upmarket safe area in Bogota. Walking distance to supermarkets and shopping. The rooms are spacious but look a bit empty as furniture is sparse. Good breakfast with two very service minded guys who provide everything you ask for. Gym and heated pool on the top floor.
Do not stay at this hotel. The staff (with the exception of the breakfast crew) urgently needs training in service and attitude. Chatting on the private phone is more important than taking care of guests. The night receptionist started off well, BUT AT CHECKOUT WE WERE ACCUSED OF STEALING A BOTTLE OF SHAMPOO. After washing our hair with body gel for three days they wanted to charge us for stealing a bottle of shampoo?? How on earth? We've stayed in a zillion hotels but never experienced anything similar. After explaining that that no shampoo was ever available and the conditioner was in the shower, they understood they had made a mistake. No apologies, no help with all the bags when we left. And a general bad attitude, even before the accusation of grand theft, throughout the stay. Just don't stay here. And if you still have to, make sure to take photos of all accessories, and try to avoid the reception staff as they shouldn't be in the service business in the first place.
The staff was lovely and was right next to everything
CANNOT recommend this place enough. aside from the comfortable rooms, safe and beautiful location, warm pool, and phenom
Aug 2022
The room is very stylish and modern, but missing some basic useful apartment utensils
Feb 2022
The room is very stylish and modern, and ours had a massive TV already with Netflix, Apple TV, Prime etc. The kitchen has a basic but okay selection of cutlery, pans and cooking utensils. The breakfast downstairs were very good. The heated pool on the roof has amazing views. The property is also just round the corner from some lovely cafés and a really well stocked supermarket. The park opposite is also lovely to have a walk in, it also has a play area which is great for the kids.
Our room was at the front of the property and although it had good views of the park the road is quite noisy. The second room in our apartment also seem to be next to the main downpipe for the bathrooms in the hotel so you would often here rushing water. The rooms are comfortable and look very nice they actually don't have much useful stuff in them. Our room didn't have any hand soap and when we asked at reception they said they didn't have any (although I know some of the rooms did, so maybe that was a one off). In general the rooms are missing some basic kitchen stuff like washing up liquid, sponge, dishcloth, dust pan and brush. You can obviously get all this stuff at the supermarket on the corner, but it does mean you end up buying stuff for potentially only a couple of days. It would have been nice if it was just included.
if you love a treaty rooftop pool and a great park with lots of exercise and dogs running around - this is the place for
May 2022
the rooftop pool and the gym were the highlight of the property along with the beautiful park across the street. make sure to make a restoration to use the pool and gym. I enjoyed the residential aspect of the location but someone (like my partner) who likes more hustle and bustle would find the location too quiet.
I thought I would've been okay with no heating but my goodness it gets cold ! it really affected my allergies. also the elevator didn't register the cards well to access your floor and the room wasn't well planned with no outlets near the bed. the breakfast was decent.
nice location, large and clean space, friendly staff
Oct 2022
The property was at a quiet and safe area in Bogotá. The room was clean and big with everyone you need. The breakfast was also very nice too
The room was pretty cold at night and it did have heating system
It's the best place to stay
Mar 2021
The property is new and modern! Very clean, close to the T zone and restaurants! The staff was AMAZING! Manuel, Stefania and Paula and the rest of the staff make your stay even more appealing!
Nothing! I like everything!
The property is lovely. Staff are very kind and helpful.
Breakfast could be better and the windows in our studio were broken so we couldn't close them.
Great Place and Incredible Service
Jun 2021
The place is modern and clean.
Perfect stop in bogota
Sep 2021
The place is just perfect I go there every time when I am in bogota
the location is excellent, it has a gym and a pool on site so it makes it even more luxurious like. Breakfast was very nice and the staff were very good!
The property most often was looked after by the porters who were restricted to help guests. They only provide one room key per family or group which is also not convenient.
This is the second time I have stayed at Cassa and I was not disappointed the toilet would not flush
Apr 2023
The included breakfast was very good ,The staff are excellent ,so helpful and kind .
The hotel is very well located, in the north of the city, literally opposite Parque El Virrey and at a 10-minute walk to Zona T. Rooms are really big with a living room area, a full-equipped kitchen, bedroom area and a really spacious bathroom. Breakfast is served from 6.00 to 10.30 and it's pretty varied. The staff are extremely helpful and are always willing to make you feel comfortable.
The hotel rooms do not have central heating and the bedroom at night is pretty chilly. Breakfast on Sundays has limited food. Not too many sweets for breakfast.
The apartment is great and quiet, very modern, 2 bathrooms. Free car park.
The swimming pool was not available
Super nice staff, comfortable beds, nice facilities, great location, parking and breakfast included, very clean.
We had to switch floors, if you stay in the lower floors you can hear people talking on the street. Is is city leaving so you expect a bit of noise, however people talking so close to us, not fun. The staff was very nice and relocated us to the 5th floor….very nice!
A very find time with in a great hotel and area.
Mar 2022
Staf great, the location could not have better, just a super place To stay I Bogota. the area was the best in Columbia. If I ever go back to Bogota. I will go back to this hotel. My only Problem, I did not speak much Spanish and they did not Speak much eng lish
My only complaint was the lack of staff who did not speak English.
it was wonderful experience, everyone was helpful and kind.
May 2022
I would just suggest a document with information about the hotel - pool needs to be reserved, breakfast info for room ordering.
perfect start to the holiday! if I ever come back, I'll be coming back here!
Aug 2022
spacious, relaxing, quiet, clean, comfortable.
They controlled temperature in room also WiFi sucks
highly recommend!
Jan 2022
rooms are clean and modern. Location is great, across the street from a beautiful park, walking distance to many attractions/shopping/restaurants - The staff was VERY attentive. Breakfast was good.
Seemed quite stingy on the small things. One glass. One coffee mug. Two teaspoons. But then there were countless throw rugs and coffee table picture books, which all seemed a bit odd.
Only negative was new construction next door. But the noise was kept at a minimum.
Only missing thing was lack of heating, but this is generic in Bogotá.
One bedroom appartment could have a better separation between day and night parts.
No room heat...room temp was 60 degrees
Disrespectful Hotel and you can't trust them for confirmation.
May 2023
I did the reservation two weeks before the date and while I was in the airport 5 hours before arriving to the hotel they told me the rooms are reserved they gave it to someone else because they wanted to extend and that was very disrespectful. Very bad reason and I would never recommend anyone a hotel who doesn't respect there word of confirmed reservation. Thanks God I was welcomed in a better Hotel
a bit noisy at peak times. but calm during the night.
Wie viel kostet dieser hotel im Vergleich zu anderen in Bogota?

Der Durchschnittspreis für eine Anmietung in Bogota beträgt EUR 36 pro Nacht. Diese Miete liegt EUR 44 über dem Durchschnitt.
Ist das Parken in diesem hotel inbegriffen?

Ja, das Parken ist als Ausstattungsmerkmal bei Cassa Luxury Homes aufgeführt. Für weitere Informationen empfehlen wir Ihnen, sich mit dem Anbieter der Unterkunft in Verbindung zu setzen, um zu erfahren, wo Sie parken können.
Gibt es in diesem hotel einen Pool?

Ja, bei Cassa Luxury Homes steht ein Swimmingpool zur Verfügung. Genießen Sie das Wasser!
Ist Cassa Luxury Homes haustierfreundlich?

Ja! Diese hotel ist haustierfreundlich. Für weitere Informationen empfehlen wir Ihnen, sich mit dem Buchungsanbieter in Verbindung zu setzen.
Welche Ausstattungsmerkmale sind bei Cassa Luxury Homes verfügbar?

Wir haben 14 Ausstattungsmerkmale für diese Unterkunft gefunden. Dazu gehören pool, haustiere erlaubt, küche/kochnische, internet/wlan und rauchen erlaubt.