Le Celestium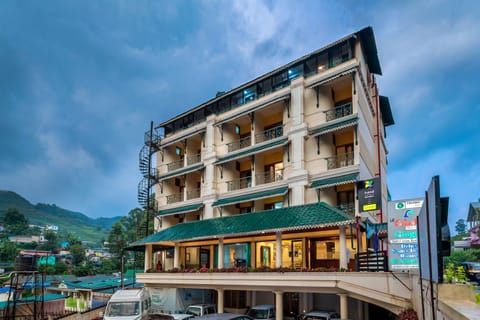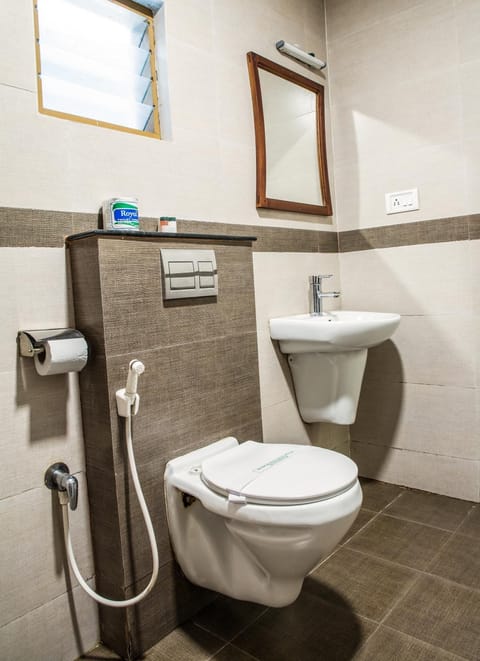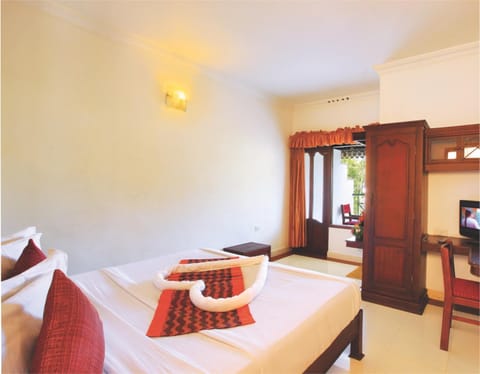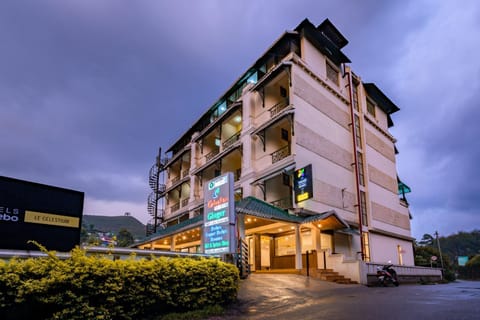 Hotel in Munnar
Internet/WLAN
Parkplatz
Waschmaschine
Befindlich in Munnar, dieses charmant room in hotel für EUR 19 pro Nacht ist ein großartig Option für Ihr nächstes Pause. Das Le Celestium liegt nur 1 km vom Busbahnhof Munnar entfernt und bietet eine 24-Stunden-Rezeption, die Sie jederzeit willkommen heißt. WLAN nutzen Sie kostenfrei.
Internet/WLAN
Parkplatz
Waschmaschine
Balkon/Terrasse
Fernseher
Familienfreundlich
100 % verifizierte Bewertungen
3.7 / 5 (516 Bewertungen)
for one night stay is okay but not value for money
Apr 2022
we left early in the morning
Bill was not provided, staffs are not professional. Car parking is not well arranged
IF YOU WANT TO STAY NEAR THE MUNNAR TOWN THIS PROPERTY IS A GOOD ONE. NICE ROOM AND SERVICE
Nov 2021
WE HAD FOOD FROM OUTSIDE HOTELS
I WAS CONFORTABLE WITH THE HOTEL AND ITS SERVICE. MANAGER AND STAFF WHERE GOOD ALL THE TIME.
Not the best place to get some rest.
Feb 2022
We got a room upgrade and the room was big with two balconies, so the staff have tried to do their best.
There were a lot of noises: You could hear people in the lobby talking, doors closing somewhere, it felt that people were pushing furniture through the floor somewhere (or chairs). The bathroom has a window that you can't close by design, so you can hear auto rickshaws climbing the hill loudly it also does not help with heat in the room.
Honest review 2day stay
May 2022
Very good stay. Breakfast was excellent. comfortable and cozy. Staff very cooperative. Value of money good. Good facilities. Outside walkable distance to guru hotel and other cafes. Satellite channels all available. Parking car is under open sky. Securities and gaurds good.
No wifi range inside rooms, (though free wifi advertised ) Hot water not 24/7, just 2hours in night and 3hours in morning.
Need 24 hrs hot water
May 2022
The stay was over all ok. But due to lack of hot water stay changed the hotel on the third day.
Jul 2022
The thing I liked about the hotel was the location. It was very near to the main town.
To begin the hotel room was comparatively a little smaller plus their was no hot water facility available 24/7. They should atleast provide hot water when the customer requires but no they did not so that was very disappointing. Besides the breakfast was ok not very tasty. It could get a little better.
The staff was very friendly and helpful. The hotel is close to the main market place. The breakfast was good. Our room was very spacious. Overall it was the best value for money.
Verry nice place to stay!
Sep 2022
The rooms where very nice, there was a problem with the booking but an alternative was given. Douglas was our host, he was verry nice and thoughtfull troughout our stay.
Please avoid, find someplace better this is a 1 star hotel at best.
Mar 2022
The rooms were big and clean
1. Not located in the middle of the town as they would like to advertise, its a solid 15-20 mins walk with steep inclines . 2. wants the money upfront, instead of allowing visitors to relax after arriving, They first demanded money, which we eventually paid the same day. Also they do not accept cards. 3. The restaurant does not serve lunch, which is understandable as people tour during the day, but even at night your orders will take 1+ hours to get cooked. meat options are not good, ordered chicken twice, both times they were bad, the chicken had rot it seems it was so smelly. 4. no toiletries provided, no brush to soap nothing. 5. the beds look ok but perhaps they have not changed the mattress in years, the mattress literally sunk in after one nights sleep and gave me terrible backaches. 6. hot water is not available throughout the day, only fixed time during morning and at night. so if you want to start your day late, no hot water for you. 7. have yo control over how things are done, Along with us a college group of 50 students boarded , their checkout time was 5-6 AM in the morning, couldnt sleep that night , given the noises and twice once around 4 AM and once around 5:30 AM someone came and knocked on our door. when I called reception they said sorry sir checkout time. like thats an excuse for me to have a sleep less night.
fine quality at budget level.
Aug 2022
the location within the town, rooms were exceptionally good than expectation, clean bed, toilets were clean, decent breakfast, over all best/humble people to serve. The receptionist Mr.Deenadayalan, was polite, helpful and informative. Just felt cons- very average breakfast, could improve on it. No fan/ac in the room, though provided with table fan on request. Fine quality overall.
Just felt cons- very average breakfast, could improve on it. No fan/ac in the room, though provided with table fan on request.
All the staffs were so helpful and friendly. The hotel views and vibes were so peaceful.
Aug 2021
The location of the hotel and the peaceful vibes in the hotel
The hotel staff called for confirmation and Check In was smooth. The staff were polite and Helpful.
Rooms should have been cleaned thoroughly. Residual dust was still there on the furniture Room cleaning should have been proper. Bathroom ceiling were damaged and was having holes in it which made the ladies uncomfortable to bathe.
The hotel is neat and clean, the location is good . The staffs were very good and helpful.
My room's TV sound was no working properly.
The front office staff was very helpful. I didn't use any room service, So no comments on that,
The breakfast was tasty but too simple without much choice,
Munnar is great, this place is okay
Mar 2023
The bed was comfortable. The staff brought hot water to my room when i was vomiting violently.
- health faucet had a laughably lower pressure and toilet paper wasn't provided knowing it was low pressure - each night, we were "entertained" with louder than life music from the larger then life speakers nextdoor. -the manager pestered us both the day before and day of our checkout to write a review. He even chased us to the street to mention that he couldnt find our review online.
The balcony was good and the food was non spicy
The cost of the stay it was costly that too without break fast being included in the package.
Recommended for families
May 2022
The attitude of the staff.
Staff was very supportive and polite. Very Clean room.
Food wasn't very great. But that may be due to taste difference as I am from central India.
Bathroom cleanliness. Room cleanliness
Staff is polite helping and well behaved. Very good location. Inhouse Kitchen/Restaurant is also very good.
hot water available only specific time of the day
Some rooms were good and others were just OK. The location of the hotel in the town is prime and can be reached easily. Restaurant facility is available and if one wants other dining options a few other good restaurants are nearby also.
No kettle or tea available in the room. Hot water availability was not round the clock , you get it from 8-10 in the evening and 7-10 in the morning.
Decent option for couple of nights but will have to step out for everything as there is not much to do in the hotel. Sta
Nov 2022
Small no frills property located close to the Center of the town with plenty of options for food
Extremely limited menu option for breakfast, extra bed provided was not comfortable so make sure you don't share rooms with more than 2. Parking even though available is a bit tight during peak season.
We reached there at 10.30 night and there was no hot water.When asked they told that they are only providing 8 to 10 in the evening...
Room service Staff Location
Value for money..
Nov 2021
Room is clean, staff were friendly. Location is on heart of town. They give good refrrence to a near by hotel for good food.
Only thing ifelt is needfor a fan in the room. Itwas not that cold when i stay
Staff is so rude, and impolite
There is no hot water in the bathroom
The double bed room size was too small and not worthy of the rate charged
not worth for the money what we spend there
It was comfort and neat. Not sure if we get same for lesser price around there.
May 2022
No Hotwater facility as mentioned from 6.30. We got from 7.30 or 8.00 AM only. No free beakfast.
Location was near the centre, Good rooms ,Need to improve breakfast menu, night buffet was served only when large group of people were there ,Buffet was good .Room was good.Staff were friendly.
Very bad experience
May 2022
I booked a room here. when I called that day they said there was no room available there it was fully booked. The reason they said I had no paid in advance. But in app shows pay at the property.it was a very bad experience for me
Wie viel kostet dieser hotel im Vergleich zu anderen in Munnar?

Der Durchschnittspreis für eine Anmietung in Munnar beträgt EUR 36 pro Nacht. Diese Miete ist EUR 17 günstiger als der Durchschnitt.
Ist das Parken in diesem hotel inbegriffen?

Ja, das Parken ist als Ausstattungsmerkmal bei Le Celestium aufgeführt. Für weitere Informationen empfehlen wir Ihnen, sich mit dem Anbieter der Unterkunft in Verbindung zu setzen, um zu erfahren, wo Sie parken können.
Gibt es in diesem hotel einen Pool?

Wir haben keinen Pool gefunden, der als Ausstattungsmerkmal für diesen hotel aufgeführt ist. Es kann sich lohnen, noch einmal zu prüfen, ob ein Pool für Ihren Aufenthalt wichtig ist.
Ist Le Celestium haustierfreundlich?

Leider ist dieser hotel nicht haustierfreundlich. Versuchen Sie erneut zu suchen und filtern Sie nach "Haustiere erlaubt"
Welche Ausstattungsmerkmale sind bei Le Celestium verfügbar?

Wir haben 6 Ausstattungsmerkmale für diese Unterkunft gefunden. Dazu gehören internet/wlan, parkplatz, waschmaschine, balkon/terrasse und fernseher.