Khmer House Resort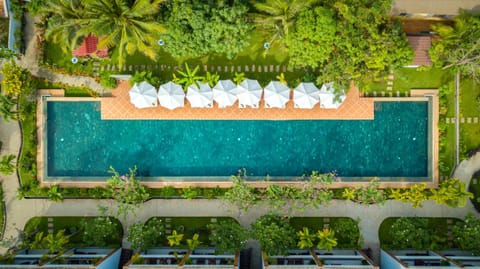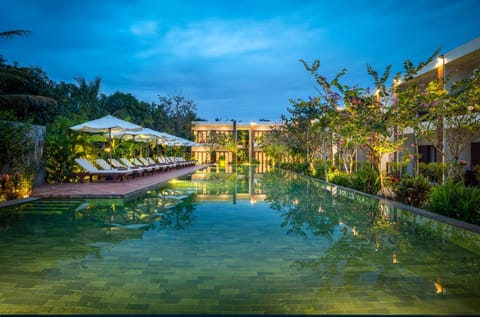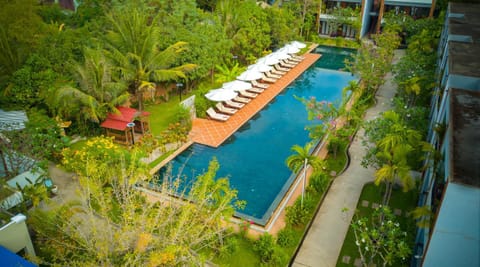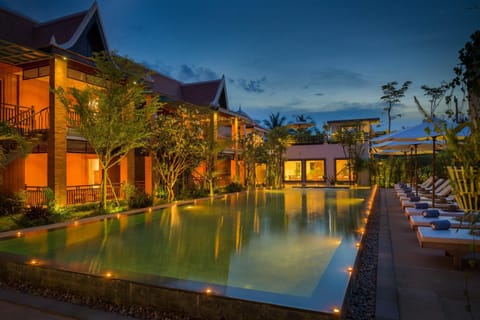 Hotel in Krong Siem Reap
Pool
Klimaanlage
Internet/WLAN
Gelegen in Krong Siem Reap, dieses charmant room in hotel für EUR 45 pro Nacht ist ein phantastisch Option für Ihr nächstes Urlaub. Die Unterkunft The Khmer House - Secret Oasis begrüßt Sie in Siem Reap, 2,1 km von der King's Road Angkor entfernt. Freuen Sie sich auf ein Restaurant, kostenlose Privatparkplätze, einen Außenpool und eine Bar.
Pool
Klimaanlage
Internet/WLAN
Rauchen erlaubt
Parkplatz
Waschmaschine
Balkon/Terrasse
Whirlpool/Spa
Fernseher
Garten
Karte von Krong Siem 

Reap
100 % verifizierte Bewertungen
4.7 / 5 (411 Bewertungen)
wonderful pool ! nice rooms we stayed 5 nights in this lovely hotel.
towels for the swimming pool are so old : change them 😉 and could improve breakfast
Breakfast only can order one set
Where do I begin. This place was amazing, rooms were serviced everyday and housekeeping were meticulous, all bedding, towels and dressing gowns smelt lovely. We had breakfast included in our package and you could have this either in the restaurant area or on your terrace/balcony and it was outstanding. We ate a few times at the hotel other than breakfast and again the food was excellent. I had read in other reviews that the hotel was a bit off the beaten track, it was a little out the way of the centre but we walked most days to where we wanted to be and if we didn't walk a tuk tuk via Grab was on average $1. Finally the staff, all of them were the happiest, friendliest bunch. They really did brighten our day and they were so obliging, whatever you asked for it was delivered. An example, I requested that a few flowers be put on the bed wishing my partner Merry Christmas, it was done with precision and what seemed like a lot of care and attention. Again I asked for a gift to be arranged for my partner for Christmas and again this was carried out clandestinely but with excellent communication. We had initially booked for 3 nights which we extended to 10, that must speak volumes.
Wonderful hotel, a peaceful haven (but needs better breakfast)
Dec 2022
What an INCREDIBLE hotel. The grounds are so peaceful and beautifully maintained. Full of nature and the staff are wonderful. Our room was amazing, spacious with an incredible bath. Our favourite hotel of a 3 week multi-stop holiday
The breakfast was really bad. You were given a menu but you could only choose one thing and the portions were so small (I am talking half a tomato, an egg-sized amount of beans and my avocado was rock hard). Really disappointing on an otherwise fantastic stay. All other meals were excellent!
Perfect secret oasis
Oct 2019
We fell in love with this hotel the moment our Tuc Tuc pulled up outside. A 10 minute ride from the town centre and old market, the hotel is in a lovely peaceful location. Staff gave us cold towels and drinks when we checked in which set the tone for the rest of our stay. Our room was huge, overlooking the freshwater pool with a large balcony. The pool itself was gorgeous and the perfect temperature. sunbeds the most comfortable I've ever used. The menu in the restaurant is varied and reasonably priced. We ordered room service on our first night and had lunch on our last day. Free tuc tuc rides into town are a nice touch. We loved everything about this hotel and were sad to leave.
The only very minor complaints were lots of flies in the restaurant and small food portions at breakfast.
Amazing experience
Jan 2023
Was an Amazing experience Everything was Nice Recommended!!
Very friendly staff. You can ask them anything.
The restaurant was under construction, so breakfast, lunch, ... Had to be eaten inside the room. They could have provided a small table with chairs for that. The food itself was great.
Very clean and well maintened hotel with two pools. The staff is very nice and helpful. In general everything was great. Highly recommended.
great place to stay
Aug 2022
very big rooms, everything very clean, 2 super nice pools
very beautiful hiotel 2 swimming pool one is 40 mettes lenght very kind service and very helpful very good wifi in the lobby to do zoom work
A perfect place to chill and relax with a cocktail by the pool, after seeing the Angkor sights
Mar 2023
Truly a hidden oasis, with two lovely pools set in wonderfully tranquil gardens. I though the online pictures were photoshopped before arriving to find it really is as beautiful. The food the restaurant serves is both really good quality and a good price. The staff were as helpful and nice as all the reviews say. A brilliant stay! Thank you Khmer House Resort team! 🙏🥰
Of you want to be in the centre of the action be aware this residence is slightly away from the middle of the town and it's facilities, but we liked that 🥂and the hotel provides free, quick transport to the centre of town anyway!
This hotel is very quiet, the swimming pools are amazing. The rooms are spacious and nice, clean and the bathtub is huge. As for the staff they are always ready to help you, always smiling and very discreet. The hotel is not that close to the city center so in order to please you they offer one tuk tuk trip a day to Pub Street. To go back to the hotel you have to pay 3 to 4 usd only. We highly recommend this place and if you have enough time spend some time at the spa to relax.
the staff and the pool are great
the property behind the room outside the resort has an all night loud party and it was impossible to sleep
I enjoyed the stay and would come back.
Jun 2022
The staff and rooms were nice, the location is a little outside the city which made it quiet as expected. Having two pools was a nice feature and the WiFi network is modern so it works everywhere with the same password.
The locals are able to buy a day pass to the pool which means a few more children than expected, but no one was too loud and they were respectful of the guests.
Highly recommended
Nov 2022
The service and personnel were simply wonderful 🙏 Really friendly staff and luxurious spacious rooms with bath and direct access to the pools (!). The place oozes a relaxing atmosphere and comes highly recommended. We could only stay 1 night to relax after multiple days of visits and travelling but will definitely check availability when in Siem Reap again.
the resort was clean the staff was very friendly and helpful the breakfast was great the swimming pools were beautiful everything was perfect
An excellent stay for a relaxing holiday!
Dec 2022
The resort is located in the quiet part of the town but close to the city. So, the location was perfect for a relaxing holiday. The rooms are quite spacious. I would recommend option for the Modern rooms rather than the Khmer room. We initially booked the Khmer room and felts it was small. So, for $10/night, we moved to the Modern room. The local food at the restaurant is really good and breakfast was ample in quantity. The quality of service is amazing, and the staff really makes an effort to ensure that you have a great stay.
Amazing price-quality
Aug 2022
The price-quality was great! Spacious, clean rooms, two beautiful pools, close to the city center with a free Tuktuk to the center
Only limited options for breakfast. If you like to have a big breakfast, the portions will be too small. On Saturdays and Sundays, the pools become a public recreational area for the local population. This makes it less "secret" nor a "oasis".
Great value for the price, beautiful lush surroundings but bad wifi.
Jul 2022
The hotel is very beautiful. The staff is kind. The pools are big and clean. Would stay again for sure. It is definitely a great value for the price. Tours can be arranged through the hotel although they are a bit more pricey. One thing to mention is that people from outside the hotel can pay and use the swimming pool. That was not really a problem for us (as there were two pools and we just used the smaller one), but I thought it is important to mention that sometimes there could be a lot of kids and kids receiving swimming lessons during the day.
The Wifi was super spotty, one day it was even non-existent. The breakfast was very simple but tasty. Missed some more options or a buffet.
Nice recently (2017/2019) constructed hotel with a good breakfast.
Jun 2022
The breakfast was great, the rooms were pleasant. Overall I'd come back.
All in all, we enjoyed the stay there and it was wonderful. The service is amazing.
Jun 2022
The breakfast, the room, the pool are all amazing. The staffs are very helpful and always smile. The place is so serene and peaceful. My children enjoy the stay there.
The only improvement that the hotel can do is to add more diversity and variety in the food menu to cater to guests from various parts of the world and beliefs. For example, vegetarian or halal option.
The 2 pools really add a lot to the experience. One is salt and the other normal. The normal is very long and you can do laps in it. It's outside the city a little bit so very quite and peaceful. They offer free one way tuk tuk rides to the city. The staff was very accommodating. I asked for a flater pillow and they took one from the spa for me. Great staff.
Best Accommodation in Siem Reap
Feb 2022
Thank you so much for this amazing week at the Khmer House. We really appreciate the super good service, the tasty food and the nice and clean Appartements, garden & pool area. Whenever we come back to Siem Reap, we would love to stay here again. Special thanks again to you Viset, we loved the chat with you and your open heard!
Swimming Pools fab Massive comfortable room
Location. Too far away from town TV did not work for 90% of our stay
swimming pools and restaurant
had excellent stay
Dec 2021
swimming pool, generous room, bathroom
Swimming pool 40 metres Good wifi I worked in the lobby Nice service Nice staff
Very friendly hotel
May 2022
Super cozy hotel with great staff. The pools are huge and warm and the breakfast is delicious.
Geckos made their way to the rooms, possibly it is hard to eliminate but it would be great to avoid as my wife had a hard time there 😁
Should have more then 3 stars. Nice for rest. Very good breakfast
Electric socket at the bed did not work
Room was beautiful and clean. Both pools are well kept, clean and allow a relaxing environment. The breakfast is a great addition to the stay and cocktails were lovely.
Feeling relaxed and will definitely be back.
Jun 2022
Rooms are immaculate. Well designed, clean and comfortable. The pool! Beautiful, unique design and the temperature is just right. Tranquil.
A little bit out of the way. Not a bad thing necessarily, but if you're a walker it's a bit of a hike to town. A bit of an issue with me (and apparently quite a few other people) is the pool being open to the public. Swimming lessons that are held there, and non guests using the pool can take away some of the peacefulness.
Oasis shouldn't be that noisy :D
Jun 2022
Quite a spacious room. Beautiful garden. The bath can fit two people. Actually, that's the nicest bath I've ever had in a hotel. High cleaning standards. Helpful staff!
Noise. Location. Wifi We rented for a week and three out of those days there was party in a neighboring villa. One of the nights there was karaoke night. In high-pitch. Out-of-tune Chinese. On stereo. Which was louder than our TV. :D And then the pool can be rented by outside people. So in early mornings there were swimming lessons for small child which sometimes would scream. And in the end what's the point of trying to run away further away from the city and the noise. When there's so much of it in your hideaway.
Wie viel kostet dieser hotel im Vergleich zu anderen in Krong Siem Reap?

Der Durchschnittspreis für eine Anmietung in Krong Siem Reap beträgt EUR 37 pro Nacht. Diese Miete liegt EUR 8 über dem Durchschnitt.
Ist das Parken in diesem hotel inbegriffen?

Ja, das Parken ist als Ausstattungsmerkmal bei Khmer House Resort aufgeführt. Für weitere Informationen empfehlen wir Ihnen, sich mit dem Anbieter der Unterkunft in Verbindung zu setzen, um zu erfahren, wo Sie parken können.
Gibt es in diesem hotel einen Pool?

Ja, bei Khmer House Resort steht ein Swimmingpool zur Verfügung. Genießen Sie das Wasser!
Ist Khmer House Resort haustierfreundlich?

Leider ist dieser hotel nicht haustierfreundlich. Versuchen Sie erneut zu suchen und filtern Sie nach "Haustiere erlaubt"
Welche Ausstattungsmerkmale sind bei Khmer House Resort verfügbar?

Wir haben 10 Ausstattungsmerkmale für diese Unterkunft gefunden. Dazu gehören pool, klimaanlage, internet/wlan, rauchen erlaubt und parkplatz.