AoNang Colors Hotel - Aonang Beach - SHA Extra Plus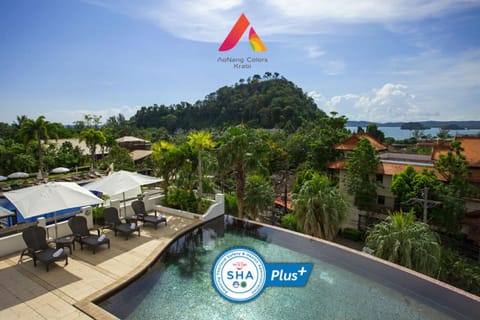 Hotel in Ao Nang
Pool
Klimaanlage
Internet/WLAN
Gelegen in Ao Nang, dieses attraktiv zimmer im hotel für EUR 21 pro Nacht ist ein phantastisch Option für Ihr nächstes Pause. Das AoNang Colors Hotel - Aonang Beach - SHA Extra Plus erwartet Sie in der Nähe des Strandes Ao Nang. Die Unterkunft kombiniert einen modernen marokkanischem Stil mit thailändischem Flair.
Pool
Klimaanlage
Internet/WLAN
Waschmaschine
Balkon/Terrasse
Fernseher
Strand/Ufer
Familienfreundlich
100 % verifizierte Bewertungen
4.1 / 5

"Ausgezeichnet"

(575 Bewertungen)
We stayed at Aonang Colors Hotel for 2 nights. Upon arrival Johan was there to help us with our bags and check us in! He was very helpful the whole of our stay! The room was lovely, bed was so so comfortable! We very much enjoyed the pool. They were also able to help sort some laundry for us.
Breakfast was a bit lacking. Would stay here again.
We slept over the New Year , could see the fire works all around . Fantastic!!! great time for us. Penthouse suite is very large for us. It would perfect if has a microwave. Staff are friendly.
the staff make the place it is
Jun 2022
we loved this hotel we ended up extending our stay from 2 night to 6
there is no faults with this property
Great hotel and amazing value for money!
Dec 2021
We loved our stay in Colors hotel! We had the room with upstairs balcony which was great for sunset drinks and amazing value for money. The bed was very comfy and the shower nice and hot. The hotel manager Johan went out of his way to help us with anything we needed and made our stay even better.
We had 2 balconies, this was 2 more than we expected. Huge, comfortable bed and one of the best showers we've had in Thailand.
Great atmosphere
Nov 2021
. )Very spacious and OM ( owner) very helpful
WorksUnfortunately cold water due to road
Very nice Hotel with impressing architecture
Amazing hotel, great location, beautiful view and comfortable beds.
Dec 2022
Very good location 2 min walk to the beach. Very comfortable beds , we had a good rest. Amazing service, very customer oriented. Great swimming pool with a beautiful view especially on a sunset.
Excellent location near the shops and the beach. The staff were very polite and helpful. Amazing value for money.
Jul 2022
Very close to the main strip and excellent value for money. The staff also very helpful.
Do not stay. In need of serious maintenance and refurbishment.
Apr 2022
Very centrally located, short walk to the beach. Very friendly and helpful staff. Great views.
Its old, falling apart, dirty, infested and lacking the facilities it claims to have. There is no pool bar. There is no breakfast service. The beds in our first room were broken and saggy. The toilet was dirty. The sheets appeared clean but had various ingrained stains. The room smelled of mould. We were moved to "upgraded" rooms by very sweet and apologetic staff. These were infested with ants, covered in mould, with leaky showers and unsafe balconies. The whole place needs a thorough clean and extensive maintenance. Bits were literally falling off the exterior.
Tip-top Hotel.Pefect Service. Quiet and clean
Great swimming pool
Jan 2022
The swimming pool was great after arriving, and late in the night.
Needs a make over things seemed used,but do the conditions that we are forced to live it's understandable.
The staff were very nice and the manager was very friendly and interactive with the guests which was nice to see. The pool was wonderful with a bit of a view of the ocean and option to call and order drinks pool side. 711 just down the street. Amazing Italian restaurant on site and the breakfast option in the morning was simple but lovely.
The rooms were not always cleaned and we had to ask for fresh towels, toilet paper hangers for the closet ect but when asked it was quickly dealt with. The hotel could use a freshing up and the rooms could use a more thorough cleaning. Dusty window trim and side curtain but beds and bathrooms were clean.
Staff deserve to work somewhere better
Jan 2023
The staff on reception are fantastic…but they're having to push water uphill 24/7. The adjoining restaurant looked decent, but I was too busy searching for an alternative hotel to try it.
My first allocated room was poor, most notable for mold on the ceiling above the French doors. I was shown four alternatives that each had a unique problem. The entire property is in need of renovation at the prices charged. Breakfast was minimal.
Very relaxing and comfortable.
Apr 2022
The staff are so friendly and helpful. They have done everything possible, and more, to help me during my stay with them. I would not hesitate to recommend this hotel to others.
The room was very comfortable, the view from the balcony was beautiful, the pool was amazing and all the experience was just wonderful! We enjoy the location of the hotel and the wonderful italian restaurant- Umberto.
Beautiful and great quality-price value
Feb 2022
The room was spacious and beautiful. The bathroom was huge and had a shower from the ceiling. The building in general was really nice and the pool area i also enjoyed. I didn't get the nice view but the room was still great value for the price
no safe box in the rooms - the only thing missing
the pool is stunning room was perfect great shower facilities in room
The Muslim staff and the other one are so kind.
The manager is a bit not so good.
Relaxing and lovely experience
Mar 2023
The location was great! Very close to main shopping strip. About 10 min walk to the main beach. Great view from top penthouse. Pool was refreshing.
Ran out of pool towels at times. Nil other issues.
Excellent location by Ao Nang Beach with clean Italian rooms and a color-changing infinity pool!
Apr 2021
The location was excellent - about a 2 minute walk away from Ao Nang Beach and the strip of restaurants and vendors along the beach. Also a 7/11 was located just down the street from the hotel. The rooms were spacious, clean, and colorful. The beds were extremely cozy and soft, with completely white sheets that the hotel changes every 3 days or upon request. The pool is absolutely beautiful - it's an infinity pool, with the water running over the edge. The water is warm and clear, and at nighttime there was cool colors radiating from the bottom of the pool to create this really relaxing effect.
At one point the water in the bathroom didn't work at all and after a few minutes, the water turned back on and ran brown which was disturbing. After running the water a few more minutes, it turned back clear. Also, there were a few ants in the hotel room - which is to be expected most places you stay, but definitely something to be aware of.
Extended our stay!
Feb 2023
The location could not be better! It's close to everything in Ao Nang and still very quiet. Nice big rooms and bathrooms.
Hugely disappointing.
Jan 2022
The reception staff were completely unhelpful and not in the least welcoming. The breakfast, which we cancelled, was way below standard. The so-called 'spa bath' on the upstairs balcony was no more than a bath tub with 2 taps. Having visited Ao Nang many times, this was the most disappointing experience we have ever had with hotels. I certainly would not stay at Colors again.
The location and view is great, especially in the upper floor rooms and I'd stay again for those reasons.
I was disappointed in the breakfast and maintenance of the hotel compared to previous visits. The breakfast was definitely lacking for the extra it costs. The shower was in need of an upgrade.
The location and calmness
Lovely staff, hotel needs updating
Mar 2022
The Italian restaurant was really lovely
Lack of facilities, no gym as shown on hotel website. Shower temperature changes constantly, air con kept turning off and the pool table could do with replacing.
The hotel was located near a nice spot. The room design was classic and the hotel staffs were nice.
There was some problem with the hot shower. Sometimes the shower was cold and sometimes hot. We cannot control the temperature in the shower.
Cleaning to improve, otherwise really pretty.
Feb 2022
The hotel itself is very pretty. Very spacious rooms with big beds and big bathrooms. The pool area is really pretty as well! Staff was very friendly! You get two free water bottles each day.
There are tiny ants everywhere. In the bathroom, in the bed (picture). You can't adapt the water temperature, it's just coming out boiling hot or cold, you have to hit the right moment to use it. My toilet spray gun just broke in the middle of the night and set my bathroom underwater. The hotel is not directly in the main area, so if you wanna go to all the restaurants/cafes you have to walk around 15mins. Because there is an Italian restaurant downstairs there is music playing until around 10/11pm. The bedsheets and towels had lots of stains.
Cool hotel with character
May 2023
The hotel is not super new but it has character and it is clean. The room we stayed in was very nice, over two floors with a terrace and an outdoor tub upstairs. The room was very comfortable.
Overall maintenance is not spotless but ok.
The location is good. The hotel is in between two beaches. Can walk to Ao nang beach and Nopparat beach easily.
Mar 2021
The hotel is in walking distance to both beaches but still quiet. The room is big and clean. All staffs were very helpful and nice. The view from my terrace and swimming are awesome.
The guy working at the hotel lobby did his very best to make our stay more enjoyable. Thank you for your efforts. Unfortunately I have to be honest with my review and also mention the bad things. The pool was great as well.
So, we arrived at the hotel looking forward to a great room with a hot tub. After paying and checking in, we heard there was no warm water, nowhere in the hotel. Cold showers and not being able to use the tub is not what we expected with this booking in a four star hotel. When arriving in the room, the room was not clean. Stains on the toilet seat, spider webs in the bathroom, etc... Later we asked where breakfast would be served as this wasn't explained during check in. Seemed like the hotel didn't have breakfasts while selling this online. Although the breakfast issue was resolved, for which we again thank the person working at the hotel, the hotel was clearly not operational. I can understand this is due to the reopening of Thailand after covid, but before selling rooms online, the hotel should make sure that they are actually matching the expectations. Probably a great hotel when it is fully running as it should.
Super cozy, not 4 stars
May 2021
The guy at the front desk was super nice and helpful. The place feels nice and cozy. Wifi was working well.
The facilities look abandoned. The pool is dirty, although some people did still swim in it. No breakfasts: My booking was with breakfast included, but the front desk told me they don't do breakfasts - not sure why booking gives such option. The location would be great in normal times, nice clean and quiet street, close to both beaches. But now due to Covid all the restaurants on the street are closed. Everything at Nopparat Thara Beach is also closed, so there is no use of being close to it. Few open restaurants are on the main street, which starts from the other end of Ao Nang Beach I had a supposedly 80sqm room, but it is two levels and second level is useless - just to enter the patio, as it is very heated all the time despite the air conditioner (which is on the first level). It is large and view is nice, but no furniture to sit on. Room also not furnished much. Other than bed, only small chair and round table. The doors to the patio wouldn't close fully - around 2cm gap. Same with the (small) balcony on the first level - but smaller (0.5cm). Because I always saw a lot of insects and once a large cockroach on the patio, this gap made me feel uncomfortable. But never saw any insects in the room other than very tiny ants, and didn't have issues with mosquitos. Saw a lizard on my wall next to the bed. There was a slight smell of rotting wood in the room. Air conditioner was very loud all the time even on the lowest level. In general, super cozy place and not being maintained well. Certainly not 4 stars. Okay for a short stay.
Disappointing Hotel Stay: Moldy Bathroom, Poorly Maintained Pool, and Unsympathetic Management
Apr 2023
I recently stayed at this hotel and unfortunately, my experience was far from satisfactory. The first issue I encountered was with the bathroom, which was moldy and emitted a foul smell due to the lack of ventilation in the bathroom which is never a good idea in a place like Thailand. Moving on to the room itself, I found it to be extremely basic and lacking in any amenities. The bed was rock hard, making it almost impossible to get a good night's sleep. The pool was another area of concern. It was not properly maintained and had green algae growing on the walls. I found this to be quite disturbing, as it indicated that the hotel had not been properly taking care of its facilities. Additionally, there were tiles missing from the pool which were sharp and could have caused injury. Furthermore, the pool ladder was missing a step, which was a major safety hazard for my pregnant wife. This was completely unacceptable and demonstrated a lack of concern for the safety of guests. Overall, my stay at this hotel was a major disappointment. From the moldy bathroom to the uncomfortable bed and poorly maintained pool, it was clear that the hotel was not up to par with basic standards of hygiene and safety. I would not recommend this hotel to anyone. I booked the hotel for a week-long vacation but had to leave early due to a medical issue. When I informed the hotel management about my situation, they showed a complete lack of empathy and refused to provide any assistance. I was aware that the terms of the booking had stated no refunds however, I had hoped for some level of understanding or compassion from the hotel management. I was deeply disappointed by the hotel's response to my situation. As a paying customer, I expected a certain level of understanding from the hotel staff, but unfortunately, that was not the case. The hotel management's refusal to help me in any way has left me with a bitter taste in my mouth and I would not recommend this hotel to anyone.
The breakfast had a decent selection with fruits, cereal, eggs, bread, coffee, juice and some thai specialities. The rooms were comfortable and cleaned daily with new water, towels and toiletries. The staff was very nice and friendly and the location was good. The pool had a beautiful sunset view.
The best showers in Thailand
Staff were relatively friendly. Location was good.restaurant pricey but good food.
Penthouse apartment was awful. Windows missing and boarded up which let the rain right in. Tissue wedged through holes in bedroom walls to plug gaps. Fowl smelling bathrooms the whole time, smelt like rotten damp. Bath jets pumped Black grime in to the bath after waiting an hour for it to fill up. Pool tiles broken and nails sticking out of decking. Really dark and dingy in the toilets. Paid £364, not worth the money.
Staff very helpful, facilitie nice and clean.
Could provide us with more towels, not a lot of breakfast options
Spacious rooms, very quiet, nice ambience
The hotel is closed and still takes bookings. They moved us next door, initially showing some subpar rooms, but in the end (3rd room) we got what we wanted/expected from the original booking.
Memorable stay again.
May 2022
House keeping team was slow.
Wie viel kostet dieser hotel im Vergleich zu anderen in Ao Nang?

Der Durchschnittspreis für eine Anmietung in Ao Nang beträgt EUR 45 pro Nacht. Diese Miete ist EUR 24 günstiger als der Durchschnitt.
Ist das Parken in diesem hotel inbegriffen?

Das Parken ist nicht als verfügbares Ausstattungsmerkmal bei AoNang Colors Hotel - Aonang Beach - SHA Extra Plus angegeben. Für weitere Informationen empfehlen wir Ihnen, sich mit dem Anbieter der Unterkunft in Verbindung zu setzen, um zu erfahren, wo Sie parken können.
Gibt es in diesem hotel einen Pool?

Ja, bei AoNang Colors Hotel - Aonang Beach - SHA Extra Plus steht ein Swimmingpool zur Verfügung. Genießen Sie das Wasser!
Ist AoNang Colors Hotel - Aonang Beach - SHA Extra Plus haustierfreundlich?

Leider ist dieser hotel nicht haustierfreundlich. Versuchen Sie erneut zu suchen und filtern Sie nach "Haustiere erlaubt"
Welche Ausstattungsmerkmale sind bei AoNang Colors Hotel - Aonang Beach - SHA Extra Plus verfügbar?

Wir haben 8 Ausstattungsmerkmale für diese Unterkunft gefunden. Dazu gehören pool, klimaanlage, internet/wlan, waschmaschine und balkon/terrasse.