Harmony Phnom Penh Hotel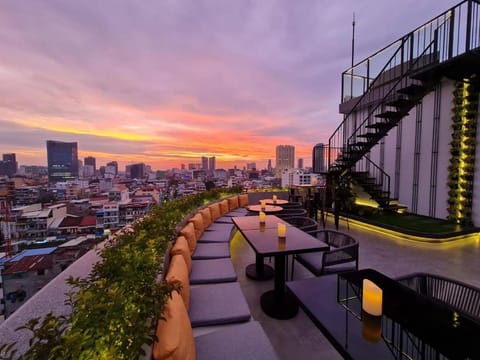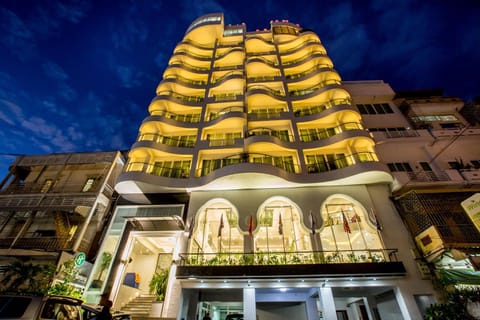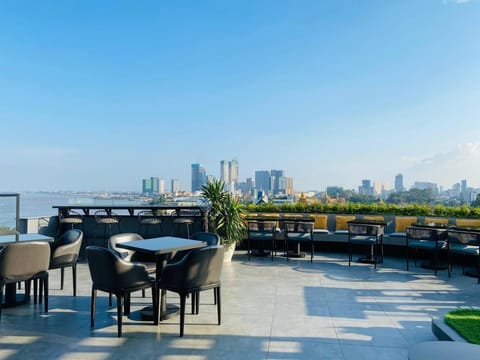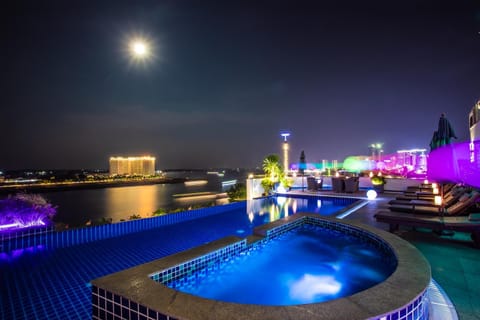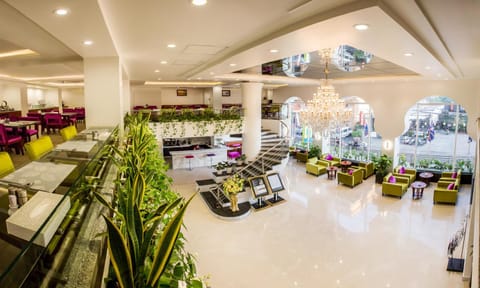 Hotel in Phnom Penh Province
Pool
Klimaanlage
Küche/Kochnische
Gelegen in Phnom Penh Province, dieses attraktiv room in hotel für EUR 26 pro Nacht ist ein phantastisch Option für Ihr nächstes Reise. Mit einer Dachterrasse mit einem Infinity-Pool und einer Sonnenterrasse erwartet Sie das Harmony Phnom Penh Hotel etwa 5 Gehminuten vom Königspalast entfernt. Genießen Sie im Hotelrestaurant eine Mahlzeit oder besuchen Sie die Bar auf ein Getränk.
Pool
Klimaanlage
Küche/Kochnische
Internet/WLAN
Rauchen erlaubt
Parkplatz
Waschmaschine
Balkon/Terrasse
Whirlpool/Spa
Fernseher
Fitnessraum/Fitnessstudio
Familienfreundlich
Karte von Phnom Penh 

Province
100 % verifizierte Bewertungen
4.1 / 5 (398 Bewertungen)
We were upgraded due to another room as they told us there we could not stay in the same room. The upgraded room was lovely!! However there was no breakfast (previously there was buffet breakfast. This was luvly)!! The reason given for no buffet breakfast was due to covid!! However the hotel across the road had full buffet breakfast available, this was the same as many other facilities we looked into!!!
Nothing- we loved the place!!!!
We had a wonderful stay the room was large just a shame the balcony was in full sun all day. The infinity pool was beautiful with a stunning view of the Mekong River and surrounds.
Peaceful and plaisant journey in harmony hostel
Jul 2022
- very well welcoming - nice, smiling and careful staff - room and swimming pool +++
very nice staff. the rooftop pool looks very nice but we didn't use. breakfast is also on the rooftop with nice view. location is very good. close to the river and walking distance to the palace
cleanliness need to be improved. i found body hair on the towel
A mini break in phnom penh on our tour
Jan 2023
What you have to remember, Cambodia is a poor country, based on that, it was very nice, people are lovely and polite!
Fantastic and Great choice
Jul 2022
very good hotel and clean and new, very good value. I left my Rolex and they found it and sent it to the airport for me - thanks
views, location, honest staff, helpful staff - everything
This is an exceptional hotel in a very convenient location right near the river. A vibrant market is right downstairs and it's just a 5 minute walk to lots of cafes, restaurants and bars. Tam on reception is a kind, helpful man. All the staff are very friendly and helpful. The facilities are superb and the pool is awesome. The rooms are spotlessly clean and well appointed.
They now offer breakfast at an additional cost.
They no longer offer the buffet for breakfast.
The views from the roof. Nothing else.
No breakfast available until I complained Not as advertised on your website!!!!! Sold as a 4star hotel and priced accordingly!!!! However in reality it is now operating in a 1/2star capacity!! I refer to my Google review. No Air-conditioning throughout the hotel, only in your room, lift/ reception may aswell double as a sauna, shower room not cleaned for 6 days, towels not replaced, water not replenished, sheets not changed daily. Bins not emptied, supplied toothbrush wrapping still on sink. All these points have been placed on Google with photographic evidence. Post Covid nightmare. Shame on you and the hotel. A rip off holiday 😪
The view from the rooftop
The staff are very friendly and a great hotel
Nice hotel in the heart of the city and close to the day market.
Jul 2022
The room was spacious and bed was comfortable. The room has a nice pool (though we didn't use it) and a restaurant with beautiful views of the city and Mekong River.
I had issues getting the equipment and ac in the gym to turn on and the staff wasn't helpful.
The view is not worth the staff attitude
May 2022
the room and bed are comfortable & the terrace is nice if you are ok with loud music from sunrise to sunset.
The staff at reception is terrible and made me and my friends cancel our plans to come back the following week. they are rude, tried to charge us for extra at all times, not helpful and not accommodating. The noise at night in the room was really disturbing ( felt like sleepiugin a club). The wifi is so terrible everywhere. I had difficulties just accessing WhatsApp.
Can't eat my water or peanuts by the pool... ridiculous
Mar 2023
The pool has great views of the river. Room comfortable. Reception staff lovely
By the pool, I was told I could not eat a bag of peanuts or drink my own water. I complained to the manager who said she didn't have peanuts to sell me... So how do I get them then!!!! ridiculous. It was poor management and badly dealt with.
We all really enjoyed our stay, and would return
Feb 2023
The pool and bar/restaurant area was awesome, the view over the river. Friendly staff and accommodating. Enjoyed my morning walks along the river.
The rooftop pool dip is the highlight
Dec 2022
The location close to Phnom Penh's waterfront and sightseeing hotspots is great. The hotel has a lovely rooftop gym and pool and breakfast is also served there. Rooms are very generous size, and instant coffee is available in the room.
Breakfast is to be ordered a la carte, the avocado toast was good but not convincing enough to return the next day. Staff is lovely and smiling and super corteous but unfortunately quite lacking in English skills.
Good but bit expansive
Apr 2022
The infinity pool is good with a nice view on the river.
Breakfast should be included in the price of the room.
Great hotel in the heart of Phnom Penh riverfront.
Aug 2019
The hotel was in great location, yes there is a wet market right out the front door but we thought this was an interesting addition rather than detraction. The higher ranking staff were little standoffish, but the bellboys, the doormen and the cleaners were friendly, efficient and helpful. Breakfast was standard mid range hotel buffet breakfast (never hot enough for us even at start up) but good enough.
The pool staff need to be more attentive to patrons as we were not served effectively at all so we did not buy any drinks because of this. Also staff need to stop giving each guest two or more towels and leaving others (us on two occasions) no towel at all and smirking about it when we asked about them.
Simply a perfect choice!
Aug 2019
The hotel seems to be an oasis of peace in the caotic Phnom Phen. You have all thw sorts of comfort just in the coty center;)) The roof top woth pool and restaurant simply wonderful. Breakfast rich and delicious
Maybe the hotel has not a so fine soundproof.
Good experience of Phnom Penh
Jul 2019
The hotel meets our family's requirements with its location in the city, near restaurants, its rooftop swimming pool facing Mekong River, big room for family with 2 adults and 2 children, good hotel service and its cleanliness.
the hotel is centrally located; everything is reachable by walking.
the laundry service was extraordinary expensive
Really nice hotel
Oct 2022
Swimmingpool & Rooftop Bar!! And very comfortable beds.
Fantastic location amazing staff
Mar 2020
Staff great , amazing roof top pool and hot tub.. the staff are extremely polite and went out of there way to help me and my staff at all times .. highly recommended . Great value ..
Ac in room could of been a little stronger and try and ask for a high floor of possible.. they where very accommodating wherever possible. Will definitely stay again
Second night a group of rowdy guests made a ruckus from 1.30am - 3.30am+, The Night Manager tried to speak to the guests but they just wont co-operate. Finally, the Night Manager moved me to another floor for the remaining night and changed room the next day.
Rowdy guests in groups should be asked to leave the hotel if they insist on blasting their music, scream and shout, talk loudly in the rooms after 12 midnight.
beautiful view & convenient place to stay in Phom Penh!
Dec 2022
Room was very clean and comfy, shower temperature was great also. The staffs were very polite and friendly. View from the restaurant and pool was exceptional, you can see the Tonle Sap river. We swam in the pool around sunset time and it was beautiful to see colorful lights of the city. Breakfast was great as well!
View from the room was horrible.
Overally, it is a great choice, as it is value for money!
Aug 2022
+Rooms were spacious and the bathroom had an autonomy, ie in every other place we visited in Vietnam and Cambodia rooms were somehow small, there was not enough space for our stuff as international visitors with big luggage and the doors of the bathrooms were either from glass (!?!?!?) or with openings at the bottom! Here the greatest asset was the HUGE and very comfortable beds, the space in the room, so that we could move with no restrictions and open our luggage easily and the bathroom was big, well equiped, with big mirror and shower WITH a glass, so that everything does not get wet! +Great water temperature and pressure! +For breakfast you made a choice out of a menu, so it was not a buffet, which is a bit restricting, however the eggs and the french toast I ordered were well made and kindly served. Coffee was good, not very strong neither very light. Breakfast was served at the last floor with a great view of the city. We also hanged out there the previous night by the pool with a lounge music and nice finger food as well as well made cocktails. The staff was very attentive, polite, smiley and extremely available to serve all our needs. +Nearby the riverside and restaurants and bars. Overally, it is a great choice, as it is value for money! I would definitely stay here again and I totally recommend it!
-At the front of the hotel there is an open air market with fruit and vegetables, so there may be some noise in the morning. -Our room had a very small balcony, while the next to us rooms either left or right had bigger ones.
Rooms were pretty standard. Clean and confortable. The plus is the pool on the rooftop as well as the very good location.
The hotel was in good location and nice but it's being refurbished so every day it's banging and drilling which was coming from the room above. On one morning it was 7.45am when the banging started so my partner got up and went to reception to complain, they then radio to the work men and the noise stopped but it was all day so we could not even go back to room at any time to just relax. We complained most days and no offer to move to a different room was made and no apology.
I NEVER stay here again!!! So bad and smelly Hotel.
Jun 2022
1. So bad and not fresh breakfasts. They use the microwave to warm up an old prepared food. I had Stomach problems after their food. 2. The hotel is beside a local market and a Red Street area. The noisiness and awful smell are almost everywhere. 3. The Staff in the Reception are not well trained. Could call to your room after 10pm. 4. So bad Management in this Hotel!! They want only money from you, but provide very poor Service. I canceled my last night in this Hotel and move to the Pavilion Hotel. What a difference. Extremely nice staff here, freshly making food, a stunning pool area and so relaxing surroundings around. They make you feel like you are respected and valued.
Roof top swimming pool and sky bar and restaurant
Great location , reasonable price, beautiful roof top bar and pool. Leak, Thai and the the rest of the staff at the poo
Jun 2022
Rooftop pool, restaurant, fitness center, cleanness, and service.
The two girls in the front desk. They are just rude and unprofessional.
Roof top pool and restaurant layout
rooftop bar has a nice view
breakfast serve very late and limited choice, and the gym also open late
Really good price for a quality hotel. Absolutely a 4 stars hotel!
Location is not very good. At night not recommended to walk arround.
they wanted a deposit, but it was not written anywhere in the reservation!
The air conditioner is not cold, the hotel confirms any equipment in each room in advance, Call the counter, no one answers the phone
Reception not so friendly
Price is high fir the room
Wie viel kostet dieser hotel im Vergleich zu anderen in Phnom Penh Province?

Der Durchschnittspreis für eine Anmietung in Phnom Penh Province beträgt EUR 37 pro Nacht. Diese Miete ist EUR 11 günstiger als der Durchschnitt.
Ist das Parken in diesem hotel inbegriffen?

Ja, das Parken ist als Ausstattungsmerkmal bei Harmony Phnom Penh Hotel aufgeführt. Für weitere Informationen empfehlen wir Ihnen, sich mit dem Anbieter der Unterkunft in Verbindung zu setzen, um zu erfahren, wo Sie parken können.
Gibt es in diesem hotel einen Pool?

Ja, bei Harmony Phnom Penh Hotel steht ein Swimmingpool zur Verfügung. Genießen Sie das Wasser!
Ist Harmony Phnom Penh Hotel haustierfreundlich?

Leider ist dieser hotel nicht haustierfreundlich. Versuchen Sie erneut zu suchen und filtern Sie nach "Haustiere erlaubt"
Welche Ausstattungsmerkmale sind bei Harmony Phnom Penh Hotel verfügbar?

Wir haben 12 Ausstattungsmerkmale für diese Unterkunft gefunden. Dazu gehören pool, klimaanlage, küche/kochnische, internet/wlan und rauchen erlaubt.