Cape Town Marriott Hotel Crystal Towers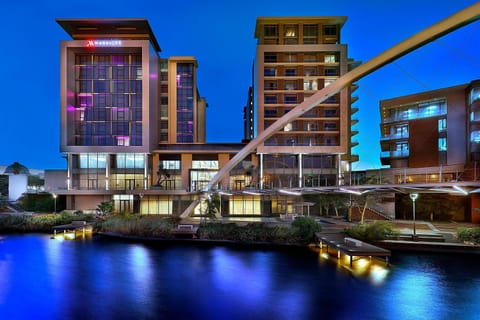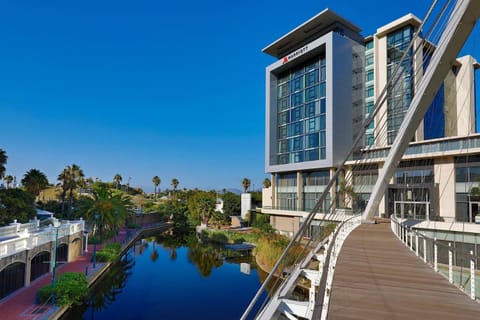 Hotel in Cape Town
Pool
Klimaanlage
Internet/WLAN
Eingebettet in Cape Town, dieses attraktiv room in hotel für EUR 73 pro Nacht ist ein großartig Option für Ihr nächstes Reise. Das Cape Town Marriott Hotel Crystal Towers bietet einen Blick auf den Grand Canal in Century City und direkten Zugang zum Einkaufszentrum Canal Walk. Hier wohnen Sie nur 15 km von Kapstadt entfernt.
Pool
Klimaanlage
Internet/WLAN
Parkplatz
Waschmaschine
Balkon/Terrasse
Whirlpool/Spa
Fernseher
Rollstuhlgerecht
Fitnessraum/Fitnessstudio
Familienfreundlich
100 % verifizierte Bewertungen
4.3 / 5 (779 Bewertungen)
The serving team is overwhelmed
Apr 2022
we stayed at the residence and it was modern, stunning view and super comfy
We liked the pool and the bar by the pool. The food was amazing and we liked that we could order any time of the day/night. Our room was nice, especially the bath and shower. Having a kettle in the room was very convenient.
There wasn't much of a view by our bedroom. Couldn't smoke by the pool. Breakfast service was extremely slow. We couldn't watch dstv or any other stations shown on television.
Cosy....warm atmosphere...referring to the lit fireplace to add to the welcoming..
Jul 2021
Welcoming was warm...staff friendly and inforned about everything
This lockdown period makes it difficult to pinpoint...
Excellent time overall
Aug 2022
Very wonderful and helpful staff and great location
Very nice breakfast, welcoming staff, comfortable beds.
Gym club (only 2 training equipments)
Underwhelming stay for a romantic night away
May 2021
Very comfortable bed, room and Hotel was clean
Room is too small to accommodate 2 people, there is only sitting space for one person, The headboard for the bed is a wall which makes for uncomfortable "lounging: on the bed, The room is in need of an upgrade. There is no smoking facilities at all in or around the Hotel which was an inconvenience due to weather The breakfast was average as we were not informed that it was no longer a buffer style breakfast due to Covid We also had to pay an additional fee for parking which should have been included in the cost
Very clean and nice and quite location
The service was so poor , had to always ask for assistance every morning for my breakfast to be served , they only give white people the service ☹️
Anniversary weekend
Sep 2021
Too beautiful, stylish the view from our bedroom was amazing! Close to the mall! The comfort was the best! The Rib eye steak was so good ! Cheers to the Chef
The breakfast services was so poor on both day ! We had to miss the last day
Toil water run through.Side hotel room no sight
This hotel is close to the canal walk mall. 3 min walk. it's in century city. This means you can get almost anywhere in the city in 15-20 by taxi. The spa is nice. The restaurant in the hotel is excellent.
The massages were not the best, but I guess it's the girl you get. The electronics in the room are old, but they are currently renovating all the rooms. Thus will take care of that problem.
Overall , this hotel is beautiful and we will definitely be back!
Jan 2022
They have a separate fully halaal certified kitchen which is very rare in Cape Town hotels. The beds are absolutely fantastic ! It "swallows "you in that you find yourself falling asleep instantly:) (and I am a very light sleeper). Very friendly staff.
The room should have been prepared better. We were two guests but we needed to ask for an additional gown and slippers. I feel the carpets in the room may need to be changed at some point. It looks a bit spoilt. What was a little disappointing was that we told the hotel it was our anniversary, yet we did not even get any rose petals or complimentary chocolates or non-alcoholic drink in our room:(
It was good enough to pass by a normal standard hotel
Jun 2021
The view was probably the only thing worth mentioning.
It was over priced for not even close to half the things you can get there.
It was nice but my only issue if the no smoking even in the pool
Dec 2021
The view of the Table Mountain was very nice even though the weather was bad
The place being a none smoking area because we wanted to smoke our hubbly
The view and staff was friendly, facilitities was easily accessible and accommodating. Room service was exceptional and fast services aswell
Television didn't have much channel options nor was it a smart TV to enable us to log into our services tv also had snowy lines across, other than that it was excellent
The steamroom and cocktails with Sibo very friendly
The staff was friendly. The room was modern enough
The food at dinner was not good. They got our order wrong. I ordered room service thereafter and they forgot to bring it. I took a nap and called again when I woke up, then they only brought it. We could not go to the bar area and pool on the Sunday at all which was a waste for us as we had to sit in the room until check out
The staff was friendly and the location is great. Room service was fast too
Looks like room was not checked before we arrived. TV was not working upon arrival, it had to be replaced. No teaspoons provided but other tea making things were there and had to request for shower gel because it was not replaced after cleaning the room.
Our initial stay was intended for one night but the way we enjoyed ourselves we ended up staying for 2 extra nights. Tru
Feb 2022
The staff was exceptionally welcoming and friendly
From check in to check out and lovely breakfast it's simply an awesome experience
Jan 2022
The staff simply does all to make your stay enjoyable
Unforgettable beautiful memories!!
Sep 2021
The staff is absolutely amazing, they so friendly and caring. The breakfast was just on another level, well done to the chefs. My partner and I really enjoyed spending our time at the hotel. The view from our room was just awesome and the romance in the room (talking about the lighting)was just perfect for a couple.
There's nothing not to like, I loved everything about my stay.
Best 5star Marriot #capetown#centurycityhotel.
Apr 2022
The staff exceptionally very polite and professional.Breakfast was amazing and for my son who hardly eats to look forward to breakfast everyday meant a lot.Great room service.The pool views great and always free .Bar area supper clean and affordable.Spa was amazing and the nail salon ladies very friendly,offered my son a seat while me and my sister had our nails done.
The staff and atmosphere were awesome. They really all have a smile glued to their face. It was welcoming and refreshing.
A couple of the items that the site says will be in the room we're not there and we had to request them.
The spa staff were exceptional The front desk staff were exceptional
The rooms carpets needs a deep clean. The dining staff lady was not attentive The TV in the room needs an upgrade We needed to call everytime for more sugar, coffee and towels
Disappointing service
Sep 2021
The spa experience was blissful
The breakfast experience was very disgusting. The waiter took our order (writing it on her hand) This took approximately an hour… to receive bacon in our halaal omelette ordered , black burnt toast and a latte for a "Americano " Hotel needs to up their customer service!
The services was excellent. The staff was super friendly. It was clean and neat. Value for money
Apr 2022
The services was excellent. The staff was super friendly and very helpful. The view of the room was BEAUTIFUL and very clean and neat. The food was also very delicious and there was a variety of food to choose from for breakfast and that for me was value for money.
I didn't like the view outside of of our room . We could only see the road and other buildings thought we'd get a better view when looking outside of the window.
I dont think we will be staying there again.
Nov 2021
We ordered Champagne for the room, you told us you will do so at no extra costs, we never received it. The bathtub was dirty and not cleaned. The bar didnt have brandy!
The room was nice and spacious - great views over Cape Town & Table Mountain - very comfortable beds.
The gym area is tiny - barely any space to workout at all. The breakfast buffet was quite average - if they had a coffee machine in room, I would probably have avoided breakfast!
the property was excellent, i enjoyed my stay
Jan 2021
the room was magnificent the view of the table mountain the property location the cleanness of the property
Won't eat there anymore
Mar 2022
The room was clean and the receptionist was very friendly.
I had to wait for my room to be prepared I arrived at about 6 in the evening but my room was ready at 18:25. The toilet flush was not working properly and I reported it the following morning but it wasn't fixed. Shower cap, milk, water were not provided I had to ask all the time. The food was not nice at all this time around. How can I forget that when I went to take the croissants they were full of little flies and I didn't report it i decided not to eat breakfast there. The service was so bad even when you wanted something to drink like coffee it took about 20 minutes before we could get our coffee.
The room was beautiful, the whole set up and very clean.
I would go through this stay and experience all over again.
Jan 2022
The room was a blessing and the breakfast was an Öh my gosh" situation. I loved it!!
The staff may have lost their professionalism during the breakfast session. There's a time where they were noisier and more visible than the guests.
The rooms were clean, the staff was nice and friendly and the breakfast was amazing
The fact that the TV remote did not work properly and no cotton buds was available
It was memorable!
Dec 2021
The rooms were beautiful and the bed was lovely! The food was delicious
The fact that they didn't have a smoking section. It was not nice having to stand in front of the hotel every time I wanted to have a smoke.
The rooms the staff the breakfast very good
Perfect, everything about the stay was nice
we really enjoyed our stay , good service by the staff
Apr 2022
the rooms look absolutely stunning
no clear indication how the parking works… ended up paying 3 times for parking in one day!!! terrible service in that department
Wie viel kostet dieser hotel im Vergleich zu anderen in Cape Town?

Der Durchschnittspreis für eine Anmietung in Cape Town beträgt EUR 76 pro Nacht. Diese Miete ist EUR 3 günstiger als der Durchschnitt.
Ist das Parken in diesem hotel inbegriffen?

Ja, das Parken ist als Ausstattungsmerkmal bei Cape Town Marriott Hotel Crystal Towers aufgeführt. Für weitere Informationen empfehlen wir Ihnen, sich mit dem Anbieter der Unterkunft in Verbindung zu setzen, um zu erfahren, wo Sie parken können.
Gibt es in diesem hotel einen Pool?

Ja, bei Cape Town Marriott Hotel Crystal Towers steht ein Swimmingpool zur Verfügung. Genießen Sie das Wasser!
Ist Cape Town Marriott Hotel Crystal Towers haustierfreundlich?

Leider ist dieser hotel nicht haustierfreundlich. Versuchen Sie erneut zu suchen und filtern Sie nach "Haustiere erlaubt"
Welche Ausstattungsmerkmale sind bei Cape Town Marriott Hotel Crystal Towers verfügbar?

Wir haben 11 Ausstattungsmerkmale für diese Unterkunft gefunden. Dazu gehören pool, klimaanlage, internet/wlan, parkplatz und waschmaschine.