Sinclairs Retreat Kalimpong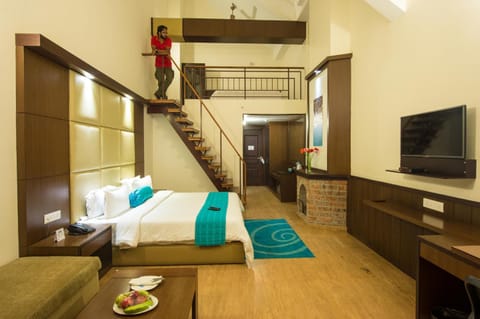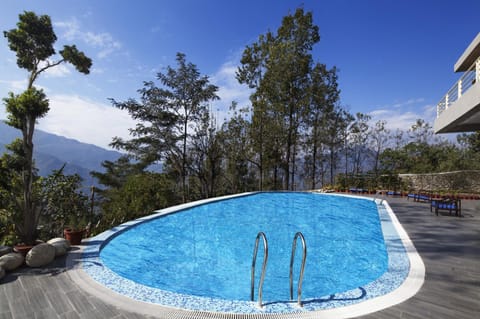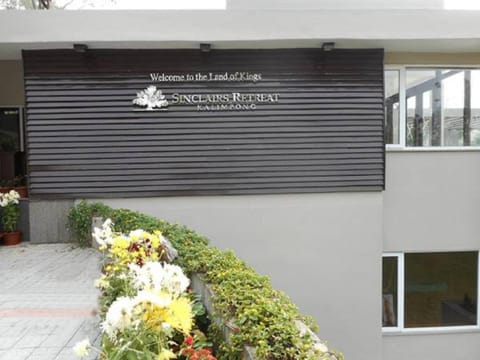 Hotel in West Bengal
Pool
Internet/WLAN
Kamin
Eingebettet in West Bengal, dieses charmant room in hotel für EUR 55 pro Nacht ist ein phantastisch Auswahl für Ihr nächstes Pause. Das Sinclairs Retreat Kalimpong in Kalimpong bietet Ihnen einen Außenpool, ein Fitnesscenter und ein Spa- und Wellnesscenter. WLAN nutzen Sie in den öffentlichen Bereichen dieser Unterkunft kostenfrei. Jedes Zimmer verfügt über Kabel-TV.
Pool
Internet/WLAN
Kamin
Parkplatz
Waschmaschine
Balkon/Terrasse
Whirlpool/Spa
Fernseher
Fitnessraum/Fitnessstudio
Garten
Familienfreundlich
100 % verifizierte Bewertungen
4.1 / 5

"Ausgezeichnet"

(97 Bewertungen)
We stayed here for 3 nights from 24th to 27th May'2022 . I would say the stay was outstanding . Everything from room view to food to staff behavior was very nice. We did not even venture out from the resort and stayed for full three days . At the restaurant, Breakfast spread was good .Would speacially mention about a lady named Sony who took care of us in restaurant. Rooms 309 to 312 are rooms with a great view of mountain and has a small private lawn attached to the balcony . Overall a great stay !!
Restaurant menu was limited and restricted to North Indian dishes. Menu could have been more elaborate.
Well spread out property which needs time to explore. Beautiful landscape. Breakfast area has a good view of the mountain
There should be more options in the restaurant menu list. At a distance from Kalimpong town, approximately 7-8kms. The pick up and drop services to the town is pretty costly compared to the market rates. Mountain view rooms have big trees in front and so blocks off the view almost completely. So, actually these rooms are not mountain view.
Nice property but perhaps inconvenient for a short stay
Oct 2022
Views from the resort and room (room with mountain view and small private garden + verandah) Size of room; shower Greenery in resort
Location - too far from the Main Road area, especially for a short stay. Hotel wasn't able to arrange a taxi for us to return from the Main Road area in the night. There's no wifi in the room. The mattress was too soft. Even the pillows were too soft. The approach road is in a bad condition (although not sure what the hotel can do about this).
The spacious room. The balcony and view from it.
Didnt like the approach road to the propert, its in a really bad shape. The whole property needs better maintenance at par with its standards.
The property is good and the staff are nice and friendly. But in Kalimpong , location would matter .
Mar 2022
The property is built well and comfortable.
The location and the helpful staff
A complete retreat
Aug 2022
The breakfast spread was too good.
Bathroom facilities could have been better
The breakfast buffet was very good with Indian and Continental options. The view of the hills from the premises was beautiful, particularly from the restaurant terrace. The swimming pool location is beautiful. It's beautifully landscaped for a walk. The hobby room has options of table tennis, badminton and carrom.
The gym barely has any equipment. No hair dryer in the room. A pipe in the bathroom sink was leaking. No bathrobes. The road leading uphill to the hotel is badly damaged with deep and dangerous potholes, making both driving and walking after dark very risky.
Staff was courteous, friendly and efficient. Excellent service and awesome location. Overall a great experience.
The bathroom sink was leaking and they didnt fix it permanently till the day before we were leaving. The first few days they were just mopping away the leaked water.
Peaceful, quiet area..nice breakfast
Open spaces. Within nature. Well maintained lawns.
a terrible ordeal
Jul 2022
It was a pathetic deal..kalimpong was hot when we went on July 15, no AC, no wifi. Front desk Staffs were absolutely non cooperative. we stayed there for less than an hour, but we were charged 1000/for going to a cafe in kalimpong (since there was no taxis available we had to opt for the hotel car)which was hardly at a 20 min distance and then when we wanted to move to darjeeling and wanted to rent the hotel car they asked 5500/ for it. Siliguri to Darj takes only 3500-4000/ ...so one can well understand. When we pointed out the same they surely did a huge favor by giving us a "discount" of 500/. There was no remorse, no apologies given for the harrassment meted out towards 3 women, and am not playing the woman card here. No wonder there was hardly any guests.. and what surprised us the most was that nothing was mentioned of the unavailability of the services in the website and the fact that it's so far from the town! Never recommending nor going back there. Property may look good, but if services aren't taken care of, things will never work.
Mr.Bijoy took care of all needs and stay and made at ease our stay. He guided us our travel and local sightseeing. Responded immediately to all our queries. The resort is a beautiful place not to be missed during the travel in that area
Location and very nicely maintained hotel with great garden flowers around. View is wonderful
Checkout was a bit lengthy process; in our case only one customer was in front of us, but still took half hour to finish! Not sure how this will function in a hotel busy season
no internet connection available at all. this is a set back
not a client friendly hotel and staffs.
Dec 2022
in booking . com the property looked ok. but actually it is 5-6 km away from the city center and very very exclusive. there were not a single boarder was there on the property. and was hardly any staff. it gives a creepy feelings. the road is extremely bad and not maintained.
when family is going for the first time this kind of hotel should not be recommended. also I went there and then because there were only ladies I wanted to cancel the booking but still they charge me one days full charge. there was not a single boarder and all the rooms were empty so why did they had to charge me? I requested them so much but nobody listened. it was a very very bad experience with the staff attitude.
The location, property, staff, food and services were excellent. An ideal place to chill and relax.
Oct 2022
Excellent spread with the items being served fresh. The staff at the restaurant particularly Sourav, Somnath, Shovan, Rajesh, Sabina and others were excellent with their ever helping attitude. The chef's preparations were excellent. He was kind enough to make the food as we desired. On the front office Vijay was cordial and helpful right from the time we checked in. The house keeping staff like Sunil, Suraj, Srijana, Tara, Nisha, Kavita and others were excellent and served with a smile always on their face.
Nice and comfortable stay. Good value for money. Excellent location.
Nov 2021
Excellent location of the hotel. Rooms were large and comfortable. Staff was courteous and helpful. Amenities were good. The chinese food was nice. Overall quite a comfortable stay, and good value for money.
The mattresses were too soft and can be changed. Food was mediocre, and a better chef would help. The rooms and overall property needs a little overhauling, and improved maintenance can secure more guests.
excellent location, above a hill top, surrounded by a green lush forest
a beautiful stay away from the hustle bustle of the city
Feb 2023
everything was great. no complains at all - the staff, the serene location, the beautiful rooms, great breakfast options. everything was very good
Good for families. Will come back.
May 2022
Breakfast spread is good, staffs are humble and attentive.
Rooms need renovation, paint, etc.
Beautiful property. Excellent staff. FO personals were very polite, professional and efficient. Food was good.
There's nothing to dislike.
Beautiful gardens and landscaping. Awesome mountain view. Serenity all around is overwhelming. Warm hospitality. Good food.
Its a beautiful property and a perfect place to relax. No wifi in the room is the only minor inconvenience.
Ambiance, Location, Calmness, Staff response and lots more.
All ok but wi fi not good
Wie viel kostet dieser hotel im Vergleich zu anderen in West Bengal?

Der Durchschnittspreis für eine Anmietung in West Bengal beträgt EUR 36 pro Nacht. Diese Miete liegt EUR 19 über dem Durchschnitt.
Ist das Parken in diesem hotel inbegriffen?

Ja, das Parken ist als Ausstattungsmerkmal bei Sinclairs Retreat Kalimpong aufgeführt. Für weitere Informationen empfehlen wir Ihnen, sich mit dem Anbieter der Unterkunft in Verbindung zu setzen, um zu erfahren, wo Sie parken können.
Gibt es in diesem hotel einen Pool?

Ja, bei Sinclairs Retreat Kalimpong steht ein Swimmingpool zur Verfügung. Genießen Sie das Wasser!
Ist Sinclairs Retreat Kalimpong haustierfreundlich?

Leider ist dieser hotel nicht haustierfreundlich. Versuchen Sie erneut zu suchen und filtern Sie nach "Haustiere erlaubt"
Welche Ausstattungsmerkmale sind bei Sinclairs Retreat Kalimpong verfügbar?

Wir haben 11 Ausstattungsmerkmale für diese Unterkunft gefunden. Dazu gehören pool, internet/wlan, kamin, parkplatz und waschmaschine.