Sunrise Nha Trang Beach Hotel & Spa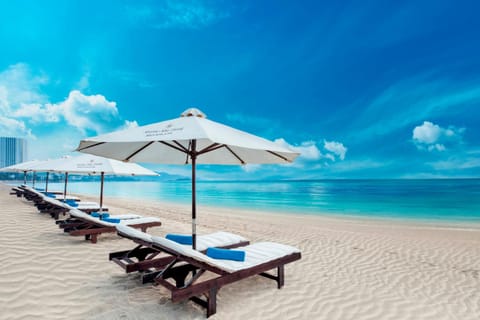 Hotel in Nha Trang
Pool
Klimaanlage
Internet/WLAN
Befindlich in Nha Trang, dieses attraktiv zimmer im hotel für EUR 64 pro Nacht ist ein phantastisch Auswahl für Ihr nächstes Pause. Das im Kolonialstil gestaltete Sunrise Nha Trang Beach Hotel & Spa empfängt Sie am Strand von Nha Trang und bietet einen eigenen Strandbereich mit Sonnenliegen.
Pool
Klimaanlage
Internet/WLAN
Rauchen erlaubt
Parkplatz
Waschmaschine
Balkon/Terrasse
Whirlpool/Spa
Fernseher
Rollstuhlgerecht
Strand/Ufer
Fitnessraum/Fitnessstudio
Garten
Familienfreundlich
100 % verifizierte Bewertungen
4.3 / 5

"Ausgezeichnet"

(313 Bewertungen)
We had a room with sea view. Location of the hotel is good, close to the town center and near the beach. Breakfast is good. Enough variety of Vietnamese and western food.
Wonderful and Fantastic Experience
Sep 2022
We got a free upgrade using the booking.com! Very friendly and helpful staff. The sunrise view was stunning with a jacuzzi at the balcony for us to relax while enjoying the view. We had to leave early at 6am for our surfing course and the hotel even prepared a breakfast box for us to bring along. Room service was great too as they decorated the bed using our scarf. It was a lovely gesture. Overall, we had a fantastic experience throughout the whole stay at Sunrise Hotel and this is definitely worth the value.
The staff at the breakfast were not as friendly and the service was not that great compared to our experience at the entrance, front desk counter and room. However, the overall experience was still wonderful!
Our treat in our honeymoon
May 2023
We booked two nights here whilst having honeymoon in Vietnam and was great choice. Hotel offered us shuttle van for 600k land it was less than taxi and we had plenty of space. The room itself was super clean, had comfy bed. We appreciated English speaking staff and great location, perfect swimming pool and free sun beds on beach.
Just - Extremely overpriced laundry (48k just for one piece of underwear to wash) and breakfast with less European food options than we would expected.
Very nice attentive staff ,good location overlooking the beach and islands .The breakfast was good but not really 5 star standard. The rooms where clean and beds very comfortable.
Very good location Excellent view
Bathroom is Ok But looks a bit old
exceeded high expectations
Jan 2023
very friendly staff and nice atmosphere
bit of a further walk from everything in town, but still great location in walking distance and directly on the beach front. no real negatives
Very friendly reception. Waiting staff had poor English and service was average. Bedroom comfortable and clean and food was excellent and good value.
Nice place for a few nights.
Mar 2023
The view for our room was amazing. Good balcony with cute spa bath.
Sunrise (no Spa) retreat
Apr 2023
The swimming pool was awesome. The bed very comfy. The staff lovely and helpful and the breakfast buffet was exceptional. We had balcony beach view. It was beautiful by day and colourful at night
The aircon in rooms was average. The private beach was way over rated! It should not be labelled a private beach. We had to wait for extra beach beds to be delivered because the 8 beds on beach were taken. They estimated half hour wait for beds.. too bad if everyone staying at hotel wanted to use 'private beach' at same time!! The hotel attendant at beach had no idea. The day spa was closed! Under renovations.. something we had to figure out for ourselves and reiterate to another guest who was also looking for it! We were never told this and it is still advertised on their page as open! It's literally called The Sunrise Spa Resort!! They tell you not to drink the tap water and only leave you 2 little bottles of water for drinking and to brush yr teeth. Level 10 bar closed! Would have been great night view if open. People were smoking in rooms and it was coming through the vents into other rooms. Don't order the steak sandwich! The bathroom was an accident waiting to happen! It was shower in bath. Bath was deep so it's a big step into bath to have bath or shower. The bathroom flooded no matter how hard you tried to confine the water to the bathtub.. leaving it wet and very dangerous to get out of. It was slippery. There are no fans in bathroom either! We all know why toilets need fans, right? As lovely as the swimming pool is?? I witnessed a Few guests slip over on tiles. My partner slipped over and fell to ground, it was a miracle she didn't injure herself. We finally worked out where tiles had been replaced to tread lightly as not to slip. It was very dangerous.
the pool and ocean view, clean rooms. room service staff very attentive and helpful.
rude reception staff, poor breakfast room setup and quality, dirty foyer, unusable bathtub, dark hallways and many dark corners make the hotel just a 3 star hotel! We stayed at the grand deluxe 3 rooms 3 nights. Reception staff were terribly unfriendly and aren't meeting any 5 star service standards. Some of them were great (a Cuong, security, pool staff). Reception staff very rude, while we were waiting for our trips in the lobby, some of them kept chewing eating something at the work desk and staring at us talking about god knows whatever. This would make any guests extremely uncomfortable. Some of them didn't wear their name tags as part of a 5 star hotel uniform, why? I hope the manager can take care of this feedback and train them for improvement. We have travelled to many places in Vietnam and Nha Trang with this hotel reception leaving us a perception of unfriendly rushing people of Nha Trang. We won't come back to this hotel.
The location right on the beach was great. The pool was beautiful. A short walk to everything. The staff were super friendly and always helpful. We stated in the executive suite, and it was excellent value for money.
It was a little quiet as it was just before summer, so there were a couple of little things, although not enough to spoil the amazing place. The pool barman didn't come and ask if you wanted a drink. You would have to go up and order it and then go back to your lounge. The Lvl 10 cocktail lounge wasn't open. The spa and beauty salon were closed for renovation. Limited English speaking channels on the TV.
100%would come back and recomend it to my friends
Jun 2023
The hotel it self was very nice and the staff where always friendly.
I didnt know the chips and drinks in the bedroom where just a gift. It would had been nice if it was written somewhere that they weren't, or maybe i just didnt see the list, but had to pay for them when i was checking out
A great place to stay and relax.
May 2023
The foyer was fantastic and our room with spa on the balcony overlooking the ocean was a nice surprise, having towels and sunlounges ready for us to use on the beach was also very good. Nice meals and thanks to all staff but special to Mr Dung, Mr Tien, and Ms Hoa during our stay. Steve & Tina
A lovely hotel with lovely staff. well worth a stay.
Dec 2022
The breakfasts were always warm and plenty of choices. The staff always made a point of being friendly when we left the hotel and welcomed us back. No problem when we complained about damp, they immediately changed our room.
The bed linen could have been changed more often. There was a stain on a pillow case when we arrived and it was still there when we left. Not the quietest room, as it overlooks the main beach road, but the view from the room more that compensates for this.
It was a short stay which worth our money.
May 2022
The bed's size is big, the biggest bed I ever experienced. The staff was very nice and helpful. We got upgraded to better room and were allowed to check out late with no extra charge.
The facilities were quite old, so some of them are not in very good condition.
the hotel management needs to improve to maintain the standard
Feb 2022
Staffs are friendly and helpful
Communication is the problem between hotel' s departments. Some of the services are closed and breakfast are not up to the standard of a 5 star hotel
Room, view, clean, breakfast
The pillows smell badly. The blanket is rough.
Wie viel kostet dieser hotel im Vergleich zu anderen in Nha Trang?

Der Durchschnittspreis für eine Anmietung in Nha Trang beträgt EUR 36 pro Nacht. Diese Miete liegt EUR 28 über dem Durchschnitt.
Ist das Parken in diesem hotel inbegriffen?

Ja, das Parken ist als Ausstattungsmerkmal bei Sunrise Nha Trang Beach Hotel & Spa aufgeführt. Für weitere Informationen empfehlen wir Ihnen, sich mit dem Anbieter der Unterkunft in Verbindung zu setzen, um zu erfahren, wo Sie parken können.
Gibt es in diesem hotel einen Pool?

Ja, bei Sunrise Nha Trang Beach Hotel & Spa steht ein Swimmingpool zur Verfügung. Genießen Sie das Wasser!
Ist Sunrise Nha Trang Beach Hotel & Spa haustierfreundlich?

Leider ist dieser hotel nicht haustierfreundlich. Versuchen Sie erneut zu suchen und filtern Sie nach "Haustiere erlaubt"
Welche Ausstattungsmerkmale sind bei Sunrise Nha Trang Beach Hotel & Spa verfügbar?

Wir haben 14 Ausstattungsmerkmale für diese Unterkunft gefunden. Dazu gehören pool, klimaanlage, internet/wlan, rauchen erlaubt und parkplatz.