The Click Clack Hotel Bogotá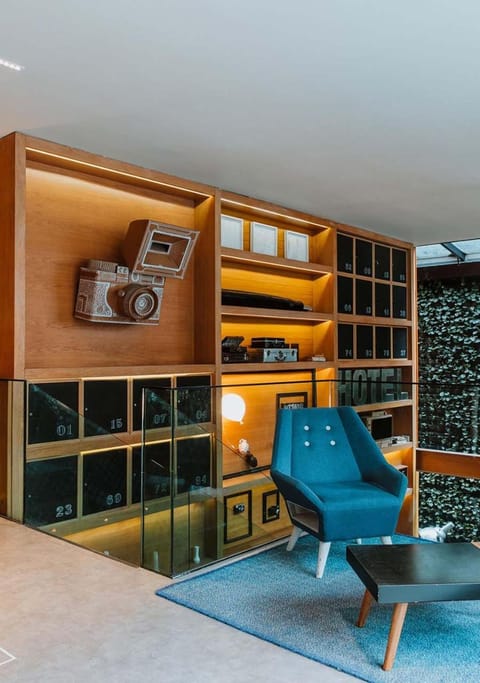 Hotel in Bogota
Haustiere erlaubt
Internet/WLAN
Waschmaschine
Gelegen in Bogota, dieses charmant zimmer im hotel für EUR 49 pro Nacht ist ein großartig Auswahl für Ihr nächstes Urlaub. Das Click Clack Hotel befindet sich in Bogotá, 2 Gehminuten vom Parque de la 93 und 10 Gehminuten vom Viertel Zona T entfernt. Freuen Sie sich auf ein Restaurant mit Küche nach Art des Hauses.
Haustiere erlaubt
Internet/WLAN
Waschmaschine
Balkon/Terrasse
Fernseher
Garten
100 % verifizierte Bewertungen
4.2 / 5

"Ausgezeichnet"

(1'289 Bewertungen)
wuiy, friendly, great location, breakfast
Nice rooms, lovely design, fancy details, good food quality
Sep 2021
Wonderful! Hotel is a small building, well designed, a little dark but nice. Food at restaurant is good, rooms are confortable and full of little nice and fancy details. Good Marshall speaker to sync your device sound via bluetooth. Wonderful bathroom, strong and confortable water pressure on shower.
Price... it is a little overpriced for an hotel without gym / pool / casino / mall access and other facilities.
Amazing hotel located in the hearth of the city
May 2021
We really liked our stay in this hotel. The breakfast was amazing! With a lot of Colombian food and a mix of international vibes. We had room service that was really useful because of the city corona measures. The staff was really helpful and kind.
We loved everything about this hotel. It has great style and design with a little humor. The staff was friendly and it was within walking distance of Parque de la 93 where there are many restaurants. The breakfast was delicious
We loved everything. The room was on the smaller side, but it was still comfortable. It wasn't really something that bothered us
Very good location, within walking distance of Zona Rosa, and lots of place to eat and drink
It's a little noisy near the street but thats all of Bogota due to traffic
Chic hotel in the heart of Bogota. Great for the traveler who wants to explore the city
Nov 2021
Very cool, chic hotel in an excellent location. The rooftop bar and downstairs resto are also very cool. The staff was wonderful. Especially Mariana and Paola! I will definitely be staying here again on another visit
This is a super-cool hotel with boutique credetials to spare!
Feb 2023
Totally cool vibe, room is excellent and great decor.
The Click Clack Hotel Bogota
Oct 2022
This review is supposed to evaluate the property in general: Great welcoming staff ready to help when you have the right approach... As requested they put an Espresso coffee machine and it was very much appreciated but only got 2 capsules: one of them decaffeinated out of 3 nights stay. Nice decoration in common areas and rooms as well even though some furniture starts to get old and used such at breakfast area. In-Suite, Marshals speakers were available and a Huawei phone that we didn't know how to use it. Prime location near everything you need. Rooms facing the streets can be noisy: Junior suite as we could hear from outside. The breakfast included in the rate was okay with a few things and one option for eggs or main dish and not enough portioned. Their coffee tasted bad and felt that they put water on orange juice. Limited selection of fruits: pineapple, papaya, melon, some cheeses/ham and the pastries tasted old. Rooftop bar is lovely full of Colombian's Jet Set and great cocktails and ambiance.
We didn't find rooms spotless clean: There was long hair and lots of dust in the black bathroom, which gets flooded every time you shower. Old towels with wholes. Beds are getting old/uncomfortable as they put a pillow top feathers… Pillows weren't that comfy either.. But they change it after we asked .. There are too many bad reviews about this place and Management should take action with customer service and really pay attention to what people express here and NOT just say that they will fix things when they aren't.
The terracw on Rooms M are exceptional
You cant smoke on the terrace which was advertised
I would definitely stay here again if I'm ever in Bogota again
Jun 2021
The staff was very attentive and accommodating
The showers and the beds were excellent. The breakfast options were also fantastic.
I would not return
Jan 2023
hotel under restructuring the air conditioning did not work
The restaurant is awesome.
The restaurant!. I love it,
the location - the staff was professional -
great location ! trendy !
May 2022
the location, the staff it's amazing, the decoration, the rooftop bar !
it's my third time at the hotel and maybe the rooms start to need a refresh.
the treat, bad communication with the guest, no solutions… everything was an extra fee
The location is amazing, as the park is just behind the hotel, and is full of restaurants and bars all around. Breakfast was fantastic, and the service was beyond good. We were very happy and will be happy to return to Click Clack Hotel!
Super expérience, beautiful hotel
Jun 2021
The localization, the design and the staff
Not so easy to manage the air conditioner and it was a bit cold the room
The hotel was very stylish, comfortable and clean. The staff was always attentive, friendly and helpful. The breakfast was great as well. The location was perfect, central and very safe. We would definitely come again!
You do notice some of the noise from the street. A room that is located on a higher floor would have been better, so that you can benefit most from the views.
The hotel vibe is cool, and the breakfast was good. The hotel is very good located and very kind staff.
The room is very small, and the bathroom as well. My room had an open window that I asked to close but nobody did it until a housekeeper (very kind) helped me to do it. The first two nights I was very cold.
great stay just to short, we'll be back
Mar 2022
the design and quirky humour in the furnishings and little details. oh and the shower
The breakfast was amazing
good stay but could improve
Aug 2022
the breakfast is excellent, the location.
the room is too small, the room service is trouble is super difficult to Comunicate with the phone system. the noise in the room is terible, specially in the morning. with the cleaning pleople talking in the halls.
pleasant. nothing special. good breakfast. nice terrace
Apr 2022
the breakfast and the private terrace
the rooms. very small, outdated and very small bed.
The best part of my stay at the click clakc hotel was definitely the staff. The property is very small and it does not l
Apr 2022
The bar and restaurant were pretty cool and the food was amazing. The staff was exceptional!
The room was extremely small and the AC was broken.
Room was perfect. Breakfast was exceptional. The staff was so helpful in giving tips and recommendations on where to go around the hotel and in Bogota. Bar on the rooftop has great views!
disappointing after great Medellin experience
Feb 2023
rooms were great and so was the location
the air/con was not working so we overheated the room did not get serviced the staff were not friendly the hotel was being renovated which made the experience unpleasant
They might be cool if you are in your 20's but not so if you are in your 50's and expecting to be tr
Feb 2023
Reception staff were friendly Thé porter was friendly
No kettle in room No refrigerator No choice of tea, I drink black tea
really liked the quirky touches in the room. very friendly staff
not happy as the hotel was in a state of mess
Jan 2023
the property was in a state of renovation and this was not made clear at time of booking. thei is unacceptable, very misleading..
Rooms are small and tight
average at this time
Feb 2023
Wie viel kostet dieser hotel im Vergleich zu anderen in Bogota?

Der Durchschnittspreis für eine Anmietung in Bogota beträgt EUR 36 pro Nacht. Diese Miete liegt EUR 13 über dem Durchschnitt.
Ist das Parken in diesem hotel inbegriffen?

Das Parken ist nicht als verfügbares Ausstattungsmerkmal bei The Click Clack Hotel Bogotá angegeben. Für weitere Informationen empfehlen wir Ihnen, sich mit dem Anbieter der Unterkunft in Verbindung zu setzen, um zu erfahren, wo Sie parken können.
Gibt es in diesem hotel einen Pool?

Wir haben keinen Pool gefunden, der als Ausstattungsmerkmal für diesen hotel aufgeführt ist. Es kann sich lohnen, noch einmal zu prüfen, ob ein Pool für Ihren Aufenthalt wichtig ist.
Ist The Click Clack Hotel Bogotá haustierfreundlich?

Ja! Diese hotel ist haustierfreundlich. Für weitere Informationen empfehlen wir Ihnen, sich mit dem Buchungsanbieter in Verbindung zu setzen.
Welche Ausstattungsmerkmale sind bei The Click Clack Hotel Bogotá verfügbar?

Wir haben 6 Ausstattungsmerkmale für diese Unterkunft gefunden. Dazu gehören haustiere erlaubt, internet/wlan, waschmaschine, balkon/terrasse und fernseher.