Solaria Hanoi Hotel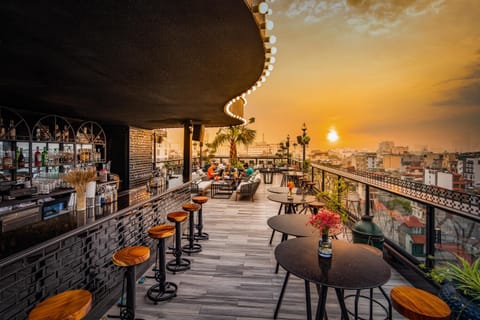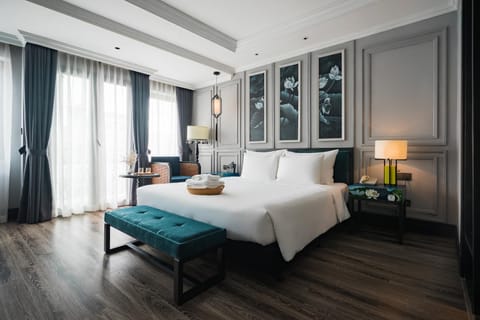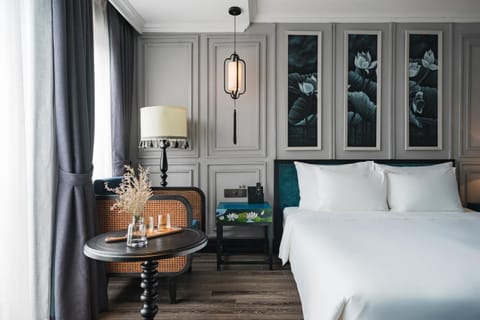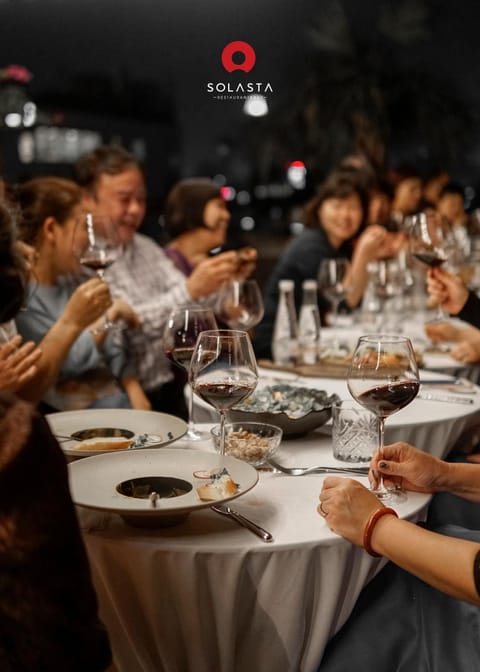 Hotel in Hanoi
Klimaanlage
Küche/Kochnische
Internet/WLAN
Befindlich in Hanoi, dieses attraktiv room in hotel für EUR 41 pro Nacht ist ein großartig Auswahl für Ihr nächstes Pause. Das Solaria Hanoi Hotel erwartet Sie mit einer Terrasse, einem Restaurant und einer Bar im Zentrum von Hanoi, 300 m von der St.-Joseph-Kathedrale entfernt.
Klimaanlage
Küche/Kochnische
Internet/WLAN
Rauchen erlaubt
Parkplatz
Waschmaschine
Balkon/Terrasse
Whirlpool/Spa
Fernseher
Rollstuhlgerecht
Familienfreundlich
100 % verifizierte Bewertungen
4.7 / 5 (1'228 Bewertungen)
A fantastic place to stay.
Jan 2023
What an amazing hotel. Great location. Great restaurant (excellent breakfast). The staff were amazing - they could not have been more welcoming and helpful. We have stayed in many excellent hotels with superb service, but the customer service at the Solaria was the best we have ever had. Daff and Liam deserved a special mention.
Everything was top notch!
What a friendly, excellent service they offered!
Nice Hotel which we will recommend anytime.
Oct 2021
We wanted stay one night in a downtown Hotel close to Old Quarter and very pleased with the Hotel, Staff and location. Breakfast was alos good, only the hot coffee should have come with hot, not cold milk. It´s a nice Hotel, clean and everybody we met was very friendly.
The room is classified as room with balcony. Don´t be surprised... it´s the Vietnamese version where you have a double door, behind it a sliding door and then a railing in front of you. So you don´t really stand on or have a fullsized balcony... you are standing at the facade level and you can look out...
amazing hotel in the heart of the old quarter
Oct 2022
we loved everything about Solaria Hanoi. the staff were incredible, the amenities were fantastic and the location is superb. 5 stars and very affordable
A Special Stay in Hanoi
Nov 2022
We just came back from a lovely stay at the Solaria hotel. We travelled to Hanoi for a special occasion and the experience at the Solaria hotel made our trip that much more special. From the clean rooms and thoughtful design, to the supreme breakfast, relaxing massage, and incredible staff (huge thanks to Liam and Anya at the front desk), we had a wonderful time at the Solaria. We were sad to leave and would absolutely pick the Solaria again next time we are in Hanoi.
All was wonderful - no complaints.
Our favourite hotel in Vietnam
Aug 2022
We absolutely adored our stay at Solaria Hotel in Hanoi. Daff kindly messaged me on WhatsApp in the weeks leading up to our trip, providing us with advice and helping me with travel questions before we arrived! We were greeted every day/every time we were in the foyer with friendly welcoming faces. Not only did Daff go above and beyond with a personal and friendly service but so did all of the staff at Solaria. Including Liam and Monday. We booked a tour to Ninh Binh through the hotel which was convenient for us, and the staff kindly provided us with a snack to take with us. The hotel itself was beautiful and in a great location in the old quarter. Walking distance from the lake, train street, and the markets.The room was small but all we needed for our trip as we were out and about a lot. The room service was amazing always so quick to clean our room. And we loved the buffet breakfast every morning greeted with a smile while we were half asleep! lol We made use of the rooftop bar upstairs in the evenings. They made the yummiest cocktails and made sure we were comfortable. Also highly recommend this hotel for the Spa services!! I am a beauty therapist in Australia and have been for the past 6 years so I was hanging out to get some pampering and TLC on my trip. They kindly offer guests 50% off spa services and I got 3.5hr amazing treatment for a crazy cheap price and it really added to my experience at solaria. We were honestly sad to leave Solaria but hope we can come back again soon. We will remember the thoughtful staff and Daff at solaria always ❣️
Very good hospitality and amazing service. We visited Vietnam first time, looking at options at Hanoi, to stay with family. Found out this on booking.com, got very review. What we booked and what we got service, truly worth. Food quality , really good. Service always with a smile, very warm. Ans most importantly thier location - very close to old quarter road. Truly a very good place to stay
professional and helpful staff, made my stay a memorable one.
Jan 2023
very friendly and helpful staff that provided very extensive information about Hanoi and what to do. breakfast buffet was top notch!
that it was too short of a stay.
Great & Modern Hotel for Hanoi stay
Aug 2022
very convenient location and 1min walk to lake for morning walk/run. breakfast is excellent and many choices. staffs are very friendly and speak English. hotel lobby and room clean and nice roof top bar.
very clean, in a really good area of Hanoi and the breakfast had a wide variety. also very helpful with transfers and tours
the bathroom door didn't shut properly as the door was too small
Gracious hotel staff, well-located, big rooms
Sep 2022
Very centrally-located, near Hoan Kiem lake, with big rooms. Nice sunset views from the rooftop. Hotel staff spoke English well and were really helpful in arranging for a car to bring me to the airport. Check-in experience was great, with a refreshing drink provided. Many dining options available in the area. Spa was great too!
The lift lobby to the restaurant was located on my floor, which was one floor below the restaurant. As a result, loud patrons on the lift lobby could be heard from my room, which was quite near the lift. Scraping of chairs on the floor in the restaurant above were also heard in my room. Just a small grip, but it might be a cause for concern for light sleepers.
Truly outsdanding stay in Hanoi
May 2022
truly an excellent location with excellent staff
would have loved less international options for breakfast and more Vietnamese ones instead
The staff were so friendly and helpful.
Best hotel I have ever had the pleasure of staying at.
Dec 2022
The staff were outstanding in welcoming us and planning our trip. The location was sensational - right at the heart of Hanoi old quarter. The breakfast was varied and sumptuous.
The bathroom lights were too dim to shave properly with.
The staff were great. They were so pleasant and helpful that make our stay a memorable one. The location of the hotel is super, central to everything.
Not suitable for people with climbing stairs problem.
Pleasant stay in heart of Hanoi.
Aug 2022
The staff were brilliant, always on hand to help. There was a lot of options for breakfast. Great location, close to everything in Hanoi. Very comfy beds.
The rooftop bar music was exceptionally loud however when pointed out they turned it down.
great location and staff but property had cleanliness issues and was a bit tight in terms of size
Jan 2023
the staff was very very friendly and accommodating. they were always smiling and very welcoming.
the property wasn't clean and was a bit claustrophobic. there were some bad smells in some areas of the hotel. they would not allow us to bring our own beers to the roof top which was annoying given we were staying in the hotel.
the staff was super nice, the room was beautiful and the massage was amazing!
Amazing stay - GREAT staff!
Mar 2023
The staff was exceptionally friendly, helpful and caring. Especially Lily and Liam were very attentive. The food was great, for a good price. The breakfast provided different styles of food - buffet and a la carte. The sky bar is also amazing and the massage at the spa was really great. But the most impressed we were with the really nice staff!!! Big thanks to them, for marking our stay great!
Absolutely delightful !!!!
Jun 2022
The staff was amazing and so hospitable!! They were very helpful and were forever ready to offer help. They ensured our stay was comfortable and went extra lengths to make sure our stay was amazing !!
The location is great, it's really near Hoan Kiem Lake. The staff is really friendly, hospitable and helpful. the space
Apr 2022
The staff, location and the bathroom
Wonderful hotel for a family.
Sep 2022
The staff here are wonderful. They organised many things for us and nothing was too difficult. Great family connecting room with a little balcony. Fantastic rooftop for sunset drinks. Great location. Excellent breakfast.
Beautiful hotel in the heart of Hanoi with amazing staff
Aug 2022
The staff at the Solaria hotel couldn't have done more for me on my stay, as I had problems with visas so had to make many changes to my trip. The hotel is finished to a very high standard. The rooms are very comfortable and exceptionally clean. As for location, you're right in the heart of old town Hanoi, with views of the Ho Hoam Kiem from the rooftop bar. Will be recommending to all of my friends and family, and will be returning when I am next in Vietnam.
Our stay was great, the location is excellent but with a few improvements we would definitely return to this hotel.
Jan 2022
The staff at the hotel are very friendly and helpful. The bed was very comfortable and the room was spacious. The location of the hotel is great, it's close to many amenities, most things were within walking distance. We had a great time at the hotel.
On 2 occasions our room was not made up. This was rather inconvenient as we just wanted to get back to a clean room and relax but instead we had to wait for housekeeping to clean the room. The breakfast menu didn't have many options for vegetarians and the menu was the same throughout our stay.
The staff are very kind and helpful. if you need any recommendation for trips around Hanoi they will book the best tour for you. many spots in the old quartier are nearby.
perfect boutique hotel in Hanoi with the friendliest staff and delicious breakfast!
Jan 2023
The staff are so welcoming and lovely. Rooftop bar is great with an awesome view and the breakfast is terrific! they really went above and beyond to make us comfortable. the location is perfect, right near the lake.
our first room was a little small with no view- but we changed to a balcony room which was lovely. so no big deal!
really enjoyed it here
Dec 2022
the staff are amazing, beds comfy and sense of safety and being in a safe environment are present
The cleanliness could do with some work. everything just needs a good scrub but overall a good level of clean to be expected of Vietnam
An amazing place to stay in Hanoi.
Oct 2022
The Solaria is a very nice boutique hotel. The rooms are spacious with a large bathroom that has both a tub and shower. It is located in great part of Hanoi within walking distance of many attractions. The best thing about it was the staff. They all went above and beyond what would be expected. Probably the friendliest and helpful staff at any hotel I have stayed at.
Excellent staff service, good location
Jan 2023
The service of the hotel staff is superb, best I ever experienced so far. They went beyond to make you feel comfortable. Also, the hotel location is very good.
Very happy with the service
Feb 2022
The place has a very warm feeling when entering. Staff are ready to welcome you. The room was very nice and comfortable. The bathroom was a little small, but perfect for one person. Staff was very helpful and kind.
Great hospitality, excellent location.
Dec 2022
The location was fantastic - just a street off Hoan Kiem lake and you're right smack in the middle of Old Quarters. The Despite the central location, you're on a quiet street so it's a little away from the constant noise of Hanoi. Hospitality and service standards were through the roof - before arrival, a staff will personally contact you to make sure all arrangements are done well, help you to do any reservations if needed (highly recommended to book through a hotel so you're not scammed!). They're also always around and easily contactable throughout your stay. Liam, in particular, went above and beyond his duties - even contacting us after our stay to check in on the tour we took after and to wish us well when we departed.
Rooms were a little small - but this is a very central location so was expected.
The perfect boutique hotel in the heart of hanoi
Jan 2023
The location, the staff, the amenities and the overall experience was fantastic! The staff always had a smile on their face and were courteous from check in to check out. They went the extra mile to make our stay comfortable and safe. Little things like giving us a brief of the local areas, safety tips, asking for our diet preferences made the experience so pleasant. The location is in the heart of old quarter, walking distance from the lake, the hao lu prison and the cathedral. While in the heart it's also not in a crowded or messy street. It is just perfect. The amenities are spot on. Rooms are decently sized for the old quarter area. Wifi is good, TV has Netflix and bathrooms are spacious. The rooftop restaurant has an amazing breakfast spread with buffet as well as a set menu you can chose to order from.
Nothing much here. Only recommendation would be to increase the lighting in the bathroom. Otherwise the hotel and amenities are spot on.
The location of the hotel is exceptionall. Roof terace is added bonus. All the staff were lovely and helpful but all the compliments go to Henry , hotel manager, who was very welcoming, helpful and warm. Highly recommend the hotel.
Pleasant stay in a great location
Sep 2022
The location is perfect. The hotel staff are all lovely and helpful. I also had a massage that was very relaxing. 1 hald of the room is styled nicely. Breakfast was okay.
We had an interconnecting family room - unfortunately there isn't a door between the 2 rooms so really it's just a big room with windows that look into the bathroom. It's great that they have double glazed windows so that the street noise is decreased, but on the other side the hallway noise and rooms upstairs you can hears absolutely every footstep. 1 of the rooms was styled lovely but the side closest to the door seems like an afterthought.
the location is great. the breakfast was also really nice
Great location, superb service.
Dec 2022
The location is central to most of the interesting sites in Hanoi. Museums and the lake are all within walking distance. Right beside the hotel is a really good Banh Cuon place. The hotel roof top bar has nice views, although the city was quite smoggy when we were there.
The hotel breakfast is average if you're comparing it to the street food available really close by. That is the only thing we didn't find excellent during our stay.
The location is amazing. The staff was great and very helpful. They coordinated pretty well. The rooms are cozy.
Our group stayed 5 days in Solaria hotel , the customer service Mr Liam provide us with the best follow up support. He g
Oct 2022
The location and the staff's services is the best in class ….. on par with other's international hotel .
Their breakfast is really good, staff helpful and very polite
Thier room is a bit dark and the pillow is too soft
The Best Hotel in Vietnam!
Aug 2022
The hotel was amazing! the most pleasant in Vietnam! while we arrive, the staff offer us cake and cool drink, during all our time in Vietnam they helped us (to book tickets to night bus, to get a taxi etc..). The room was so pampering and fun, and the breakfast was wahoooo!!! so delicious. In our last day they allow us to take a late shower before the flight, and they took care of us so much. Amazing hotel, I recommend to all the visitors in Hanoi to be there :)
The experience was perfect, we loved everything.
Wie viel kostet dieser hotel im Vergleich zu anderen in Hanoi?

Der Durchschnittspreis für eine Anmietung in Hanoi beträgt EUR 37 pro Nacht. Diese Miete liegt EUR 4 über dem Durchschnitt.
Ist das Parken in diesem hotel inbegriffen?

Ja, das Parken ist als Ausstattungsmerkmal bei Solaria Hanoi Hotel aufgeführt. Für weitere Informationen empfehlen wir Ihnen, sich mit dem Anbieter der Unterkunft in Verbindung zu setzen, um zu erfahren, wo Sie parken können.
Gibt es in diesem hotel einen Pool?

Wir haben keinen Pool gefunden, der als Ausstattungsmerkmal für diesen hotel aufgeführt ist. Es kann sich lohnen, noch einmal zu prüfen, ob ein Pool für Ihren Aufenthalt wichtig ist.
Ist Solaria Hanoi Hotel haustierfreundlich?

Leider ist dieser hotel nicht haustierfreundlich. Versuchen Sie erneut zu suchen und filtern Sie nach "Haustiere erlaubt"
Welche Ausstattungsmerkmale sind bei Solaria Hanoi Hotel verfügbar?

Wir haben 11 Ausstattungsmerkmale für diese Unterkunft gefunden. Dazu gehören klimaanlage, küche/kochnische, internet/wlan, rauchen erlaubt und parkplatz.