Blue Planet Panglao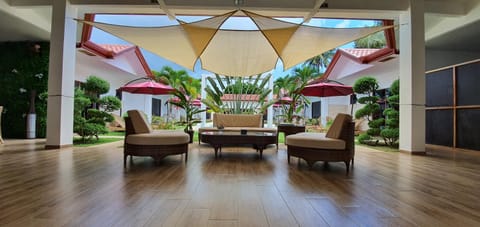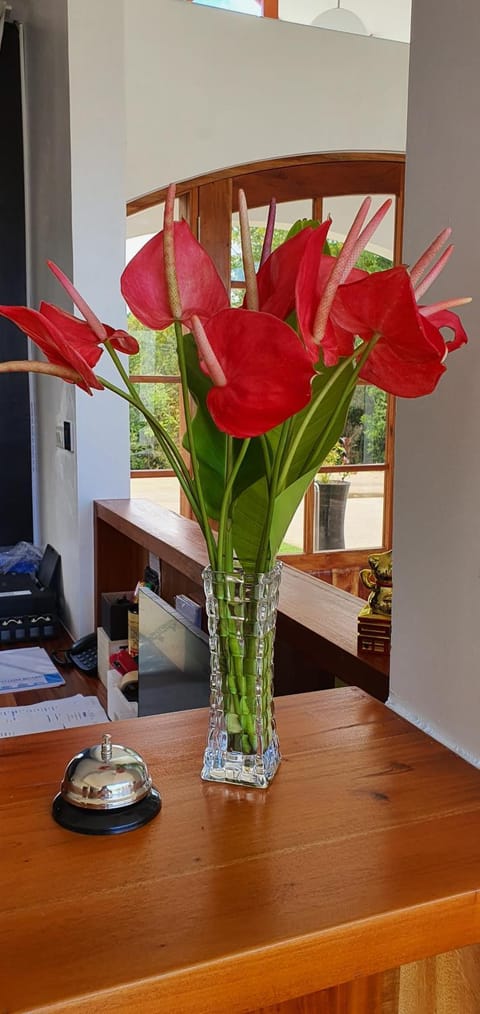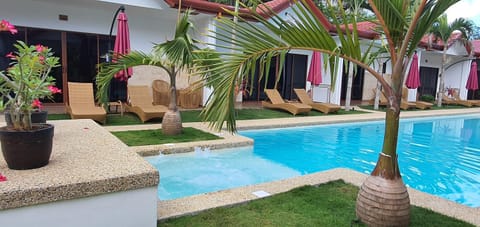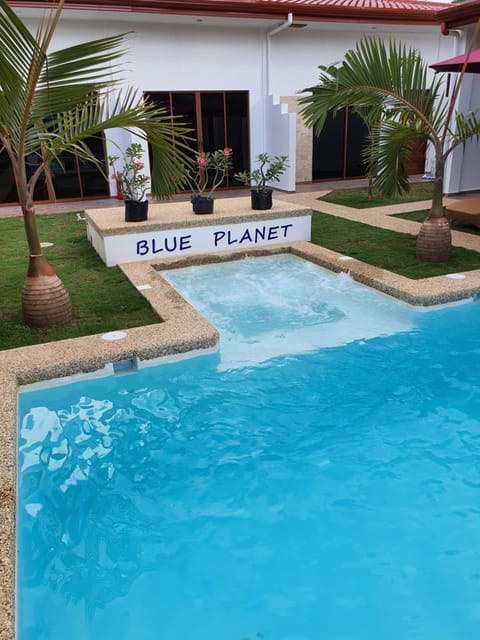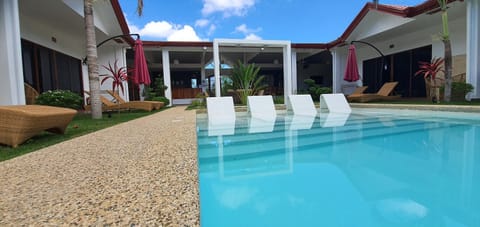 Hotel in Panglao
Pool
Klimaanlage
Internet/WLAN
Gelegen in Panglao, dieses attraktiv room in hotel für EUR 35 pro Nacht ist ein phantastisch Auswahl für Ihr nächstes Pause. Das Blue Planet Panglao in Panglao liegt 10 km von der Hinagdanan-Höhle entfernt und bietet Unterkünfte mit einem Außenpool, kostenfreien Privatparkplätzen, einem Garten und einer Gemeinschaftslounge.
Pool
Klimaanlage
Internet/WLAN
Rauchen erlaubt
Parkplatz
Waschmaschine
Balkon/Terrasse
Whirlpool/Spa
Fernseher
Rollstuhlgerecht
Garten
Familienfreundlich
100 % verifizierte Bewertungen
4.7 / 5

"Herausragend"

(281 Bewertungen)
Great hotel, wonderful staff and excellent value for money.
Jun 2022
Wonderful staff, very friendly and accommodating, including free Airport pick-up. Hotel is in nice quiet location, and only 5 minutes tricycle ride to Alona beach. Delicious breakfast menu options. Rooms are good size and open on to nice patio and pool.
Wonderful hotel. Nice, clean and spacious room and bathroom. Very nice free breakfast and helpful staff. The owner was also very friendly, even lent me his motorbike when I had an emergency with my ongoing ferry ride. Highly recommended!!!
We needed a place on Panglao near the airport and found this place. Was a very enjoyable gem. Would have loved to stayed longer.
Lovely and relaxing
Dec 2022
we loved this hotel. unique with the individual country names for the rooms. the staff, particularly Kim and Rose were very attentive. peaceful, comfortable, lovely pool. although the location is out of town, this adds to the peacefulness. easy to get a tuk tuk
very slight change we would suggest is refillable shampoo and shower wash to reduce plastic when giving the mini bottles
We loved this hotel! The rooms where awesome so clean and nice. The crew was so helpful and friendly. I can not recommend this resort more :) Thanks for everything 👍🏻
We loved every minute of our stay in Blue Planet. The place is so calm and clean. Our room is so nice. The staff and management were so friendly and accommodating. It is the perfect place if you are looking for a quiet time and relaxation. I highly recommend this place. Thumbs up for the service!👍👍👍
Serene place in Panglao
May 2022
We came from a different hotel because we were dissatisfied there and the transfer to Blue Planet was very pleasant and relaxing. The difference was night and day. The location is in a quiet place away from the crowds yet very accessible to it. The reception lady was very very accommodating and ready to help always with a smile. Delicious breakfasts (choice of Continental or Filipino) were included in the stay. They even accommodated us and gave us breakfast even after 10 am since we went biking early in the morning. The room was huge. The water pressure was strong with hot and cold options. The pool was clean and it barely became crowded. We will stay here again if we come back!
Great holiday location
Jul 2022
Very helpful staff. Family friendly location, which still manages to offer a relaxed vibe due to having only a few rooms. The setting is very pretty and the price is quite good for what is offered.
Breakfast options were a bit limited
A home away from home. Best small hotel we have ever been.
Feb 2023
Very friendly staff. Very helpful all throughout our stay. Place was quiet. Can swim anytime haha.
very close to the airport though a little far from the restaurants. staff were very accommodating. rooms are quite spacious.
breakfast can still be improved
It was an experience of a kind, highly commendable.
Feb 2023
Very clean and food was excellent.
Very beautiful little resort, extremely friendly staff and owner, great breakfast, everything was truly perfect, the room was so so nice!
It's a bit unfortunate that the famous beach nearby is really not that nice, quite overcrowded and not really worth it. We did not enjoy Panglao so much. Stying at Blue Planet was definitely the best thing! Everything is not really worth it
This place was wonderful! Shoutout to Mam Rose and Mam Melody, for the wonderful service and the lovely smiles everyday. No request was ever too big. They went out of their way to help. The place is wonderful, clean and they changed the sheets & towels everyday. Breakfast was a treat and if you need to unwind and rest... Blue Planet is the place! Thanks so much for everything! We really enjoyed it.
this is the perfect little hotel in Bohol. it is in immaculate condition and the staff are incredibly helpful. they made our stay wonderful!
Very comfortable stay
May 2022
The staff were very helpful and welcoming, the rooms were spacious and very comfortable
The location, a little far from the main town and nearest beach but a comfortable walking distance and there is always a tricycle ready to Hop on
The staff were great. Facilities specially the pool can compete with well established hotels. Room is clean and massive with hot and cold shower / faucet.
The staff were amazing and loved the peace and quiet
The staff was very good and helped immediately to resolve small problems.
The staff are all very kind and accommodating to our request. The hotel is a bit far to alona beach but we love the peace and quiet. It's just an 8-minute ride from the airport.
A nice place to stay
Jul 2022
The staff and owners where very helpful, and a nice quiet location and good pool
We had a great vacation staying at Blue Planet Panglao. We highly recommend this resort.
Aug 2022
The room was clean and very spacious. The staff and owner were very gracious and accommodating. The place was easily accessible. My family had a great time. We will definitely go back to Blue Planet Panglao and recommend the place to our relatives and friends.
The rooms are quite spacious and comfortable as well as the shower room. The pool is nicely located in the middle of the hotel and is quite accessible for swimming.
Location is not that close to any popular beaches. Requires a car to be worth staying.
Our hone away from home
Nov 2022
The rooms are big and clean and beds comfortable. The pool and grounds are stunning and most of all customer service (manager, staff, etc) is top-notch.
There is nothing not to like about this resort
We were in Panglao for 4 days on a weekend getaway. Our first day I did have a minor medical issue and the staff arrange
Sep 2022
The property is close both to Alona Beach and the airport. It's just a short 5 minute trike ride to Alona Beach and the staff is very accommodating with contacting rides for you. The staff is very friendly and welcoming and always greet you with a smile. My wife and myself really enjoyed our stay at Blue Planet. Our villa was clean and in excellent condition, the property was quiet and peaceful as well. We highly recommend Blue Planet, especially if you are looking for a quiet getaway. The close proximity to Alona Beach was very nice, as we do like the beach, but prefer to have a quite night when trying to relax. We will book this property the next time we return to Panglao.
Actually I do not have anything negative to say about Blue Planet.
I'd come again on my next visit
Jun 2022
The place is pretty relaxing to stay longer. The staff are really nice and approachable
The place is not crowded, very clean and excellent for relaxation. The food was excellent. The staff are all friendly and accommodating, especially the owner.
The place is clean and very near the airport. All the staffs are accommodating. We are lucky that we are the only guest during that time. The owners welcomed us as well and they recommend best places around Bohol.
Nothing actually. No internet connection and rotating brownout are really reasonable considering the recent typhoon. We were advised as well and the owners were very apologetic and made sure that we are enjoying our stay.
such a relaxing and quiet place to stay near the beach and airport
Oct 2022
The owners and staff were really accommodating! such a hasle free transaction. Their free pick up in the airport was such a convenience! Would definitely recommend this accommodation
Beautiful spot with few rooms, so not busy
Nov 2022
The location is great, the breakfast jummy, the pool relaxing, the rooms were really big. Really helpfull staff and the Owner Jean Luc knows what hospitallity is!! Just a perfect place in Panglao if you want a bit more luxurious and perfect service.
absolutely Perfect Stay, superb Satisfied Guest here, we'll surely back 😍
May 2022
the facilities, ambiance, staff and everything in this hotel really love this so much 😍😍😍
I Love everything about it 😍
The ever helpful staff, the beauty of the place, and how clean and modern the room was
Blue Planet is quiet and comfortable with an accommodating staff.
Jun 2022
The breakfast was small, but good.
Brownouts were frequent. Room safe was broken and unreliable. Local transportation is expensive by Philippines standards. No restaurants or amenities nearby.
everything is great
May 2022
the breakfast was good and the staffs are nice and very accommodating too
when the room has a connecting door to the other room, you can hear easily what the noise in the other room is, even if they are not shouting. not sure what to do about that
Customer Texas 11\19\2022 Review
Nov 2022
The accommodations were outstanding. The customer service was just the best I've seen all aspects of my stay at Blue Planet Panglao was excellent. I can't recommend this place enough. I was able to meet the owner of the establishment and he was just a very nice gentleman.
There's nothing negative about my stay.
Excellent I could not have asked for a better place 10/10. I will be back no doubt about it.
Apr 2022
Staff were amazing. The place was one of the cleanest places I have ever stayed if not the cleanest. The breakfast and evening meals were exceptional The owners were very friendly and helpful could not ask for better people.
Unfortunately the power was not always on because of the main source of electricity was in Leyte where the typhoon occurred and destroyed the power lines. This was through no fault of the hotel. They did a great job with a generator they had to help with the electricity when it was of.
Staff was really very good and accomodating. The ambiance of the place is very relaxing. A family friendly place. Indeed a must go-to place in Panglao.
Just creep out with the worms and 1 of the room's facility wasn't working fine but was addressed by the staff immediately on our 2nd day of stay.
Spotlessly clean almost new complex with everything you need and managed and run extremely well. Very good quiet aircon, comfortable beds. Thoroughly cleaned to a very high standard every day. There is a safe, kettle, clean towels and toiletries supplied. The staff here are very friendly and extremely helpful and will answer any questions about the area and arrange trips to the local attractions. It's location is a few km from the beach and town but the staff will quickly arrange transport to anywhere you want to go at a very reasonable rate. The plus side of this is that it is very peaceful here day and night. The airport is only 5 minutes away but as you are not on the flight path you get no noise from this. The restaurant serves very good food with a great menu and there is a very nice relaxed vibe here....I will return !
5-star service and facilitues that does not put a hole on your pocket
Aug 2022
Serene paradise away but not far from where the parties are. They have great and new facilities which can only be topped by their legendary service. They even went out of their way to surprise me and my wife for our anniversary. Thanks heaps and keep being awesome.
Serenity a few minutes away from frantic strip near Alona Beach.
Mar 2023
Secluded from tourist strip, yet only 5 minutes away from it. Beautiful quaint hotel property with a nice layout. Very clean and modern. The bathroom was immaculate as was the rest of the room. Plenty of space for two and a cool little open shelf space for luggage and things in the corner of the room (with a safe). The pool was within 20 feet of my room with my own lounging area. There was also a cool shower near the pool. Beds and pillows were comfy and clean. New style tile floors were nice. The room smelled wonderful throughout my stay. No traffic or drunk people noise, just birds and faint rooster calls in the morning. Staff was always available and helpful. They were all very sweet and greeted guests every time. They provided moped rentals on site and facilitated the exchange within 20 minutes when I traded it the next day due to weak brakes. They also had 1 day turnaround laundry service drop off at the front desk and free airport shuttle. There was a restaurant on site, but I ate out with friends. also, looks like a Nuat Thai massage place is opening within steps of the hotel. super convenient. If there was one negative, it was the small refrigerator in the room. It wasn't cold enough and it had a glass door with a bright light. I had to cover the door with a chair, as it would be too bright for me to fall asleep. Aside from that, I would definitely enjoy staying here, again.
Highly recommended
Jan 2023
Room - same as what you see in the photos. Spacious, clean and well thought of. Aircon and tv are working well. Water supply and pressure are not a problem. Facilities - they have a nice pool. Restaurant - i looove their pasta. Food served seems to taste much better than the restaurants outside. Staff - accommodating and courteous. They are easy to transact with. Location - near airport. Thanks Ms Melody and team for ensuring we would enjoy our stay in your beautiful hotel. We appreciate how you served us 🙂
Not really dislikes but more of suggestions: - have more pillows. It would be great to have at least 2 pillows per person. - have an area to hang clothes in the cabinet.
Wie viel kostet dieser hotel im Vergleich zu anderen in Panglao?

Der Durchschnittspreis für eine Anmietung in Panglao beträgt EUR 36 pro Nacht. Diese Miete ist EUR 1 günstiger als der Durchschnitt.
Ist das Parken in diesem hotel inbegriffen?

Ja, das Parken ist als Ausstattungsmerkmal bei Blue Planet Panglao aufgeführt. Für weitere Informationen empfehlen wir Ihnen, sich mit dem Anbieter der Unterkunft in Verbindung zu setzen, um zu erfahren, wo Sie parken können.
Gibt es in diesem hotel einen Pool?

Ja, bei Blue Planet Panglao steht ein Swimmingpool zur Verfügung. Genießen Sie das Wasser!
Ist Blue Planet Panglao haustierfreundlich?

Leider ist dieser hotel nicht haustierfreundlich. Versuchen Sie erneut zu suchen und filtern Sie nach "Haustiere erlaubt"
Welche Ausstattungsmerkmale sind bei Blue Planet Panglao verfügbar?

Wir haben 12 Ausstattungsmerkmale für diese Unterkunft gefunden. Dazu gehören pool, klimaanlage, internet/wlan, rauchen erlaubt und parkplatz.