Sonora Jungle & Yoga Retreat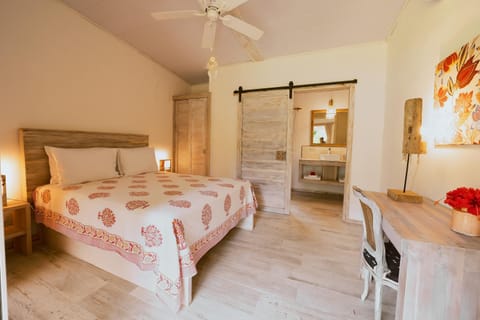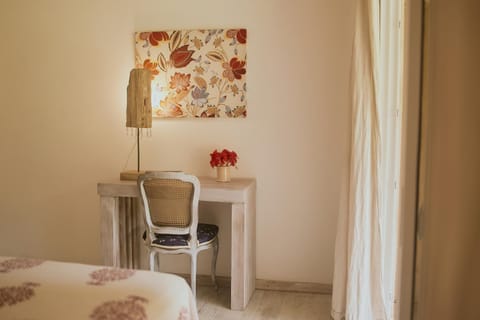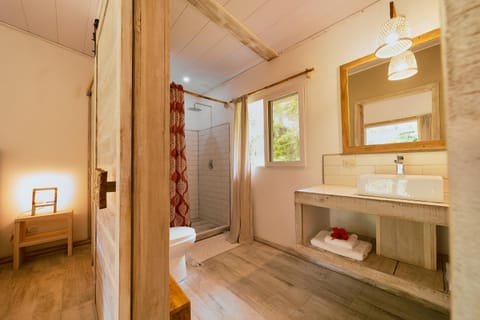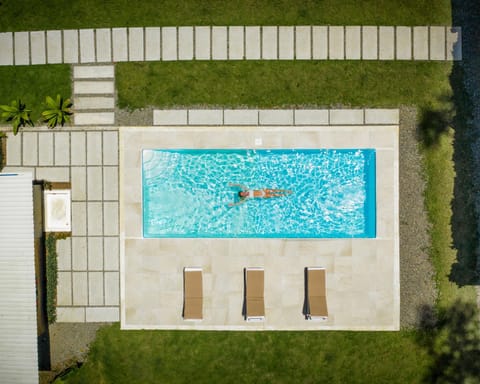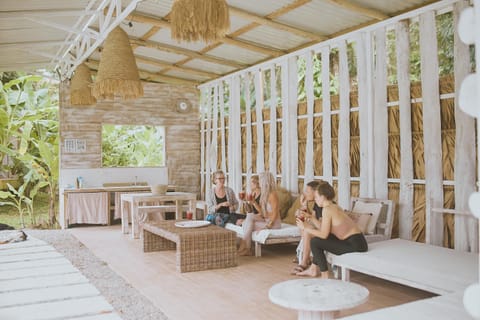 Hotel in Panama
Pool
Klimaanlage
Küche/Kochnische
Eingebettet in Panama, dieses charmant room in hotel für EUR 103 pro Nacht ist ein großartig Option für Ihr nächstes Reise. Das Sonora Jungle & Yoga Retreat in Puerto Viejo bietet Poolblick, einen Außenpool, einen Garten, eine Terrasse und Wassersportmöglichkeiten. WLAN und die Privatparkplätze an der Lodge nutzen Sie kostenfrei.
Pool
Klimaanlage
Küche/Kochnische
Internet/WLAN
Parkplatz
Waschmaschine
Balkon/Terrasse
Rollstuhlgerecht
Garten
100 % verifizierte Bewertungen
4.5 / 5

"Ausgezeichnet"

(752 Bewertungen)
- Wonderful garden & Pool - super friendly host and stuff - special yoga class (and privat classes offered)
- besides breakfast no options to buy food and drinks (and you can't use the kitchen) - no mosquito nets in the rooms - very bad road to the property so that every commute is an effort
Highly recommend :)
May 2022
We've spent almost week in Sonora, the place was amazing. We felt warmly welcomed, it's quiet place where you can relax. The breakfasts were decent, varied and plentiful :) And if you are a joga person - it's perfect place for you :)
We really liked the pool area and our bungalow. It was very spacious. Breakfast was really good.
We couldn't enjoy our breakfast because there were so many flies (mosquitoes) - it such a pity that they don't care about that (they are only there in the morning). The hotel is far away from town, you need a car. They don't offer any bikes or service to get in town. If you just want to stay at the hotel, you still need food - the kitchen there is not a community kitchen. We were kind of unlucky because there were construction works nearby, so our pool day wasn't the quietest one (but I think that will change).
An amazing peaceful experience at the jungle
Apr 2023
We loved the peaceful environment and how we got in touch with nature. The breakfast was amazing, the room also very nice little cabin for us both. The pool is really good and you always get fresh towels, can get drinks during the day like coffee or tea
We thought since it is a yoga retreat, we were gonna get yoga sessions during our stay but they were not included. Also if you don't have a car or a bike, I wouldn't recommend staying there. Because it is not as close to the beaches.
Amazing retreat in the middle of the forest and walking distance to the beach !!
Nov 2020
We liked everything from the interaction with Alessandra prior to our arrival, to the breakfast, the accomodation, the room size and amenities included on the room and the confort of the bed, linen, towels, and sitting area, both at the pool and the terrace at the entrance of the room, I would recommend it for sure, and Im looking forward to go back to stay at Alessandra's place, it was such a great place to start our trip. And if you can, please enjoy the food that she prepares, for dinner she made us a pasta that was delicious, and ever since we were craving pasta for a few days, and when we finally found a place to have it, it was nowhere near the quality and taste of Alessandra's pasta (recommended 100%) - if you look for a quiet retreat Alessandra's and her daughter's have a place which will exceed your expectations. - Thanks Alessandra, I hope to get back to visit you again in the future.
Peace in the middle of the jungle
Apr 2021
Very peaceful and comfortable place. The equilibrium between concrete and nature is perfect. The staff is very friendly and always willing to help.
I guess it's fair to mention the internet could run better but if you're not working from there it shouldn't be a problem at all.
great hideaway to relax
Jul 2022
very nice end exclusive decorated, nestled in a beautiful jungle sorrounding. lovely staff taking care of everything, especially the therapist Alessia for Pilates and the Massages was just wonderful! thanks to the whole team, it was an amazing stay.
Comfortable Spot to discover area
Oct 2021
Very friendly and staff create familiar atmosphere Nice, comfortable and clean appartment Green area with lots of plants, flowers and animals around Quiet and relaxing
Wifi in rooms barely working Car necessary
Very clean and modern place
Roundly failed to meet my expectations of a hotel in this price range
Jan 2022
Tranquil, away from town and surrounded by jungle.
I have seen better quality $25-a-night cabinas in beach towns around Costa Rica than this hotel room for which we paid $170/night + taxes. We reserved a "bungalow" for 3 people. It is a single, unadorned room without a fridge, without the electric kettle as advertised, no ice bucket and no ice available anyway, The bare, unfinished wood everywhere might have some appeal if it were not in places shabby and (in the bathroom) wet. Towels were so bad as to be useless. We booked for 3 oocupants but there were only 2 bath-sized towels in the room. At this price, I shouldn't have to ask and, when I did, I got just one more. No towels at the pool. WiFi only worked for us around the office/restaurant and not in our room. The tiny pool is saltwater (doesn't bother me but some may not like that) and the pool rules out-of-touch: No food or drink anywhere by the pool and the pool is only open until 5:00 pm daily. Breakfast was unremarkable compared with similar-priced hotels we've been at all over Costa Rica. Roundly failed to meet my expectations of a hotel in this price range.
Great escape! Very relaxing!
Jun 2022
This little property is a small little paradise in the middle of the jungle. It is cool to hear and see all the different animals. The set up is beautiful! All the staff were so friendly and were extremely helpful. They welcomed us enthusiastically. They also gave us recommendations of places to eat in town. You can tell they really care about their clients. The room was amazing. You have your own little hut that has A/C, bathroom, shower, small kitchen, etc.
The only downside to this property is that it is a little far away from town. You have about a 15-20 minute walk from the Play Negra, Banana Azul, and the small market. This is very manageable though if you rent a bike. Bike rentals are $9.00 a person for 24 hours. I thought it was a great deal. You can also ask about getting a taxi. I recommend Milady, she was very friendly, extremely nice, and gave us recommendations on what to see in town and also where to eat. The ride to go out of the town a little (such as the Jaguar Resort and Chocoart was $10.00. Rides within town were about $6.00. This was in June of 2022). I wouldn't considere this a complaint. You pick this place to stay far away from town and see/hear the nature. Renting a bike and traveling this way didn't hinder our stay by any means. We were very comfortable and enjoyed our time.
HEAVEN 💕 on the Caribbean side
Mar 2022
This is a magical heaven and we loved staying here! The cottages are BEAUTIFULLY designed, so are the common areas. Everything is heavenly! There's a yoga space and we could book a yoga teacher who came by 5:30 and we did yoga in the sunrise, listening to the howling monkeys. One of a kind experience. The staff is very lovely, breakfast is great, there are cute dogs. The beach is accessible through another hotel and you can use their bar for foods and drinks on the beach. It's half an hour walk but you can also rent bicycles. We had a car so everything was really accessible. Puerto Viejo is 15 mins driving, but from a 10 mins drive you have beach after beach, if you're into different vibes. If you book any activities like surfing, national park visit, snorkeling, the activity organizers pick you up at the resort.
Peace at a fantastic price
Jun 2022
The tranquility, the peace and the overall aura was superb.
I thought the venue was beautifully designed and consciously thought out
Apr 2022
the tranquility set in the midst of the jungle surrounded my tropical birds and howler monkeys
just a little too far to get to places which meant lots of money on taxis
Overall a peaceful and beautiful stay in the jungle with friendly staff and good breakfast.
Nov 2022
The staff was very nice and it had a family feel in the reception area. The breakfasts were good and complimentary for us. The grounds were very well maintained and the esthetic was peaceful and beautiful.
Despite "yoga" being in the name, there weren't any yoga offerings (at least mentioned or successfully executed) for the regular guests. The guests staying there specifically for a yoga retreat were the only participants in the classes. This might be helpful for the owners to list more prominently in the stay description so as not to disappoint regular guests like myself who would have been interested in yoga classes.
The staff was helpful and nice, the place was clean, air conditioned, and not too close to the main street which was great!
The rooms are simple but spacious and clean with everything you need (but don't expect TV's). The grounds are special and the hospitality of Alessandra, her family and her staff is unsurpassed.
The road into the Retreat is rough and slow but once you arrive it is quickly forgotten. Otherwise, a stay at Sonora is a special experience.
Would stay again but not WFH
May 2021
The rooms are great. The pool is beautiful, not giant but very nice. The breakfast is outstanding and the personnel is really friendly and helpful.
The wifi is terrible, this is not a place to work remotely. The wifi is terrible and the phone signal is not enough to use any cloud services, sometimes not even outlook.
We were disappointed overall
Oct 2021
The room and environment were pretty, the breakfast was good, the owner is nice, and there was a big kitchen in the room
1- It is VERY confusing when you choose your room in booking so PAY ATTENTION what you choose- there are rooms with the same name which has different facilities. For example we didn't have air conditioning although we thought we would have, the other room like ours did have air conditioning. 2-after they cleaned our room they left the windows open! We came back to a room full of bugs and also it was very not safe for our stuff in the room, we had to check that nothing was stolen. That was really annoying 3- when we arrived, no one did any tour for us in the room nor explained anything about the hotel (we discovered only on our last day that we could have had dinner in the hotel if we ask for it) 4- there are no curtains on all the windows and also the ones that exists are not light proof- so in the morning you cannot have full darkness. 5- the room was not cleaned well. There were many spider nets on the sealing and walls. Also they did not replace our towels when they "cleaned", only on the last day after we already took our last shower. 6- Despite what ww have read on that property in booking, there were no bicycles that you can take from the property to travel the area. 7- the balcony wasn't like the pictures- we had only one couch with only one pillow that covered only half of the couch's back. 8- The drinking water in the room had bugs in it.
The retreat is in the jungle and away from town. The bungalows have a deck to sit out and enjoy the garden. The breakfast is good and the staff is very friendly and helpful.
The bed was hard on the back. We woke up each morning with a sore back. Walking helped to stretch it out.
The property is amazing, in the middle of the nature, clean and super well decorated. The breakfast as well is great and healthy! We will come back soon ro stay longer for a proper retreat!
The road to the property is not paved, it takes 20 min to go down to the main road
A Tranquil Rain Forest Hotel in Puerto Viejo
Feb 2023
The peaceful environment and attentive staff. We received excelente service and were treated to a delicious dinner by the owner. The receptionist was a delightful and gave a complete overview of the facilites.
The mosquitos! And the location is quite a distance from town.
Best place to stay in puerto viejo
Jan 2022
The owner was amazing. The place the food the italian passion is all over this lovely hotel. We were welcomed by ana and had some amazing pasta from her. Even the dogs are full of love. We had private yoga classes from annete which we enjoyed very much. Fresh juices all day!!
Okay, but currently lots of noise
Dec 2021
The location is really in the jungle, and surrounded by trees. The large yoga space is really nice, and overall it's a very relaxed vibe there. The beds are large and comfortable. The breakfast was plenty and delicious (however you are competing with some flies for it). The owner is very nice.
We booked this hotel because we wanted to hang at the pool and just relax. Unfortunately there is a lot of construction happening right now, so lots of noise. Getting around without a car is almost not possible. The street is in bad shape, so also taking a bike (for which you have to walk 15min first) isn't a great alternative. Playa Negra, the beach nearby isn't as great as the beaches south of Puerto Viejo. The hotel owner offers to do some pasta for you for dinner, but it was not as advertised on the website a real a la carte menu, but only a choice of 2 different pasta. so overall we decided to leave after 2 nights and got refund for the 2 nights we skipped because of the noise.
Really wonderful waking up to howling monkeys and screaming parrots ;) Lovely veranda and peaceful place.
Nov 2021
nothing but if I have to point at something - that we could see the construction going on and no easy path to the nearest beach
Very clean and beautifully maintained.
Jul 2021
The hotel was in good condition and was beautiful. I also enjoyed that I could bring my dog with me.
I didn't particularly like the breakfast
The hotel is in the jungle and secluded. It is very relaxing and a perfect place to unwind after a long day. They cleaned the rooms daily which was nice. The staff were friendly.
The hotel seemed clean overall, however, the remote for the air conditioner was super dirty and we had to clean it with a Clorox wipe. The WiFi is not the best, but keep in mind you're in the jungle. There is no television.
The host was super nice and the room very big. The property is beautiful, well looked after and relaxing. Breakfast was yummy!
The road leading up to the property wasn't paved, but that's not the property faults
Beautiful location and lovely pool area.
Aug 2022
The grounds were stunning especially the pool area. But needed more sun loungers.
Choice of breakfast rather than the same daily. Once we asked for something different it was provided, but not offered. Unfortunately there was building work being carried out next to the accommodation which spoiled the peace on some days.
The facilities are very good
The access to the property is terrible
The bungalows are just beautiful! Loved the decoration and the small details. Breakfast was made every morning by the lady in charge and her friend, it was delicious! They were all really friendly and helpful.
Wifi at times was really bad.
The accomodation is really in the middle of jungle. In the morning you heard just animals. But it's about 10 minutes by car to town Puerto Viejo where is a lot of restaurants etc. Staff is really kind and nice.
One thing what was may be a little annoying is the same breakfast each morning (Gallo pinto, eggs, fruits and bread with marmalade), but tasty.
.Super nice people. Very familiar. Delicious breakfast and amazing atmosphere. Thank you for the nice stay.
You definitely need a transportation like scooter or car. Otherwise you pay a lot for taxis. It is quiet isolated. But if you have that it is absolutely wonderful. A little fridge or more space in the main fridge would be good.
Good value for the money, very pleasant stay
May 2022
Staff was very kind, rooms were big, nice, they had a balcony. Very nice atmosphere. Animals in the garden, nice pool to relax, good dinner options and good laundry service. Breakfast was fine, but it could have been with more variety (but this is criticism on a high level)
It was perfect—transformative, really.
Nov 2021
Sonora Yoga Retreat was the most restful and inspiring space in which I've ever stayed while traveling. I do a lot of domestic and international traveling, and there truly is nothing like it. From the beautiful, healthy foods and tranquil high quality accommodations to the various spaces—the chala, the saline pool, the bungalows and general gathering area, everything is so ideal.
The Wifi is a challenge when trying to work, but there are digital nomad work spaces in town, so I actually found the spotty Wifi connection to be more of a bonus than disadvantage. We are addicted to our phones and technology, and it makes us unwell. Sonora is a retreat in the jungle for wellness. It shouldn't be a high speed Internet cafe! I noticed a couple who were frustrated with their connection while staying there because of phone addiction. It's really sad how this tool controls people.
Sonora is such a special place- truly a retreat and a little gem in the jungle. I needed quality rest and relaxation and after 10 days here, so glad I found this place. Loved the saline pool, delicious breakfasts, yoga, Pilates and massages. Everyone who works here is just the kindest.
Sonora is located in the middle of a rainforest and animals like sloths, howler monkeys, hummingbirds or iguanas are just around you. It's new, modern design, clean and comfortable. There is a common kitchen / lobby place where delicious breakfast is served. Well kept garden has rest areas, sun beds and a small pool. There is a nice hall for yoga or meetings. The staff is super kind and helpful. It's quiet during the night so even the distant ocean swell can be heard. Thanks Barbara, Rusben and Miriam to keep us happy ;)
Not really a cons but it's worth mentioning. Sonora Is located 1.5 km from the beach / small grocery store and restaurant (20 min walk) by the empty road in the jungle that is beautiful but in the night (from 5:30 PM) is a challenge. Puerto Viejo town is 5 km away (1 hour walk) Be sure to have the transport secured as taxis come here only by ordering. If you like cycling there are bicycles for rent at Sonora what's preferred option for travelling around. There is neither restaurant / bar nor option to buy drinks or snacks in Sonora so bring anything you need. There is water available at all the times and kitchen is free to use. This information shall be messaged to the guests so they can be ready and their stay is just perfect ☺️
A great retreat away from noise, traffic and tourism
May 2023
Sonora is located approximately 4 km from the center of Puerto Viejo surrounded by nature - a lovely, well-maintained and relaxing place. You get there by car (4x4 recommended like everywhere in in Costa Rica) and park for free in a secured area. There is not much traffic or people around, making it a very safe area without the need to worry about anything. Sonora consists of ~ 20 bungalows of different sizes and includes a public saline pool, a yoga hall, a massage hut and public fridge in a community area with pool beds to relax. Private (25 USD) and public Yoga classes (15 USD) in the yoga hall can be booked at the reception. The national park Cahuita can be reached within 15 minutes, beautiful Caribbean beaches and restaurants in Puerto Viejo in less than 10 minutes. The staff at Sonora are very kind and interested in making your stay a good experience. Bungalows are cleaned daily and the included breakfast is very good, freshly made with a selection of four different meals (Healthy, Typical Costa Rica, Pancakes, Omelette). Coffee, tea and juices are included as well and can also be asked for throughout the day. Cleanliness and comfort are very much given, the Studio is very spacious with a fridge and kitchen and includes complementary coffee. The bathroom is also very good and above Costa Rican standards. All in all a great place with above average value and for us the best way to relax after weeks of traveling Costa Rica and before returning home.
Two dogs are living on the premises which are very relaxed throughout the day but go ham during the night whenever someone is approaching the area. Usually not more than 2-3 times per evening. Our studio apartment could have used seating furniture inside as well as there is more than enough space making it a bit more comfortable.
Wie viel kostet dieser hotel im Vergleich zu anderen in Panama?

Der Durchschnittspreis für eine Anmietung in Panama beträgt EUR 86 pro Nacht. Diese Miete liegt EUR 17 über dem Durchschnitt.
Ist das Parken in diesem hotel inbegriffen?

Ja, das Parken ist als Ausstattungsmerkmal bei Sonora Jungle & Yoga Retreat aufgeführt. Für weitere Informationen empfehlen wir Ihnen, sich mit dem Anbieter der Unterkunft in Verbindung zu setzen, um zu erfahren, wo Sie parken können.
Gibt es in diesem hotel einen Pool?

Ja, bei Sonora Jungle & Yoga Retreat steht ein Swimmingpool zur Verfügung. Genießen Sie das Wasser!
Ist Sonora Jungle & Yoga Retreat haustierfreundlich?

Leider ist dieser hotel nicht haustierfreundlich. Versuchen Sie erneut zu suchen und filtern Sie nach "Haustiere erlaubt"
Welche Ausstattungsmerkmale sind bei Sonora Jungle & Yoga Retreat verfügbar?

Wir haben 9 Ausstattungsmerkmale für diese Unterkunft gefunden. Dazu gehören pool, klimaanlage, küche/kochnische, internet/wlan und parkplatz.