Old Town Quito Suites, Apartments & Boutique hotel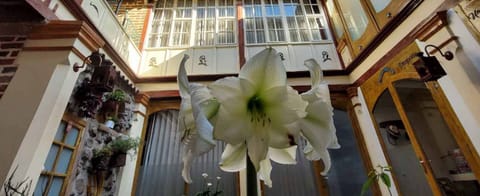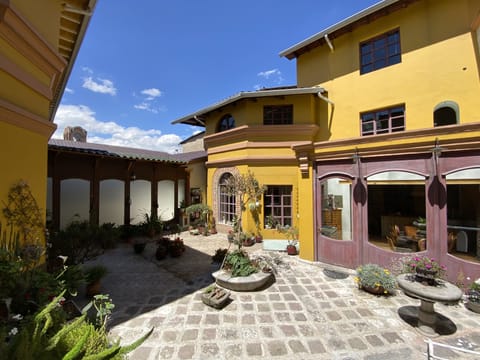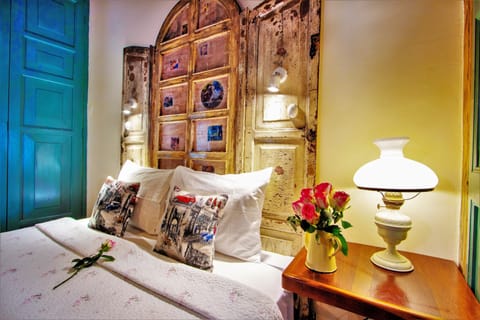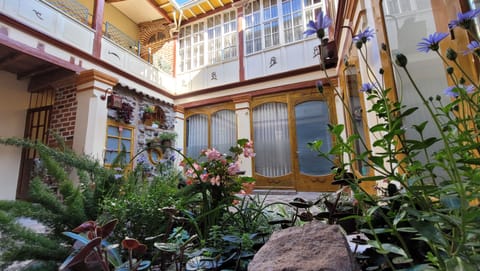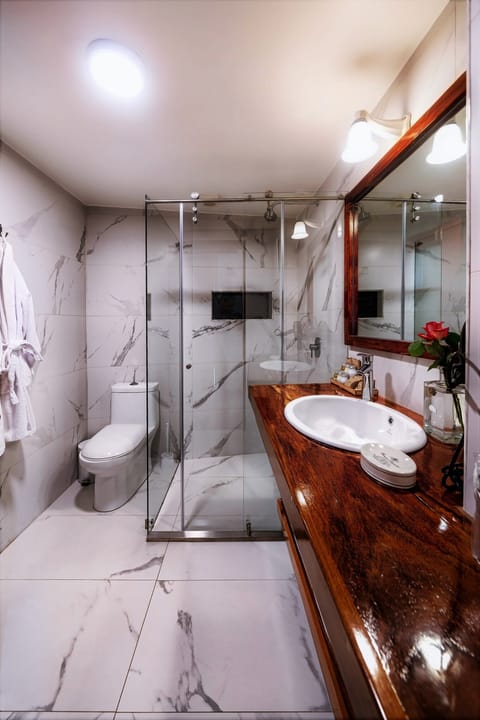 Über diese hotel
Gelegen in Quito, dieses charmant zimmer im hotel für EUR 142 pro Nacht ist ein großartig Auswahl für Ihr nächstes Pause. Wellnessangebote, Zimmerservice (rund um die Uhr) und Tagungsraum – damit wartet dieses Aparthotel (Rauchen nicht erlaubt) auf. Zum Angebot gehören ein Frühstück zur Selbstbedienung und kostenloses WLAN in den öffentlichen Bereichen. Außerdem können Sie Folgendes nutzen: Parken ohne Service, Concierge-Service und Textilreinigungsservice. Jedes Apartment bietet Selbstversorgern eine Küche mit einem Kühlschrank, einem Ofen, einer Herdplatte und einer Mikrowelle. Besonders angenehm wird der Aufenthalt durch ein Bett mit Pillowtop-Matratze und Bettwäsche aus ägyptischer Baumwolle. Es gibt aber auch praktische Ausstattungsmerkmale wie einen Essbereich und eine Sitzecke.
Ausstattung
Küche/Kochnische
Internet/WLAN
Waschmaschine
Balkon/Terrasse
Spülmaschine
Fernseher
Rollstuhlgerecht
Bewertungen
5.0 / 5

"Herausragend"

(92 Bewertungen)
5.0
Apr 2023
Great hotel in Quito's historic centre. Nice design and very friendly staff. You get given breakfast ingredients to self cater.
5.0
Mar 2023
Professional and courteous staff, wonderful premises , delicious individual breakfast
2.5
Feb 2023
Perfect way to end the trip in ecuador, excellent quality of rooms and service that goes the extra mile
5.0
Feb 2023
Where do I even begin??! My husband and I truly enjoyed our stay here. The location was perfect. It was within reasonable walking distance of major touristic areas within Quito. The staff were so friendly!! They made sure our kitchen was stocked for breakfast each morning. Our room was freshened each time we returned. We were greeted each time we entered and exited our apartment. All of these little touches made our stay incredible. If you're looking for a place to call home away from home while in Quito, BOOK HERE!!
5.0
Feb 2023
While it is certainly true that the accomodations are gorgeous, the most stellar feature of this property is the staff. We arrived after midnite, and the minute we pulled up to the hotel the manager came out to greet us and help with our luggage. Our apartment had a fireplace, and it was lit so we were welcomed warmly! Breakfast was provided by filling our refridgerator each day, so we could prepare what ever we wanted on our own time frame. When we had questions,, there was always someone to help. When we had a challenging situation in town, the manager was quick to help us resolve it. I really can't say enough about how Old Town Suites helped us feel at home in Quito.
3.0
Jan 2023
Excellent service, hospitable, friendly staff. Superb rooms, super beutiful! Thanks!
2.5
Jan 2023
We would highly recommend Old Town Quito Suites. We stayed there with our family of four including our 2.5 y/o and 6 month old. Our older son loved having space to run around our 2 bedroom apartment. The location next to old town was very convenient for walking to. The staff was excellent and extremely helpful with anything we needed assistance with. They organized 2 private tours for us (both were fantastic), called taxis, made recommendations, and reservations as needed. The stocked kitchen was great for preparing breakfast before heading out for the day. Overall, our family loved our stay and would definitely stay again when visiting Quito.
5.0
Dec 2022
Beautiful space with lots of room. Wish we could've stayed longer!
5.0
Nov 2022
This property is amazing. Joz and the rest of the staff were exceptionally helpful. We cannot recommend this property enough.
2.5
Nov 2022
Guest service was number one. I was surprised to see the kitchen and refrigerator fully stocked. I would definitely stay here when I return.
5.0
Nov 2022
Old Town Quito Suites exceeded my expectations. Quito is an old city and sometimes you don't know what you're getting yourself into but, thankfully this was a great stay. From the best greeting and correspondence to a great suite, to the awesome amenities. Location was close to restaurants/breweries. I've never had such great service from the hosts. Truly took the best care to make sure everything exceeded expectations. I would hightly recommend.
5.0
Nov 2022
Maybe the most attentive customer service I've gotten from a property. Every day I came down the stairs someone was waiting to help and assist me with the day's activities.
5.0
Oct 2022
This is a beautiful hotel. I highly recommend this to any traveler looking for a bit of relaxation in a busy city. The space is beautifully decorated and very clean. The little touches like fresh bread every morning, stocked fridge and coffee make the space special. The staff and owner, Joz, Edison, Jhon and Dirk, are lovely people and incredibly kind. Very communicate and offer great suggestions where to visit and eat. Next time I visit, I will definitely stay here again.
5.0
Oct 2022
Yo ha viajado mucho los pasados 20 años. Old Town Quito Hotel es el mejor apartamento que ha tenido. Cada vez que regreso al Quito voy quedar en Oid Town Quito Hotel. Excelente y extrodinario!
5.0
Sep 2022
Staff wee so friendly and made sure everything was good and smooth. Room was very very large and comfortable and full breakfast ingredients were also provided to cook in the kitchen.
5.0
Sep 2022
Excelente ubicación. Una estructura antigua hermosa y el trato del staff a otro nivel. Definitivamente volvemos!
5.0
Jun 2022
Very nice and attentive staff. Great breakfast options.
5.0
May 2022
Spacious well equipped suite with separate living room and kitchen in beautifully restored building next to the historic centre. A very comfortable base for exploring Quito at a reasonable price.
5.0
Apr 2022
This hotel was perfect for our family of four! The suites are very spacious and well decorated. The staff is extremely nice and helpful. The fridge is stocked every day with breakfast items, which was a very nice touch. There are several restaurants on that street and the heart of old town is just a quick walk away. Amazing place which I highly recommend!
2.5
Apr 2022
Stay for a night and it was amazing. The room was spacious and clean. I would definitely stay here again next time visiting Quito.
5.0
Apr 2022
I will recommend this place very clean and neat.
5.0
Mar 2022
This is a beautifully renovated apartment hotel in Old Town Quito. It is lovely and is nice to have room to move about in. The kitchen was nicely stocked with everything one would need to prepare breakfast. The proprietors were very helpful for recommendations, tours, airport transfers.
5.0
Mar 2022
The staff was very friendly and helpful and the property was wonderfully unique.
5.0
Dec 2021
Everyday was like coming home to my own home - a clean and well-appointed apartment. The staff were very helpful and stocked my fridge with breakfast items. Freshly baked bread and fruits also were replenished daily during my stay. I will recommend this to my friends coming to Ecuador next year and would recommend it to anyone wanting a safe and tasteful stay in Quito.
3.0
Nov 2021
Can't ask for better service. Personalized attention from the owner and his employees. Beautiful, comfy. I'd visit it again
2.5
Nov 2021
Can't ask for better service. Personalized attention from the owner and his employees.Beautiful, comfy. I'd visit it again
2.5
Nov 2021
Incredible rooms. Incredible attention to details. Incredible proprietor. Not sure when, but we'll be back.
3.0
Nov 2021
Incredible rooms. Incredible attention to details. Incredible proprietor. Not sure when, but we'll be back.
2.5
Aug 2021
We loved this place! Our suite was very large and comfortable and boasted amazing views of the Pichincha and the Panecillo. Dirk is the best, he really looked after us throughout our stay. Before we arrived I told him that a couple of friends were coming to see us and he was thoughtful enough to stock our refrigerator with some drinks.
3.0
Aug 2021
We loved this place! Our suite was very large and comfortable and boasted amazing views of the Pichincha and the Panecillo. Dirk is the best, he really looked after us throughout our stay. Before we arrived I told him that a couple of friends were coming to see us and he was thoughtful enough to stock our refrigerator with some drinks.
5.0
Aug 2021
What a lovely little gem. We stayed in the Room with a Bridge, a 2 bedroom, 2 bath, 2 level apartment. The building has been lovingly restored back to the beautiful mansion it once was. Old Town Quito Suites is located on a quiet street in Old Town with a couple restaurants located close by. Basic breakfast items are provided in the fully equipped kitchen. The artisan bread is awesome!
2.5
Jul 2021
What a fantastic place to stay! Dirk was incredibly helpful and the room was fabulous. The location is perfect as well, walking distance to both old town and new town. We would stay here over and over again!
5.0
Jul 2021
One has uncertain expectations of a boutique hotel, but Old Town Quito Suites surpasses all of them. The rooms (which are all unique) are immaculately clean and have everything you might need. The level of service is five star. We were met at the airport by driver who was waiting for us. Owner arranged covid tests for us on a Sunday evening as well as made reservations at amazing restaurant. Everything at hotel was performed graciously.
5.0
Jun 2021
Old Town Quito Suites exceeded our expectation in all the categories. It is an older colonial house which was renovated by the owner (Dirk) and made into an apt. hotel. The rooms are a spacious, equipped with modern kitchens. Everywhere it shows attention to details, which combines the traditional and the modern. Dirk the owner helped us a lot with local information and is a phone away to answer any question. The fridge is well stocked with breakfast items and every there is a fresh loaf of bread for the guests. Dirk even made fresh croissants himself on Sunday. The place is quiet, close to the oldtown and is five minutes walking distance to the Mercado Central where one can have a variety of lunches. It is a hidden jewel in Quito.
5.0
Jun 2021
We were overwhelmed by the beauty of our spacious suite. The refrigerator was well stocked and fresh fruit and bread was delicious. Dirk, the proprietor, could not have been more gracious and willing to help us find restaurants and directions to our next destination. Our only regret was that we couldn't stay longer.
5.0
May 2021
The is a unique and beautiful property in Old Town. The architecture and decor is beautiful. The host, Dirk is very friendly and will help with all your needs. The driver, Javier was very friendly and accommodating. He was a great guide and took me to many sites in near Quito. This is a wonderful location in the city with spectacular views. The wonderful staff and nice amenities with extra touches (like fresh bread, and food to cook) make the stay well worth it!
2.5
Mar 2021
has to be the best hotel in quito! probably the best hotel in south america to be honest. beautiful, safe, luxurious details making you feel at home. attentive service to help with orienting to quito and having a great time.
5.0
Jan 2021
This is an amazing property with beautiful rooms. The rooms were very clean and were cleaned thoroughly daily by the staff. The property is also very secure with cameras and extra locks on the gate at that front, which Dirk monitors. Great kitchen in the room with coffee and everything else you'd need to cook meals (pots, pans, plates, etc.). The hot water in the shower was great and the rooms were incredibly spacious. I travel very often as an airline employee and this was one of the best stays I've had. The service was outstanding - Dirk would bring fresh bread every day and even gluten free bread and crackers for my wife who is gluten free. Also dropped off other snacks, like fruit and ham and cheese. He is so kind and helpful. He recommended a guide to take us to Mindo rain forest for bird watching, butterfly sanctuary, chocolate tour, zip lining and equator museum. The guide was amazing! Javier was his name - you should definitely use him for any of your tours. Javier also gave us airport transportation for our 320am flight on New Years Day! Just incredible people with top notch service. Highly recommend staying at Old Town Quito Suites and using Javier for any of your tours/transport needs!
2.5
Dec 2020
It was one of the best places I have ever stayed and I travel a lot. Dirk saw to my every need with incredible care and attention to detail. Stay here!!!!!
5.0
Oct 2020
Loved this little boutique hotel! Great location. Refrigerator was stocked with breakfast food and snacks. Would love to stay here again in the future!
Häufig gestellte Fragen
Wie viel kostet dieser hotel im Vergleich zu anderen in Quito?

Der Durchschnittspreis für eine Anmietung in Quito beträgt EUR 43 pro Nacht. Diese Miete liegt EUR 99 über dem Durchschnitt.
Ist das Parken in diesem hotel inbegriffen?

Das Parken ist nicht als verfügbares Ausstattungsmerkmal bei Old Town Quito Suites, Apartments & Boutique hotel angegeben. Für weitere Informationen empfehlen wir Ihnen, sich mit dem Anbieter der Unterkunft in Verbindung zu setzen, um zu erfahren, wo Sie parken können.
Gibt es in diesem hotel einen Pool?

Wir haben keinen Pool gefunden, der als Ausstattungsmerkmal für diesen hotel aufgeführt ist. Es kann sich lohnen, noch einmal zu prüfen, ob ein Pool für Ihren Aufenthalt wichtig ist.
Ist Old Town Quito Suites, Apartments & Boutique hotel haustierfreundlich?

Leider ist dieser hotel nicht haustierfreundlich. Versuchen Sie erneut zu suchen und filtern Sie nach "Haustiere erlaubt"
Welche Ausstattungsmerkmale sind bei Old Town Quito Suites, Apartments & Boutique hotel verfügbar?

Wir haben 7 Ausstattungsmerkmale für diese Unterkunft gefunden. Dazu gehören küche/kochnische, internet/wlan, waschmaschine, balkon/terrasse und spülmaschine.