Courtyard by Marriott Bogota Airport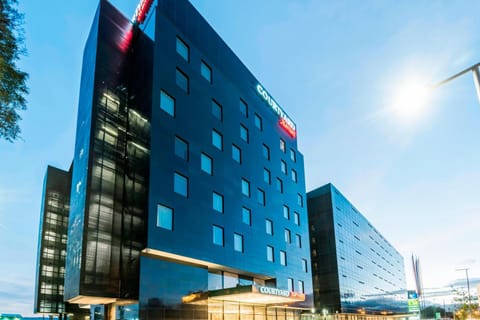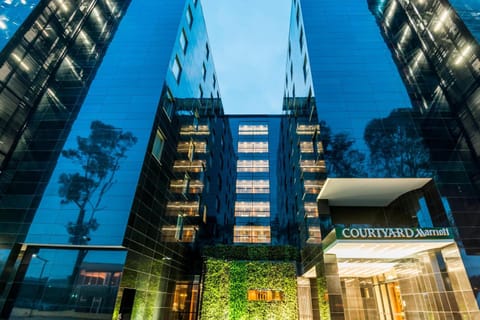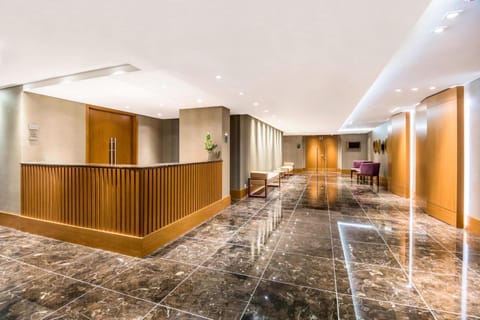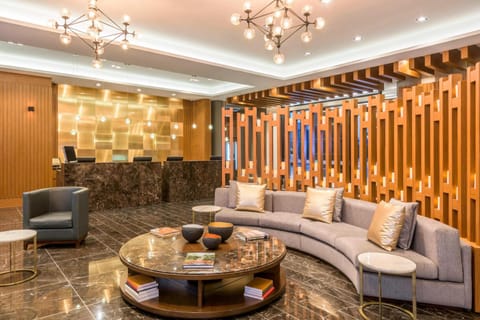 Hotel in Bogota
Pool
Klimaanlage
Haustiere erlaubt
Gelegen in Bogota, dieses attraktiv zimmer im hotel für EUR 51 pro Nacht ist ein phantastisch Option für Ihr nächstes Reise. Das Courtyard by Marriott Bogota Airport erwartet Sie mit einem Restaurant und kostenfreiem WLAN in Bogotá. Freuen Sie sich auf ein tägliches À-la-carte-Frühstück. Die Bar in der Unterkunft lädt zum Verweilen ein.
Pool
Klimaanlage
Haustiere erlaubt
Internet/WLAN
Parkplatz
Waschmaschine
Fernseher
Rollstuhlgerecht
Fitnessraum/Fitnessstudio
100 % verifizierte Bewertungen
4.5 / 5

"Ausgezeichnet"

(1'723 Bewertungen)
When I arrived at the hotel, I was met by extremely professional and courteous staff. The staff is bilingual which made everything much easier. Would definitely revisit if necessary.
Comfortable and Clean
Sep 2022
They tend to run out of ingredients (tortillas) or basic staples (red tea). Quality of Breakfast is on the mediocre side but staff is very attentive.
Nice airport hotel for a short stay
Jul 2021
Very nice standard hotel near the airport. Perfect for an overnight stay with a flight to come. Staff very welcoming and breakfast was well appointed. Room was nice, but minimal given the COVID restrictions.
We asked for a "coffee kit" for the room (on request only) and never received it. Everything else was fine for one night. If planning to tour Bogota, better to stay in the city. This is strictly an airport hotel.
Great Hotel as you would expect from a Marriott
May 2021
Very nice people, great staff. Great security, very clean facility. Close to the airport,
Would have liked coffee in my room, but probably not available due to COVID
Very nice modern Courtyard Marriott. Close to Bogota airport.
Very friendly service The food in the restaurant is very delicious and also has a good price.
Only missing item would have been a bottle of water in the room. Besides that nothing to mention
Very convenient location near Bogota airport; modern; pleasant.
Very convenient for airport stopover, reliable shuttle bus service, spacious and clean room.
Ideal for one night to catch flights
Aug 2022
Very comfortable and excellent location for proximity to the airport
I messaged twice to get instructions on how to get the shuttle, and they sent them almost 12 hours after I left the hotel (basically, two day late)
Very close to the airport, perfect for an early flight.
- Very clean, modern & well organized - Great, friendly staff - Close to the airport, but not noisy or anything, well isolated - Well-equipped fitness center
- The breakfast could be better, offer a richer selection - I'm not a great fan of being spammed with CNN everywhere in the lobby, including at breakfast
A great place to stay in Bogota, Colombia.
Jul 2022
very clean and staff very cordial.
Very clean and in a convenient location. Has a gym and restaurant and check out is at 12pm.
Very attentive staff!! And the room service food was very good and also convenient after arriving late from an international flight.
Great one-night stay
Sep 2021
Van service is good. Facilities nice. Room comfortable. Nice Staff, they were always there to help
I had the to-go breakfast because I left early and they could improve it. It was a very simple sandwich
This was a return visit; we have stayed here many times. It is very convenient for the airport and there is a free courtesy bus that collects you from the terminal. The journey is a few minutes to the hotel. The rooms are well-appointed and very clean.
Sometimes my wife has arrived before me, and the room is reserved in both our names. However, when she arrives first, they will not allow her to charge anything to the room, so her meal has to be paid in cash at the time of ordering. This is rather uncomfortable for her, as it appears there is no trust by the hotel, even though they have a credit card on file for any payment required.
Quick stay due to miss connection
Apr 2023
This was a last minute booking due to a flight delay coming into BOG from JFK causing me to miss a connection to SMR. The hotel had a room and it was as nice as expected even though the stay was short.
There is nothing I could complaint about at this hotel.
Bring vaccination documents if you bring a pet
Nov 2021
This is the second time I stay in this hotel. It is located close to the airport and shuttle service is amazing. The room I got was nice and pets are accepted for a fee (USD 20 per pet) which was convenient as I had two small dogs. Security is excellent and it feels like a very safe place to stay in. Staff is very polite and kind. Breakfast is OK but nothing special.
It was my luck that I had all the vaccination papers with me for my two dogs. They are requested upon arrival and the staff takes copies of them. The fee is relatively high in my opinion, USD 20 per pet, and they are only allowed in the room (not in a stroller or crate with you in the restaurant or other areas of the hotel). There are no facilites for pets in the rooms, such as pads, bowls etc. which should be provided for this fee. As I could not bring my dogs with me to have dinner, I ordered room service. The restaurant is quite pricy for Colombia, a small Cesar salad, a burger with fries, a bottle of the cheapest white wine and a bottle of water came out at almost USD 50.
This hotel is ideal for a stay close to the airport in Bogota. The hotel has everything you need. The staff at the front desk is extremely professional, polite, and helpful. The property is tidy and has a wonderful charm
All was excellent. I slept so well here. Very quiet.
They had Bi-Lingual staff members that helped immensely
Wonderful Hotel and Staff
It was convenient, comfortable, beautifully appointed, with kind staff.
Jan 2022
The staff was wonderfully accommodating, and the shuttle was convenient. The room was modern and spacious, as was the bathroom. It was very nicely appointed. Also the staff checked on us after we got our Covid test. That was a nice touch.
Nothing. Really, not a thing.
A nice stay to arrive to Bogota
Apr 2022
The staff was very nice, and the facilities were clean and confortable.
the staff was very friendly
A fantastic choice for travelers looking for a great stay very close to Bogota' El Dorado Airport
Mar 2022
The staff are friendly, helpful, efficient and very professional. The hotel is immaculate and has every conceivable service. The hotel is located very close to the airport with a regular airport shuttle (every hour on the hour from 05:00 to 00:00).
The items in the minibar are expensive as are the in-room dining items. Overall, very minor observations in what is a great stay and an excellent hotel with worldwide brand name recognition. This location lives up the the Marriott brand very well.
the staff and it's really clean.
a lot of noise. you can hear a lot from other rooms
The service was excellent and I will definitely recommend this hotel to my family and friends!!
The room was very comfortable. The food and servers were very good. I like the general atmosphere of the hotel. I felt safe.
The working spaces were not private.
Peace and quite and a few hours of rest on the way from Lima, Peru to Ottawa, Canada.
Jul 2022
The room was spacious and comfortable. Proximity to airport was important as I was in transit from Peru to Canada. In the shuttle to the hotel it did seem out of the way, but shuttle to the airport was quick and easy.
The room size and comfort is good and the location is very practical for the airport.
The room is a bit dark. Breakfast experience was a disaster, as there was no table available for over half an hour, which meant I was unable to have it. They should make alternative arrangements (extra space and / or encourage room service), especially as it is an airport hotel.
The breakfast/restaurant/dinning area is way to expose to the cold weather from the exterior
The room is very clean and specious
Food and service staff don't speak English. Ordered room service 4 times and all 4 times order came wrong.
The restaurant was really good. Also the room was confortable.
The restaurant was lovely and staff were helpful
I booked this hotel because there was a free shuttle but instructions for pick up were not clear enough. It says floor 1 but I was waiting on floor 1 (ground floor). Floor 2 is actually where the pick up is. I had to take a cab : l
It was okay. Had a better experience last time, in the place accross the road, Habitel, I think.
May 2022
The location. Very close to the airport. Great if you need to catch a flight early in the a.m. The shuttle service is reliable, but it is only every hour (it would be better if it was every 30 min).
No one helped me to carry my bags when I arrived. Had to bring them inside, from the rain, check-in, went grab the little cart for carrying my bags. Staff never offered any help, even though they saw me checking in and struggling with all the luggage right in front of them.
The location, the friendly service and the comfortable bed
The food could be much better
Excellent customer service
Aug 2021
Quiet room close to the airport
Mar 2022
The location near the airport was ideal for my needs. The hotel was clean, the room was quiet, and the staff were friendly. I appreciated getting a room at the end of the hall, it was whisper quiet!
The check-in/out lines get quite long when the shuttle bus drops a large group of guests at the same time. With the addition of one (or more) people to help guests at these key times, it would lessen the long lines.
Hygiene and staff number 1
Aug 2021
The location is very good. Everything of the hotel was very good. The check in, room service, and hygiene was super!
Beautiful hotel nearby to the airport
Jul 2022
The hotel was very clean and beautiful. The restaurant is very nice and the food was delicious. We enjoyed our stayed there, everyone was kind and the transport to the airport is also very good.
Wie viel kostet dieser hotel im Vergleich zu anderen in Bogota?

Der Durchschnittspreis für eine Anmietung in Bogota beträgt EUR 36 pro Nacht. Diese Miete liegt EUR 15 über dem Durchschnitt.
Ist das Parken in diesem hotel inbegriffen?

Ja, das Parken ist als Ausstattungsmerkmal bei Courtyard by Marriott Bogota Airport aufgeführt. Für weitere Informationen empfehlen wir Ihnen, sich mit dem Anbieter der Unterkunft in Verbindung zu setzen, um zu erfahren, wo Sie parken können.
Gibt es in diesem hotel einen Pool?

Ja, bei Courtyard by Marriott Bogota Airport steht ein Swimmingpool zur Verfügung. Genießen Sie das Wasser!
Ist Courtyard by Marriott Bogota Airport haustierfreundlich?

Ja! Diese hotel ist haustierfreundlich. Für weitere Informationen empfehlen wir Ihnen, sich mit dem Buchungsanbieter in Verbindung zu setzen.
Welche Ausstattungsmerkmale sind bei Courtyard by Marriott Bogota Airport verfügbar?

Wir haben 9 Ausstattungsmerkmale für diese Unterkunft gefunden. Dazu gehören pool, klimaanlage, haustiere erlaubt, internet/wlan und parkplatz.