Hilton Manila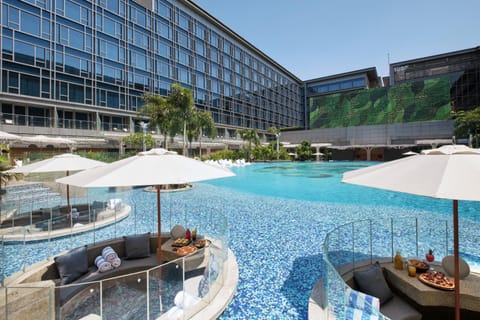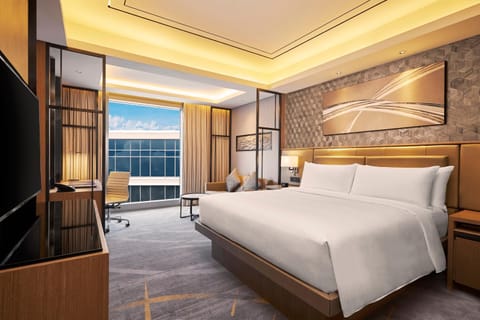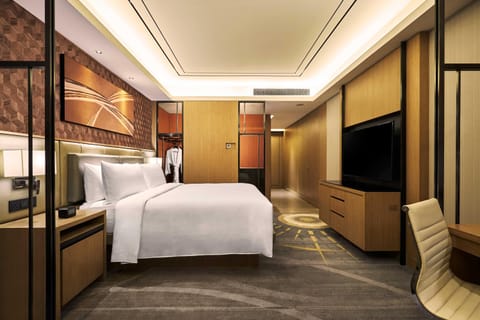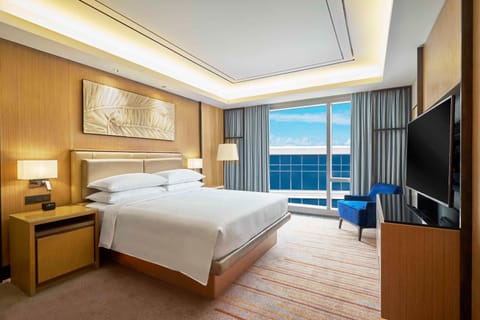 Hotel in Pasay
Pool
Klimaanlage
Haustiere erlaubt
Befindlich in Pasay, dieses charmant room in hotel für EUR 84 pro Nacht ist ein phantastisch Option für Ihr nächstes Urlaub. Das Hilton Manila befindet sich im Newport World Resorts, 2 Gehminuten vom Einkaufszentrum Newport Mall und 6,6 km vom Einkaufszentrum SM Mall of Asia entfernt.
Pool
Klimaanlage
Haustiere erlaubt
Küche/Kochnische
Internet/WLAN
Rauchen erlaubt
Parkplatz
Waschmaschine
Balkon/Terrasse
Fernseher
Rollstuhlgerecht
Fitnessraum/Fitnessstudio
100 % verifizierte Bewertungen
4.3 / 5 (640 Bewertungen)
Wonderful thank you
Jul 2022
Your property is clean and there are people in uniform ready to help you. After being scammed at another residence, it was refreshing to see what a real hotel does. You are great at what y ou do! :-) Thank You!
I would have liked meals included especially Breakfast the most important meal of the day! You would be a better hotel having a buffet breakfast for sure. Just my humble opinion.
Fantastic luxury and very friendly too!
Jun 2022
wonderful staff and fabulous food. wish we could have stayed longer!
Awesome experience as expected!!!
Apr 2022
We ordered room service as we arrived late. The food was extremely good. The pumpkin soup was delicious. But the outstanding thing that impressed us both was that the kitchen called to see if we enjoyed the food and asked if we needed anything else. First time that's happened to me in quite a few years of traveling. Great job! Everyone in this hotel is attentive to the guests and that's what brings people back again. This is not my first visit and hopefully won't be my last! My compliments to the General Manager. His high standards and training of his staff are noticeable everywhere. Even the housekeeping staff was extremely efficient and personable. That kind of dedication is systemic. Thanks for a great stay.
The coffee service in the room , nespresso was sparse as far as choices. Also the coffee cups are extremely small. When I ordered a pot of coffee I received an carafe which contained barely two small cups of coffee.
Pet friendly hotel
Dec 2022
We love that the hotel is pet friendly.
We have an impression that our room is not at the wing where all guests have their pets. The room that they gave us was connecting to the room that would like to have there quiet stay. So whenever our dog barks they immediately report it to the front desk even if it is 1 in the afternoon. Our stay was a bit uneasy as we always try to be extra quiet so the other room will not be bothered. That was not our ideal stay there. We wished that our stay was relaxed and easy not think of the other room (thought if our room is next to a pet owner they woild understand when our dog barks. My dog didnot bark the entire stay is just that when my dog barks a little bit we wi receive a notice right away).
Very clean and very close to the airport ..
the staff at the lounge, front desk and security personnel were outstanding I would like recognize Sugar for going above all in the lounge on the ground floor. very attentive, very helpful with locals things to do around manila.
the staff for breakfast, not very attentive. I understand it's a 5 star hotel. But to me based on how we dressed they weren't very attentive to me and my wife. servers always forgot about us, waited long time for coffee, our bill
Perfect place to stay.
Apr 2021
The staff are nice, courteous and respectful. They anticipate your needs. From the moment you enter the door, they make you feel at home and safe. The hotel was well sanitized. The room service/food was excellent.
There's nothing not to like. Everything was excellent, from staff, to room, to cleanliness, to food.
The room was so nice and the pillows were so soft. It's so spacious and comfortable.
Pool was so cold. No jacuzzi, just jacuzzi style pool, they should be more specific about this because we expected it.
The room was excellent and the high speed internet was outstanding
The airport transport service from the hotel to the airport was about 2000 pesos, way over priced for a van to the airport. The same type van from the airport to the hotel is only 350 pesos, the Hilton Manila airport service is way over priced.
I'd definitely come back.
Jul 2021
The room was excellent although the bed could have been bigger. .
Breakfast was little disappointing. There were few choices, and didn't see any European food.
Cold shower before early flight
Apr 2022
The shower was cold at 3.30am before an early flight
Poor and inconsistent customer service
Oct 2021
The property was very close to the Airport and it was clean.
I didn't like how the hotel was inconsistent with their covid protocols. The first day they allowed my cousin who was vaccinated to visit me and i saw other guests had visitors too. However, when my other cousin tried to visit me as well the staff wouldn't even let him into the lobby. Their guest guide on their tv wasn't updated on what was allowed or not, so how was i suppose to know? If the hotel was so strict with their covid restrictions then why was there a fully functioning casino in the back? It just seemed unfair to nit pick who was allowed to come and go. I get that they are trying to keep everyone safe but as a nurse who has worked covid since the start, some of their restrictions are over the top and lack evidence based research to back up their practices.
The property, the cleanlines and staffs was plus points…
The buffet was not as expectected so its a minus points.
Great airport hotel with relaxing amenities.
Jul 2022
The location was great for us as we needed to be in NAIA earlier than 3 hours before our flight. There were a lot of restaurants and other establishments around so it wasn't hard to get food if you do not fancy anything at their restaurant. Also, their gym is 24 hrs which made it easier to squeeze in an early morning workout before we flew.
They were charging me an extra Php250 for service charge when I tried to order a cup of black coffee which I have never really come across in other hotels. I phoned to ask about their airport service as it was a 6minute drive from the hotel. They charge PHP2,000 to get you from Hilton to NAIA which as I said is a 6-minute drive. I think that is extortion.
The location is very close to the airport and resorts world has all the shops and restaurants just a walking distance, the staff is very accommodating specially the front desk. Professional and attentive specially the frontdesk who took care of my check-in, his name was (Michael)
The airconditioning broke down in one of the rooms. The technician didnt come back and essentially I paid a hot room. The management extended our check out time and paid for breakfast plus gave us a free upgrade next time. That was the only caveat but they were apologetic.
Hilton Manila was our most comfortable stay on our trip. We will definitely be back!
May 2022
The breakfast was the best hotel breakfast our family has ever experienced.
Still very good even during covid times
Jan 2022
The breakfast buffet was good with enough things to choose from. We especially liked the dinner that was delivered to the room. The cafe was a nice touch with free coffee, soft drinks and pastries. The pool was opened so, my girls were happy. I enjoyed the casino alot since its just downstaires.
Most restaurants was closed and we wished there were more of american type of food to order. House keeping was minimum....we had to call front desk for fresh towels and toilet tissue.
Hotel experience is just good; my expectations were not met.
Dec 2021
The bed and pillows were really comfortable and I had a great sleeping experience. I liked that we have a seating area in our room and the work desk was just perfect for my needs. I liked that we had a Chromecast option available for the TV. Interior of the hotel lobby and reception area looks really beautiful and the Christmas ornaments were all elegant.
The water pressure of the bidet was low. The breakfast buffet selection was only fair; I expected more for an international hotel (latte was great though). The view from our room is the Grand Wing building which looks worn-out. The value for money was not that great; it felt like I was paying more for the name than the amenities and overall experience.
The access of Executive Lounge was amazing and the foods were mouth watering.
thankyou hilton my kids enjoyed our 3 nights staycation but the breakfast are not included when you booked a room sad
Staff were friendly. Close to airport
The place is not worth the price. Everything was closed or broken. No bar, Too many guards and security people acting like they are prison guards. Too many rules. Pool was ice cold, too cheap to run the pool heaters, pool bar closed, jacuzies closed, bar closed, restaurants closed too early. Not good food, room service super expensive, room overpriced Tv channels cheap , no premium channels I did not enjoy the stay , everything is wala. Room did not have hot tub like advertised Bed was hard Carpets were smelly
Staff in all departments very professional and courtesy and helpful attitude displayed at all times. Eck, the housekeeper responsible for cleaning my room 930 fantastic and very competent, polite, and very efficient
staff friendly and helpful. very comfortable room
Service was excellent including the security guards
Jun 2021
Safety measures. Location
The best value 5star hotel near airport
Oct 2022
Room was well designed, bathroom was huge and study table had all the power ports.
Bed was really comfortable, unfortunately the pillow was too soft, really need more support.
Room was great and we were offered a cake and balloons for our anniversary
Comfort room lock wasn't working and th swimming pool's heater was informed broken
Our stay was terrific just as how we expected.
Jun 2022
Room - impressive and comfortable. Breakfast - very impressive due to wide selection of dishes. Location - very accessible. Staff - very accommodating and friendly.
Great place and service
Jun 2022
Room, Breakfast, Good location
Almost exceptional score
Nov 2021
Really nice hotel. We had interconnecting executive rooms. Almost everything was 1st class. The bedding, towels, amenities coffee machine all excellent. Despite conditions causing shortage of staff they all did their best to serve us well
I am used to Asia style firm beds but all in our party agreed that these are hard. Mattress topper would keep the firm support but make for a comfortable nights sleep
Great stay, staff very welcoming and responsive to requests
Apr 2022
Proximity to airport and Resorts World. Area is quiet and safe
We had booked a pick up from the port as it was a rough part of Manila and the driver was late collecting us and so we were left stranded with no apologies and then they wanted to charge us twice for this service as our ferry arrived late. I was very upset about this and explain it to the staff on arrival and still didn't receive an apology. even at checkout they still wanted to charge extra and even though I was late then for my airport transfer and explained I just wanted to pay and leave they still took absolutely ages. I have travelled extensively and this is my most disappointing experience in a hotel. particularly of this standard I would have expected much better.
They made a mistake in billing, and until now I haven't received the refund, it has been a month already
The bathroom faucet drainage was clogged. It needs repair.
Wie viel kostet dieser hotel im Vergleich zu anderen in Pasay?

Der Durchschnittspreis für eine Anmietung in Pasay beträgt EUR 44 pro Nacht. Diese Miete liegt EUR 40 über dem Durchschnitt.
Ist das Parken in diesem hotel inbegriffen?

Ja, das Parken ist als Ausstattungsmerkmal bei Hilton Manila aufgeführt. Für weitere Informationen empfehlen wir Ihnen, sich mit dem Anbieter der Unterkunft in Verbindung zu setzen, um zu erfahren, wo Sie parken können.
Gibt es in diesem hotel einen Pool?

Ja, bei Hilton Manila steht ein Swimmingpool zur Verfügung. Genießen Sie das Wasser!
Ist Hilton Manila haustierfreundlich?

Ja! Diese hotel ist haustierfreundlich. Für weitere Informationen empfehlen wir Ihnen, sich mit dem Buchungsanbieter in Verbindung zu setzen.
Welche Ausstattungsmerkmale sind bei Hilton Manila verfügbar?

Wir haben 12 Ausstattungsmerkmale für diese Unterkunft gefunden. Dazu gehören pool, klimaanlage, haustiere erlaubt, küche/kochnische und internet/wlan.