Delta Hotels by Marriott Guelph Conference Centre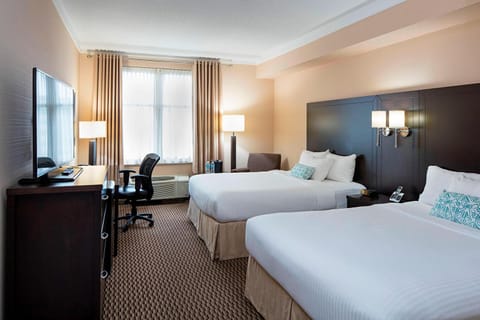 Hotel in Guelph
Klimaanlage
Haustiere erlaubt
Küche/Kochnische
Befindlich in Guelph, dieses schön room in hotel für EUR 71 pro Nacht ist ein phantastisch Auswahl für Ihr nächstes Reise. An der Ecke der Stone Road und der Gordon Street erwartet Sie dieses Hotel in Guelph, Ontario, gegenüber der Universität von Guelph, nur wenige Minuten von den Einkaufsmöglichkeiten und Geschäften entfernt.
Klimaanlage
Haustiere erlaubt
Küche/Kochnische
Internet/WLAN
Rauchen erlaubt
Parkplatz
Waschmaschine
Balkon/Terrasse
Fernseher
Rollstuhlgerecht
Fitnessraum/Fitnessstudio
100 % verifizierte Bewertungen
4.1 / 5

"Ausgezeichnet"

(247 Bewertungen)
Very professional great food
The Staff is second to none.
Mar 2022
Very nice, clean and modern. Staff was absolutely the BEST from the first pre-stay call about special needs, to the last day checking out.
very kind staff. Nice big, clean room.
Fantastic location and staff
Apr 2021
Very convenient if coming in from the 401 and perfectly situated to go just about anywhere in Guelph. Staff is very friendly and helpful and the room was much bigger and nicer than I expected. Have already recommended it to others!
I would stay there again but in a suite
Jul 2021
Showering was a challenge to get in the tub
Vanessa the manager was absolutely incredible. We stayed for 3 weeks when our house was being renovated. It was myself, my spouse, my toddler and my 2 dogs. I couldn't have asked for a better experience!
They were super friendly when we were checking in. Frankie, my Boston Terrier really liked the lady at the front desk and the room.
It was good experience
Sep 2022
The stay was comfortable and extra check out time was provided.
The amount for the entire stay plus extra was blocked but didnt receive a confirmation on refund. Or a clarity on the refund amount.
The staff were really easy to talk to and helpfull. Room was a good size.
Nothing bad, I mean kids where running as screaming in hallways but other then that was good.
Friend and warm hotel, with great consumer service.
Aug 2021
The staff was very friendly when we arrived and it was very clean
I didn't like that parking wasn't included in my hotel fees.
Not bad for the money.
Aug 2021
The staff was great. Super accommodating and very friendly.
The beds weren't the most comfortable for me and the rooms could definitely use a refresh.
The room was really clean and the location was near the Mall and restaurants.
There was only one type of pillow on the bed and they were all quite firm.
The room was large, with a neat, small little kitchenette. The two tvs were an added bonus for watching different programs.
I didn't like that the complimentary breakfast was just Starbucks. I was hoping for an actual breakfast from the restaurant.
The property was very nice, clean and the staff were very friendly.
can't speak for other rooms but our room was very small when you came in. the bedroom was quite large. This hotel only has a take out breakfast.
The location was good. I stayed there in September 2021. Staff is nice and helpful.
There were kids playing soccer outside our room and had to eventually call Reception late evening to ask them to stop. Starbucks time should be extended. By the time we reach there, it was closed. Nothing available for lunch and no outlets near by
The location was great for our stay.
Jul 2022
The locations was good and easy to find.
The location, quality of the furniture and the comfiness of the beds.
The people in the room next to us were obviously sick. Appears they were quarantining, coughing and hacking for hours at a time, all day and night for two nights. The front desk on the way by always asks how is your stay going. After the first night we told the person at the front desk and he never offered us another room. I guess they just want to hear everything is okay not actually fix a problem with the stay. Surprising at almost 200 a night.
Very good hotel by the university campus
Feb 2022
The location by the university campus was perfect for us as we brought our dog to have surgery done at the Ontario Veterinary College. We found the hotel comfortable, clean, and quiet. Every member of staff we interacted with was very friendly and professional. I loved having a desk because I was working remotely. Free parking was also a bonus. Overall, a very pleasant experience, we would stay again in a heartbeat.
The window in our bedroom was drafty and the heating unit quite loud. It would be nice to have some dishes/mugs and cutlery provided with the kitchenette by default (we asked the reception for them and the housekeeper delivered them very quickly though).
The hotel was perfect for what I needed. Location, facilities, cleanliness, the room and the beds were all perfect.
The only negative thing for me was the fact the airco or ventilation unit of the restaurant was quite noisy. You have a constant zooming sound in the room. However after a few minutes, I was ok with it otherwise I would have asked for another room. Still something to mention, because maybe it can be improved and maybe some people will not get used to it.
Pleasant! Will stay again.
Oct 2022
the hotel and staff are incredible. Really clean, the restaurant is great.
I would highly recommend, friendly staff, excellent customer service and comfy beds.
Jul 2021
The customer service was excellent!
The breakfast was disappointing or lack thereof.
The customer service at the front desk were very friendly.
The sheets were too small for the mattress, they kept coming off while sleeping, causing us to wake up all the time to adjust, it was very dirty with lots of dust behind the back of the beds, just by the amount you know they were not regularly cleaned under the beds, the chair had left over food and dirt between the cushions, especially during these Covid times I had expected better cleanliness.
The beds were comfortable and overall the hotel is nice
1 of the coffee shop staff members was inexcusably rude to us. The shower and bath towels were dingy, the tub felt like it had soap scum on it. The hair dryer was broken. Breakfast was awful. There are no amenities in the hotel. We were booked in the wrong rooms, and had to book a third room to accommodate all of us, costing much more than anticipated. When booking the room on booking.com, it said breakfast was included, but it was not. The room was a little dirty, hair on the sheets, very dusty, dirty bathroom Does not feel at all like a 4 star hotel overall
Would never book through you again. Could have got a better deal by booking direct through hotel.
May 2022
Sucked! We had to pay for it. Went out for breakfast for 1/3 the price for same breakfast
Noise, total disregard of patrons for covid
Staff was helpful and friendly. Very clean and quiet. Good location
Best sleep I've had in ages
Jun 2021
Staff was friendly, very accommodating - brought up extra bedding for pull out bed immediately. Restaurant host Made me a coffee at the bistro despite having already closed up (our very tired dance instructor was super grateful!)
Just wish there was a pool but that is beyond your control
staffs were very nice and i like the bar on the first floor.
the heater in my room was noisy. I woke up multiple times because of the sound.
Professional, Tidy, Modern.
Mar 2022
I didn't use very many amenities as I was on a work trip, so difficult to judge a lot of the offerings.
proximity to dance competition
Lovely, remove towers off of your roof.
Feb 2023
The towers on the roof! I don't like when buildings draw EMF for profit. It puts customers at risk.
Nothing, everything was out of this world. Staff, front desk was really helpful.
I didn't like that their was no room service or real breakfast available in the hotel. It was very inconvenient to go looking for a place to eat breakfast every morning with my children. I had expected at least a breakfast buffet available as all the other mariott hotels I've stayed at. Very dissatisfied with this part
Wie viel kostet dieser hotel im Vergleich zu anderen in Guelph?

Der Durchschnittspreis für eine Anmietung in Guelph beträgt EUR 86 pro Nacht. Diese Miete ist EUR 15 günstiger als der Durchschnitt.
Ist das Parken in diesem hotel inbegriffen?

Ja, das Parken ist als Ausstattungsmerkmal bei Delta Hotels by Marriott Guelph Conference Centre aufgeführt. Für weitere Informationen empfehlen wir Ihnen, sich mit dem Anbieter der Unterkunft in Verbindung zu setzen, um zu erfahren, wo Sie parken können.
Gibt es in diesem hotel einen Pool?

Wir haben keinen Pool gefunden, der als Ausstattungsmerkmal für diesen hotel aufgeführt ist. Es kann sich lohnen, noch einmal zu prüfen, ob ein Pool für Ihren Aufenthalt wichtig ist.
Ist Delta Hotels by Marriott Guelph Conference Centre haustierfreundlich?

Ja! Diese hotel ist haustierfreundlich. Für weitere Informationen empfehlen wir Ihnen, sich mit dem Buchungsanbieter in Verbindung zu setzen.
Welche Ausstattungsmerkmale sind bei Delta Hotels by Marriott Guelph Conference Centre verfügbar?

Wir haben 11 Ausstattungsmerkmale für diese Unterkunft gefunden. Dazu gehören klimaanlage, haustiere erlaubt, küche/kochnische, internet/wlan und rauchen erlaubt.