Quality Inn Airport West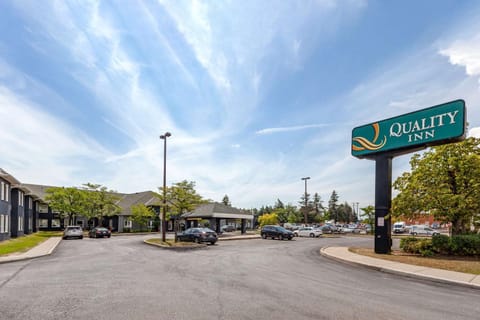 Hotel in Brampton
Klimaanlage
Küche/Kochnische
Internet/WLAN
Befindlich in Brampton, dieses schön zimmer im hotel für EUR 64 pro Nacht ist ein phantastisch Option für Ihr nächstes Urlaub. Dieses Hotel in Mississauga empfängt Sie nicht weit vom internationalen Flughafen Toronto-Pearson sowie Torontos Innenstadt entfernt am Highway 401. Es bietet Ihnen komfortable Unterkünfte.
Klimaanlage
Küche/Kochnische
Internet/WLAN
Rauchen erlaubt
Parkplatz
Waschmaschine
Whirlpool/Spa
Fernseher
Rollstuhlgerecht
100 % verifizierte Bewertungen
3.9 / 5

"Gut"

(683 Bewertungen)
The breakfasts are very good, the staff is very friendly and helpful.
Jan 2023
We liked the location, in the proximity there are good restaurants and cafes as well as some outlet shopping centers. Also the airport is very close.
We stayed in the hotel for 6 nights, they cleaned the room only once. We had to ask for towels and bed sheets and change them ourselves. The room service really leaves much to be desired. Also, we wanted to pay in cash at the checkout but it turned out they the hotel had already charged the bank account. Its not really critical for us but things have to be as agreed at the booking.
very clean hotel. complimentary breakfast. kind staff.
The staff was extraordinary, very helpful and accommodating
I think the toilet or pipes have a leak as the bathroom floor was always wet no matter how many times I dried it. There were many bugs in the room including a centipede in the bed.
The room was very clean and comfortable. Overall very quiet. Staff was friendly and it was a great location
Liked everything about our stay
The room is big compared to others beds extremely comfy Helpful staff Great short stay !
The property is very nice. I love the fact it's quiet and doesn't have noisy facilities around it. Plus the staff is reasonable, they are for the customers first which amazes me.,
The property is great wifi could be stronger for gaming consoles but other than that it's perfect.
The newly renovated rooms were very nice and clean. The staff were very friendly and helpful. Breakfast was very nice with a clean eating area.
Although, the rest of my family were in a renovated room. My baby and I were put in a room where the vent in the bathroom didn't work, it smelled musty and the carpet felt damp. The room was also next to an exit that was constantly opening and closing. The rooms condition cannot be helped until renovated, I feel. The door opening an closing was mostly due to some unruly guests. I wouldn't hold that against the hotel, and I would still stay here again.
Good quality and location
May 2022
The location is really nice. The room was spacious and the bathroom was adequate. The WiFi internet was fast and accessible. There was also adequate parking available at the front or the back of the property.
I had to have my room keycard reprogrammed often. I'm not sure why they easily lost the ability to open my door. I had to keep them away from my phone or wallet, which has magnets. The front desk had no issue with helping me with the keycard. I noticed a couple of small spiders nearby the bed head against the wall, so I would recommend that the staff check those hard to reach areas.
Rude staff, made us very uncomfortable.
Jun 2021
The bed was really comfortable and room clean. But the staff was very rude, they kept asking which room number we are in whenever we entered the hotel even though we had the keys in our hand. Even when we tried to make tea/coffee in morning. It was really embarrassing. We had previously stayed at Hamptons,Hamilton and Holiday Inn and never had to experience anything of this sort, maybe they think their hotel is too classy that people would lie to be in their hotel lol. It just shows that you need to pay extra for quality, please stay at some different hotel where you are respected. Not worth it and would not recommend.
The manager is very rude.
The aesthetic of the entrance was very pleasing
I had booked my hotel through bookings.com and told the lady at the front desk about it, she'd asked for my reservation number. She proceeded to ask for my credit card and I had inquired if it were for the safety deposit only, as it was New Year's Day which was understandable. After asking if it was for the safety deposit, she had confirmed it was only for that purpose. I looked at my statements the next morning and realized I got double charged and had to go through an entire hassle to get a refund back. The way the lady had checked us in was completely unorganized and should have been more attentive for someone who had to process payments. The lady who'd checked us out the next morning was super friendly and understanding and was wishing more that I had gotten her to check me in instead. Lastly, the first impression that my Boyfriend and I had when we'd walked into the room was that there was a musky smell that seemed to stick to the room, I had to adjust and make myself feel less paranoid through the whole night
Super nice and decent staff
I couldn't sleep cause there were people partying the whole night
staff were great breakfast was standard hotel fair.
lots of road construction nearby making the traffic heavily congested and noisey. metal plates on the road in front of the building banged all night and day. they need to put people at the back of the hotel not front. the construction looks like it may take at least 6 months. we DO NOT recommend this hotel till the road work and LRT are completed.
Room was nicely furnished and up to date.
The room was really dirty, there were finger prints and marks all over the headboard. There was a crusty spill on the side of the bed, a stain on the rug. The desk had something smeared across it and there was a fly in the room.
Excellent choice for the money.
Jun 2022
Room was easy to reach. Breakfast was good. Enough choices available for a good meal.
The staff was friendly and helpful on check in. The room was ready on arrival and everything was clean.
Adequate but not noteworthy in any way.
Mar 2023
Room was clean so that's what counts. Hallway heat was like a blast furnace.
The breakfast was horrible. Tables not cleared quickly. Fried potatoes had pools of grease on them. Coffee actually was good.
There was no water when i checked in, I was never told about this at the time of booking. There was no alternative provided for water. There was no compensation offered either.
The breakfast was practically nothing, very poor and you can eat with single-use plastic fork/knife and paper cups. The room was not too clean, the plugs behind the drawer were very dusty (I know it as I wanted to unplug the extremly noisy empty fridge...) and I found some hair on the carpet.
Place was filthy, stains everywhere, floors coming up and a really bad smell of smoke in hallway and the room stunk! Would never stay again and also not lockstep anywhere near the airport
Wie viel kostet dieser hotel im Vergleich zu anderen in Brampton?

Der Durchschnittspreis für eine Anmietung in Brampton beträgt EUR 98 pro Nacht. Diese Miete ist EUR 34 günstiger als der Durchschnitt.
Ist das Parken in diesem hotel inbegriffen?

Ja, das Parken ist als Ausstattungsmerkmal bei Quality Inn Airport West aufgeführt. Für weitere Informationen empfehlen wir Ihnen, sich mit dem Anbieter der Unterkunft in Verbindung zu setzen, um zu erfahren, wo Sie parken können.
Gibt es in diesem hotel einen Pool?

Wir haben keinen Pool gefunden, der als Ausstattungsmerkmal für diesen hotel aufgeführt ist. Es kann sich lohnen, noch einmal zu prüfen, ob ein Pool für Ihren Aufenthalt wichtig ist.
Ist Quality Inn Airport West haustierfreundlich?

Leider ist dieser hotel nicht haustierfreundlich. Versuchen Sie erneut zu suchen und filtern Sie nach "Haustiere erlaubt"
Welche Ausstattungsmerkmale sind bei Quality Inn Airport West verfügbar?

Wir haben 9 Ausstattungsmerkmale für diese Unterkunft gefunden. Dazu gehören klimaanlage, küche/kochnische, internet/wlan, rauchen erlaubt und parkplatz.