Courtyard by Marriott Toronto Brampton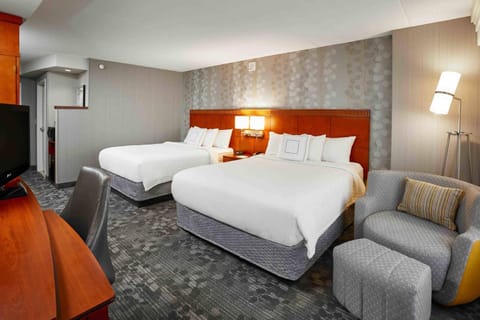 Hotel in Brampton
Pool
Klimaanlage
Küche/Kochnische
Gelegen in Brampton, dieses schön zimmer im hotel für EUR 61 pro Nacht ist ein phantastisch Option für Ihr nächstes Reise. Das Courtyard Toronto Brampton erwartet Sie mit einem Salzwasser-Innenpool mit einer 2-stöckigen Wasserrutsche, 19 km vom internationalen Flughafen Toronto Pearson und 45 Fahrminuten von der Innenstadt von Toronto entfernt.
Pool
Klimaanlage
Küche/Kochnische
Internet/WLAN
Rauchen erlaubt
Parkplatz
Waschmaschine
Whirlpool/Spa
Fernseher
Rollstuhlgerecht
Fitnessraum/Fitnessstudio
100 % verifizierte Bewertungen
3.9 / 5

"Gut"

(651 Bewertungen)
Enjoying the ambiance
Apr 2022
Wish the bed was smaller.. .this one takes lots of space A double bed will do
If the rate could drop a bit
Very friendly staff. Very clean room.
The toilet paper is rough. Bring your own
Very comfortable accommodations
Upgraded electronic equipments
Rooms small compared to other Marriott
They should provide the water for guest. No water for guests. That's look like horrible.
The tub spa that was all the tv didn't work they sent maintenance he bought a another remote control that didn't work to the television he does get the TV in the back he died at the TV from under the dresser it didn't work it was our 11th anniversary I didn't request for two wine glasses they told me to come downstairs across the lobby and get them myself after I requested them when I booked the room I would not recommend this hotel to anyone I was not satisfied at all it ruled my anniversary
Not satisfied at all tv didn't work
The stuff you had to offer. Eg: the pool and gym was great
The staff were great, very accomidating and friendly. The room was very clean and the cleaning staff were awesome. The area was great and accessible for food and shopping. I had a very pleasant experience staying at this hotel. Will definitely come back again.😊 Thank you to all the Staff Myra Dunkley
Very good choice, good quality-price
Sep 2022
The staff was very polite and the rooms where quite comfortable
great stay! very nice staff. rooms could've been a bit cleaner but all in all a good stay.
Oct 2022
the staff was extremely nice and welcoming, there was one specific guy at the front that was very accommodating and nice, he made us feel very welcome.
there was wrappers on our sofa bed with was pretty insanitary, the staff should be making sure everything in the rooms is thoroughly clean.
Lovely staff here!
May 2022
The staff are first rate! Appreciated microwave and fridge.
Food on-site is expensive, but was glad for snacks. Was sign for cold drink dispenser on my floor - but it doesn't exist. :( Room wasn't ready when I arrived after 4 (300 check-in is mentioned on their site) which made my schedule tighter. Finally got in, and appreciated kind desk staff. Lots of hall noise from guests through the night. :( No face cloths, so used towel.
Nice room with complimentary parking. Good value.
Aug 2021
The size and layout of the room. Parking included.
i had to change rooms, as the bedsheets looked as if it was not changed. the fridge was dirty and the duvet was torn.I r
Aug 2022
The rooms, the facilities the inclusive breakfast . it wasn't worth the money . Highly disappointed esp I only got the hotel due to the Marriott branding .
The room was large and comfortable.
No housekeeping was provided and I was not given prior warning that this would be the case.
The lack of service. No one was around. The front desk had one person. I got locked out of my room. And no one was working Starbucks's. and you call yourself a Marriot. Lol
overall every was great
Nov 2021
we asked for towels and front desk told us to come down and get it. didn't think it was very professional
The receptionist was exceptional and the place clean and quite commodious. Great value for the price
Personally belongings left by previous guests not cleaned hope at least the sheets were Hope they have better cleaned for the next guest
The property has nice amenities
It wasn't very clean. Bed sheets were minimal and didn't even stay on the mattress.
The pool was OK, TV was big and had a intuitive remote.
The spa had no power whatsoever. The slide was not working. Room was a suite? I don't think so. It was tiny, and the bed took up all the space. The TV was not viewable from the bed. Garbage stacked in the hallway close to the room for hours. Asked for coffee in the morning and no response from attendants there.. Finally saw some one else in the breakfast room, so went in to get a coffee, but was blocked by the attendant, who asked for a coupon! For coffee! They advertise Starbucks, but you can not get one!!! They finally relented and let us have a coffee. Whew!
It was just ok as a place to stay.
Aug 2022
The pool is kind of cool with the jets and current. The gym was fairly well equipped.
We were supposed to get housekeeping every other day. We stayed four nights and got no housekeeping at all. There were also bits of stuff on the floor beside the bed so it hadn't been cleaned properly before our arrival. Streaming services only worked on the tv in the living room and the couch there was not comfortable. We asked for more body wash at one point because we ran out, but none was sent up.
Good choice to stay in Brampton
Oct 2021
The personal was excellent, helpful and responsive. The carpeted floor in the room was quite convenient. Good value. Tim Hortons right beside. Crib set up in the room before we arrive. If you need to stay in Brampton, this is a great choice. Location wise, connect to the highway so not bad.
Not much storage space in the washroom. We can hear people talking in the corridor and the doors closing. Dust in (not on the surface) the night stands, cleaning wasn't done properly. The water jet of the tap was pretty strong and loud.
Disappointed. Will not return nor recommend it.
May 2022
The only thing I liked was that the bed was comfortable and the room was clean.
It seemed as though the hotel ran on hard times. No water to drink, toiletries meager, when I arrived was told at reception that there is no restaurant, had to buy a pack of Chinese noodles at the vending machine which made me sick. Called many times down to house keeping no one picked up the phone, called front desk and same experience. This hotel is an expensive hotel and as such when you book you expect certain standard. I was very disappointed. Will not recommend this hotel to anyone.
very clean, the interior was nicely designed, very cumfy a little luxurious getaway! we love Marriott
Mar 2022
the manager emailed me immediately after I check out, about the pool incident and she was apologetic, so kind, and I felt resolved hearing from her! Kimberly coeho I believe her name was!
the hotel staff escorting me to the pool, promising to bring for towels to us. she comes back and gives 6 towels to others in the pool and not to us. so we're waiting and waiting, it's been about 45 minutes at this time. I just decide to get out of the pool wet, walk to the front desk, and the front desk lady says all towels are in our dryer and we can't get you any where the heck was that info when I was being escorted to the poool? GET THE WATERSLIDE OPEN, honestly that was the main reason we booked it so that was disappointing
A little disappointed
Mar 2023
The location was perfect, close to the highway
The room smelled really weird and the ottoman had a stain on it.
the location, the receptionists, tim hortons in front, costco, walmart, beautiful hotel, big rotatable tv!
The fridge was leacking inside, need a good sanitizing, one cleaning staff (guyanese elder lady) with whom had issue "verbal violence" and coughing in every rooms she was cleaning like it was her home.. No body lotion sadly, no good shower gel, shampoo. Poor quality
VERY Dirty. would never stay there again.
Jan 2023
the room was disgusting. there were stains all over the walls, sofa, headboard and lamp shades. there was a dirty paper towel on the sink in the bathroom when we arrived. I woke up with a bed bug bite on my arm. groups of people throughout the night were yelling and banging on doors to be let into other rooms. the next morning, the receptionist did not ask me how my stay was for me to tell her.
Excellent! Will definitely come back!!
Feb 2022
The location is perfect. And the staff's are all very nice 🥰
Stay at the Marriott
Oct 2021
The location is fantastic and the room brilliant-very comfortable beds and roomy
sometimes a bit noisy because of the location but it wasn't a big deal
A great stay with memories
Mar 2022
The location and the room's
The king bed, the pool, the staff, the cleanliness
Every other day room clean, not enough waterside hours, sofa-bed was uncomfortable
In the room my stay was great but the staff and the over charging made my experience horrible.
Apr 2021
The hot tub and room was decent.
The staff treated me horrible. They charged me for items I did not get. People tend to just tell the front desk a different room number and they charge them.
The hotel lobby is beautiful & our room was perfect. The staff were friendly & very helpful. Good location.
The only thing I was disappointed in was that the room was not cleaned each morning. This may have been due to Covid but it meant that our garbage cans were over flowing, our beds were not made & we needed to go down to the front desk for clean towels to shower & toilet paper.
Excellent Hotel in a Great Location
Aug 2022
The hotel is in a fantastic location, with options for meals nearby. There is a Tim Hortons & Wendy's just across with other places to eat within a short drive. There's also a Costco about 300M away which is awesome if you want to do some shopping. Check-in and Check-out were swift and efficient and the staff were very courteous and professional. My request for connecting rooms was honoured and having the rooms connected almost felt like we were in a suite. The rooms are big, clean and comfortable with the air-conditioning working well and temperature easily controlled. Beds are comfortable and offered very good sleep. The room has a mini-fridge and microwave oven as well as a safe. Bathrooms are very spacious and clean. There is seamless hot & cold water with great water pressure. I requested for a late check-out which was partially honoured, which was fine considering it was the weekend.
We found a pair of dirty socks under the bed, probably left by the previous guests. Housekeeping - please take note.
Pretty dissappointing, staff did not compensate for no breakfast
Aug 2021
The checkin process was seamless and pleasant
I booked a room with breakfast for my family and I, but alas the hotel has her restaurant shutdown on the day we lodge, no prior excuse and no compensation. We had to go outside the hotel to find something to eat. The carpets seem too old, and not inviting.
King room with spa tub
May 2021
The bed was big and the room was clean. I really enjoyed the spa tub and how close the Wendy's and Tim's were. The room was very spacious and well put together. The staff was kind and there when you needed them.
The mini fridge was tiny there was barely a freezer so I couldn't even fit one microwaveable meal or anything really. The tv was very small, old and poor quality it was also bolted down to the desk which I understand why but it made it hard to adjust it the the right angle so I could watch from the spa tub.
I won't stay at this location again
Mar 2023
That it was close to my venue
The tvs didn't work at all, the bathroom sink didn't drain, the staff would stand outside my door and talk, so I keep thinking they need something? We went to the pool in the morning and the life gard keep leaving the pool area to talk on his phone.
Above our expectations!
Sep 2022
Such a great room, friendly staff, and oh, so very, very quiet! We have already decided that we will stay there again fie next year's running event.
Wie viel kostet dieser hotel im Vergleich zu anderen in Brampton?

Der Durchschnittspreis für eine Anmietung in Brampton beträgt EUR 98 pro Nacht. Diese Miete ist EUR 37 günstiger als der Durchschnitt.
Ist das Parken in diesem hotel inbegriffen?

Ja, das Parken ist als Ausstattungsmerkmal bei Courtyard by Marriott Toronto Brampton aufgeführt. Für weitere Informationen empfehlen wir Ihnen, sich mit dem Anbieter der Unterkunft in Verbindung zu setzen, um zu erfahren, wo Sie parken können.
Gibt es in diesem hotel einen Pool?

Ja, bei Courtyard by Marriott Toronto Brampton steht ein Swimmingpool zur Verfügung. Genießen Sie das Wasser!
Ist Courtyard by Marriott Toronto Brampton haustierfreundlich?

Leider ist dieser hotel nicht haustierfreundlich. Versuchen Sie erneut zu suchen und filtern Sie nach "Haustiere erlaubt"
Welche Ausstattungsmerkmale sind bei Courtyard by Marriott Toronto Brampton verfügbar?

Wir haben 11 Ausstattungsmerkmale für diese Unterkunft gefunden. Dazu gehören pool, klimaanlage, küche/kochnische, internet/wlan und rauchen erlaubt.