Auberge de la Pointe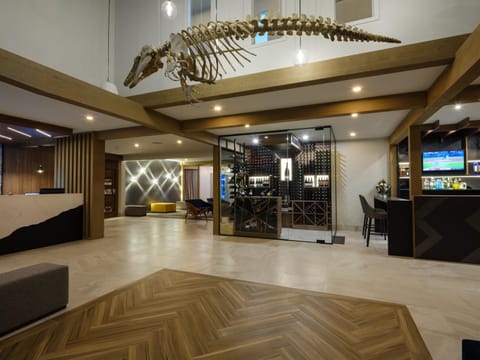 Hotel in Rivière-du-Loup
Pool
Klimaanlage
Küche/Kochnische
Eingebettet in Rivière-du-Loup, dieses attraktiv room in hotel für EUR 58 pro Nacht ist ein phantastisch Option für Ihr nächstes Reise. Dieses Hotel mit Blick auf den Sankt-Lorenz-Strom liegt 10 Fahrminuten von der Innenstadt von Rivière-du-Loup entfernt. Freuen Sie sich auf ein elegantes Restaurant in der Unterkunft, Wellnessanwendungen und klassische Zimmer mit kostenfreiem WLAN.
Pool
Klimaanlage
Küche/Kochnische
Internet/WLAN
Parkplatz
Waschmaschine
Balkon/Terrasse
Whirlpool/Spa
Fernseher
Rollstuhlgerecht
Fitnessraum/Fitnessstudio
Garten
Familienfreundlich
Karte von 

Rivière-du-Loup
100 % verifizierte Bewertungen
4.3 / 5

"Ausgezeichnet"

(824 Bewertungen)
Highly recommended!
Nov 2022
We love the spectacular view overlooking St. Lawrence River, the heated indoor pool,the hot tub, & the friendly front desk staff with free apples on check iin.
Just what we needed after a six hour road trip by car.
Jun 2022
We had rooms with a view that was spectacular!
We enjoyed our wonderful view of the mountains across the river and the fashionable fire pits on the terrance. It was quite elegant.
Bathrooms might have been a bit small. They were very utilitarian, clean and functional however.
Top Notch Service
May 2022
We arrived at 10:30 pm. Excellent consierge service plus secure storage for our bicycles. Beautiful location. Highly recommended.
Very spacious rooms. Quietness, view.
Although we were guests of the hotel, we couldn't have dinner at the restaurant because many tables had "reservations", but the restaurant was empty. They should apply first come first served.
Plan on staying again as we return home from trip.
Oct 2021
Very pleasant view from bistro terrace in the evening.
Very clean and comfortable, the staff was super friendly and the location is very good with a provigo, IGA and SAQ nearby as well as a row of restaurants. The kitchen was well equipped
The ac in the room was noisy and the eating/ tv area could have used a coffee table or a side one. This would only improve the experience
perfect family or couple getaway. great stop along route to east coast.
Jul 2022
The views and terrace are stunning. Family friendly but also perks for adults. The pool and hot tub were so nice! Even had floaties and pool toys for the kids.
The view of the river at the back side of the property was beautiful. I would recommend looking for a room with that view. The service was excellent! All staff was very friendly and hard working. The room was clean.
The facility was not as fancy as it seemed on line. The food was ordinary and pricy in my opinion but we appreciated having food and drinks available on site.
nice view, very good restaurant but very noisy.
Jun 2022
the view and size of room.
very noisy, a party hotel, no soundproofing, LOTS of noise above us. room smelled like smokers had been living there. pillows were so light and soft your head sunk right through them. Both had trouble getting comfortable and woke up with very stiff necks,
Another stay at de la Pointe
May 2023
The room was super clean and comfortable.
The room was not attached to the main building where the restaurant and pool facilities were.
Great place to stay for the night
Jul 2022
The room was set back from the road and quiet. It was well appointed and clean. The beds were comfortable and the water was hot.
I would have preferred a room with a view of the river. The parking in front of the lobby was somewhat a challenge with ongoing traffic
it was a good place to sleep for the night but the bathroom felt dirty.
Sep 2022
the pool and restaurant was great.
the grout in the bathroom was dirty and mouldy in hard to reach places. there were also some hairs from previous clients found on the shower tiles.
The pet-friendly rooms were in a great location. Delicious toast and home made jam at breakfast!
The location was beautiful and the rooms were perfect.
The parking was very limited, there were not enough spaces by our building.
EXCELLENT HOTEL and GREAT LOCATION
Jun 2022
The hotel is not much to look at as you approach but do not let that fool you. It is a wonderful location with balconies where you can sit and watch animals, tides and sunsets. Extremely wonderful! People from other hotels book reservations at the bar or come sit in the chairs on the boardwalk below the rooms so they can see the view, while you sit on your patio or in the room in your jammies and do the same! The staff at reception, and Audrey especially, were very friendly, nice, welcoming, professional and charming! We are English speakers and Audrey and others went out of their to be helpful and friendly!
The parmesan fries at the bar were the worse fries I have ever tried to eat. It was like trying to eat sawdust. I love fries and I will eat just about any fried potato so if I leave fries they are really awful. But the view was great!
Terrible customer service if you speak English
Jul 2022
The front desk area was pretty. The view from the restaurant.
If you dont speak french, definitely dont stay here. The rudness of all the staff once they realized we didnt speak French was terrible. They were rude, ignored our calls, wouldn't help my kids with wifi etc. The absolute worst customer service i have ever experienced. We waited over 30 minutes in the restaurant after our reservation at 730, to be served, and this was only because my husband said something. They would walk by our table and completely ignore us, go talk and socialize with other tables, and no the restaurant was not busy. Our rooms were 2 hours late being cleaned. Rooms were mediocre at best. I would stay far far away from this place, unless of course you speak french.
We may choose this location again now that we know more of the grounds, and neighbouring trai
Oct 2021
The breakfast was sooo expensive and not all substantial. With tip 29$ for a smoothie breakfast w/ reg coffee and one express. So, basically two ppl shared one breakfast.
We arrived around 7pm so not much opportunity to walk around and check out the grounds. The next morning on the way out we did check out the grounds and local settings, which were BEAUTIFUL! Knowing about them when we checked in would have made a huge difference in how we enjoyed our limited time at the auberge and in this part of the town.
Very good place to stay I would like to back
Jul 2021
Swimming pool space and terrace are very nice 👍
Where we were hasn't very nice view.
Well worth the money for the ambiance of the beautiful surroundings.
Jun 2022
Rooms clean, comfortable overlooking the water. Beautiful view! Restaurant and pub on site so for traveling very convenient. Lived the location!
It was pleasant but a bit overpriced if you're not using the amenities. The rooms with a sea view would be worth it.
May 2022
Receptionists were very helpful, it was good to have a table and chairs to sit at, and it had great amenities which we didn't actually use.
We were there on a Saturday and there were too many functions on with too many people and it made us feel uncomfortable as nobody wore masks. Also we could hear the people next door walking around.
Clean but expensive
Jul 2022
Yapping dogs in adjacent rooms and no shear curtains on ground floor rooms.
Dinner was not up to expectations
Did not like the fact that there was no view
Hopefully when we stay here on our way back the air conditioning will work in our room
Aug 2022
Air conditioning did not work in our room Kept blowing the breaker
Wie viel kostet dieser hotel im Vergleich zu anderen in Rivière-du-Loup?

Der Durchschnittspreis für eine Anmietung in Rivière-du-Loup beträgt EUR 67 pro Nacht. Diese Miete ist EUR 9 günstiger als der Durchschnitt.
Ist das Parken in diesem hotel inbegriffen?

Ja, das Parken ist als Ausstattungsmerkmal bei Auberge de la Pointe aufgeführt. Für weitere Informationen empfehlen wir Ihnen, sich mit dem Anbieter der Unterkunft in Verbindung zu setzen, um zu erfahren, wo Sie parken können.
Gibt es in diesem hotel einen Pool?

Ja, bei Auberge de la Pointe steht ein Swimmingpool zur Verfügung. Genießen Sie das Wasser!
Ist Auberge de la Pointe haustierfreundlich?

Leider ist dieser hotel nicht haustierfreundlich. Versuchen Sie erneut zu suchen und filtern Sie nach "Haustiere erlaubt"
Welche Ausstattungsmerkmale sind bei Auberge de la Pointe verfügbar?

Wir haben 13 Ausstattungsmerkmale für diese Unterkunft gefunden. Dazu gehören pool, klimaanlage, küche/kochnische, internet/wlan und parkplatz.