Dusk Hotel Hollywood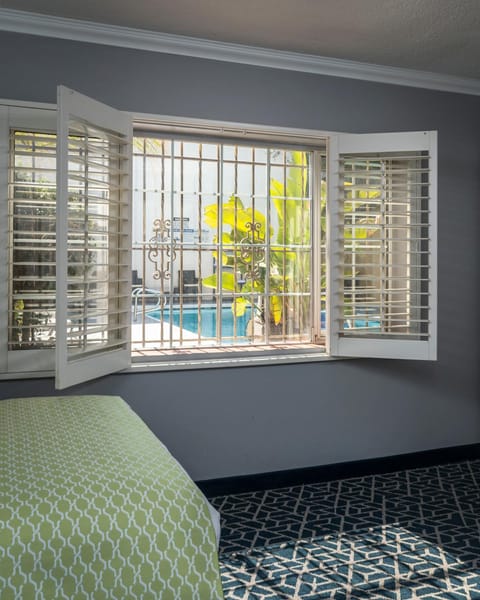 Hotel in Hollywood, CA
Pool
Klimaanlage
Internet/WLAN
Eingebettet in Hollywood, dieses attraktiv zimmer im hotel für EUR 75 pro Nacht ist ein großartig Auswahl für Ihr nächstes Reise. Dieses nur wenige Minuten vom Hollywood Walk of Fame und dem TCL Chinese Theatre entfernte Hotel bietet Ihnen Zimmer mit kostenfreiem WLAN. Zu den Einrichtungen gehört auch ein saisonaler Außenpool.
Pool
Klimaanlage
Internet/WLAN
Rauchen erlaubt
Parkplatz
Waschmaschine
Fernseher
Rollstuhlgerecht
100 % verifizierte Bewertungen
2.9 / 5

"Durchschnitt"

(726 Bewertungen)
Well priced for LA
Apr 2022
- Very reasonably priced for LA - Good transport links - Free parking & WiFi - Very comfortable bed!
- Room smelt like cigarettes - I felt a little unsafe being on the ground floor of the property, neighbourhood is a little sketchy - we had very noisy people above us! Would have felt more comfortable if there was a safe in the room
Nice stay in well located hotel
Dec 2021
very nice nighttime clerk
The air conditioner works right next to the bed, it's good for health
We will definitely come back
May 2022
Very clean, plenty of towels. It's own refrigerator and microwave in room. Quiet. Very close to pretty much shop for anything Ross and 7Eleven right across the street
No ice machine! It's too hot not to have one and no soda machine either
I enjoy staying there for its location, value and cleanliness.
Jul 2022
toward the back of the property by the pool, ground floor, good size, free wifi
no soaps, no shampoo, and one role of toilet paper
They had a really wonderful service and they were very sweet and friendly.❤️❤️😁😁
Jun 2021
The whole room is really clean
Nothing everything was perfect
The thing I like the property was the location that is around the corner of the walk of fame and many shops and foods near by and also the bus stop just outside the hotel going direct to Beverly Hills and Westwood UCLA! Bed were comfortable, room wasn't bad at all! WiFi was perfect!
The noise outside in the morning coming from traffic and neighbours of the hotel rooms were a bit noisy when waking up a few times early in the morning! Also there were no safe lockers in the rooms as this hotel doesn't have them which they should ideally to keep Passports and valuables safe as I've been putting my stuff including my passport locked in my suitcase in my room during my stay which was a risk as if my room was broken into and my passport gone, then how I'm meant to get home!
the staff was very nice and it let me check early and late.
the walls were a little dusty and the closet door was not attached properly.
you guys need better beds
Jul 2022
the staff and that they had an elevator for your conversation.
the bed where very uncomfortable and hard
The rooms where wonderful!
It was in a bad area, and had no office
The room had verry good space, we were a family and the children were good in one bed.
The hotel was under constrution, the area of parking small and not secure, the outside of the room needs more work, the room was good.
the property was dirty broken doors, cupboard,stair well smelled like urine
when I asked for a new room there was nails and another persons phone case on the floor. My children was bitten by bed bugs
The property was close to Universal Studios.
The rooms don't look like the pictures. Everything seems outdated they need to update the rooms.
if your looking for somewhere cheap it's a step up from a hostel
Apr 2022
the beds wasn't comfortable the water in the bathroom wasn't running good enough to have a really good shower
The pictures shown on their web page is nothing like the hotel, the office is supposed to be under construction so they are at a room which is a mess, the room nothing like shown on pics as well, the carpet were off the floor. The bathroom tiles were sticky and dirty broken too. Worst experience ever.
Is really close to Hollywood
The owner did totally accommodate a person who did want to put their feet up and rest. Some people in the surrounding rooms are totally loud, but you can turn the TV up and make calls. Enjoy your social life...
Hot water did take a long time to heat up.
The only positive thing about the property is the location honestly
The facilities are really bad. The heater is barely warm. The door has clear signs of break in with peeled paints and broken hinges. The rooms are not soundproofed at all and there were people hanging around the neighbourhood which kept you up all night with the noises. The bedsheets are also dirty and I had multiple bed bugs bite all over my body. The ultimate deal breaker was the security for the room. You'll not sleep in peace with the fear of a break in anytime when you sleep.
It was close to everything .. very nice .. slept well.
Nov 2021
The night guy I checked in with was extremely accommodating and friendly .
It was okay, LA is aan expensive city. I would stay here again
May 2021
The location was perfect, close to everything you need.
Really noisy neighbors and you can hear everything from the street
Little repairs needed to be done in the room, shower head came off in the middle of a shower
The staff was terrible
Aug 2021
There was urine everywhere around the property and the cleaning ladies had to drag linen everywhere because the had no cart or a service elevator. Definitely gross. The next morning the manager was creepy and Inappropriate with his interactions with me and at times I was worried about running into him since he was always in the parking lot. Also the phones to the from desk didn't work and the night clerk was more interested in her phone that her job... very disappointing.
Not recommended at all very poor ,expensive, and not that clean , and it doesn't look like a hotel
Aug 2021
Everything in very low standard
FIX YOUR ROOMS PLEASE!!!!
Oct 2021
The location of the hotel is a nice little parking lot with several cars that leave a space between each car! There's 3 stories and the building is nice with an elevator! Other than what I said below the ac was great, and the storage was great!!
The room I stayed in with my girlfriend was alright. It had multiple little chips in the wall, the closet door looked like it was breaking from the hinge to open and close it, the lamp inside the closet was torn apart, the screen on the window is broken on the top, and the fire alarm was not plugged in/ attached to the wall
the location and the price
The room is not very clean. bed and bath linens are clean and acceptable. But the surfaces are really not well-maintained, especially the bathtub which was extremely dirty looking. The lighting in bathroom is very dim.
EVERYTHING BUT THE HOST
Oct 2021
the room was nasty had old blood on door way, door was not secure, tile on the bathroom coming off, tagging all over the drawers, needle caps in the ac and the sheets were stained. the front desk was nice and tried offering different rooms but they were the same also.
Please for your safety dont ever stay here!!
Jun 2022
The first time I stayed they had accepted and agreed to a modified check in time, yet when I arrived AT THAT TIME, there was no clerk present and I had to stand there for 30 mins waiting in the dark as shady characters circled me like wolves inventorying my luggage and attire evaluating the potential payoff of robbing me. When the clerk did return I paid for 2 nights in cash plus $100 deposit and got a receipt. When I checked out ON TIME leaving the room in better shape than I found it the sm clerk told me they had no record of the deposit and refused to give it back until I threatened to call police. The 2nd time I booked there, letting bygones be bygones, they agreed to modified check in requests then refused to honor them when my assistant arrived to prepare the room for the work I planned to do there causing delays for three people, financial losses for myself and countless frustrations for my entire team.
Everything. Declining facilty dominated by rough, shady looking clientrlr who refuse to make eye contact with anything but your belongings, and staff who will attempt to manipulate and prey upon you and your wallet.
That we got the 3rd floor
It was under construction and smell like it. TV didn't work, very dirty walkways
No closets to hang clothes
Room was good but alot of nois3room was good valye for money anddtdff were very helpful and friendly
Room was clean and much bigger than expected
The bed was a little hard and slightly sloped on one side. Neighborhood wasn't that good
will not stay again
Apr 2022
room was clean and had air
outside was very old and run down looking . the neighbors were loud and up all night . no phone to call or get help from a manager or worker
get in and get out!
Feb 2022
pool was dirty. trashy property
Great value for location, and free parking was very helpful. Remodel will make it even better.
Dec 2021
Quiet, clean rooms, will be even better when remodeled. Free parking was excellent. Great value for location.
Untrained staff. Rude receptionists. Dirty and smelly room. Rats on property.
This was the worst hotel experience ever. Already at the check-in their card machine wasn't working so we needed to pay cash. The hotel is mostly occupied by weed-smoking junkies who are not smoking outside, making you feel very unsafe, but also smoking in the room. We noticed that there was a bag placed around the smoke detector. Obviously someone used to smoke in the room and didn't want the alarm to go off. However it's the staff's fault, that they didn't notice and remove it because a non functional smoke detector is a potential danger. The bedsheets had holes (see picture) which were burned and looked like coming from a cigarette. The phone in the room was damaged and a couple of keys were missing. Some sockets for electricity were damaged as well or not properly installed. I really would not recommend, staying with children. If they touch the wrong socket they might be hurt or worse. In the bathroom the ceiling showed serious signs of water damage since probably a water pipe was leaking. One day there even wasn't warm water. According to the staff, the boiler was broken. We could not shower that day. I really can't understand the good reviews so far. There is nothing positive, I remember about the place.
never coming to this location
Mar 2022
this property was nothing like the picture listed on the website . The bedroom walls were old and dirty the bathroom was disgusting and no batteries for the remote control or alarm the door knock from the bathroom was broken off the location was nothing like the pictures and there's no refund we came from out of town .
The staff that help out at the front desk was very rude and i ended up leaving.. Never going back.
Wie viel kostet dieser hotel im Vergleich zu anderen in Hollywood?

Der Durchschnittspreis für eine Anmietung in Hollywood beträgt EUR 156 pro Nacht. Diese Miete ist EUR 81 günstiger als der Durchschnitt.
Ist das Parken in diesem hotel inbegriffen?

Ja, das Parken ist als Ausstattungsmerkmal bei Dusk Hotel Hollywood aufgeführt. Für weitere Informationen empfehlen wir Ihnen, sich mit dem Anbieter der Unterkunft in Verbindung zu setzen, um zu erfahren, wo Sie parken können.
Gibt es in diesem hotel einen Pool?

Ja, bei Dusk Hotel Hollywood steht ein Swimmingpool zur Verfügung. Genießen Sie das Wasser!
Ist Dusk Hotel Hollywood haustierfreundlich?

Leider ist dieser hotel nicht haustierfreundlich. Versuchen Sie erneut zu suchen und filtern Sie nach "Haustiere erlaubt"
Welche Ausstattungsmerkmale sind bei Dusk Hotel Hollywood verfügbar?

Wir haben 8 Ausstattungsmerkmale für diese Unterkunft gefunden. Dazu gehören pool, klimaanlage, internet/wlan, rauchen erlaubt und parkplatz.