Homewood Suites by Hilton La Quinta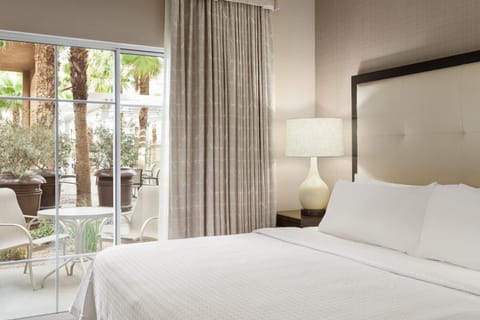 Hotel in Indian Wells, CA
Pool
Klimaanlage
Haustiere erlaubt
Gelegen in Indian Wells, dieses attraktiv zimmer im hotel für EUR 120 pro Nacht ist ein phantastisch Option für Ihr nächstes Pause. Mit einem großen Außenpool im Innenhof und einem Putting Green erwartet Sie dieses Hotel in La Quinta nur 3 Meilen von der I-10 und weniger als 30 Minuten vom internationalen Flughafen Palm Springs entfernt.
Pool
Klimaanlage
Haustiere erlaubt
Küche/Kochnische
Internet/WLAN
Rauchen erlaubt
Parkplatz
Waschmaschine
Balkon/Terrasse
Spülmaschine
Whirlpool/Spa
Fernseher
Rollstuhlgerecht
Fitnessraum/Fitnessstudio
Familienfreundlich
Karte von Indian Wells, 

CA
100 % verifizierte Bewertungen
4.3 / 5

"Ausgezeichnet"

(558 Bewertungen)
Didn't want to leave
Jul 2020
We liked the location, very easy to find. The room was nice with a spacious living room adjacent to it.
I want to start with the comfort of the bed. I'm not sure if the bed we got had been broken recently and nobody noticed. Bed was creaking and in certain sides you could hear the coils it also was on the hard side. Now, we booked a room with view away from the busy pool and/or walls We got charged more for this selection at time of booking where it gave us the option to choose which views we wanted. Yet when we got to the hotel they said that booking ahead does not guarantee the view only a room. We understand there is no guarantee on rooms. Yet at time of booking we would have been ok knowing it's only a room reservation but it wasn't, it was a view reservation and we paid that extra money for it. If this is the case don't give options and charge upon this selection. This is disappointing, dishonest and frustrating. We were looking forward to some nice relaxing time yet all our stayed was a view of shouting children and parents on the pool and barbecue section. We couldn't spend any time in our patio for this reason so the deluxe room we got was no match for the balcony over the lobby room we booked. Needless to say we won't be coming to this hotel again.
I will look to stay again
Feb 2022
very, very comfortable. the king suite and lanai was outstanding. The evening appetizers , and morning breakfast was exceptional
very comfortable, clean place
This is the perfect location for visiting my son. The facility exceeded my expectations, clean, comfortable, and a great breakfast!
Hotel was very convenient and comfortable and staff were friendly and helpful.
Apr 2023
This is a great hotel for people on a budget. The breakfast was very good. Wednesdays have free dinner consisting of pasta. We did not eat dinner at the hotel, but many families were dining there. The suite was spacious and the bed was very comfortable.
They didn't have any towels at the pool, when we asked For towels it took Very long for Them to Bring them. The service wasn't good at the breakfast, many things were "finished"
it was good but a little disappointing for the above reasons.
Apr 2022
The Wednesday night social and food was outstanding
We asked for rooms together but we were given rooms almost as far apart as possible. It seemed there was no real consideration given to our request. We also had problems with Booking.com
The style look of the facility and the staff was great .
Accidentally booked a room with a handicap shower and it was difficult to shower.
Really nice place to stay - good location, and very nice staff.
May 2023
The staff were very nice, the breakfast was good, and the hotel was clean. I have stayed here many times and it's a very comfortable hotel overall.
I hate their coffee pot - it spills all over and I would prefer a Keurig so I could buy coffee I like and not have a mess. The bed in my room was older and not as comfortable as I would have liked.
The staff was really great. The complementary breakfast offered was good, the coffee was terrific, the room was perfect and comfortable. I'm coming back!
I was on the third floor in the hot water could've been more hot.
This place was very comfortable.
Apr 2022
The staff was friendly. My daughter and I loved the happy hour. Hit the spot after a long drive. The room was great , very comfortable. We both slept very well. There was a nice spread for breakfast.
There was an ant invasion on the kitchen table and the outlet in the kitchen did not work.
The staff, the facility and the location make this hotel the best in the valley
The service is excellent. We are coming back in December with a bigger group.
Very clean. Great breakfast.
very nice hotel. Will definitely stay there again.
Jun 2021
The room was very comfortable clean and spacious. The front desk hostess, Jazmine, was exceptionally friendly and helpful! We enjoyed our short stay very much!
Too many lights on one switch. The pool closed at 9 which seemed to be a little early. We thought that 10 would be better. That could be a problem with getting up late at night and bothering the spouse still sleeping. Everything lese was very good.
Comfy basic hotel
Jan 2022
The room was comfy. Good floor plan. Adequate size of full kitchen and a dining table for two. Breakfast was basic.
Bathroom door hinge was distorted and didn't lock. The bathroom fan didn't work. There was only one tissue box, and it was almost empty. I'm sure the hotel would give us a box full tissue if I asked though.
most impressed by the fabulous breakfast and attentive staff
May 2023
the rooms are great and big, the bed is very confu
But the pools is very dirty, was there for 4 days and only one day saw someone cleaning
the property was clean, comfortable. The staff was very friendly, knowledgeable and welcoming. we enjoyed the complementary breakfast and water. we will continue staying at this Hilton each year. thank you!
the pool is always nice and the cleanliness and staff is awesome.
there wasn't anything I didn't like.
The kitchen was well-equipped for a short stay. The room overall felt spacious. All was clean.
EXCELLENT 5 STARS!!
Apr 2022
The front desk receptionist, Patty, was wonderful! We got there way before check in time, had just driven 5 1/2 hours and were tired. Patty graciously let us check in early, AND I think she gave us the best room they have. She was so friendly and compassionate to us. Our room was way beyond our expectations and we couldn't have been more pleased.
The maps that tell you how to find your room are very confusing.
Excellent value, very convenient and comfortable, nice bonus breakfast, no frills.
Sep 2022
The free breakfast was a very nice touch. They were truly dog-friendly, not just tolerant. The rooms are parge and spacious and the kitchen is a great bonus for work travelers or for people looking to feed kids without having to eat out every meal. The downstairs lobby had microwavable food items and was open 24 hours. The beds were comfortable.
It was less "design"-y than I'd expect from a Hilton and while it was comfortable and very convenient and good bargain for the price, it was very no-frills. The extras (kitchen, suite, breakfast) were excellent for work travelers but it had zero "luxe" elements at all. The pool entertained the kids but was similarly no-frills. Felt a bit more like a motel than like a Hilton Hotel.
Good value, the room was very spacious, liked the room setting (bed, sofa-bed, kitchenette).
Sep 2022
The buffet might have been a bit too small but it was good enough. Not many tables to sit, but it was clean and the staff was pain attention.
The room supossed to be non-smoking but it smelled like cigarrette, i did not ask for a different room as we were tired and was only for one night. Other than that, no problems.
Thank you Patty!!! (Front desk) Hassle free check in. Everything was clean. Breakfast was great. We love it here.
Didnt like that I had to leave.
like the location super clean and the breakfast was super
Feb 2022
super great customer service
Enjoyable. Will most likely return.
Feb 2023
Staff were very friendly and helpful
Delta bed mattress are more comfortable. It would be nice to have longer term rates.
I would look at other places to stay in the Palm Springs area.
Mar 2023
VERY disappointed in the state of the property and especially for the cost. I have stayed at Homewood Suites before and found it great for cleanliness and value. For paying almost $300 per night this property was definitely not worth the cost.
Awesome experience. We'll return!
Jul 2022
Staff was very friendly and knowledgeable. Facilities were very clean. Room (Suite) was spacious, clean, and modern. The Breakfast Included was excellent; a lot better than others.
The only thing is that it's far from the interstate. But that being said, the quality of our experience outweighs this inconvenience.
Poor sleep and respiratory problems from mold
Mar 2022
No attention to detail by cleaning staff
Friendly staff, clean environment and a whole lot of elderly.
Feb 2022
staff was extremely friendly, it was quite, clean for the most part.
The room look like it is in need of an upgrade. There was no exhaust fan in the bathroom so there was surface mold on the ceiling. Refrigerator was loud at night so I would unplug it so we can have a good nights rest. The furniture had obvious damaged and ware. Doesn't look like there is upkeep when things get damaged. Although there were a lot of small details, after some many, it added up and looked bad.
acceptable price with booking . com
Aug 2022
spacious with awesome bedroom, kitchen was also a plus, living room area ver comfortable also patio was amazing.
Spacious suite, large living room and a comfortable super kingsize bed. The shower was excellent. The breakfast was basic but more than adequate.
The rooms are a little worn but that's not a big deal. We got a suite with balcony but that turned out to be an overkill. It's not worth paying the extra money for because it overlooks the parking lot and Washington Street in the front although in the backdrop you do see rolling hills. My suggestion is to go for the simple king suite, which will be more than adequate.
Spacious rooms with separate living room area and kitchenette with table. Breakfast included. Good coffee!
Very good for an over night stay.
Jun 2021
Size of the room 2br suite was great and provided the comfort we needed during our brief overnight stay. Beds were very comfortable.
Huge stain on the bed sheets.
Apr 2022
Set up. Lay out. Slept my family comfortably.
Huge stain on the bed sheets.
room was great, clean and spacious. dishwasher didn't work.
It was great but dishwasher didn't work and eggs were but over cooked.
Room was fantastic; clean, spacious, good looking interior. Loved the kitchenette.
Breakfast was limited regarding the price for one night.
Wie viel kostet dieser hotel im Vergleich zu anderen in Indian Wells?

Der Durchschnittspreis für eine Anmietung in Indian Wells beträgt EUR 210 pro Nacht. Diese Miete ist EUR 90 günstiger als der Durchschnitt.
Ist das Parken in diesem hotel inbegriffen?

Ja, das Parken ist als Ausstattungsmerkmal bei Homewood Suites by Hilton La Quinta aufgeführt. Für weitere Informationen empfehlen wir Ihnen, sich mit dem Anbieter der Unterkunft in Verbindung zu setzen, um zu erfahren, wo Sie parken können.
Gibt es in diesem hotel einen Pool?

Ja, bei Homewood Suites by Hilton La Quinta steht ein Swimmingpool zur Verfügung. Genießen Sie das Wasser!
Ist Homewood Suites by Hilton La Quinta haustierfreundlich?

Ja! Diese hotel ist haustierfreundlich. Für weitere Informationen empfehlen wir Ihnen, sich mit dem Buchungsanbieter in Verbindung zu setzen.
Welche Ausstattungsmerkmale sind bei Homewood Suites by Hilton La Quinta verfügbar?

Wir haben 15 Ausstattungsmerkmale für diese Unterkunft gefunden. Dazu gehören pool, klimaanlage, haustiere erlaubt, küche/kochnische und internet/wlan.