Holiday Inn Express Hotel & Suites Texarkana East, an IHG Hotel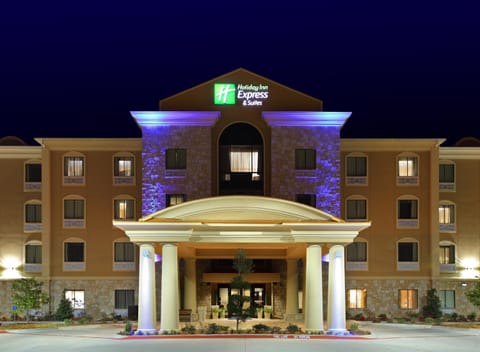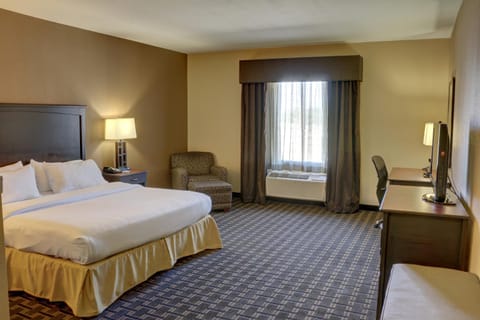 Hotel in Texarkana, AR
Pool
Klimaanlage
Küche/Kochnische
Eingebettet in Texarkana, dieses charmant room in hotel für EUR 53 pro Nacht ist ein phantastisch Option für Ihr nächstes Reise. Dieses Hotel liegt 10 km von der Grenze zu Texas/Arkansas und eine 10-minütige Fahrt vom Texarkana College und dem Tex-Ark Antique Auto Museum entfernt. Freuen Sie sich auf einen Innenpool und kostenfreies WLAN.
Pool
Klimaanlage
Küche/Kochnische
Internet/WLAN
Parkplatz
Waschmaschine
Whirlpool/Spa
Fernseher
Rollstuhlgerecht
Fitnessraum/Fitnessstudio
100 % verifizierte Bewertungen
3.5 / 5

"Durchschnitt"

(364 Bewertungen)
We did not have the breakfast
overall very good. we would stay again but request 1st floor thinking the water pressure might be better plus not have
Jan 2022
very clean, beds were great, quiet, awesome Mexican restaurant right in view of hotel, breakfast was very good!
we booked two queens, got a king (not a huge deal but at least tell us when we check in) shower was pretty bad. pressure was low and my husband ran out of hot water. SLOW elevators. we were on the 4th floor and seriously thought about just taking the stairs.
The staff was friendly and helpful. The room was what we needed.
The floors and common areas needed cleaned. The room and hallways smelled.
Wouldn't stay at this hotel again!
Nov 2021
The staff at the front desk was very friendly and accommodating.
The hotel seemed to be in a state of disrepair. One elevator was broken and the other one made such terrible noises we took the stairs. The hot tub was broken. In the front lobby their was thick dust on the shelves. The stairs didn't look like they had been vacuumed in a sometime. In our room their was dirt in the bathroom corners. The tub stopper was broken. The breakfast that was offered was minimal and not very appealing.
Everyone was friendly,but the bed was very uncomfortable
May 2021
The selection of things was great and the lady serving was very friendly!
The room was very large and clean.
The room smelled kind of musty
The room was large and the bed was comfortable.
I had to ask for a hairdryer. The shower was broken. Breakfast was OK.
The room was comfortable.
The hallway carpets need to be steam cleaned
There were no signature cinnamon rolls because no one had set them out to "rise" the day prior, the omelets were luke warm, no bananas and no juices. Not typical of the many HI Express's we normally stay in.
The breakfast that we normally are used to having available. That is a reason we stay there so we can have a decent breakfast before we continue our travel.
great other than the mirror in the bathroom
Dec 2022
the property was beautiful. but the mirror in the bedroom of the room was cracked really bad that it was a little embarrassing to put my family that came out of town to
Never will stay again
Jul 2022
The person who checked me in was very rude. Room smelled like mildew. Hallways smelled like urine. Carpets were filthy. When I told the clerk about the smell he's like yes probably the pool, smh... Bathroom wasn't cleaned properly
Odor, dirty carpets and bathroom
never staying at a holiday inn again
Dec 2022
The location was in a quiet area.
The staff are terrible. I arrived only to be given a room with a completely broken a/c unit (extremely humid in the room, phone wouldn't work, and the bathroom vent wouldn't work. I went back to the reception desk and they made me wait so they could attempt to fix the issues in the room and told me they had no other like-rooms (king bed room) to what I had booked. I was also told that they can't upgrade me because 'they would get in trouble'. after 20mins they finally stopped trying to fix the issues in the room and magically had another room of what I had reserved. bathroom was dirty and the tiles were broken. the carpet in the hallway looked like it hadn't ever been cleaned and the elevator had stains all across the walls and the handles. breakfast was decent at best.
Needs a total review of their business
Jan 2023
The location was convenient to everything
Breakfast wasn't served until 7 which was a major disappointment as we had to leave the hotel by 6:45. The beds were very uncomfortable, the shower head was broken, the TV didn't work properly, and the morning we did get to eat breakfast nothing down there was working either. There was no milk to feed the kids. The pancake machine was down. The entire 3rd floor was loud and smelled of weed. We stay in multiple hotels a year and choose holiday inn due to breakfast and facilities. This one is by far the worst experience we've had.
The location and easy accessibility.
I booked for early check in which didn't happen and the morning crew was rude..
Don't book for pool!!
May 2021
The cleanliness of the facility and the location.
I booked the stay for my 7 yr old bday because she wanted to get in the pool and the pool was not accessible the whole stay!! Very disappointing!!
We won't stay there again
Jan 2022
The bathroom had roaches and hair was in the corner of the bathroom. Front desk help could have been more courteous and professional.
Nice location and awesome breakfast.
Jun 2022
The breakfast was exceptional
The clerk at check in was not friendly. I kept thinking that she disliked me…perhaps because of my color.
The breakfast staff was great and helped in any way they could and the food was good
The front desk person was not very nice. We called to see if we could check in early and she could give us an answer. We drove from Illinois to Texas and got in a lot earlier. We went to the.hotel to see if we could check in early and she was rude about saying she wasn't sure. I asked if she could give a time to check back in to see if we could check in early and she said she wasn't sure. The rooms were being cleaned. We left and found d some things to do and checked back I at 1pm. She still said she wasn't sure of she could get us in early. We asked if we could use the pool to wait for a room to be cleaned and she said no. We had no were else to go so we waited in the lobby. While waiting in lobby it look like a lot the cleaning staff were just walking around, not really doing anything. As I said above we drove from Illinois to Texas and just wanted to check I. A little early to relax from our long drive and she wasn't very nice to us when talking to us.
Ehhh will stay at another holiday in again but not this one.
Sep 2022
The breakfast and staff were great!
The room was not sparkly clean. We ended up choosing to skip a shower because of this (we were only traveling to home the following day) there was a gap in the door and frame to the hall being able to see out. There was a lot of half done repairs that could have been done to a cleaner finished product.
friendly staff great room!
Jul 2022
Overall stay was great
Dec 2021
Room was clean, beds were comfortable, staff was very friendly, breakfast was great!
Our room was very dark. We didn't check in until after dark and there was only one dim lamp in the room. It was so hard to see - we actually used our phone flashlights.
Awesome place to stay
Sep 2021
Rooms were clean. The property was clean. The Staff was very friendly and professional. Cared about our comfort. The rooms were large and spacious. Very easy to get around in a wheelchair. The breakfast was good.
Loved everything.. It was great.
Would have loved a second chair for room comfort and relaxation.
The staff was horrible. Rude and inconsistent. Missed cleaning my.room, and when I went to the desk for towels (since my room hadn't been cleaned) the desk clerk acted like it was a huge inconvenience for her.
the beds could have been better
no soap , no cup for the coffee and the conditioner was out in the shower
No soap in the bathroom slighty dirty in the tub no lotion no pen no paper no tea bags not everyone drinks coffee no laundry bag small tv air conditioner didn't blow out that great..no toilet paper in the main level bathroom in one stahl no cinnamon rolls no cereal no butter no jelly no pancakes no walnuts no rainsins no bacon no egg omelettes..I prepaid online wanting 2 beds they gave me one king size..we always stay at a holiday inn express and this was the worst one I've been in 🙁
Nice hotel but we went to swim for my daughters birthday and the pool was closed. Had I known that we wouldn't have wasted our money
It had Bed Bugs my Daughter was sleeping on the couch bed and got bit 6 different times so gross
I'm actually quite disappointed with Booking.com and Holiday Inn. My wife and I had some work done on our house; our children stayed with friends and family so it was actually going to allow us a night alone. After a really enjoyable date night we looked forward to checking in and getting a good nights sleep BUT neither booking nor the hotel bothered to inform us at the time I made the reservations or any time during the days leading up to the stay that they don't allow local guests. As much as I don't understand that policy I don't mind abiding by it but I have to be told about it! Seems like this could've been easily resolved by booking knowing the hotel policies better or the hotel noticing that they have a reservation with a local address; phones or emails are free and easy to use.
Wie viel kostet dieser hotel im Vergleich zu anderen in Texarkana?

Der Durchschnittspreis für eine Anmietung in Texarkana beträgt EUR 60 pro Nacht. Diese Miete ist EUR 7 günstiger als der Durchschnitt.
Ist das Parken in diesem hotel inbegriffen?

Ja, das Parken ist als Ausstattungsmerkmal bei Holiday Inn Express Hotel & Suites Texarkana East, an IHG Hotel aufgeführt. Für weitere Informationen empfehlen wir Ihnen, sich mit dem Anbieter der Unterkunft in Verbindung zu setzen, um zu erfahren, wo Sie parken können.
Gibt es in diesem hotel einen Pool?

Ja, bei Holiday Inn Express Hotel & Suites Texarkana East, an IHG Hotel steht ein Swimmingpool zur Verfügung. Genießen Sie das Wasser!
Ist Holiday Inn Express Hotel & Suites Texarkana East, an IHG Hotel haustierfreundlich?

Leider ist dieser hotel nicht haustierfreundlich. Versuchen Sie erneut zu suchen und filtern Sie nach "Haustiere erlaubt"
Welche Ausstattungsmerkmale sind bei Holiday Inn Express Hotel & Suites Texarkana East, an IHG Hotel verfügbar?

Wir haben 10 Ausstattungsmerkmale für diese Unterkunft gefunden. Dazu gehören pool, klimaanlage, küche/kochnische, internet/wlan und parkplatz.