DoubleTree by Hilton Hotel South Bend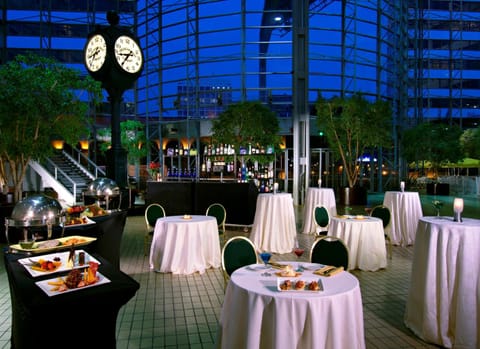 Hotel in South Bend, IN
Pool
Klimaanlage
Küche/Kochnische
Gelegen in South Bend, dieses attraktiv room in hotel für EUR 94 pro Nacht ist ein großartig Auswahl für Ihr nächstes Urlaub. Das Hotel bietet einen kostenlosen Flughafentransfer, ein hoteleigenes Restaurant und einen Innenpool. Hier trennen Sie 14 Fahrminuten vom Regionalflughafen South Bend entfernt. In jedem Zimmer gibt es einen Flachbild-Kabel-TV.
Pool
Klimaanlage
Küche/Kochnische
Internet/WLAN
Parkplatz
Waschmaschine
Fernseher
Rollstuhlgerecht
Fitnessraum/Fitnessstudio
Familienfreundlich
100 % verifizierte Bewertungen
3.5 / 5

"Durchschnitt"

(230 Bewertungen)
Nothing but issues and excuses
Aug 2021
Very nice lobby and has a restaurant inside
Ice machine on my floor was broken, pool and spa were under repairs, restaurant manager was very rude, AC unit leaked water on carpeting in my room, no breakfast unless your are a premier Hilton member. Not worth the money at all. Stay at the Ramada or Staybridge instead.
awesome place to be
Jul 2019
very nice and friendly staff... room was great!
Double charged me .. still took money
The room was not clean there were no towels or bathroom condiments only leftover unused stuff from previous people..the shower was not cleaned the bathroom was not cleaned I cleaned what I could because I didn't have any other choice I don't know if the sheets were clean.
Nothing was clean bathrooms no condiments in the bathroom no towels dirty toilet I was booked into a dirty room and had to stay because I didn't have any other choice
The room was clean and had a good view.
One of the room windows had a large crack in it. The mini fridge made a terrible high pitched whine. The pillows deflated into bricks. I was charged an additional 25$ fee without explanation, aside from an unmaid bed and using some towels in the bathroom the room was in the same condition as when we had arrived.. so overall I'm not pleased with our stay.
an enjoyable stay
May 2023
The rooms are very comfortable, and it was quiet
The pool with a little on the cool side. And the hot tub is closed down which we weren't aware of until we got there.
highly disappointed
Aug 2022
the property itself was just overall mediocre. everything was extremely outdated in our room. we were overcharged for the quality of our stay.
the staff was entirely not helpful. we were charged over $100 more than what the original total was stated as. our curtains were broken in our room and we were up early every single day because the light was shining directly into our room. there was dust all over the back of the bed as if it had not been cleaned recently and there were crumbs near the nightstand before we even had food there. we were also missing the inside of our shower curtain and the bathroom basically flooded everytime we had to shower
Not satisfied with the bathroom
Nov 2021
The maintenance and front desk were very friendly! The beds were comfortable.
The bathroom was very filthy. The toilet wouldn't flush and the sink wouldn't drain. Maintenance tried the fix the sink issue but, couldn't fix it. We couldn't use it. Housekeeping knocked on our door at 9:45am to see when we were leaving. (Check-out is at 12:00) . We checked-out at 10:00. Housekeeping was across the hall waiting!
Not too impressed
Nov 2021
The location was perfect for visiting South Bend Center.
The room was run down. The hot water faucet in the bathroom sink came off in my hand, there were rust stains on the sink, the safe was jammed...a Super 8 value for a Hilton price. The front desk did work with me taking cash as I hadn't thought about using my card to pay the Booking fee, however, he threw a lot of numbers at me, none of which matched what I had agreed to on the Booking app. I counted out $500 cash and he put it in the drawer before our transaction was through and insisted I only gave him $420. I was also charged other fees like parking that were not upfront in my final cost. The hot tub, which was one main reason I wanted to stay here, was not in order. The ice machine on our floor did not work.
The location was perfect for our trip. 1 block from the Morris Performance Center. Staff was so friendly and helpful. Cookies upon arrival were such a nice touch
There was nothing we didn't like
The location of the hotel was very good. The staff was very nice.
When we arrived the safe did not work. Someone came up and fixed it but it should have been noted before arrival. The lighting in the sink area and shower area was very poor. It was compounded by the fact the large lighted mirror was very dim and the engineer indicated the mirror needed to be replaced but the did not have a replacement. They offered to move us but we had already unpacked and did not want to pack up and move again.
Way overpriced you pay for location
May 2022
The front desk staff was very friendly, the hotel lobby area was inviting. Comfortable beds
The front desk failed to tell us how to get I to parking garage and how to get to our room. The bathtub drain didn't work to hold water, the lights next to bed we never did find the switch for. They need to offer in room microwave we went to dinner and was going to reheat food but then realized we had no way to do so. The beds were only a double and we needed 2 so 2 bigger ppl cannot sleep comfortable on them. The room was quit small for the price, you are definitely paying for the location not luxury.
The facilities and bar and grill.
The elevator view. The view from room window was beautiful...
no pool available was very disappointing....I would have love to relax by the pool....
probably won't stay again, or at least will check in during the day so messes are visible.
Mar 2022
The bed was very comfortable.
I checked in after dark but when I opened the blinds and saw the room in the light, it was definitely not as clean as the advertisements would suggest. there were weird stains on the walls and carpet and crusty spots on the bathroom vanity.
Not the usual experience one would expect from this property.
Oct 2022
The Bakery restaurant staff were lovely and very helpful. The check in staff were pleasant. The bed linen was clean and white. Location is excellent and good restaurants are close by.
The room cleaning service was the worst I have ever experienced - and we travel frequently. Pulling up the sheets on a bed does not mean a bed has been made nor does it mean a room has been serviced - no tea/coffee sachets were replaced, no coffee cups - no soap in bathroom etc - the cleaner must have entered the room, pulled up the sheets and left taking the generous tip with them...... very poor service indeed. When looking for an item I dropped I pulled the bedside cabinet slightly forward and I would suggest the cleaners actually cleaning behind these as there was a thick layer of dust showing that this was obviously never actually done nor behind the bed area which you could also see when the cabinet was pulled forward. The room and bed linen on arrival looked very clean but this was a surface clean - not the Hilton full standard one would expect. The room was high up in the hotel but street noise quite loud - overall this was a disappointing experience which is a shame as the location is excellent.
The area it was in was great. Went to take walk on the river but had the walk way closed.
Pool was closed. Hot tub was closed. That was whole reason we went.
quick check in, clean rooms, nice staff. Amazing hotel!
Apr 2022
super clean & nice hotel!
Nice, but could have been nicer.
Oct 2021
Staff was very nice. Room was very clean. The lobby restaurant was very nice, although I do wish it were open more often.
The main reason I chose the Hotel was for the sauna and hot tub, which was closed the entirety of my stay and evidently had been closed for several weeks, despite your website still bragging about how great it was. Several hotels around you were cheaper, but I did not go to them because of your sauna which I was never able to use. The parking is atrocious and it would have been nice to know that the parking garage is not able to house a regular size pickup truck, forcing me into a tiny, very difficult to maneuver lot off the beaten path.
Room smelled like sewage during the night.
food in restaurant was mediocre and high priced. breakfast should free everything was cold and not very good
Pool and hot tub were closed- no one knew why, and nothing was mentioned on the website about that when I booked. I asked the desk to send someone up to the room to fix the ac while we were out all day- nothing was done. I had to ask again at 8:30pm after being out all day. Staff wouldn't take early check-ins, but I was able to check in and get my key using the Hilton app an hour early- no one said I could do that while I was sitting around waiting for nothing.
staff was friendly bed was comfortable
loud wedding going on, ceiling was leaking, only had a shuttle to notre dame but not a return one, Starbucks was never open when it should have been, was very over priced
Staff was friendly and location was good.
Wallpaper was peeling in room and smaller than expected. Hot tub was closed. Not a great value for the cost.
Doubletree- Highly Recommend
Mar 2022
Staff was friendly and accomodating.
The hot tub was closed due to covid. We were not aware of this when we booked. Too many people were using the pool.
Easy parking and check in, restaurant and Starbucks in the building
Aug 2021
Toilet could have used a little better of a scrub, some stuff left from the last guests
Pool area could have been cleaner
Parking is far from ideal for trucks, should most def have a better set up or staff the parking situation. Biggest issue with stay w the rattling air conditioner very simple basic maintenance and or basic room care would catch that before a customer has to experience it.
No room service No changing of sheets even though requested Torn sheets No breakfast Monday morning Expensive for old hotel Charged for cancellation of additional room even though I cancelled 2 days before and booking said free cancellation!!!
Is was dirty and not taken care of
Hard to figure out how to get into the parking area.
Broken ceiling in bath Lumpy bed
Wie viel kostet dieser hotel im Vergleich zu anderen in South Bend?

Der Durchschnittspreis für eine Anmietung in South Bend beträgt EUR 217 pro Nacht. Diese Miete ist EUR 123 günstiger als der Durchschnitt.
Ist das Parken in diesem hotel inbegriffen?

Ja, das Parken ist als Ausstattungsmerkmal bei DoubleTree by Hilton Hotel South Bend aufgeführt. Für weitere Informationen empfehlen wir Ihnen, sich mit dem Anbieter der Unterkunft in Verbindung zu setzen, um zu erfahren, wo Sie parken können.
Gibt es in diesem hotel einen Pool?

Ja, bei DoubleTree by Hilton Hotel South Bend steht ein Swimmingpool zur Verfügung. Genießen Sie das Wasser!
Ist DoubleTree by Hilton Hotel South Bend haustierfreundlich?

Leider ist dieser hotel nicht haustierfreundlich. Versuchen Sie erneut zu suchen und filtern Sie nach "Haustiere erlaubt"
Welche Ausstattungsmerkmale sind bei DoubleTree by Hilton Hotel South Bend verfügbar?

Wir haben 10 Ausstattungsmerkmale für diese Unterkunft gefunden. Dazu gehören pool, klimaanlage, küche/kochnische, internet/wlan und parkplatz.