Glenridge Inn Glendale - Pasadena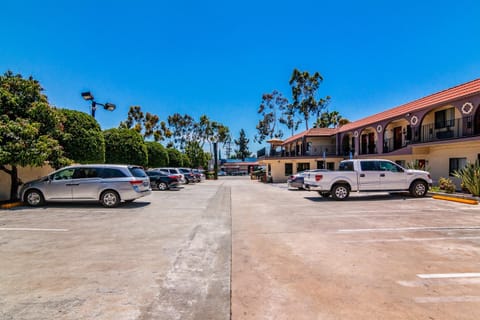 Hotel in Eagle Rock, CA
Klimaanlage
Küche/Kochnische
Internet/WLAN
Befindlich in Eagle Rock, dieses schön zimmer im hotel für EUR 89 pro Nacht ist ein großartig Option für Ihr nächstes Reise. Das Glenridge Inn Glendale - Pasadena erwartet Sie mit 2-Sterne-Unterkünften in Glendale, 9,2 km vom Rose Bowl Stadium und 10 km vom Dodger Stadium entfernt. Dieses 2-Sterne-Motel bietet eine 24-Stunden-Rezeption.
Klimaanlage
Küche/Kochnische
Internet/WLAN
Parkplatz
Waschmaschine
Balkon/Terrasse
Fernseher
Rollstuhlgerecht
Garten
100 % verifizierte Bewertungen
4.0 / 5

"Gut"

(947 Bewertungen)
You can't pay for 2 star and expect 5 star service. Good enough
WiFi is great customer service great and clean
strongly recommended
Feb 2023
VERY GOOD value for money. confortable beds. closed to LA. microwage and fridege available.
Very good location,12-20 minutes and you are in the center of the city, if you go to Griffith,park in the free place-you will see,13 minutes from the inn. Staff was nice, room comfortable,simple,clean,nothing unnecessaryVery good place, we recommend. You can eat nearby,many places. Go and enjoy.
very good and comfortable stay
Jan 2022
Very comfortable, liked the area ! Food and Gas stations nearby
Bathroom was too small , but not a big problem
Always a great place to be at when visiting Los Angeles.
Nov 2022
Very close to everything, very friendly and accommodating staff.
Just the toilet in room 101. First it was slanted and that is because the way to open the bathroom door was inward. It would hit the knee of the person on the toilet. Other than that the whole room was perfect.
Very clean and nice rooms
It would be much better if there was breakfast
This is our second time here and staff are always accommodating. We asked to check in at 11am and front desk let us check in early without extra cost. We definitely recommend this place.
Great location and clean, but stuffy room with lumpy bed.
Oct 2022
The staff were exceptional - friendly and accommodating - they let me drop off my luggage an hour early. The location was great. It was nice to have a refrigerator in the room. The shower had good pressure and was clean.
The room smelled somewhere between mothballs and mildew, and was stuffy. The bed was sad - soft and lumpy with rough linens.
Thank you for being passionate about the customer experience!
May 2022
The staff was amazing. Always friendly and accommodating, and the room was very clean.
The air conditioner was very loud, sometimes waking us up at night.
The shower had shaving hair all over the shower and sink.
The bed was uncomfortable
the room was clean and the place was so quiet .
The rooms are nice and big with clean carpets.
The room was hot, so we put the cooler on and it broke right as we fell asleep at 11 pm. We tried making it work multiple times, but ultimately we had to trade rooms. Our second room was nice as well, but you could tell less cleanly because there was pee stains on the toilet from the previous guests. At least the cooler worked in that room!
Overall my stay was excellent
Feb 2022
The room and bathroom were very clean. The room was very spacious the beds were very comfy. Checking in and checking out was very easy, staff was very nice
That my early check was approved and they didn't honor it..
Comfortable, clean, close to attractions!
Mar 2023
The property was great about working with us to check in overnight after our inbound flight was delayed from 10pm to 3am. I appreciate their flexibility!
The property was clean. Owners were nice and engaging.
I wish their was a coffee maker in the room but every thing was great
Super comfortable, good for the price!!!
Apr 2022
The property was a great value as I was traveling with my 3 kids we found this room with 2 queen beds and 1 sofa bed which was excellent. it had a nice family room and 2 tv's which was great. It's about 2 minutes to Starbucks which is awesome and about 25 minutes to universal studios which is why we were in the area anyway. I will book again if I'm ever in the area. Nice room for great price. I paid $386 for 3 nights.
Good property but falls short on some of the upkeep needs.
Jul 2022
The property is in a really great area next to local shopping spots and directly across the street from a Ralphs Grocery.
The property is nice but definitely in need of some TLC, and if you by chance have a room on the second floor and have children the narrow stairs are cumbersome and very difficult to handle large suitcases and other items. Had one issue during our stay the hvac system was making a very loud noise and I discovered on inspection the return air filter was completely covered with dirt and not allowing air to move through the filter.
the price was good for the location the room could use better service
Feb 2023
the pricing was good for the location and had nice shower items somewhat to mainly clean
the room was very hard to open had , to check in from a little window , the top of the bed frame was dusty , the room had a weird smell , not any good tv channels , hard to connect to wifi , staff sometimes wouldn't be at the check in .
The price for how big the suite was. Easy access an accommodation to my needs
There was black mold in the bathroom bad, and the vents and filter were filthy dirty. I have asthma and it was very harmful to me.
The place is in a great location to a lot of places to eat and markets super clean and the bed was so comfy and has great tv channels and comes with a fridge and a microwave
Good budget hotel
Oct 2022
The parking lot was a good enough space wise. It was decent and it was free so that's all a plus! I had a midsized truck rental that I used and I parked easily. The hotel is cheap and it's in a good location with plenty of food spots. In-N-Out is a few minutes drive away. Freeway entrance is also close by. The service was also friendly! They cleaned my room while I was gone and gave me new towels. I checked in late and night and also checked out early because of my flight times. I gave the hotel a heads up here on Booking.com and was greeted by the office manager upon arrival. I had to buzz in early in the morning to check out to which they responded promptly and everything was quick and easy. They also provided lotion, body wash, conditioner, shampoo, and bars of soap. There is free cable and free wi-fi although it seemed too slow for me. They also have a fridge, hair dryer, iron and an ironing table (which I had to use) and they worked perfectly well. I would definitely stay again if I want to go around the area although I would hope my shower drain (as per the negative review) isn't clogged.
The whole hotel is run down. The toilet doesn't flush well and my shower drain was clogged so I was showering with a pool of water on my feet. My room was 208. Also, I'm not sure if they really change the linens because I found a small shaven hair on my bed before I used it.
The manager was super friendly and the room was very clean. The location was in a nice area and very safe. For that price, it can't be beat.
Refrigerator was noisy, but nothing that couldn't be solved with earplugs.
Would not stay again.
May 2022
The location was great but the quality of the stay was poor.
Stingy with toilet paper and towels. Room not very clean, had to buy supplies to clean it myself. Old dirty furniture.
I could hardly sleep after cleaning someone else's pubic hair from the bed.
Dec 2021
The location was good and the receptionist was kind.
There was shaved hair all over the shampoo bottle and the sink as well as the toilet. There was pubic hair in the bed, it was disgusting.
We have comfortable stay here. Everything is good. especially for family. The facilities like the free parking and coin
Aug 2022
The location, spacious and facilities are superb.
No breakfast provided. if breakfast are provided, would be perfect.
The location is near good restaurants and stores. It isn't the Ritz, but for the price it is exceptional. I would stay again and again.
The location is in skirts of Glendale your super close to shopping centers and easy access to get food. I enjoyed and loved my stay .staff is super friendly. And the rooms make you feel at home very clean and welcoming. there's even outside seating to enjoy your stay. I like that the rooms have a fridge,microwave and good Tv channels. Looking forward to booking more stays here! highly recommend.
the location is great - not that busy, close to Griffith park and A big shopping mall. the room is big and has a nice bed.
shower wasn't that clean - we found some hairs in the bath tub.
The location everything was walking distance
The room was smelly like if it hasn't been used in awhile the restroom was dirty
The first night was awesome. Im checking out right now at 12:42 am because the person next to me has their music soooo loud and they are having loud sex . managment already talked to them but they continue. Ill go somewhere else.
I feel like management doesnt have control of their customers. Ive been trying to sleep for hours and i cant due to very high energy music and loud sex frim my nieghbors. I would like a refund for one of nights. I paid alot of money....this is crap
When we return in a few weeks, we will stay with you.
Jul 2021
The evening staff and morning staff were most professional.
not worth the money, pictures are not close to reality
Sep 2022
the cleaning lady was very friendly!
the carpet needs to be renovated! we kept the window open the whole time and it kept on stinking!
The area was awsome rooms were good. I feel like I got a good price. And there was no loud or shady people hanging around or staying there.
No coffee in the room or in the lobby area where I could get coffee in the morning.
super nice owner ! made sure to call and confirm our stay
Spacious room, comfy bed. Heater was not working in the initial room so other room was provided for us.
Blanket was not for winter conditions. Room furniture is quite old and not very clean. To coffee machine or teapot.
Clean but need to refurnish a furniture
May 2023
Small motel. free parking for guests that is really good for low Angeles. clean bad and clean bathroom
the motel is quit old. the furniture is needed to be remodel. soundproofing is extremely poor. you can neighbourhoods like they are all in your room.
Wie viel kostet dieser hotel im Vergleich zu anderen in Eagle Rock?

Der Durchschnittspreis für eine Anmietung in Eagle Rock beträgt EUR 129 pro Nacht. Diese Miete ist EUR 40 günstiger als der Durchschnitt.
Ist das Parken in diesem hotel inbegriffen?

Ja, das Parken ist als Ausstattungsmerkmal bei Glenridge Inn Glendale - Pasadena aufgeführt. Für weitere Informationen empfehlen wir Ihnen, sich mit dem Anbieter der Unterkunft in Verbindung zu setzen, um zu erfahren, wo Sie parken können.
Gibt es in diesem hotel einen Pool?

Wir haben keinen Pool gefunden, der als Ausstattungsmerkmal für diesen hotel aufgeführt ist. Es kann sich lohnen, noch einmal zu prüfen, ob ein Pool für Ihren Aufenthalt wichtig ist.
Ist Glenridge Inn Glendale - Pasadena haustierfreundlich?

Leider ist dieser hotel nicht haustierfreundlich. Versuchen Sie erneut zu suchen und filtern Sie nach "Haustiere erlaubt"
Welche Ausstattungsmerkmale sind bei Glenridge Inn Glendale - Pasadena verfügbar?

Wir haben 9 Ausstattungsmerkmale für diese Unterkunft gefunden. Dazu gehören klimaanlage, küche/kochnische, internet/wlan, parkplatz und waschmaschine.