Homewood Suites by Hilton South Bend Notre Dame Area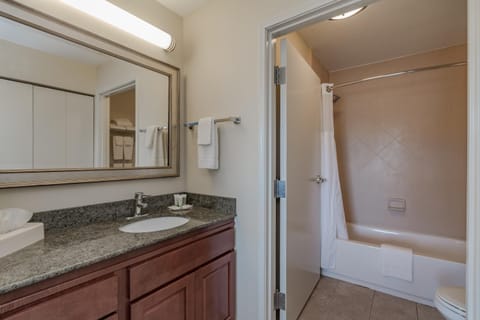 Hotel in South Bend, IN
Klimaanlage
Haustiere erlaubt
Küche/Kochnische
Gelegen in South Bend, dieses charmant room in hotel für EUR 58 pro Nacht ist ein phantastisch Auswahl für Ihr nächstes Reise. Dieses Hotel liegt weniger als 5 Minuten von der University of Notre Dame und 10 Minuten vom Nationalmuseum Studebaker entfernt und bietet einen Fitnessraum, einen Innenpool und kostenfreies WLAN.
Klimaanlage
Haustiere erlaubt
Küche/Kochnische
Internet/WLAN
Rauchen erlaubt
Parkplatz
Waschmaschine
Spülmaschine
Fernseher
Rollstuhlgerecht
Fitnessraum/Fitnessstudio
Familienfreundlich
100 % verifizierte Bewertungen
3.7 / 5

"Gut"

(141 Bewertungen)
When we travel we search for your hotel! It's one of our favorites with our kids.
Jun 2021
We love the two room suites for our large family!! Also the breakfast was great!
Totally renovated and great breakfast choices, beds were soft and facilities were very clean and comfortable.
Wish that the property still had a pool and there was some missing item ie. Alarm clock because it hadn't arrived yet. Also the heating was kind of difficult to control it was either super cold or super hot.
Our room. It was very damp and smelled terrible. The bathroom smelled like urine.
The room was really comfortable
The motel was convenient. Really nice place. King room was great. Bed comfy. The room had a little kitchen in it. Everything clean. Pool and hot tub looked nice even tho we didn't use it. The gal who checked us in was very helpful. I think her name was Britany. She recommended places to eat and also got us extra pillows. Breakfast was pancakes, waffles and sausage. Along with all the other normal breakfast stuff. We would definitely stay there again if we were traveling through that area.
I would NOT recommend this hotel to anyone.
Jul 2021
The location was close to the highway, for our quick overnight. The breakfast looked decent but I was in a hurry to leave so did not have any.
I paid $274 for a two room "suite." I would have possibly considered this a value if it had been half decent. It was dirty, badly in need of updating, smelly, and LOUD.
The location is perfect, for what we needed. The staff was helpful and very polite.
Every door you went to the key card would not work. Beyond frustrating!! The rooms smelled musty or smokey. Definitely needs to take care of the smell. The king bed was absolutely horrible! There were more lumps in it than a camel has on its back!! Just not a very good atay
The layout of the rooms was nice. And the bed was very comfortable. The linens and pillows were high quality and it was nice that the shampoo/conditioner/shower gel were on tap in the shower. Breakfast was good.
1.the pool was out of order for our entire stay. One of the reasons I chose this location and it's higher price was to use the pool. The desk clerk acted like it would be fixed any minute but other staff on the following shift acted like they didn't think it would be fixed anytime soon--and they were right. I don't like being lied to and feel there should be a discount if one of the major amenities is not provided at the price I paid. 2. No parking. The hotel was fully booked and there was literally not ONE open parking space. NONE. Front or back. When I told the desk clerk there was no parking, she suggested I park next door at the Ramada by Wyndham and walk back. Right. Like I want the Ramada to have my car towed? If you don't have enough parking for all of your guests, you shouldn't be in the hospitality business. Being 5 minutes from Notre Dame I imagine this hotel gets fully booked often. But this was a TUESDAY NIGHT with no events going on in town. Very disappointing. I ended up parking in a no parking zone (just like 5 other guests) and hoping my car wouldn't get towed. Wasn't a peaceful night to say the least. 3. The gym facilities. No pool sucked, so I thought I'd work out. The elliptical and bike did not work. Tried plugging them into other outlets. Nope. So that left weights and a treadmill. Not a great selection. Still I worked out and I it was okay except the workout room and LAUNDRY FACILITIES were one big room. It was 75 degrees and humid as hell with it being in the same room as the laundry. Maybe install a set of doors to keep these facilities separate so a lower temperature can be maintained in the workout area? It was uncomfortably humid. 4. Cleanliness. There were little kid handprints all over the windows of my room (213) I didn't have any children with me. Gross. Carpets were stained. Smears of god knows what on the bar chairs. 5. Wear and tear.
It was a great place to stay.
Jun 2021
The hotel was amazing. the staff was very helpful and the breakfast was great. The room was very comfortable.
I wished that would replace the sign. It looked old and had been hit with a car. They told me that they were doing renovations in the fall and were going to replace the sign.
Besides those few things, I enjoyed my stay.
May 2020
The Hotel room was very nice. The hotel itself was nice. The breakfast was fine.
The chairs at the dining table were nasty. I ended up having to scrub them before I sat down. Also I didn't like that I had dog hair on my pants from sitting on the furniture. I'm allergic but I was ok. I'm sure the residents allowed the dogs on the furniture. The knob for the hot tub was broken so couldn't get the hot tub goin. It was just like sitting in a warm bath, no jets.
The comfort to where I can hangout outside and be just as comfortable as inside! The patio furniture and grill right outside the pool area is an Awesome Sauce Idea!!
We were not informed the pool was closed. For the price of the hotel per night the niceness was sub par.
Not pleased for price. The hotel was in process of changing ownership.
May 2022
Space hospitality was great
There wasn't anything I didn't like
The hotel itself was very clean, other than what was mentioned above, we would stay again
Feb 2022
Room was spacious, and clean. hotel was quiet. Good location. many restaurants in the area.
We booked the hotel for the indoor pool because we were traveling with a child. Something to burn off energy after being in the car for 10 hours and it was closed. No mention of this when we booked. The parking lot was a mess. It was as if it wasn't plowed or salted from a previous storm. Ice and snow everywhere. All the parking lots in the area were spotless... so lack of maintenance from previous storm. A lawsuit waiting to happen.
it had a bed, warm water
Mar 2022
The whole 3rd floor smelt like cat urine and the bedding had stains and little rips in the top cover. The body wash was empty. The room wasn't enjoyable the smell was disgusting sorry.
Very uncomfortable and disappointing
May 2022
The room wasn't clean there was stains on the kitchen counter and stains on the dishes.. They also didn't have the pool up and running when asked if we could use the theater instead was told no . It was my daughter's 11th birthday
The breakfast needs a little work
Pool and hot tub were enjoyable, bed was comfortable, fix the curtains, get more comfortable pillo
Jun 2021
Sis not like the fact that the curtains do not close to block out street lights. Reserved a king size room with courtyard views and at check in was told we were being upgraded but ended up with a queen bed and street side . I don't understand what the upgrade was.
i booked a king suite and we were given a double bed in a handicapped room. bed was way too small and my husband and i did not sleep well. The breakfast was poor.
Wie viel kostet dieser hotel im Vergleich zu anderen in South Bend?

Der Durchschnittspreis für eine Anmietung in South Bend beträgt EUR 217 pro Nacht. Diese Miete ist EUR 159 günstiger als der Durchschnitt.
Ist das Parken in diesem hotel inbegriffen?

Ja, das Parken ist als Ausstattungsmerkmal bei Homewood Suites by Hilton South Bend Notre Dame Area aufgeführt. Für weitere Informationen empfehlen wir Ihnen, sich mit dem Anbieter der Unterkunft in Verbindung zu setzen, um zu erfahren, wo Sie parken können.
Gibt es in diesem hotel einen Pool?

Wir haben keinen Pool gefunden, der als Ausstattungsmerkmal für diesen hotel aufgeführt ist. Es kann sich lohnen, noch einmal zu prüfen, ob ein Pool für Ihren Aufenthalt wichtig ist.
Ist Homewood Suites by Hilton South Bend Notre Dame Area haustierfreundlich?

Ja! Diese hotel ist haustierfreundlich. Für weitere Informationen empfehlen wir Ihnen, sich mit dem Buchungsanbieter in Verbindung zu setzen.
Welche Ausstattungsmerkmale sind bei Homewood Suites by Hilton South Bend Notre Dame Area verfügbar?

Wir haben 12 Ausstattungsmerkmale für diese Unterkunft gefunden. Dazu gehören klimaanlage, haustiere erlaubt, küche/kochnische, internet/wlan und rauchen erlaubt.