Econo Lodge Hesperia - Victorville I-15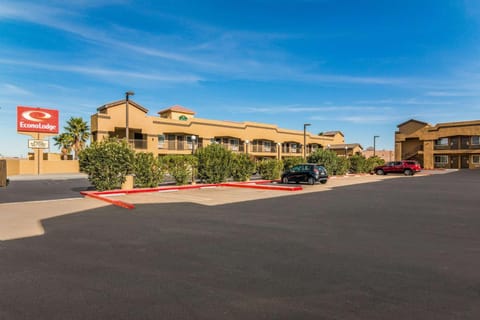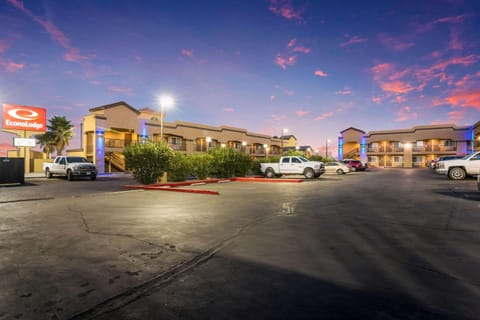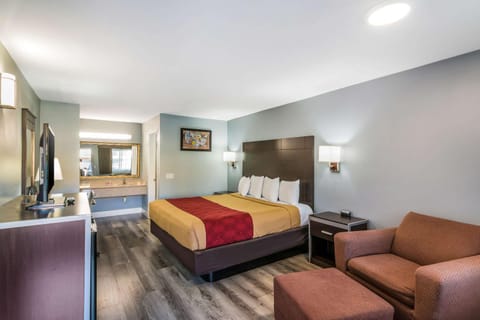 Hotel in Hesperia, CA
Klimaanlage
Haustiere erlaubt
Küche/Kochnische
Befindlich in Hesperia, dieses attraktiv room in hotel für EUR 71 pro Nacht ist ein großartig Option für Ihr nächstes Pause. Das Einkaufszentrum Mall of Victor Valley liegt nur 1,5 km vom diesem Hotel in Hesperia in Kalifornien entfernt.
Klimaanlage
Haustiere erlaubt
Küche/Kochnische
Internet/WLAN
Rauchen erlaubt
Parkplatz
Waschmaschine
Fernseher
Rollstuhlgerecht
100 % verifizierte Bewertungen
3.8 / 5

"Gut"

(315 Bewertungen)
I would stay here again! But I'd reserve earlier to get a better price. $139 was WAY too much.
Sep 2021
You could tell that management has taken great steps to improving this older property, and I really appreciated that! They painted the stairs in the stairwells, and it made me think of all the hotels that I've visited in my life (I'm 64) that had dirty stairwells/walking paths that could have done the same thing...but why didn't they?! While they painted the stair surfaces with grey-colored paint, and the stair edges with yellow paint (great idea to improve visibility!), they painted right over chewing gum splotches, but at least they painted! It really improved the look and feel of the entire hotel! At first glance, the interior of the room appeared to be very clean, but as my 17 hour stay continued, I found more and more dirt in various places. My coworker and I are both germaphobes, so when we first entered the room, we pulled back the sheets looking for stains. We found NONE! but after waking up the next morning, I was dismayed to find big yellow stains lower down on the sheets, because I didn't pull the blankets back. When I pointed this out to my associate, he checked his sheets further and found a spot of blood on the sheets! The pillow cases were clean and the floors were a delightful laminate that appeared clean, but we noticed later that they had been swept in a hurry, likely not mopped, and that corners against walls were essentially filthy. There were little black flies throughout the room, not sure where they came from. The bathroom felt clean and the shower was adequate. Overall, however, it was substantially better than a motel 6 and I saw NO homeless or drug people wandering in the parking lot like you see at a Motel 6 which is why I've pledged to never stay there again. They had a nice refrigerator, microwave, coffee maker, and ample towels in the room. I didn't see a pool.
I paid a whopping $139 on Labor Day weekend for 1 night for a room that seemed like it was worth $75. The hotel wasn't full on a friday night. It's an ugly ugly hotel but management has taken steps to improve it's appearance. there was a puddle of water at the foot of the stairs that we had no choice but to step in every time, but it likely came when they washed the grounds down the day before so it was good to see even though unsafe.
Needs improvement
Oct 2021
There were no extra towels, the tv setting went back to original settings to where we couldnt barley see the screen when we tried to switch it, it worked but after a few minutes went back to barely seeing anything. The sheets had spots on them. Next door people were loud slamming doors late night, there was constructioning from next door was loud also. The staff were nice and respectful. Breakfeast very limited not much options. Photos on the site was not accurate with what you guys actually provide.
The refrigerator in my room was super cold. Put a few water bottles in and a short time later they were ice cold.
There were no hangers in the closet.
The property was clean and felt homey. I liked that it was near the Victor Valley mall and it was really close to multiple gas stations and fast food restaurants as well.
The only real complaint about the property, better yet said, something that could actually be changed/fixed would be the bathroom light switch. The light switch was located outside of the restroom and I found that a bit inconvenient.
Could e been more customer friendly! Not treating me like some crock con it showed the type of peopl
Jul 2021
The place was very clean I haven't seen that in a long time
The chose because of the form of payment I had! They would take cash but not my edd prepaid card but I was able to book thru you guys and pay with my PayPal for the following night but the first evening the desk person said they didn't take the edd prepaid card then they didn't take the NetSpend card so then I had to go find an ATM to get cash we were tired and it was very late making it a big time hassle and wasn't customer friendly at all then when I told him I booked tomorrow night also on booking dot com he said why would you do that And I said bc It was to late to book and pay for tonight or I would e paid that way for both nights!
The friendly of the staff
The price was to high i couldn't afford a second night
Econo Lodge-Hesperia,CA is an affordable, friendly, clean, and comfortable place to stay.
Jul 2022
The continental breakfast was good. The location was excellent. I got my senior discount which was very helpful. The place was quiet even on the July 4th weekend. This was the ONLY place we have ever stayed that when my husband checked the vents because of our allergies, they were clean!!! Huge bonus point for Econo Lodge! If we didn't live 440 miles away, we would stay there again. This was a one-time trip. I would highly recommend this place.
There wasn't anything that needs improvement.
The breakfast consists of an individually wrapped pastry and orange juice; certainly not continental by any means.
1st of all the pillows were rock hard. The sheets had cigarette Burns all throughout them the bed skirts were torn The AC did not seem to work at full capacity and you're literally right off the freeway. The shower faucet did not work and the light switch to the bathroom was on the outside . All in all it was not worth the $180 that I paid I could have gotten a better deal at the hotel right next door.
Room was very clean and staff was great!
Outdated room. Floor was squeaking everywhere you walked. Could feel parts of wood coming apart at seems. Could hear people walking in the next room at night.
I will definitely be back when I'm in the area visiting relatives.
Jan 2023
Room was very clean, and comfy location is close to anything that you might need from fast food to groceries
I cannot say there was anything wrong in my view, my stay was very satisfactory.
They pooped in my restroom and staff did not flush my toilet
so close to road, very loud. Also upstairs can be heard very well.
More of a selection for breakfast
I got bitten by something underneath my Right breast and it's been here since the next day of my stay there
Deceptive. Rip off. Run your credit card then ask for cash deposit. If no cash on hand they will not refund your credit card. Something needs to be done with this type if deception!!!
Wie viel kostet dieser hotel im Vergleich zu anderen in Hesperia?

Der Durchschnittspreis für eine Anmietung in Hesperia beträgt EUR 129 pro Nacht. Diese Miete ist EUR 58 günstiger als der Durchschnitt.
Ist das Parken in diesem hotel inbegriffen?

Ja, das Parken ist als Ausstattungsmerkmal bei Econo Lodge Hesperia - Victorville I-15 aufgeführt. Für weitere Informationen empfehlen wir Ihnen, sich mit dem Anbieter der Unterkunft in Verbindung zu setzen, um zu erfahren, wo Sie parken können.
Gibt es in diesem hotel einen Pool?

Wir haben keinen Pool gefunden, der als Ausstattungsmerkmal für diesen hotel aufgeführt ist. Es kann sich lohnen, noch einmal zu prüfen, ob ein Pool für Ihren Aufenthalt wichtig ist.
Ist Econo Lodge Hesperia - Victorville I-15 haustierfreundlich?

Ja! Diese hotel ist haustierfreundlich. Für weitere Informationen empfehlen wir Ihnen, sich mit dem Buchungsanbieter in Verbindung zu setzen.
Welche Ausstattungsmerkmale sind bei Econo Lodge Hesperia - Victorville I-15 verfügbar?

Wir haben 9 Ausstattungsmerkmale für diese Unterkunft gefunden. Dazu gehören klimaanlage, haustiere erlaubt, küche/kochnische, internet/wlan und rauchen erlaubt.