The Inn at Saint Mary's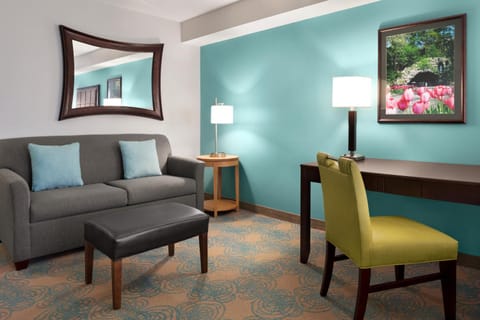 Hotel in South Bend, IN
Klimaanlage
Haustiere erlaubt
Internet/WLAN
Eingebettet in South Bend, dieses schön zimmer im hotel für EUR 100 pro Nacht ist ein großartig Auswahl für Ihr nächstes Reise. Dieser gemütliche Gasthof verfügt über einen großen Fitnessraum, kostenfreies WLAN und Zimmer mit einem Flachbild-TV. Es befindet sich auf dem Campus des Saint Mary's College, neben der Universität Notre Dame.
Klimaanlage
Haustiere erlaubt
Internet/WLAN
Parkplatz
Waschmaschine
Whirlpool/Spa
Fernseher
Rollstuhlgerecht
Fitnessraum/Fitnessstudio
Garten
100 % verifizierte Bewertungen
4.3 / 5

"Ausgezeichnet"

(385 Bewertungen)
Wonderful place. Nice not to stay in a chain hotel. Very clean and great amenities. The beds were very comfortable. Great location for visiting St. Mary's, Holy Cross and Notre Dame. Could have used more St Mary's swag in the gift shop. Mostly Notre Dame stuff. It is the Inn at St Mary's after all! Great walking distance to to St Mary's and Notre Dame. I'm looking forward to going back.
Not enough St. Mary's memorabilia in the gift shop. Even the guy at the desk was wearing a Notre Dame shirt.
We were visiting family in South Bend and spent little time at the Inn, but the reception was smooth and the room was comfortable and clean
Not what we hoped it would be.
Jul 2021
We were not aware on the breakfast the first morning. No signs, nothing on website. Went to get Starbucks, had to find attendant.
No room service. Has to get towels at front desk. We usually stay at Comfort Suites, but Tim wanted to spend more to get a little bit of a nicer place. Unfortunately The Inn wasn't it.
We were attending my 50th year reunion at N.D. St. Mary's college is one of the most beautiful campuses we have ever seen. Very feminine in nature compared to N.D. The staff was very nice and we had an incredible time in South Bend.
Nice place, enjoyed our stay
Jun 2021
We missed breakfast. Thought it was done at 10:00 AM, actually finished at 9:30 AM
King Size bed was a little soft and worn-out
Was a great value for the location and great condition of this hotel.
Sep 2022
Well maintained and great location. Staff was particularly nice.
Small refrigerator with noisy compressor kept waking me up. Believe batteries were dead or missing in TV remote.
Exceeded expectations. Will stay again.
Jun 2021
Was given a free room upgrade upon checking in. Everything was clean, and staff was professional.
Breakfast quality was good, though the area was quite full of guests causing difficulties with social distancing and with keeping adequate quantities of hot food stocked. Staff was keeping busy, though, and I got plenty to eat.
great place to stay
Sep 2022
went with granddaughters so they could swim. has a great time even with needing to go next door.
Dec 2022
very friendly staff and clean rooms
older rooms without microwave ( you can use the one I the breakfast area). no pool but you can use the one at the hotel next door
Very friendly and well groomed staff. Very clean and cheerful room! Convenient location for visiting Notre Dame and St. Mary's! Comfortable atmosphere.
I would have liked a doughnut or muffin for breakfast, but the breakfast was just fine.
Very friendly and welcoming shuttle bus drivers, lovely bathroom and power shower, liked the soap and face wipes.
Very clean. The staff was very friendly and the bar and restaurant on premises were convenient and very good. The hotel was a short car ride to the Notre Dame campus.
Great accommodations
Jun 2021
Very clean!!! Room was very comfortable.
very clean and convenient to Notre Dame
very clean and beautiful property quality room quality breakfast
It was a great experience!
Jul 2022
Thought it was very good!
This was our second time visiting the area staying at the inn at Saint Mary's. Saturday was a little bit hectic they were filled. But it was enjoyable seeing so many people post pandemic times.
The was nice and clean, the bed was comfortable.
The check in process was a terrible experience and the staff that was there to check us in was rude, distracted, she was helping others at the same time and not helping us with our needs. She changed my card incorrectly and I had 2 room charges on my card at once. Just terrible!
A good stay, but a bit too pricey for the value.
May 2021
The Staff was extremely friendly and responsive and the complimentary breakfast was a bonus. The location to the Notre Dame campus is an added benefit.
The facility itself is somewhat (tired) and could use a refreshing. For example, there were several spots in our room and bathroom where plaster or wallboard needed to be repaired.
Great place to stay
Jun 2021
The staff was extremely friendly and professional with a close proximity to the campus.
Great Location and Value Outside of Notre Dame
Jun 2022
The size of the room was excellent as I had a sitting area down a small hall away from my sleeping spouse which worked for both of us as I get up early. It could have almost been a suite. Also, the hotel is across the street from Notre Dame so we went and walked around the campus every morning. Additionally, I wanted to call out the beds and the comfort they provide. I felt rested and no tossing and turning due to the thought put into the mattresses they use in the hotel.
The front lobby got a bit rowdy over the weekend and the noise carried through the sleeping areas of the hotel. Like a sort of loud buzzing of all the people talking at once. That only happened in the small sitting area closest to the door. No issues once I moved into the sleeping area.
The room wasn't very clean and comfortable. Check in was fast
Price was higher than I like but it was a nice room
Front desk person rude.
Jun 2022
The room was clean and bedding comfortable. The shower was hot and worked well. The breakfast was very good.
There was one young woman working at the front desk who did not respond after I waited to pay for some items I wanted to purchase from your store. She ignored me and refused to look up from her computer. She then laughed about it with a co-worker. The young man sitting with her instead accommodated me.
The room that I had was large and comfortable and the breakfast is good . My wife really liked the Starbucks in the lobby.
Enjoying the Inn during the Hoosier Cup Hockey Tournament at Notre Dame.
Feb 2023
The quaintness of the Inn. The professionalism and kindness of the staff. A very good value with a breakfast that exceeded our expectations.
There was a significant stain on the couch and there were loose ceramic tiles in the bathroom.
The property was nice. Beds very comfortable and breakfast was good.
Rude worker at the Starbucks inside hotel.
The property is located close to Notre Dame and South Bend.
The hotel is worn and seemed to disregard CDC Covid safety protocols. Perhaps we were assigned to the first floor with pets because we booked through Booking.com or the entire hotel is rundown compared to previous year's stay. It was equivalent to a Motel 6. Hotel workers wore masks most of the time. However guests were not reminded to wear masks. The Friday night lobby bar could easily become a Covid spreading event.
The motel is very nice with a bar and continental breakfast. It is a 20 minute walk to the Notre Dame stadium.
The maid didn't come into our room to pick up dirty towels or empty the garbage cans. I had to go to the front desk to get clean towels.
The location was great, the staff was very friendly
this was the sixth or seventh time I've stayed at this property and was extremely dissatisfied with how things were hand
Feb 2022
The parking lot was not plowed and the snow was iced over/frozen so you slipped every time you had to go out. There was no hot water during our 3 day stay and the beds made squeaking noises every time you moved. There was also a constant, loud banging noise for the entirety of the stay.
It was my first stay and likely my last if they do not renovate.
Jun 2021
The location is good and the breakfast is fine, not great but serviceable. Front desk staff is friendly and helpful.
Our room was very damp and uncomfortable. The air conditioning was working a little but not enough. We stayed there for 4 very unpleasant nights. Since the hotel was fully booked, they couldn't put us in another room so they brought up a dehumidifier which helped a little. Overall, the hotel furniture, mattresses etc are getting worn out. Hotel needs to be refreshed.
A great place to stay
Oct 2021
The Inn at St. Mary's was the perfect place to stay for a visit to Norte Dame! We went on a football weekend and really appreciated the free shuttle to campus. The walk home was an easy trip too! We also really enjoyed the free breakfast and super nice staff! We would definitely stay here again and recommend it to our friends!
Overall, this we liked this property a lot.
Nov 2021
The hotel was very clean, staff was super helpful and the room was quiet.
We would have stayed longer but the rates practically tripled for a football weekend. Also, my kids found the sofa bed uncomfortable.
I had a very nice stay
Jun 2021
The hotel was easy to find. It was nicely appointed. I liked the little Starbucks in the lobby. There was plenty of hot water in the shower. The room was a good size.
We were in a room right above an employee entrance and could hear the door slam over and over starting at about 5a.m.
Standard boring overnight stop - I was hoping for more
Aug 2022
The breakfast was boring. Standard cafetaria style. Large room and bathroom.
No bedside table and light on one side of bed. Charged a $50 deposit which has not been returned yet.
Staff was very nice and friendly atmosphere
Staff was very kind. Room was spacious and clean.
Wie viel kostet dieser hotel im Vergleich zu anderen in South Bend?

Der Durchschnittspreis für eine Anmietung in South Bend beträgt EUR 222 pro Nacht. Diese Miete ist EUR 122 günstiger als der Durchschnitt.
Ist das Parken in diesem hotel inbegriffen?

Ja, das Parken ist als Ausstattungsmerkmal bei The Inn at Saint Mary's aufgeführt. Für weitere Informationen empfehlen wir Ihnen, sich mit dem Anbieter der Unterkunft in Verbindung zu setzen, um zu erfahren, wo Sie parken können.
Gibt es in diesem hotel einen Pool?

Wir haben keinen Pool gefunden, der als Ausstattungsmerkmal für diesen hotel aufgeführt ist. Es kann sich lohnen, noch einmal zu prüfen, ob ein Pool für Ihren Aufenthalt wichtig ist.
Ist The Inn at Saint Mary's haustierfreundlich?

Ja! Diese hotel ist haustierfreundlich. Für weitere Informationen empfehlen wir Ihnen, sich mit dem Buchungsanbieter in Verbindung zu setzen.
Welche Ausstattungsmerkmale sind bei The Inn at Saint Mary's verfügbar?

Wir haben 10 Ausstattungsmerkmale für diese Unterkunft gefunden. Dazu gehören klimaanlage, haustiere erlaubt, internet/wlan, parkplatz und waschmaschine.