Hilton Garden Inn Orange Beach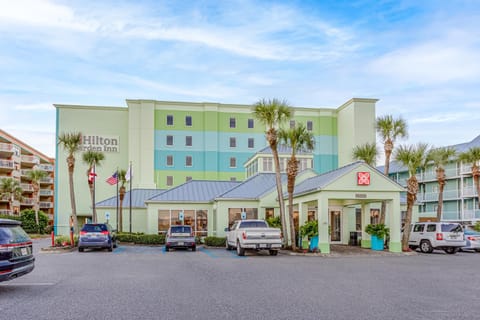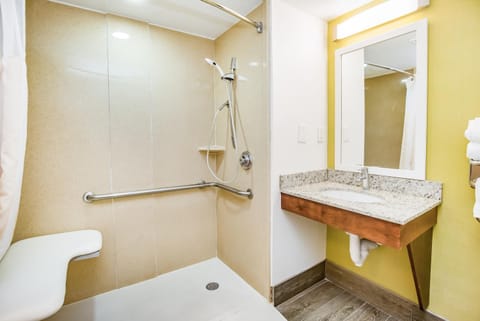 Hotel in Orange Beach, AL
Pool
Klimaanlage
Haustiere erlaubt
Befindlich in Orange Beach, dieses attraktiv room in hotel für EUR 84 pro Nacht ist ein phantastisch Auswahl für Ihr nächstes Urlaub. Das Orange Beach Hilton Garden Inn Hotel erwartet Sie am Golf von Mexiko neben dem Gulf State Park. Die Unterkunft bietet kostenfreies WLAN, einen Innen- und einen Außenpool sowie 2 Whirlpools mit einer Tiki-Bar am Pool.
Pool
Klimaanlage
Haustiere erlaubt
Küche/Kochnische
Internet/WLAN
Rauchen erlaubt
Parkplatz
Waschmaschine
Balkon/Terrasse
Whirlpool/Spa
Fernseher
Rollstuhlgerecht
Strand/Ufer
Fitnessraum/Fitnessstudio
Garten
Familienfreundlich
Karte von Orange Beach, 

AL
100 % verifizierte Bewertungen
4.2 / 5 (1'591 Bewertungen)
Over priced. Could be so much better
Mar 2022
Wren R - at the bar - AMAZING- dedicated. This guy worked 11-7 by himself, with a smile on his face. He def needed support and didn't get it. He deserves a raise and a giant thank you!
There was someone's food in our fridge! The pillows are horrible, the bed sagged. Uniforms are non- existent, leggings a T-shirt and crocs don't seem to be In Hilton standards. 2 towels in the bathroom, was crazy. Pool towels were so incredibly small.
When I booked the hotel, I said that I was an AAA, Veteran, and Seniors. Why didn't we get a discount??
We didn't have a room to seethe beach and pool. We saw the beach only. For the price that we paid we should have had a better room and better rate!! I feel that we should get a rebate! The price we see on the phone is cheaper than what we paid. I thought that the price was too high . Thought that going through your company that the price would have been cheaper but not!!
The fixtures in the ooms weren't up to date.
We enjoyed being able to walk right on to the beach. The hotel was very clean and the staff were very friendly and knew the area well.
We did not like the breakfast
Was amazed at this property and Veronica was the best very helpful and gave information around the area. Thank you Veronica for making our stay wonderful.
This was a geeat, comfortable stay for our half marathon.
Feb 2023
very friendly/helpful staff. great location!
Very economical. Great location to great food locations. On the beach with a beautiful view!
very close walk to the beach.
one elevator broke so the wait time was long
Upon checking in they do not come into the room.
Our stay was relaxing and affordable! We will definitely be back for a third stay!
Jun 2022
This was our second time staying at the Hilton Garden Inn in Orange Beach because we loved our first stay! The staff is awesome and the rooms are clean and comfortable.
There's nothing I didn't like about our stay!
i had a great time overall
Jun 2022
the hot water stop working
The staff was outstanding. Wren at the Tiki Bar did an awesome job even though he had to run the bar and run to get the food orders. He could have used help.
The bed needs to be updated. Not too comfortable!
The staff was great, room was in excellent condition. The location was very accessible. I will def be back when visiting the area.
The towels we're a bit dingy.
The staff was friendly and helpful. The rooms were clean, and comfortable. I only stayed one night but I would come back again.
Had to pay for parking, which I thought was weird, since there was plenty of parking areas. This just doesn't seem right for a private hotel on the beach with parking spaces, where you have to have a hotel permit to park.
Great hotel overall
Dec 2021
The staff very welcoming and friendly. Rooms were very clean and very nice. Beds were so comfy. The balcony view was amazing. Heated pool was a plus.
The grab and go breakfast was not good at all. The scrambled eggs didn't taste good and the biscuit was much better
not what we looked forward to
Sep 2022
the room was fine and the workers were very friendly
the water on the beach was not pretty, too much seaweed and water was brown due to storm supposedly, our main problem was the hot tubs were not working the jets were not on and we were looking forward to that especially
The trip for me and my husband to relax and rewind for all the changes on our jobs. This was a great
May 2021
The room was amazing and the location to the beach was the best.
The stay was ok, the value for the room did not meet my expectations
Aug 2022
Room, extra costs, bathroom
Overall, for the price of the room this was a great stay! I would stay here again.
Jan 2022
The location was perfect and the room was clean. I also loved that there was beach access!
Breakfast was not included in the price of the room but when we checked in, the person that checked us in didn't tell us that. we didn't know until we went down to get breakfast the next morning.
The location was great , very nice staff.
I traveled with my two kids. Felt very safe.
Mar 2022
The location was great. Right across from a convenient store. And a restaurant was not far down from us. Able to travel to the Hang Out in about 10 minutes. Loved the fact the there was two hot tubs. Adults seemed to be in one and kids in the other.
The pool could have been a little warmer but did not stop the kids from getting in it.
The location was great! Easy access to the beach! Being able to have the room key right on my phone was super convenient!
The location of the room was surprisingly beautiful and comfortable. We were able to see the pool and beach pretty clearly. It was located in a good part of Orange Beach, perfect for hopping back and forth between Orange Beach and Gulf Shores.
I don't have anything that I didn't really like. I think the building itself could use some minor repairs and updating but otherwise, it was perfect.
Great overall hotel
Jul 2022
The location is perfect. Beach access through the pool area. The rooms were spacious and clean.
The only thing I didn't like was that you have to pay to park.
It was nice and relaxing
Jan 2023
The location and proximity to the beach and dining
I had to pay for parking after staying here several times in the past no parking fee
The location and beach access.
The hotel was on the beach
Our room had hair on bathroom floor and in tub! Only 3 towels when I told them 4 in room . Daily grill side specials didn't happen as was told ! The grill was a rip off at pool. Shrimp tacos has literally 3 shrimp on a plain tortilla! No sores on it at all . No lettuce or anything . Then argued with front desk lady about then cancelling a special at drill Neisse they were t busy with it !
The hotel was extremely close to the beach. A very short walk. Seems much shorter than other places we have stayed. The location was also very good, close to everything. The atmosphere was also very pleasant. The hotel also provided complimentary water bottles, as many as you needed daily.
Our TV didn't work for 2 days and no one seems eager to help, i had to call the front desk several times. You could smell marijuana in the halls, it was extremely stout. They didn't have a daily room service.
The hotel itself was great! We stay here every year.
Aug 2021
The hotel and setting are wonderful. The pools, hot tubs, bar and access to the beach were awesome.
The mattress and pillows were not in good shape. They need to be replaced. Didn't sleep well the whole vacation. My neck and back hurt everyday. Other than the bed, everything else seemed fine!
Gulf Shores experience
Jul 2022
The halls and common areas were extremely warm. Also not allowed Honor Points since i booked thru a 3rd party.
The easy access to the beach w/ rental umbrellas & chairs accessible.
Breakfast was not excluded in the price it was extra.
I enjoyed this location and plan to return
Oct 2021
The breakfast was perfect and the location was just right.
I didn't like that one of the sinks in the suite did not drain well.
I was expecting more for the buck I was changed for the breakfast
Nov 2021
The breakfast was good .Location was nice I stayed at this place years ago .They need to renovate the facility needs an update needs new beds and pillows . The staff was over the top , and housekeeping was great .It was the facility that needs work it just looks old paint can only do so much I was expecting what it look like before and it wasn't in looks .
The beds were like sleeping on the balcony on concrete hard and uncomfortable and the pillows were not good either .
Great location for walking on the beach.
Mar 2022
The beach was very nice. Room was large and balcony had great view of the beach.
Stool ran off and on all night. Tiki bar was not open. The front desk indicated that the cafe would open for dinner but never saw that it was ever open for dinner.
Staff were very helpful and friendly. The room was very comfortable, and the beach is wonderful!
The only downside was the rain, but the hotel had nothing to do with that!!!
smelled, looked old, saw bugs had bug bites
Jan 2023
staff were friendly, lobby and grounds were nice
room and hallways were very disappointing, room had smell, looked old, i woke up with bites on my arm and we saw two bugs, it was horrible
Enjoyed our stay!
Nov 2022
Staff wax very friendly and professional. Had to call maintenance for a stopped up toilet and everyone was very nice. Great view from our room.
Our room phone did not work. Could not call the front desk when we needed a plunger. I had to use my cellphone.
Staff was very friendly and helpful. Rooms/building was clean.
We thought breakfast was included. Price isnt bad tho.
Wie viel kostet dieser hotel im Vergleich zu anderen in Orange Beach?

Der Durchschnittspreis für eine Anmietung in Orange Beach beträgt EUR 259 pro Nacht. Diese Miete ist EUR 175 günstiger als der Durchschnitt.
Ist das Parken in diesem hotel inbegriffen?

Ja, das Parken ist als Ausstattungsmerkmal bei Hilton Garden Inn Orange Beach aufgeführt. Für weitere Informationen empfehlen wir Ihnen, sich mit dem Anbieter der Unterkunft in Verbindung zu setzen, um zu erfahren, wo Sie parken können.
Gibt es in diesem hotel einen Pool?

Ja, bei Hilton Garden Inn Orange Beach steht ein Swimmingpool zur Verfügung. Genießen Sie das Wasser!
Ist Hilton Garden Inn Orange Beach haustierfreundlich?

Ja! Diese hotel ist haustierfreundlich. Für weitere Informationen empfehlen wir Ihnen, sich mit dem Buchungsanbieter in Verbindung zu setzen.
Welche Ausstattungsmerkmale sind bei Hilton Garden Inn Orange Beach verfügbar?

Wir haben 16 Ausstattungsmerkmale für diese Unterkunft gefunden. Dazu gehören pool, klimaanlage, haustiere erlaubt, küche/kochnische und internet/wlan.