SureStay Hotel By Best Western Tuscaloosa Southeast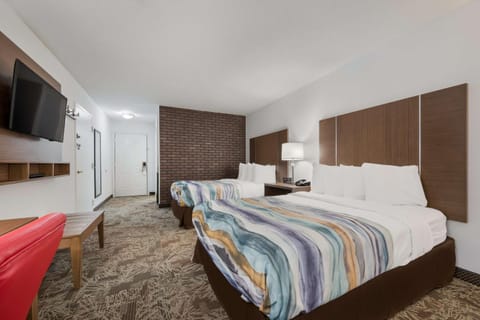 Hotel in Tuscaloosa, AL
Klimaanlage
Haustiere erlaubt
Küche/Kochnische
Gelegen in Tuscaloosa, dieses charmant room in hotel für EUR 51 pro Nacht ist ein großartig Auswahl für Ihr nächstes Reise. Dieses Nichtraucherhotel in Tuscaloosa liegt weniger als 11 km von der University of Alabama und 6,4 km vom Einkaufszentrum McFarland Mall entfernt. Sie genießen ein kostenloses warmes Frühstück während Ihres Aufenthalts.
Klimaanlage
Haustiere erlaubt
Küche/Kochnische
Internet/WLAN
Rauchen erlaubt
Parkplatz
Waschmaschine
Fernseher
Rollstuhlgerecht
Fitnessraum/Fitnessstudio
Familienfreundlich
100 % verifizierte Bewertungen
3.9 / 5

"Gut"

(634 Bewertungen)
Would not accept 2 small dogs. Only 1 allowed. Had to find an alternate Hotel at the last minute. Did not tell us that when we booked room. Shame on them!!
Accept 2 small dogs or make us aware before we booked there.
What didn't I like....??? ... I live this place and the manager was amazing. Huey you are a wonderful man. Thank you generously.
I absolutely loved everything about this place and my stay. I completely peace and quiet. I was able to relax. The room was clean rhe staff was nice and refreshed my room as I chose to stay another day.
We really enjoyed the outdoor area. We met very nice people. There is an excellent grilling and outdoor kitchen area.
we did have a place to stay.
Staff more professional, room could have smelt better.
I will most definitely be back
Aug 2022
Very friendly staff, nice rooms and breakfast was good. Would stay here again.
Very comfortable bed, clean. Everyone was so friendly
good and bad things
Dec 2022
updates are really nice since we were there last year. staff there were super nice.
The breakfast time says 6-9. I got there at 8 and there was no food. and they were cleaning. I was super upset. the beds totally need updating. I am nursing a pinched nerve now bc the mattress springs were so bad and dig into my back and made me uncomfortable.
Our greeting by the GM upon arrival was exceptional, the atmosphere was perfect for my daughter and myself. we felt safe
Mar 2023
This property was dainty and quaint and I loved everything about it!!
Comfort of beds could be better.
My "Go To" Hotel for Tuscaloosa Every Time
Jul 2021
This is my new go to hotel in Tuscaloosa! They are always on point with everything I need. Great location, beds that will give you a great nights sleep, awesome friendly staff who are always accommodating and quiet. Doordash available so you do have to go anywhere to get food. Good places to park if you are towing a jet skis, horse trailer etc. Love staying there as one of their regulars.
The view and close to stores.
Got up late didn't get breakfast Lol 💕
The staff was amazing. Everyone was so friendly and helpful. I will stay again.
The staff personally were amazing! Very personable.
My bathroom ceiling was leaking onto the floor. Pictures were just taking and there wasn't another king bed room available. They could have gave me a discount or something. Did not want anything for free by no means
The inside needs updated decor and they ran out of breakfast, Aldo breakfast was just crackers and a juice in a brown paper sack. The room smelled like a strange incense
It was ok, I guess.
Aug 2021
The location was nice, even though it was next to the freeway it was pretty quiet.
The open space, there was no breakfast (false advertisement), no pool (false advertisement). The lady that checked us out tried to say that my significant other invited her up to the room when he didn't even leave out that night.
Couldn't have been a better stay!
Jul 2021
The location is great.....very comfortable room with a GREAT WORKING A/C! I get too hot usually, but not here! Great outdoor patio! Nice lit up parking lot!
No breakfast due to covid
Very cute and comfortable stay.
Sep 2021
The breakfast was not the best.
The lady at the front desk was exceptional. And they were great about how many nights we were staying. Thank you. We will be staying there again. Our aughter goes to school there so we will be back.
Also be aware of the $50 deposit
Jul 2021
The hotel called me demanding payment around 8 am the day of arrival. Instead of confirming we were still coming, they demanded payment over the phone. When we arrived early, they did not have a room available and I told them I would be back and I would pay when the room was ready. Their "policy" is rude and pushy. Their complimentary breakfast was a room temperature Tropicana orange juice, honey bun, and a granola bar. They also ask for a $50 deposit they refund in 3 to 5 business days or you can get your money back on the day of departure if you pay in cash.
I like this hotel, the owner is awesome!
Jan 2022
the beds were comfortable and cozy, atleast some type of warm breakfast instead of just muffins. a nice sized room.
the bathroom doors, my toddler kept opening and closing the door. it doesn't lock but it looks nice.
Super friendly staff. The recent remodel looks nice The check-in and check-out we're easy.
The breakfast was adequate, but could have had a bit more
Breakfast wasn't what we expected . We told we would have queen beds upon reservation, we we're given double beds .. No wash clothes in the room at all ..luckily we brought two with us .
Space in the room was good and staff was very friendly
Fridge was dirty, lamps broken in room, and place did not seem clean.
Room was nice, beds comfortable, had a decent breakfast.
Owner /manager was rude an unprofessional.. your not allowed any visitors even though your paying to stay.. an it was so hot in whole building ... Very uncomfortable
If only the comfort lived up to the aesthetics
Apr 2022
PROS: - cute décor/theme - free hot breakfast: bacon, eggs, sausage, bread, muffin, cereal - can't hear people in rooms around you or hallway - clean - Few minor room blemishes here and there
CONS: - $50 deposit that must be paid at check in then refunded in 2-3 days - Adjoining room with strangers without same level of security as front room door - can loudly hear people walking above you - extra firm, uncomfortable worn mattress and hard as rock pillows - No channel guide We were pleasantly surprised upon arriving at this hotel. We loved the exterior and interior décor. It had a very eclectic, cool updated retro vibe. Loved the room…visually. However, we didn't love that we were put in an adjoining room that didn't have the same level of security features as the main door. This made us feel less safe. The biggest issues were with the insulation between floors and the beds. We could loudly hear people walking above us as about 5am. And no, they weren't running or stomping either, just regular walking. Luckily we were on the same schedule so we didn't have our sleep interrupted. However, if there were night owls above us or we had wanted to sleep later, it could have been problematic. I highly recommend requesting the top floor. The beds were EXTRA FIRM, i.e. hard as a brick. The sides closest to the night table on both beds dipped downward. Had to sleep on the side away from the tables. With the except of 1, all of the pillows were hard as rocks. Usually with multiple pillows on the bed, they are of varying softness. Not here. There is also no closet, hangars or ironing board.
We liked everything about this hotel! The staff was AMAZING Huey, Robert and Leslie!! They go out of their way to make you feel important! Breakfast was good everyday! Room was big! Location was great for us! We like to be close to stores and restaurants but not to close. It's quiet! Can't wait to come back! I thought seriously of taking our bathroom door home 🤣. Cute little barn door
No electricity but still charged us
I was charged extra money from what i was quoted instead of 264 I paid 500
I changed my date of arrival from Tuesday to Wednesday. Through booking at the same original price I was told by the manager that it was understood by booking that it was ok to charge me for the original day which was a Tuesday. So I was charged for a stay that I wasn't checked in. They also originally charged more money for the Saturday stay.. somebody screwed up. Hotel manager blamed booking
Definitely thought it was a nice hotel online but different in person
Jan 2023
Bathroom door was missing The farm door that was up for the bathroom Door didn't provide any privacy at all I stayed in room 205 Horrible Could see through the side of the sliding wood door
Wie viel kostet dieser hotel im Vergleich zu anderen in Tuscaloosa?

Der Durchschnittspreis für eine Anmietung in Tuscaloosa beträgt EUR 197 pro Nacht. Diese Miete ist EUR 146 günstiger als der Durchschnitt.
Ist das Parken in diesem hotel inbegriffen?

Ja, das Parken ist als Ausstattungsmerkmal bei SureStay Hotel By Best Western Tuscaloosa Southeast aufgeführt. Für weitere Informationen empfehlen wir Ihnen, sich mit dem Anbieter der Unterkunft in Verbindung zu setzen, um zu erfahren, wo Sie parken können.
Gibt es in diesem hotel einen Pool?

Wir haben keinen Pool gefunden, der als Ausstattungsmerkmal für diesen hotel aufgeführt ist. Es kann sich lohnen, noch einmal zu prüfen, ob ein Pool für Ihren Aufenthalt wichtig ist.
Ist SureStay Hotel By Best Western Tuscaloosa Southeast haustierfreundlich?

Ja! Diese hotel ist haustierfreundlich. Für weitere Informationen empfehlen wir Ihnen, sich mit dem Buchungsanbieter in Verbindung zu setzen.
Welche Ausstattungsmerkmale sind bei SureStay Hotel By Best Western Tuscaloosa Southeast verfügbar?

Wir haben 11 Ausstattungsmerkmale für diese Unterkunft gefunden. Dazu gehören klimaanlage, haustiere erlaubt, küche/kochnische, internet/wlan und rauchen erlaubt.