Motel 6-Crescent City, CA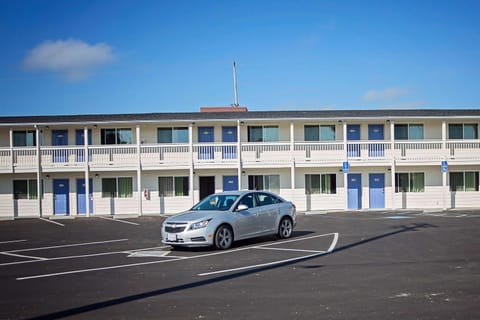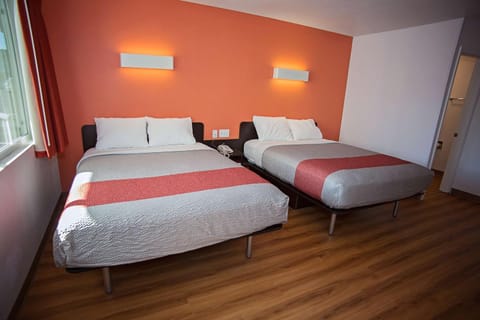 Hotel in Crescent City, CA
Klimaanlage
Haustiere erlaubt
Küche/Kochnische
Befindlich in Crescent City, dieses schön room in hotel für EUR 45 pro Nacht ist ein phantastisch Auswahl für Ihr nächstes Urlaub. Dieses Motel in Crescent City liegt am Highway 101, weniger als 1,6 km vom Redwood National State Park entfernt. Freuen Sie sich auf einfach eingerichtete Zimmer mit kostenfreiem WLAN. Jedes Zimmer im Motel 6 Crescent City CA verfügt über Kabel-TV.
Klimaanlage
Haustiere erlaubt
Küche/Kochnische
Internet/WLAN
Parkplatz
Fernseher
Rollstuhlgerecht
Karte von Crescent City, 

CA
100 % verifizierte Bewertungen
2.7 / 5

"Durchschnitt"

(520 Bewertungen)
Go somewhere else
Aug 2021
Wouldn't stay there again.
Very sparse. Small shower. Inadequate towels. Thin walls.heard neighbors easily.
Worst hotel experience of my life.
Earwigs in bed, lightswitches that didn't work, and staff was rude and unhelpful.
what can you say. cheap as chips. Very basic but everything you need for overnight. Close to restaurants, fuel and the 101 is 10 feet from the hotel. I've done a lot of motorcycle traveling and become a fan of Motel 6. very basic but very affordable.
The mattress was horrible. The towels were just as bad.
The floor was filthy & sticky & room was damaged
Not good. We actually left one day earlier because we didn't want to stay in the hotel one more additional day.
Jul 2022
we were given a room for the first floor and when we walked into the room it was not clean. So we went back to the office to ask for it to be cleaned and they said they wouldn't clean it. If I wanted a clean room I need to take a room upstairs. During the time of Covid this is unacceptable and unsanitary.
Property and amenities were not as expected hotel staff was very poor.
Super 8 down the street is MUCH better for same price.
Jun 2022
We stayed here for the location. Pictures of rooms looked A LOT better online than in reality.
No fridge, no microwave, no blow dryer, no help when asked for help. Stayed one night and moved to Super 8 in Crescent City, a much better stay for the same price.
The only thing we needed was clean the sábado we did not have towels to bathe the tv we could not see it he was not liquefying Water the toilet bowl was loose one sat in the bathroom and the cup moved and if they do not have staff to clean it is not a problem of one because we pay for 2 nights when one is reserving they Would have to give it to the People and so one Will not pay off 400 dollars for such bad service my room was 119 below it is in bad condition
We liked the close access to the harbor.
They did not accommodate trailers in their parking lot. Housekeeping and grounds keeping were far below your typical Motel 6.
This stay was disappointing. Not a vacation wrecker or anything, but not an experience to repeat!
Jul 2021
We liked being closer in to town rather than on the tourist strip outside of it.
When we checked into our room there was a dried up dog turd more or less in front of it. How long it had been around to dry up that much, who knows? There was a much fresher but still unappealing pizza box laying on the sidewalk just ahead of our room next to the packed trash can. In the room itself, our beds had only been remade before our check-in, not stripped and had new linens put on. It was easy to tell this was the case because there was ground in dirt and plenty of toe-nail clippings in the bed sheets. Also some child's toy dinosaur was left in the room. To the front desk man's credit, he came immediately with new linens when we called to complain. On the other hand, it was left to us to change the sheets ourselves. Other wise the room was clean enough and the beds were comfy. The shower was not entirely functioning, it ran and gave hot water but did not drain and backed up over the stall edge after a couple minutes. Overall, if it hadn't been so late when we checked in, or the location convenient enough for us, we'd not have stayed.
We couldn't use the tv because there was no remote, called the 2nd day to see if we could get a remote and was offered a new remote. Staff said " clearly someone stole the remote!!! ) so do u want to change your room. Also let them know there were ants everywhere, in our drinks, the bed, bathroom, clothes, I made sure online there would be a fridge and microwave so I paid more, got there and none of that.
Bed was not comfortable, it actually kept slipping everywhere when we would sit. No remote so could t watch tv, ants EVERYWHERE. Notified staff and they said Unfortunately we are sitting on ant farm so they are everywhere and we can't do anything about it sorry
Never stay there again
Jun 2021
Water was hot and TV pictures was good
Them telling us we had to move our truck and trailer at 10pm even though they knew we had it at checkin. The manager was rude and unapologetic. Very bare bones room that wasn't ready until 5pm.
Definitely just a place to sleep. Not comfortable though.
Jul 2021
My room floor was dirty, the door and walls had allot of damage and holes. My sheets and over blankets were dirty. I asked for extra blankets and it was a chore to get them. I asked for extra towels and they were soaking wet. My door didn't close unless you slammed it. No fridge, no microwave, no phone, only 2 bars if soap and 3 cups. Coronavirus really effected this hotel I presume. Check out involved a bunch of teenagers yelling at each other about how to wash blankets and gold towels.
Will not be recommending or coming back.
Jul 2022
Was no breakfast , and was not offered.
The bathroom door filthy and unfinished, faucet was loose , hole in wall not fixed. First night was peaceful, second night was not had to call front desk 2 times over people above, and still did not stop. Dragging furniture, running ,stomping ,banging sounded like a battle zone.
We had a good nights sleep
Feb 2023
Very nice room I can't wait to stay again the parking lot is to small.
Perfect place to rest for the night.
Jun 2022
Very comfortable beds if you like soft mattress. Free wifi, no pet charge and nice stafff.
Highway traffic. You need to bring earplugs
Today at the desk phone to me a broom
There was no light in the bathroom the floor had sand all over it the towels were dirty or stained
They refunded my 2nd night with no problems
The bathroom wasn't cleaned. There was trash in the trash can, used soap in the shower still, fecies on the toilet seat,. Bed was sloppy as heck!! :-(
Poor customer service
Jul 2022
The staff had no customer service. They made me feel uncomfortable
The staff was very helpful and went above and beyond when my room had a broken fridge the staff got me another one.
The staff was super nice and respectful
I would not recommend this hotel to anyone...... The radio ads had encouraged me to chose Motel 6
Sep 2021
The staff was nice. I felt bad for the guy.
It took 3 tries to get us in a room that had been cleaned (we got there at 10 PM)! I felt so bad for the guy. Finally we got in a room but I think it was not supposed to be rented out because the shower head dripped hard all night and into bathroom and the shower drain cover was broken (and dangerous). (Did not use shower) Finally this was the sparsest room I have ever seen. No clock No Micro No Fridge No Coffee.... just a phone, a tv and 4 hangers....
The staff was courteous and changed the room quickly and fixed the issue with the TV right away.
Toilet was plugged up when we got the room. The overhead light was burned out. The TV only displayed fuzz in the replacement room and the floor was not clean in the bathroom. The room was over priced even if everything had been perfect.
The sink and vanity are located in the same room as the shower and toilet. NOT HANDY. 2 wood seated chairs, not comfortable. Would NOT stay again.
Shower took 2 hours to drain out.
Big bed, not much else
Aug 2021
No refrigerator or microwave. In an 'empty' part of town. Food machines didn't work and the clientele were slightly creepy (but it was a Saturday night).
The room was clean. The way the motel is set up the bottom rooms absorbs every noise made above. Thin walls, and the bathroom had these tiny bars of soap, no shampoo.
The way the motel is set up the bottom rooms absorbs every noise made above. Thin walls, and the bathroom had these tiny bars of soap, no shampoo. The phone is not functional so a call to the office is not possible.
Alright for the price
Jun 2021
The room was clean and the bed was fine.
The outside stairwells and parking lot could use some attention...dirty!!
The check-in process with Teri was terrible. The room was neat and clean.
Jul 2022
The room met basic expectations for cleanliness and functionality.
The booking staff person named "Teri" seemed unable to competently work the ipad. She knocked on the door of the manager twice for assistance. He/she never answer. She had poor customer service skills.
The room is close to the beach
No microwaves no refrigerators
There were not enough towels, toilet seats were loose and wrong size (round seat on elongated bowl), TV did not work, floor was dirty, side table surface was sticky. At least it was quiet!
There were stains on the comforter.
Mar 2022
There was plenty of parking and it was close to the beach.
The front desk worker had an awful attitude the entire stay. He would respond to simple questions in a rude manner and sometimes not give an answer at all.
Nice until the sink puked
Jan 2022
I left a msg for the manager while I will staying there because the sink.puked up something foul wanted to see about getting my money back for 1 night I stayed 3 was told he would be there the next day at 3 I called got n o answer I was told he was going to call me when he got in and the other person made him aware of the situation I still have t gotten a call
The most expensive ($$200 for one night) and worst motel experience we have ever had.
Aug 2021
There was not one thing that we liked about the room! The Motel 6 room was $200 per night and was standard Motel 6 except someone had spit on the wall near the toilet and was disgusting , the one wash cloth provided was filthy and had a long black hair on it, one of the two hand towels provided was filthy, there was no water glass the walls were thin and we could here the other guests around us until late at night.
One room was upstairs and the other downstairs. The rooms weren't ready. And the maid was trying to get me out of my room an hour before check out.
Terrible experience!
Jun 2022
There was no breakfast., no coffee, no hot water, no microwave and no refrigerator. There's was a constant beeping all night and the blinking light showed in the room all night.
The staff was unhelpful and negative. Staff took the attitude that nothing could be done to make anything better.
there was a room, pet friendly, nice manager
very shady characters staying here, loud fireworks, no bathtub, heavy smell of pinesol that caused a headache, loud outside, tv had very low volume
The property was fine and I like how they have redone the rooms.
Our bathroom toilet was dirty and had stains in it from previous use. There was toothpaste smeared on the front of sink still. Our fridge was dirty on the inside as well. There was also hair all over our sheets. We requested new sheets and there were holes and hair all over those as well. We wiped down everything ourselves with Clorox wipes, but the sheets made us very uncomfortable and there wasn't really anything we could do about it.
Cheap place, not bad if you're just passing through and need somewhere to sleep.
Feb 2022
The price was great and I loved that there was no pet fee.
The door did not latch and was open when we checked in, there was no remote for the tv. The lights at the property were flashing throughout the night and the neighbors were very noisy near are room right by the stairs.
Nasty hotel, but it was cheap.
Jan 2022
There was holes punched in the walls. The room smelled heavily like smoke. The sheets had dog hair and stains on them, so did the toilet. The shower had no shower curtain and the drain was just a hole. The lights in the bathroom did not work and would blink like a strobe light. There were ants on the wall in the bathroom eating something that was crusted to the wall. There were dogs barking next door. And the TV did not work.
Wie viel kostet dieser hotel im Vergleich zu anderen in Crescent City?

Der Durchschnittspreis für eine Anmietung in Crescent City beträgt EUR 148 pro Nacht. Diese Miete ist EUR 103 günstiger als der Durchschnitt.
Ist das Parken in diesem hotel inbegriffen?

Ja, das Parken ist als Ausstattungsmerkmal bei Motel 6-Crescent City, CA aufgeführt. Für weitere Informationen empfehlen wir Ihnen, sich mit dem Anbieter der Unterkunft in Verbindung zu setzen, um zu erfahren, wo Sie parken können.
Gibt es in diesem hotel einen Pool?

Wir haben keinen Pool gefunden, der als Ausstattungsmerkmal für diesen hotel aufgeführt ist. Es kann sich lohnen, noch einmal zu prüfen, ob ein Pool für Ihren Aufenthalt wichtig ist.
Ist Motel 6-Crescent City, CA haustierfreundlich?

Ja! Diese hotel ist haustierfreundlich. Für weitere Informationen empfehlen wir Ihnen, sich mit dem Buchungsanbieter in Verbindung zu setzen.
Welche Ausstattungsmerkmale sind bei Motel 6-Crescent City, CA verfügbar?

Wir haben 7 Ausstattungsmerkmale für diese Unterkunft gefunden. Dazu gehören klimaanlage, haustiere erlaubt, küche/kochnische, internet/wlan und parkplatz.