America's Best Value Inn of Novato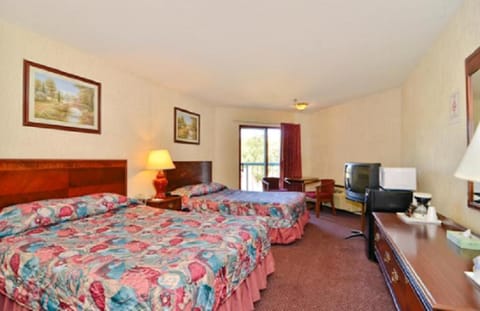 Hotel in Novato, CA
Pool
Klimaanlage
Haustiere erlaubt
Eingebettet in Novato, dieses charmant room in hotel für EUR 68 pro Nacht ist ein phantastisch Option für Ihr nächstes Urlaub. Das Rancho Olompali State Historic Park liegt eine 10-minütige Fahrt von diesem Hotel in Novato, Kalifornien entfernt. Freuen Sie sich auf einen Fitnessraum, einen Außenpool und Zimmer mit kostenfreiem WLAN.
Pool
Klimaanlage
Haustiere erlaubt
Küche/Kochnische
Internet/WLAN
Parkplatz
Waschmaschine
Balkon/Terrasse
Fernseher
Familienfreundlich
100 % verifizierte Bewertungen
3.4 / 5

"Durchschnitt"

(501 Bewertungen)
When we arrived at the property they make you sign a form that no smoking was allowed and we opened our room the room reeked of cigarette smoke. We went downstairs and told the receptionist and they gave us another room instead. It was nice and pleasant except for the kid that was slamming doors next to us.
Reminded Me Of Time In Jail
Jun 2021
My windowless room at Americas Best Value Inn in Novato reminds me of time spent in jails in Belmopan, Belize, Guilin, China, West Hollywood, California, and San Lorenzo, Honduras. Except I paid $100 to stay at the Best Value and I was a guest of the state at the other places. Yes, the Best Value brings back memories. Take the grout in the tiny bathroom--is it black with grime or mold? Hard to say. I had the same question in a hotel in Palestinian East Jerusalem. But that hotel had been blown up by a rocket a few years earlier, compliments of the Israeli Defense Forces, and it wasn't put back together properly; its roof leaked like a Haitian fishing boat. The state of that hotel had a good excuse: It had been bombed! The Best Value? No excuse for the grime/mold. Speaking of grime, check out the photos I took of air intake and output vents in my Best Value room. Yuck. And what's with the shower curtain?!? It was so long that six inches of it lay on the floor of the shower-tub, in the water beside my sexy feet, posing a slip-fall-break-neck hazard to me, a Valued guest (ha!). And boy did I need a shower after a night's sleep at the Best Value. The hotel wraps its mattresses in plastic to the prevent bodily fluids of leaky guests from contaminating the beds. But that same plastic made whatever part of me that laid on it sweat like a boxer I'm the later rounds of a bout. So I found myself laying on my break till it was sweaty, then I'd turn on my side to give my back a chance to breathe, so to speak, until my side was sweaty and then I was on my back again. That's how a spent the night, flopping around like a fish on a pier under a hot sun. I'll be entering a poker tournament in less than three hours and I'm exhausted because I was awake all night due to an awful bed. I drove 233 miles yesterday evening to be in the tournament and I stayed at the Best Value so I'd not have to do the driving the same day as the tourney.
Good for the price in a pricey area
Oct 2021
This was the cheapest place I could find in the North Bay with a decent review score. It was basic, but the third-floor room was clean enough and quiet.
The outside didn't feel very safe: Some people in the parking lot were either homeless or seemed like sketchy guests. The elevator and the corridor outside my room felt dirty and a bit run-down.
Would have been perfect if the charges were proper.
Oct 2022
There was no breakfast, but otherwise good
I never got a statement detailing the charges for my stay. I see overcharges on my CCard, so I may report such to my credit card company. It is best this gets resolved ASAP!
The location was good for me
The TV channels, and the toilet flushing better, and the sink it leaks and the water in the bathtub could get a little hotter, Room 205
The location to Costco The staff, the facilities, pretty friendly, no tweekers in the area.
The location and the price of the room.
The grounds were very dirty every garbage can was full of trash. The beds are very hard no give to them at all. The rooms smell very bad The bathroom floor looks very dirty.
Super nice staff, big, clean room.
Shady looking structure, coming back at night didn't feel very safe but that was probably due to the architecture of the hotel
Spacious ,clean room, comfy bed with all necessary amenities. Great location, close to downtown.
Slept well. Bed was firm but comfy
Floor was sticky bathroom tile grout gross. Hair dryer didn't work heater leaked water all over the floor
Room clean & spacious, with microwave, fridge & coffee pot.
If you just need a bed and shower for the night, it would be ok.
Oct 2021
WiFi very spotty when I called about it they said too many people on it,this happen all week long. Also when I turned on the TV at 4pm no picture, I called down and was told that maintenance would not be on till 6pm
We could not connect to the internet
I would never stay at this location again
Feb 2023
The beds were super old and hard. The whole room smelled really bad. The floor was super dirty and hadn't been swept before we came inside. There was a santi strip on the toilet stating the toilet was clean but pee was on the toilet seat. The room overall smelled so bad it was hard to sleep. This hotel was overall so rundown it needs to be upgraded
No TV remote, no iron, coffee for one night only, had to pay for ice with quarters. Clerk at front dst was not welcoming.
Building was run down and dirty. The bed was rock hard. My room had a dirty, broken window. There was traffic noice all night long.
all night party was very noisy all night...
Wie viel kostet dieser hotel im Vergleich zu anderen in Novato?

Der Durchschnittspreis für eine Anmietung in Novato beträgt EUR 166 pro Nacht. Diese Miete ist EUR 98 günstiger als der Durchschnitt.
Ist das Parken in diesem hotel inbegriffen?

Ja, das Parken ist als Ausstattungsmerkmal bei America's Best Value Inn of Novato aufgeführt. Für weitere Informationen empfehlen wir Ihnen, sich mit dem Anbieter der Unterkunft in Verbindung zu setzen, um zu erfahren, wo Sie parken können.
Gibt es in diesem hotel einen Pool?

Ja, bei America's Best Value Inn of Novato steht ein Swimmingpool zur Verfügung. Genießen Sie das Wasser!
Ist America's Best Value Inn of Novato haustierfreundlich?

Ja! Diese hotel ist haustierfreundlich. Für weitere Informationen empfehlen wir Ihnen, sich mit dem Buchungsanbieter in Verbindung zu setzen.
Welche Ausstattungsmerkmale sind bei America's Best Value Inn of Novato verfügbar?

Wir haben 10 Ausstattungsmerkmale für diese Unterkunft gefunden. Dazu gehören pool, klimaanlage, haustiere erlaubt, küche/kochnische und internet/wlan.