Motel 6-South Bend, IN - Mishawaka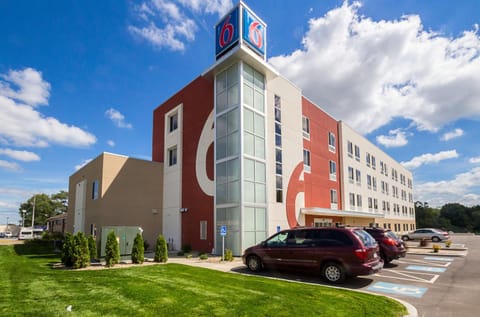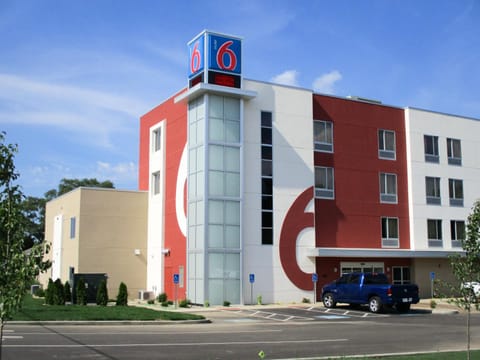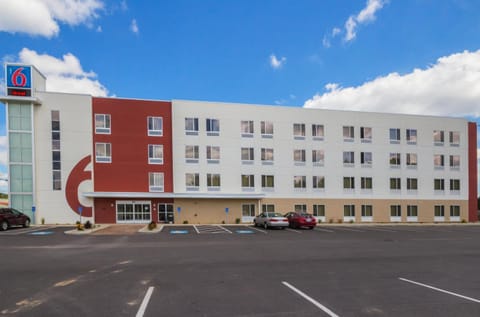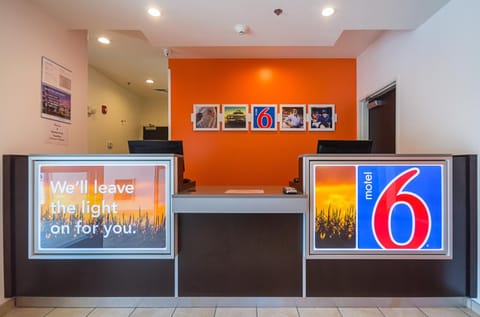 Hotel in Roseland, IN
Klimaanlage
Haustiere erlaubt
Küche/Kochnische
Eingebettet in Roseland, dieses schön zimmer im hotel für EUR 43 pro Nacht ist ein phantastisch Auswahl für Ihr nächstes Reise. Mit 2-Sterne-Unterkünften, Das Motel 6-South Bend, IN - Mishawaka begrüßt Sie in South Bend, 3,4 km von der University of Notre Dame und 8,9 km vom Bethel College entfernt.
Klimaanlage
Haustiere erlaubt
Küche/Kochnische
Internet/WLAN
Waschmaschine
Fernseher
Rollstuhlgerecht
100 % verifizierte Bewertungen
3.2 / 5

"Durchschnitt"

(818 Bewertungen)
This place was great: Great location, walkable food, great new building, safe, inexpensive.
Jun 2022
Wow, I was expecting "fine" or "okay" but this place was really the best Motel 6 I've ever been to. Wonderful place and so reasonable in price. Also central to so many good options (walkable)
A hairdryer would've been great, but none was supplied. Also only one out of our two room keys worked but that wasn't a huge deal and we probably could have easily addressed that with the front desk staff but didn't.
We were left alone to do what we pleased no one looking over our shoulder and spying on us.
There was no remote in my room and they couldn't find me one and the coffee in the morning was hit or miss
We stayed here previously but the Pandemic made this place NOT a place I would ever go back to. We checked out early and
Jul 2022
The first room they put us in was dirty- nasty splatters on the wall behind the bed, blood on the wall in the bathroom. We were moved to a 2nd room that was cleaner but the bedding in both rooms was stained. The AC was so loud that sleep was tough. They don't clean the room daily if you stay more than one night. Outside the hotel, there were constantly people hanging out smoking and lounging around.
Just what we needed.
Jun 2021
We got in rooms quickly and out easily.
Very new, fresh and clean.
The room was not clean I found hairs in the washroom and earplugs underneath the table.
Very close to Notre Dame University. The staff was extremely helpful!
Great place for what we needed
Jun 2021
Very clean room staff was friendly at check in very quiet in rooms no noisy neighbors check out was very easy and i got refunded the fees very promptly.
We didnt get housekeeping the whole time we were there but we were there only 2 nights so it wasnt a huge deal and the check out staff person was a little unwelcoming
door was knocked on 5 times in the night
Jun 2022
no supplies, two bars of soap were the ONLY amenities, not even an extra toilet paper roll, when asked for more staff response was it's locked up, don't have the key, manager with key not here
Very clean , cozy and allowed dogs
Very very small rooms , the lady , I think lady was rude and loud always talking about how if I don't follow rules she would fine me for this and that , she assumed from the get go that I was a trouble maker , I was there with my mother for a funeral , they did not offer any breakfast at all value was not there
It was pleasant. I just wish it didn't take forever to check in.
Mar 2023
Very clean and felt safe traveling with just my daughter.
Front desk worker was sleep and I had to ring the bell 6 times for him to finally come to the desk. Granted it was 4am.
Need a little selection of juice boxes, bananas, granola bars or something simple
had someone yelling through out the night. the Friday I stayed
This was the biggest motel 6 I have ever stayed at the nicest motel 6 I have ever stayed at and the most clean motel 6 I have ever stayed at also for the price it is a great place to stay it doesn't break the bank and the rooms are immaculate
The young gentleman at the front desk was very helpful.
I loved my stay ill go again
Jul 2021
the water was hot in the shower so that was nice...
the curtains for the window were ripped and torn....shower head in the bathroom had no water pressure...the bed didnt have any pillows and the comforter was not big enough for the bed!!! i think the lady who checked us in stereotyped me and gave me a "low budget room" two bathroom towels were a joke, old, tattered and worn. one stained wash rag.
The staff was very helpful and room was clean
The staff was nice and helpful. Sound proofing was pretty good.
It could have been a little cleaner
Last time I'll book Motel 6. You absolutely get what you pay for…
Apr 2022
The staff was helpful and courteous.
Noisy. Huge fans drying wet carpets on the fourth floor all night. Rowdy clientele (did any one sleep that night?). Loud music at 3 am.
The staff is the most incredible staff for any motel 6 I've ever stayed at awesome 😄
Price isn't as good as it use to be
Motel 6 Experience
Apr 2022
The staff at the front desk were awesome.
When I came in for my reservation the staff had to check my room to ensure it was clean and documented properly. When I walked into my reserved room there was hair in the sink and all over the bathroom floor, my pillows were not clean and we're just flipped over as you could still see makeup from the previous individual's stay because it came off on my clothes when I laid in the bed for the first time and didn't observe it until I flipped the pillow over because my hand went under the pillow. The hallways were entirely dirty with mud at which this was 6pm when I came in for my reservation. The front desk staff were very polite and respectful when communicating. Other than that I guess I got what I paid for in a $50 a night motel.
OSINT Investingator
May 2022
The second floor sells weed the third floor has ice cream and call girls and the fourth floor has heroin and its all sold by the owner to the staff, and the staff to the guests openly in front outside smoking marijuana while doing it.
No prostitutes pulling fire alarms and wierdos sticking needles in there arm in the stair well and passed out.
This motel was fine for the money spent and the location was very convenient.
Apr 2022
The room was very clean, the bed was comfortable and the water was hot. It was nice to have a fridge in our room as well. The staff were very friendly and check in was a breeze.
There weren't any toiletries in the bathroom, maybe that was mentioned on the website but I wish I would've known I needed to bring my own shampoo/conditioner, and hand soap. The TV didn't work.
The room was dirty. I saw a bug when I first walked in. There was dust and the mirrors were dirty.
Well, you get what you pay, I suppose. Clean and bare bones.
Sep 2022
The room was clean, the staff (not many) was pleasant. Discovered it was easy to get a refund when I decided to go home early and not stay the last night I had originally booked. It was nice there was a refrigerator.
It was really bare bones basic--that's okay, but not even a place to hang a jacket? Bed cover consisted of a sheet and thin bedspread--and it was a chilly night. No coffee. No spare roll of toilet paper.
Clean facility that seemed fairly new. Good place to stay the night.
Aug 2021
The room was clean. Overall the property seemed to be fairly new. The staff was helpful. In the morning, there was no coffee and the staff at the front desk immediately went to make coffee when requested.
The room was clean. Cheapest rates around the area.
No coffee pot in room and cold coffee in the lobby. Bed was hard and uncomfortable and only a sheet and a thin bedspread. 2 little square Pillows. Nothing to eat for breakfast only vending machines.
Our stay was fine. We went to meet family members, so did not spend lots of time in the room.
May 2022
The room was clean, bed was comfortable. The young man at the desk was friendly and helpful and always had a smile.
The room could have had a bit more storage area.
The room was clean and comfortable. The guy at the front desk is great!
They allow people to be ridiculously loud in the lobby at all times, which is absurd if you're staying on the first floor. Come out the room one morning because I was hearing voices outside my door and all of housekeeping standing in front of my door having an impromptu staff meeting about their manager...
The rooms were clean very nice wonderful staff.
Would have liked it to have been a little bit cheaper for willing to stay weekly. And the drain and the tub was clogged so by the end of my shower I was taking a bath.
Disappointing and a bit scary.
Aug 2022
There were plenty of power sockets, good lighting, air conditioning and the beds were comfy
The rooms were grubby, the linens & towels shabby & stained, no spare loo roll so residents had to go to reception to get more. But the worst thing was that there was a group of about 4 or 5 people always hanging around the entrance and reception who were quite frankly scary. We wondered if they were perhaps homeless & using the motel as a hostel? In the event they gave us no trouble but it was quite uncomfortable at times and we made sure not to go in or out alone.
The price of the room and having a refrigerator in the room.
My only complaint was not having any house keeping service for the 7 days I stayed.
Short and sweet. Everything was comfortable and clean.
Dec 2021
The new look and the pool area. It was all ver clean
The towels were small, they look like rugs.
The modern look tiny room but well thought out and great design
Pillows always too thin even doubles up
The modern look for sure was awesome and the price was too
Hairs on pillow cases. We didn't end up staying the night and chose to drive 2 hours back home later that night. Sketchy people outside the entrance, didn't feel safe
The manager at the desk was very nice and tried to get us replacement sheets and blankets.
Stains all over the pillow case and bed. Comforter has holes in it.
Wie viel kostet dieser hotel im Vergleich zu anderen in Roseland?

Der Durchschnittspreis für eine Anmietung in Roseland beträgt EUR 97 pro Nacht. Diese Miete ist EUR 54 günstiger als der Durchschnitt.
Ist das Parken in diesem hotel inbegriffen?

Das Parken ist nicht als verfügbares Ausstattungsmerkmal bei Motel 6-South Bend, IN - Mishawaka angegeben. Für weitere Informationen empfehlen wir Ihnen, sich mit dem Anbieter der Unterkunft in Verbindung zu setzen, um zu erfahren, wo Sie parken können.
Gibt es in diesem hotel einen Pool?

Wir haben keinen Pool gefunden, der als Ausstattungsmerkmal für diesen hotel aufgeführt ist. Es kann sich lohnen, noch einmal zu prüfen, ob ein Pool für Ihren Aufenthalt wichtig ist.
Ist Motel 6-South Bend, IN - Mishawaka haustierfreundlich?

Ja! Diese hotel ist haustierfreundlich. Für weitere Informationen empfehlen wir Ihnen, sich mit dem Buchungsanbieter in Verbindung zu setzen.
Welche Ausstattungsmerkmale sind bei Motel 6-South Bend, IN - Mishawaka verfügbar?

Wir haben 7 Ausstattungsmerkmale für diese Unterkunft gefunden. Dazu gehören klimaanlage, haustiere erlaubt, küche/kochnische, internet/wlan und waschmaschine.