Sansan Resort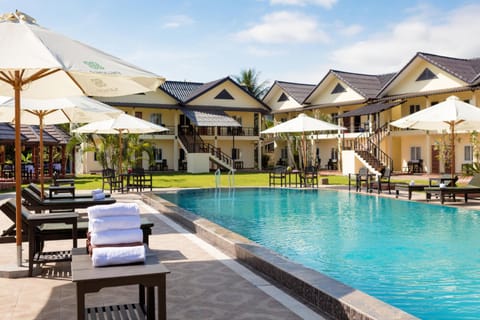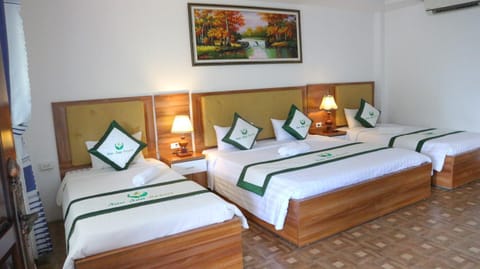 Hotel in Vang Vieng
Pool
Klimaanlage
Haustiere erlaubt
Eingebettet in Vang Vieng, dieses attraktiv room in hotel für EUR 44 pro Nacht ist ein großartig Option für Ihr nächstes Pause. Das Sansan Resort erwartet Sie in einer ruhigen Gartenanlage. Nach einem 5-minütigen Spaziergang über den alten Flugplatz erreichen Sie die Hauptstraße von Vang Vieng und den Nachtmarkt. WLAN nutzen Sie im Restaurant kostenfrei.
Pool
Klimaanlage
Haustiere erlaubt
Küche/Kochnische
Internet/WLAN
Rauchen erlaubt
Parkplatz
Waschmaschine
Balkon/Terrasse
Fernseher
Garten
Familienfreundlich
100 % verifizierte Bewertungen
4.0 / 5

"Gut"

(320 Bewertungen)
Nice hotel but ...
Feb 2020
We really liked the place: beautiful area, quiet, nice swimming pool, great breakfast in front of the swimming pool, nice staff, beautiful room
It would have been perfect but the last night we had a surprising and unpleasant situation to solve. During 30 minutes, we heard people crying in the entrance of the hotel. I decided to go to ask them to stop because it was late. And what I saw was a violent scene: 2 people were very agressive and want to hit a member of the staff, and they were armed: one with a machet and one with an iron bar. I asked them to leave immediately. they were not agressive with me but I would have not to deal with this situation. And the staff did not want to call the police !!!! I did not understand why but it was totally inappropriate and could be a dangerous situation (they were drunk). I did not have answers from the staff the next day !!!
Very good place to stay. I am very happy. Thank you ❤️
Very good place to stay. I am very happy. Thank you ❤️
Very good hotel, friendly staff, amazing pool and clean room.
Very friendly and helpful staff, clean and spacious room. The resort is an amazing location, you can
the view of the mountains across Song river
the room is quiet aged the air-con is not working properly
the Staff are very helpful and would always be around to help. You can book everything through the hotel and pay on check out.
I thought they done lunch and dinner but didn't when we stayed.
Amazing stay at Sansan would strongly recommend they really made our trip
Jan 2023
The staff are incredibly helpful they made our trip in Vang Vieng truely unforgettable with all their bookings and services it was great value for money too in an amazing location!
the bathroom was just a little old and tired but it doesn't stop this place being a 10
The room was very large, very clean and location is great & quiet. The beautiful swimming pool is really the highlight. This resort has many nice views, especially the mountains and colorful flowers in the garden! Would love to come back!
The rooms and the pool are very nice.
The breakfast wasn't that great. It would be nicer to have freshly made eggs rather than egg keep in a hot tray. Especially on a cold December morning :) The hotel is not on the main streets and a bit of walking distance from the good restaurants in town. Mostly importantly, the hotel doesn't have a restaurant in-house. Which means you have to walk to town every night.
Good, quiet, cheap resort
Dec 2022
The resort is quite beautiful for the price you pay. It is currently being renovated a bit, we could notice that they just painted our room. The staff is really nice and helpful, although we had a few mishaps (laundry did not arrive at the given time and the van did not pick us up from our hotel in Vientiane), they always tried to help straight away and they offered the laundry for free. Breakfast is also quite good, with a good selection of hot meals (cooked on order), fruit and cereal. The room is quite big and the location is central (although not in the main street it is just 5/10min by walk).
The hotel needs more renovation to keep it up to standard, when we pointed this out to the manager he informed us that he took over recently and he is already working to improve (they painted the rooms for example).
Disappointing compared with the pictures
Feb 2023
There is a pool and friendly atmosphere, the breakfast is ok. The staff is helpfull.
Disappointing compared with the images!, the first room that they gave me near the entrance, was untidy and not very clean, the second one that they offer was much better.
The location of the Hotel is perfect, beside is not in the town just a few kilometers outside but the personnel helps you to rent a motorbike or bring to you a taxi to explore the area. Also, they offer you many activities where you don´t need to go out of the campus to get a taxi, they go to pick you up.
The location of the hotel is good. View is nice.
The breakfast is too simple. The pool is dirty. I've booked the deluxe double room with mountain view and asked for a kind-size bed only which has already been confirmed by the hotel, but to my surprise, I was assigned to a super huge room with 3 beds - one double 2 single - without giving me a reasonable explanation. The bedsheet looks not clean, the corner of the wood bed frame is sharp which can easy get our knees hurt. The table lamp is not functioning at all.
Clean and comfortable rooms
Nov 2022
The location is great, the rooms are clean and big.
We booked the bungalow but instead we were accommodated into another room. The reason being the bungalow was freshly painted the day prior our check in...on the other hand in the room we were given the walls were dirty... Staff overall was nice but not easy to communicate with.
Staff was incredibly friendly with us ! Room furniture were nice and clean !
nice but not best
Dec 2022
music inside the hotel and from the neighbors too loud
Staff is friendly and professional - the hotel reception has a great travel office for train / bustickets
Wifi , breakfast options and space of the bugalow
Staff excellent, nice pool and view
MiXED - read my review
Jan 2023
POOL - Never been in a pool in my life with worse chemistry , eyes instantly stung No food nearby - just one restaurant which was dreadful Menus in LAOS print only , no English spoken and food poor Long walk to another restaurant The noise on both nights was staggering. The acoustics are dreadful with massive amplification of all noise. The cleaners seemed to party early every morning!! Experience saved by delightful reception staff who had to deal with disgruntled clients. I suspect this suits local people much better than foreigners and must be v good value for families.
Really nice hotel to stay. My room was quiet and nicely decorated. Central location so easy to enjoy visiting Laos
Everything about this place is perfect.
Nov 2022
Quiet and great location, just about few minutes walk to center. Very nice staff, always keep smiling face. Have a good time here.
location/lack of sun beds round pool/very poor breakfast
Look elsewhere until things improve.
Jul 2020
Nice size rooms.Clean. OK breakfast. Good pricing for a time when there are no tourists in the country.
Swimming pool was cloudy and looked like it was not clean. Internet wi fi did not work. TV did not have reception.Staff showed no initiative to fix problems.Car parking was not so good.Very noisy guests not controlled by management partied through the night-so little or no sleep.Room was not cleaned during the 2nd day? Not sure why the service is so poor ?
nice garden, a lot of space outside, hotel is missing facilities
Mar 2023
swimming pool was half empty, no restaurant, no spa, the pictures of the hotel on booking.com are taking a long time ago I think.
Management was very helpful and always friendly. Nice
Stay in Vang Vienge 10 year ago and the stupid government build a street on the other side of the river. Now the nicest view ever is gone. So sad.
Wie viel kostet dieser hotel im Vergleich zu anderen in Vang Vieng?

Der Durchschnittspreis für eine Anmietung in Vang Vieng beträgt EUR 36 pro Nacht. Diese Miete liegt EUR 8 über dem Durchschnitt.
Ist das Parken in diesem hotel inbegriffen?

Ja, das Parken ist als Ausstattungsmerkmal bei Sansan Resort aufgeführt. Für weitere Informationen empfehlen wir Ihnen, sich mit dem Anbieter der Unterkunft in Verbindung zu setzen, um zu erfahren, wo Sie parken können.
Gibt es in diesem hotel einen Pool?

Ja, bei Sansan Resort steht ein Swimmingpool zur Verfügung. Genießen Sie das Wasser!
Ist Sansan Resort haustierfreundlich?

Ja! Diese hotel ist haustierfreundlich. Für weitere Informationen empfehlen wir Ihnen, sich mit dem Buchungsanbieter in Verbindung zu setzen.
Welche Ausstattungsmerkmale sind bei Sansan Resort verfügbar?

Wir haben 12 Ausstattungsmerkmale für diese Unterkunft gefunden. Dazu gehören pool, klimaanlage, haustiere erlaubt, küche/kochnische und internet/wlan.