Central Blanche Residence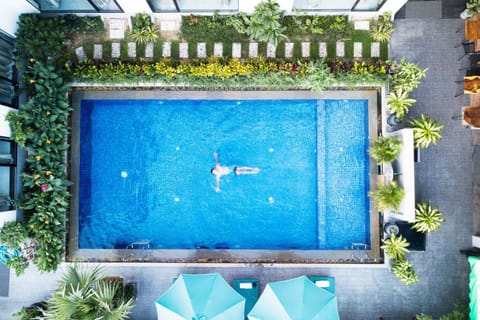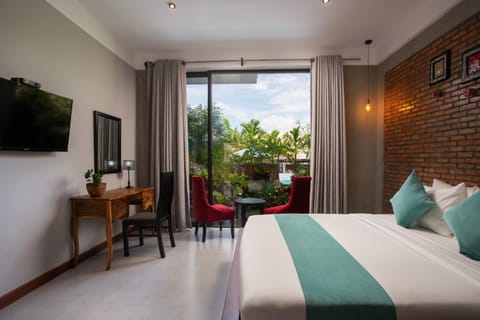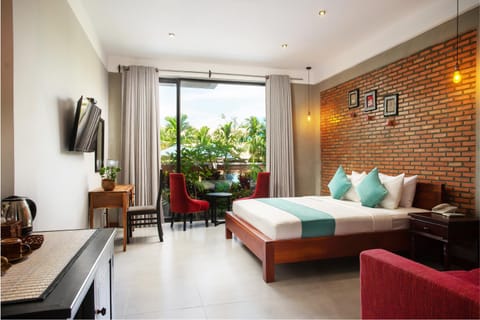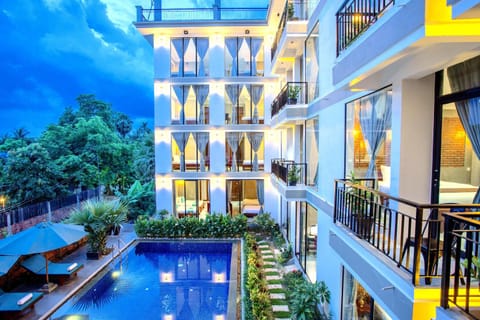 Hotel in Krong Siem Reap
Pool
Klimaanlage
Küche/Kochnische
Befindlich in Krong Siem Reap, dieses schön room in hotel für EUR 44 pro Nacht ist ein großartig Auswahl für Ihr nächstes Urlaub. Die Central Blanche Residence begrüßt Sie in Siem Reap. Hier wohnen Sie 1 km von der Unterhaltungsmeile Pub Street entfernt. Freuen Sie sich auf ein Restaurant, kostenfreie Privatparkplätze, einen Außenpool und eine Bar.
Pool
Klimaanlage
Küche/Kochnische
Internet/WLAN
Rauchen erlaubt
Parkplatz
Waschmaschine
Balkon/Terrasse
Whirlpool/Spa
Fernseher
Rollstuhlgerecht
Garten
Familienfreundlich
Karte von Krong Siem 

Reap
100 % verifizierte Bewertungen
3.9 / 5 (125 Bewertungen)
What a wonderful hotel! Staff is adorable and always there to help ( you can also book tuk tuk via them for a good price). Hotel is lovely and great quality as well! Pool area very nice too! We would stay again :)
It's a bit out of the main road but super cheap and convenient to get a taxi so no issues at all.
Very attentive staff, Clean rooms and very accessible to the kove around
Best hotel staff in the World
Dec 2019
They have the best hotel staff in all ASEAN. I thought no one can beat Thai people in hospitality and good manners, but all the staff here at Central Blanche changed my perception. I will only ever go to Siem Reap again just to meet these wonderful people. Special thanks to Nita, Seenat, Hiyen and the night staff who helped us out of the way and were there for us all the time 😘😘😘 Hotel and facilities were above average given the price point, however the management was more than facilitating.
Location is a bit far off, but this reason shouldn't really hold you back from staying here because of other +ves
The staff was great and very helpful. The room was very spacious and overall great value for money!
The bedsheets were a bit ripped and the room could have been a bit cleaner - overall nothing to complain about. We had a great stay!
An amazing hotel, great value for money
Mar 2020
-The staff is the kindest and most accommodating and friendly. We were greeted with a welcome drink and very thorough explanation of every service in the hotel. We got helped with our luggage and got a tour of our room. -There is 20% discount in their restaurant for food and 30% discount for spa services -the free pick up tuk tuk picked us from our bus in time. We got also a free drop off service. Very friendly drivers -The hotel is beautiful, decor is amazing, beds are big and comfortable, it is as beautiful as in the photos. The showers were hot and water pressure was good. AC worked very well. -breakfast buffet was good. There were 2 types of cereal, milk, fresh egg station where you can get eggs any way you like freshly made, there was toast, pastries, fresh fruit, salad and warm food station where the food varied (during our stay there were baked beans, potatoes, ham, fried rice, fried tomatoes, not all in same time, they were changing it up), orange juice and tea and coffee - the swimming pool is really nice and refreshing and pool towels are provided. -location is a 15 minute walk from the pub street which was fine. Tuk tuks are always available outside the hotel for 2 dollars in total. -location is nice and quiet, always slept very well. -good laundry service for 2 dollars a kilogram. You can get it for half a price on the way to city.
Central blanche is an amazing hotel with outstanding service. -However if they wanted to improve something they could add more storage room to the rooms. Some shelves to put our clothes on. -Also the bars menu could include more options for vegetarians. -The breakfast box could be improved. We left to angkor wat in the morning. We had ordered a breakfast box. We had to wake up a sleeping receptionist who got us our box which included 2 slices of toast with a little container of jam, 2 hard boiled eggs and one mini banana. We asked the previous day if they could add any vegetables they normally serve during breakfast as we prefer not to eat eggs. But they didn't add it.
the staff are very nice and helpful. The location is slightly off. the beds are clean and well kept. The room, the toilet and the hallways could be cleaner and kept nicer though. they charged a bit extra on services like bikes and motor bikes which I dint like as well.
Nice room's but not much else
Dec 2022
The room was spacious and clean
The location isn't great, quite far out the way from anything and from the town centre. The hotel is advertised on booking.com as having a restaurant and a bar which it does not - there is a bar but it isn't open and there is no restaurant at all. The pool is very outdated and doesn't look anything like the photos shown on booking.com either, half of the tiles are missing and it just doesn't look very clean or appealing. Additionally, when we arrived our shower was broken so we had to wait for it to be fixed which wasn't what we wanted after a long night of travelling.
The room near the pool. The possibility of keeping the motorbike inside.
No shampoo and wet (moisture) ceiling in the bathroom room A7.
The hotel is pretty well organized, the breakfast was very good and the staff was very attentive. The rooms were very clean and comfortable. The swimming pool was nice but a bit cold as there is not much sun hitting the pool area. I would totally recommend to rent a scooter in the city center, it's more affordable and it's almost necessary to commute from the hotel to the center faster. It's also possible to walk, but it will take you around 20 minutes to reach it. There are tuk-tuks available almost all the time in front of the hotel. If you are planning to visit the temple complexes, then a scooter is a perfect option!
Sometimes there was a sewer smell in the bathroom and we couldn't figure out where it came from.
Service. Give another room without hesistation. Normal room for this price. Room is very spacious.
On last floor not good water pressure. Water have metal smell. Hard mattress.
Value for money with a friendly smile
Jan 2023
Lovely, friendly, helpful staff. Quiet location away from all the noise of the city. Large room with comfortable beds and cleaned regularly. Clean pool lovely for a dip with towels provided. Good value for the cost of our stay. Great to have the airport transfer included.
It's clear that the hotel has only recently opened since covid, because there was no poolside bar or restaurant service, which was a lost opportunity for them really - if they'd had bottles of beer available to buy we would have definitely bought from them when by the pool and we would have eaten there. you need to shop if you want beers by the pool. Hard to find on arrival because the hotel is down a little dirt road - I would recommend taking note of the phone number in case you need to direct tuk tuk drivers to it. Nothing is quite as pictured, but give the sunbeds and parasols a good clean, reinstate the bar and keep the stairways clean and it will be back up to the great little hotel that people reviewed pre-covid
A pretty place that needs a few things to reach its potential.
Mar 2023
It was very pretty and they had an excellent breakfast. The staff was sweet, warm and very efficient . They set up my nice sunset tour. .
The location as it was down a bumpy, dirt road with nothing nearby. The information from their own website implied they had a restaurant that served more than breakfast. But it only did so at this time. I came back at 7 pm from a sunset tour and was hungry but nothing. luckily I had a few snacks to eat. They also did not supply shampoo or lotion in the bathroom, not face towels. These are all things they need to change to become a true resort as they show on the website.
friendly and helpful staff, clean property good breakfast
Relaxing, friendly & peaceful stay
Mar 2023
Everything. Greeted by friendly staff at all times of the day, great breakfast each morning & a lovely quiet pool area to relax at. The rooms are lovely, spacious and the area is quiet. I have extended my stay here 2 times now as I have felt very relaxed and at home here.
Nice hotel in reasonable cost
Mar 2023
Comfortable rooms Homely breakfast Friendly staff
Street road was not built so would be risky to use your own vehicle....ac were quite old and sometime ac remote don't work...intercom was not working so difficult to reach staff...
Wie viel kostet dieser hotel im Vergleich zu anderen in Krong Siem Reap?

Der Durchschnittspreis für eine Anmietung in Krong Siem Reap beträgt EUR 37 pro Nacht. Diese Miete liegt EUR 7 über dem Durchschnitt.
Ist das Parken in diesem hotel inbegriffen?

Ja, das Parken ist als Ausstattungsmerkmal bei Central Blanche Residence aufgeführt. Für weitere Informationen empfehlen wir Ihnen, sich mit dem Anbieter der Unterkunft in Verbindung zu setzen, um zu erfahren, wo Sie parken können.
Gibt es in diesem hotel einen Pool?

Ja, bei Central Blanche Residence steht ein Swimmingpool zur Verfügung. Genießen Sie das Wasser!
Ist Central Blanche Residence haustierfreundlich?

Leider ist dieser hotel nicht haustierfreundlich. Versuchen Sie erneut zu suchen und filtern Sie nach "Haustiere erlaubt"
Welche Ausstattungsmerkmale sind bei Central Blanche Residence verfügbar?

Wir haben 13 Ausstattungsmerkmale für diese Unterkunft gefunden. Dazu gehören pool, klimaanlage, küche/kochnische, internet/wlan und rauchen erlaubt.