Fabric Hotel - an Atlas Boutique Hotel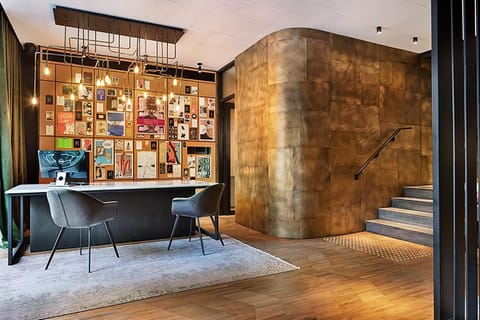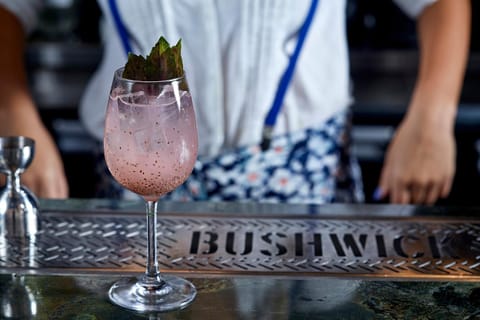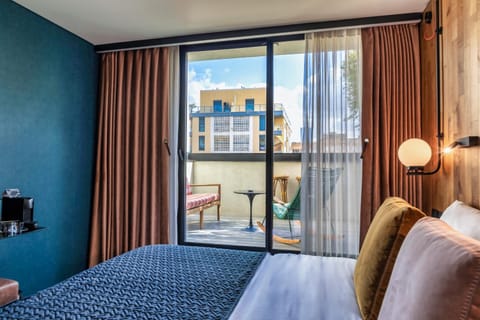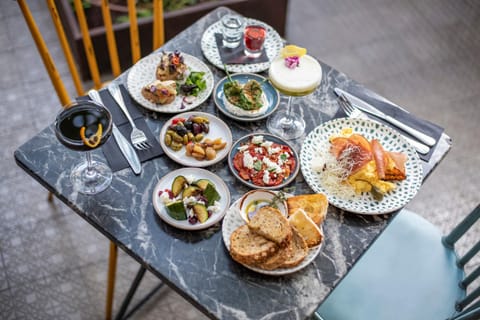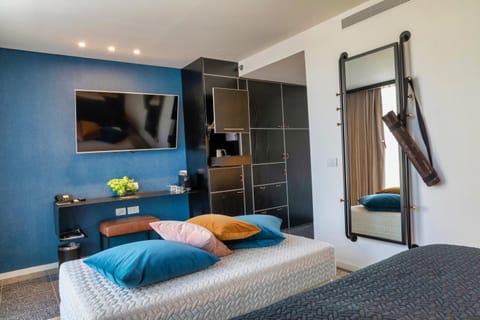 Hotel in Tel Aviv-Yafo
Klimaanlage
Haustiere erlaubt
Küche/Kochnische
Befindlich in Tel Aviv-Yafo, dieses charmant room in hotel für EUR 110 pro Nacht ist ein großartig Option für Ihr nächstes Pause. Das Fabric Hotel - an Atlas Boutique Hotel genießt eine attraktive Lage im Zentrum von Tel Aviv und bietet klimatisierte Zimmer, kostenlose Fahrräder, kostenfreies WLAN und ein Fitnesscenter.
Klimaanlage
Haustiere erlaubt
Küche/Kochnische
Internet/WLAN
Waschmaschine
Balkon/Terrasse
Fernseher
Fitnessraum/Fitnessstudio
Familienfreundlich
100 % verifizierte Bewertungen
4.7 / 5 (1'011 Bewertungen)
Wonderful location, good breakfast. Rooftop has a great view, room was very clean.
The Bathroom was a bit small and there is a mirror in front the toilet :)
We stayed at the Fabric hotel for 4 nights. The breakfast was amazing, we received free water bottles when we went outside, there was a daily happy hour. The staff was very attentive and the room was always clean when we returned.
Amazing, great value for money! Highly recommended <3
Oct 2021
We came to stay at the hotel right after our wedding night. The crew was kind to let us check-out late. The room is beautiful, with an amazing balcony, the rooftop is a must for anyone who stays at the hotel. The breakfast was delicious, fresh products, even though we were full from the wedding and didn't order and egg dishes- the dishes other guests received looked amazing. The hotel staff were nice and considering, room was nice and clean. Great stay!
gorgeous hotel, centrally located.
Aug 2022
Very stylish, comfortable & centrally located hotel with a stunning bar/restaurant and lovely touches like free water and beach bags.
our family room was a little cramped
Very nice hotel in central location. Stuff very friendly and welcoming. Liked free cold coffee and drinks at happy hour :-). Nice restaurant on site.
A Lovely Boutique Hotel in Center Tel Aviv
Apr 2022
Very cute boutique hotel at the heart of Tel Aviv. A short drive from the train station with many parking garages in the area if you arrive by car. The room was comfy, shower was great, lovely breakfast. There is a rooftop terrace that is lovely to hang out. There are plenty of coffee houses and restaurants in the area and a supermarket right across the street. Everything is in walking distance, 20 mins to the beach. We've stayed in Tel Aviv many times and this is a great choice of hotel and area. The staff was kind, multi lingual and very helpful.
The area is noisy, but that is true for pretty much all center Tel Aviv. The room was quiet with closed windows, so we didn't have trouble sleeping.
An absolute no-brainer if you like to stay in a vibrant neighbourhood and love to get spoiled by the staff!
Sep 2022
This hotel was absolutely fabuluous in every possible way! The staff is so friendly and helpful, really not a single of our requests wasn't taken care off by the team. The hotel is located in one of the most vibrant streets during the night, all in a car-free street during the evening so that tables are on the street. The breakfast in the hotel was more than amazing (plenty of vegan options too!). While Israeli breakfast is rather expensive no matter where you go in town, the food offered by the hotel was an absolute treat! There were days on which we had to leave early for our day trips and then the staff had prepared a little lunchbox and put it in front of our room door or kept it at the reception for us. They were also willing to store part of our luggage when we went for some days into Jordan and we wanted to travel light. Upon return, the staff had already brought our stored luggage to our new room. The hotel offers all sorts of amazing gifts to its guests. For instance a free cocktail for every day in the next door cocktail bar (and the place was so popular it was full every single evening!). The hotel also offered free yoga, free beach bags wirh towels and water, free macarons, etc. The rooms were super tidy, nice and pleasant showers, all you could wish for! We absolutely loved our stay here and would warmly recommend it to everyone!
The stuff were great and very helpfool.breakfast was wonderful
One of the nicest boutique hotels in TLV. Highly recommended.
Aug 2022
The staff were really lovely and the room was super comfortable. Furnished well and bright and airy. The rooftop has to be seen as well! Gorgeous!
Nothing, was all perfect. Couldn't have asked for a better experience.
The staff was excellent! Friendly, helpfull, could'nt be better! Nice breakfast. Nice bar...Terras on the rooftop.
The staff was amazing and extremely helpful. They went out of their way to make it an wonderful experience .
A perfect boutique hotel situated in the centre of Tel Aviv
Mar 2023
The staff are so friendly and beyond helpful. Breakfast is a must with so much choice. A visit to the bar shouldn't be missed either - the cocktails and tasting plates of food are delicious.
Nice location, ok rooms, bad linnen, expensive
Apr 2022
The second reseptionist, the location, the roofttop
The first reseptionist was rud and unpolite. The linen on my bed was plastic, not cotton. The breakfast box was poor. Bread was dry and no butter or mayones to the thick chees.
Great stay. We will sure be back soon.
Dec 2021
The room was comfortable. The girls had a two-stories ben. and each one had her own TV in bed which was really excited for them. Shower was one of the greatest I've seen. The location is exceptional.
We didn't have any view which was a little disappointing.
very nice comfortable hotel with great location
May 2022
the room , breakfast and facilities
no flexible checkout and the room was a bit small without a view
The position was excellent
The location was fantastic, the room was clean and comfortable, and the staff was friendly and accommodating. The Bushwick was a fun bar and all the cocktails and appetizers we tried there were great. The vouchers for happy hour were a nice bonus.
There wasn't much closet space.
The location in the middle of Neve Tzedek is perfect. We loved the breakfast and the drinks at the Bushwick Bar. They even offer a free drink per night at the happy hour. You also can rent bikes for free and get vouchers for some market locations. Really recommendable. The staff is super helpful and so nice.
The hotel located in city center, 7 minutes walk to the beach. Pleanty choise of restaurants not far from the hotel and great bar downstairs
Great experiance and we would choose again!
Oct 2022
The hotel itself was amazing, the staff was top notch and hard to find anywhere else. No matter how good a hotel can be, if the staff are not committed. It's different in the Hotel Fabric, super nice staff, dedicated, helpful, just top class! The bar and the breakfast also reflect the philosophy of the hotel... Top class! Thank you for letting us experience it.
Compared to other world places the price is quite high compared to Tel Aviv normal price.
Most dissappointing part of Tel Aviv
Jul 2022
The hotel is well located in the beautiful city of tel aviv. Theres à bar/resto next door.
The staff was unpleasant and upcharged us. We booked 2 double rooms for 2 and were charged again. They said 2 people cant stay in a room for 2 ppl without paying an extra person fee. Not sure if the other reviews are from locals but theres definitely some review manipulation going on. They don't deserve the rating they received. Rooms are small and not well insulated. You here everything from the bar downstairs so don't expect to sleep till after 2am. Mini bar is not existent but there is a fridge that does not work.. Theres so many great hotels in Tel Aviv with outstanding hospitality and great accommodations. This is not one of them.
The hotel has a really cool atmosphere. Room was clean and cozy, staff were super nice and breakfast was really good. We also went to the happy hour and the cocktails were really tasty.
The breakfast had caught our hearts. It gave us the real value of the place (and the restaurant staff of course and the roof)
The adiminstrative processes of the hotel are tedious. They make transactions on your credit card for so to say guarantees even though it is stated that you pay at the property at check-out. At the time of my check-out more than the amount I was supposed to pay was already deducted from my card. Be sure to check your credit card statement. I never expierenced this at a hotel.
The breakfast at the sister hotel to which I was recommended, as they closed the breakfast early with the excuse of a lack of customers.
Super hôtel, super bar, super staff !
Superb hotel: excellent location, clean, nice design, comfortable; very friendly, helpful & professional personnel, exceptional breakfast & dinner choice & quality. The restaurant & bar create a wonderful, joyful & lively atmosphere. All in all I enjoyed a lot staying in Fabric Atlas Boutique Hotel. Will come back for sure & recommend to my friends when visiting Tel Aviv.
Satisfactory, but would not return.
Dec 2022
Staff was very nice. Breakfast was great. Large TV.
There was nothing special at the hotel that might elevate the experience.
Squeaky clean, comfortable, cool designed. The location is perfect, the restaurant downstairs offers good food and vibes. The staff was friendly and helpful.
Great location and nice design. Would look to another hotel in the Atlas chain to stay next time.
Aug 2022
Room was very nice overall. Just smaller than expected - much smaller. Two people couldn't stand side by side inthe bathroom. It was furnished nicely though and had many nice design features. Breakfast was wonderful and the bar staff were very nice.
Bathroom was almost an afterthought in proximity to bedroom. All noises in bathroom could be heard in bedroom.
the room is toooo small 😆
Room was a bit noisy at night
Parking arrangement could have been nice
Wie viel kostet dieser hotel im Vergleich zu anderen in Tel Aviv-Yafo?

Der Durchschnittspreis für eine Anmietung in Tel Aviv-Yafo beträgt EUR 175 pro Nacht. Diese Miete ist EUR 65 günstiger als der Durchschnitt.
Ist das Parken in diesem hotel inbegriffen?

Das Parken ist nicht als verfügbares Ausstattungsmerkmal bei Fabric Hotel - an Atlas Boutique Hotel angegeben. Für weitere Informationen empfehlen wir Ihnen, sich mit dem Anbieter der Unterkunft in Verbindung zu setzen, um zu erfahren, wo Sie parken können.
Gibt es in diesem hotel einen Pool?

Wir haben keinen Pool gefunden, der als Ausstattungsmerkmal für diesen hotel aufgeführt ist. Es kann sich lohnen, noch einmal zu prüfen, ob ein Pool für Ihren Aufenthalt wichtig ist.
Ist Fabric Hotel - an Atlas Boutique Hotel haustierfreundlich?

Ja! Diese hotel ist haustierfreundlich. Für weitere Informationen empfehlen wir Ihnen, sich mit dem Buchungsanbieter in Verbindung zu setzen.
Welche Ausstattungsmerkmale sind bei Fabric Hotel - an Atlas Boutique Hotel verfügbar?

Wir haben 9 Ausstattungsmerkmale für diese Unterkunft gefunden. Dazu gehören klimaanlage, haustiere erlaubt, küche/kochnische, internet/wlan und waschmaschine.