The Capitol Kempinski Hotel Singapore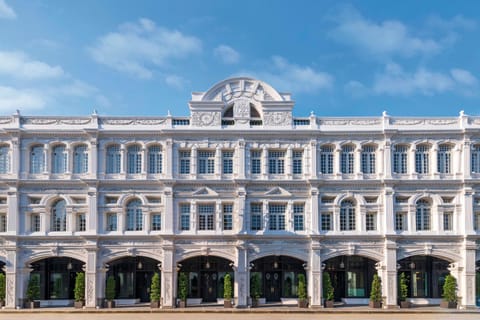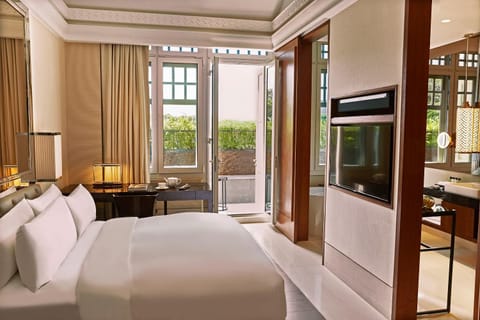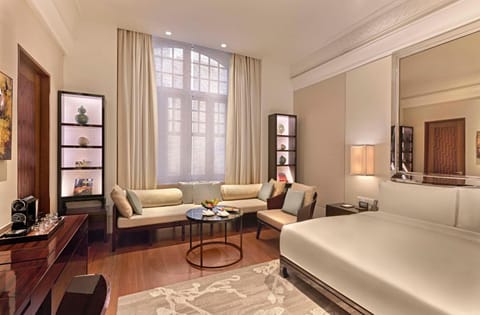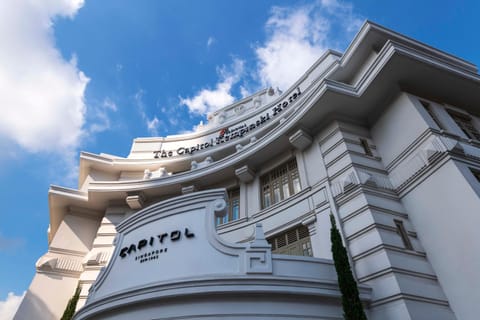 Hotel in Singapore
Pool
Klimaanlage
Küche/Kochnische
Befindlich in Singapore, dieses attraktiv room in hotel für EUR 193 pro Nacht ist ein großartig Auswahl für Ihr nächstes Reise. Das Capitol Kempinski Hotel Singapore empfängt Sie in den beiden Gebäuden Capitol Building und Stamford House, die vom Pritzker-Preisträger Richard Meier restauriert wurden, und bietet Unterkünfte in Singapurs geschäftigem Civic District.
Pool
Klimaanlage
Küche/Kochnische
Internet/WLAN
Rauchen erlaubt
Parkplatz
Waschmaschine
Balkon/Terrasse
Whirlpool/Spa
Fernseher
Rollstuhlgerecht
Fitnessraum/Fitnessstudio
Familienfreundlich
100 % verifizierte Bewertungen
4.5 / 5 (916 Bewertungen)
If we return to Singapore, this would be the place to come back sand stay.
Jul 2022
Wonderful heritage hotel right in the heart of the city with modern facilities. All the branded outlets right minutes away on Orchard road. Beautiful Capitol Theatre in the the same compound with loads of eateries. Enjoyed our stay at the property.
Very courteous staff. Room interior was good, toilets were ultra clean and very modern facilities including temperature control for commode seating and jet water. Elevators were suitably designed to suit the mix of modern and heritage looks.
We the enjoyed breakfast. The stay was comfortable and friendly.
Luxury birthday trip
Sep 2022
We loved the location, the beautiful building and the amazing rooms. The staffs were all nice and helpful if needed. I were staying here for my birthday and they did a great job to make sure we were comfortable and were thoughtful to sing me a song at breakfast 😍 we had an amazing time and loved the room so so much, it was big and comfortable as we were spoiled to an upgrade to the Heritage Room! Bed and pillows and the indoor balcony were my favourite and the MRT only a short walk away under the ajoint building or just across the road. They even gave us a room to refresh before our delayed and very late flight which is a huge plus for me as I travel often and if a hotel can give a room to refresh I give extra star! 😁 Thank you to the team for looking after us and providing a safe and clean environment.
The air con can take a little while to cool up the room during the day but some complimentary drinks from the mini fridge works too! Breakfast didn't have much selections but ok to start the day before a big lunch later.
Luxurious and grand. Will book again
Apr 2022
Very premium. I love their gym facilities, the free breakfast was great, the bed was so comfortable. Everything was just exceptional. It was a great experience all throughout. Would definitely book again.
I thought it has open balcony when I was booking this room (Heritage Room) it is not an issue for me since everything else were awesome
Nice architecture, convenient many restaurants you can choose from just charge to the room
Sep 2021
Very nice room design, i like the rain shower and bathtub.
the japanese bidet in the midnight seems on a little pressure
City location in a beautiful ancient building
Feb 2023
Very nice hotel in a good location. Breakfast was amazing with many options in a beautiful restaurant. The building is old but looks newly refurbish so the standard was very high. We had a great stay and could highly recommend.
Cant find anything negative to say about this hotel.
very good service and friendly personel
lighting concept in the room including bathroom-> it is too dark
Very good location. Very very friendly stuff especially in the breakfast. The housekeeping change towels twice a day. Morning and afternoon. Free water, juices, soft drinks and nespresso capsules every day. Top brand shower gel, shampoo etc.
Small lobby. The entrance of the hotel it isn't in the main street but in an alley. There is no iron in the room.
friendly and helpful stuff , the location of the hotel amazing and in the middle of everything
Jul 2022
very friendly stuff, helpful and the cleanliness of rooms
room service only until 10:30 pm
wonderful stay with baby. hotel staff very accommodating in providing whatever was needed to make our stay comfortable i
May 2022
very convenient location with restaurants and malls nearby amazing staff good breakfast
getting to lifts can get confusing but not a terribly big deal
thanks for free upgrade - free late check out - wonderful service - see you next time - best in Singapore
Oct 2022
timeless design superb service no unnecessary additional cost for normal request like additional pillows or so the breakfast - wow … I can recall anything I missed
actually just the construction next door (some sounds in my room sometimes) - not own responsibilities- soon gone
Exceptional service from a world renowned hotel chain.
Oct 2022
The Stamford suite was exceptional. This was an upgraded room and we were provided an early check-in and late check-out. Breakfast service was excellent and the variety was superb Location was right opposite a mall and adjacent to the MRT station giving easy access to the rest of Singapore. Staff were exceptional.
There were no negatives. Our stay was faultless.
Relaxing getaway with great amenities at a convenient location.
Jul 2022
The staff were very helpful throughout our stay and the room was equipped with amazing facilities and very spacious.
we found a strand of hair on the soup when we ordered in dining service, however, it was escalated quickly by the management and we were given a replacement straightaway.
A perfect staycation
May 2021
The staff were very friendly, though they make a mistake in arranging the wrong room for me during check-in. They were honest to realise the mistake and apologise. This is very amicable, the room is clean and comfortable. I like the quality of the stay and the location is nearby many shopping centres.
Nothing much I can complain about.
excellent staff , amazing place , decore and very comfortable bed
Jan 2023
the staff were so understanding and polite , they even sent us the breakfast to the room when we missed it.
The staffs were exceptional with their customer service. Very friendly and attentive. This leaves a long lasting impression during our stay in The Capitol Kempinski Hotel Singapore.
The breakfast and in-room dining menu varieties could be improved.
the staff is super nice and helpful.
it was lovely stay overall.
Feb 2023
The staff and their service is excellent. we came in our room with a surprise cake and desserts prepared in our room for our 5yo daughter's birthday. she was so happy.
the room is quite compact and one of the tv in our room didnt work which is not a big deal and they actually offered to change the room, but since we've unpacked our bag its a little inconvenient for us to change room.
Just OK. Nothing particularly memorable, beyond the bathroom/bathtub.
Nov 2021
The size of the bathroom and bathtub. The bathroom and bathtub were the highlight of our stay. My wife loved the Singapore Shophouse book in the room. You were kind enough to provide a cake to honour our anniversary. Thank you very much for that.
We felt the room was a little cramped for the price. Overall, there was a lack of attention to detail. Small things, for example, our tea and coffee in the minibar seemingly being not refilled left a negative feeling. As did not providing bubblebath. Plus, the majority of the drawers were completely empty, which to mee shows a lack of attention to detail. Other hotels I have stayed in have stationary, boxes of tissues or even just brochures to read, but it makes a difference to not open endless empty drawers.
The service provided by staff was awesome. A true dedication to quality of service. My wife and myself were very impressed. We would also like to give a shout out to Eileen for extending her assistance to making it a pleasant stay.
Amazing service, great location and wonderful room.
Sep 2022
The room was very clean and comfortable. The bathroom is beautiful! Most of all, all the staff were super friendly and very helpful.
- The room was super clean, confortable, well furnished and decorated -The staff was really welcoming and efficient - The breakfast was really good I fully recommend!
Affordable luxury in a great location in a wonderful city.
Aug 2022
The room was spacious and comfortable. I had a late flight and they allowed access to a room to freshen up. Wonderful breakfast. Handy location. Staff are just wonderful!
The room was spacious and clean. I liked that there were no carpets. The hotel is in an excellent location...near many sights and restaurants. Ms Stella (reception) was very professional, helpful and made me feel welcomed. I had a great facial and foot massage in the spa. I loved that the treatment bed was heated. I highly recommend Ms Yok if you prefer a deep tissue massage. The guest services were generally very helpful (but calls were not always answered immediately).The conceige gentleman that assisted me was very helpful and polite.
Small things matter..hope these will be addressed: 1) the man who performed my Covid PCR swab, twisted the swab 10 times in each nostril till both my nostrils bled (I had to lie down for 4 hrs and lost a day of sight seeing). The scientific standard for the nasal pharyngeal swab is to rotate the swab 3 - 4x for 10 to 15 seconds per nostril. This negative experience dampened my trip. Needs to be addressed by hotel management. 2) Recommend 2 sets of cutlery for the breakfast setting. The servers don't automatically bring new cutlery when serving hot dishes, and by the time they return with the cutlery, the food is cold. 3) Recommend the breakfast servers are trained to bring butter with toast. Most days I had to ask for butter and by the time the server returned with the butter, the toast was cold. 4) The breakfast servers were rude to me (except the pastry chefs). After I lodged a complaint they were friendly but not sincerely. The F&B manager needs to be on the floor to observe the service. 5) On my 2nd to last day, I returned to my room to find the house keeping had left the door unlocked. I have been blessed to stay in over 500 five star hotels.. This has never happened to me before. 6) The light switch on the balcony was hidden behind the desk. Suggest to change it or put a sign. 7) In rooming dining food was good but served cold. I suspect the food stands on a counter in the kitchen, and is not put directly into a hot cabinet.
Exceptional hotel located in the heart of the city
May 2022
The room was really spacious and clean, it was extremely quiet and the aircon was working in good order (not always a given). The breakfast was very good and had some small items that would change every day, although for long stays it can be a bit repetitive (but there are plenty of other options nearby). The staff was outstanding, they really ensured that we had a good stay. The cleaning itself was amazing, they even remembered what items we were using on a daily basis and refilled more of these. Last but not least, we particularly appreciated the possibility to take a shower prior to our flight, even though we had already checked out, this was really a great difference compared to other hotel and we will keep that in mind for our next trip. Overall we would definitely recommend this hotel.
Nothing really much, perhaps just a few improvements for the future: - Create a business area somewhere or at least have a quiet place (library area?) where people can work outside of their room - The overall room size is really great however the bathroom area could possibly be reduced to leave more space to the actual bedroom (bathroom area: 55% of the room) - The bedroom chair can be a bit painful for the back if you work long hours on it Not really related to the hotel but Kempinski should offer a better package when contacting them directly compared to online bookings as - marketing-wise - it doesn't make much sense.
Exceptional Staycation Experience!
Jan 2022
The room was perfect and I am especially impressed with the consideration of the hotel of providing warm toilet seats. The whole environment is warm and the staffs there were all very friendly and greeted us as we walked past. The food is great too! Will definitely come back!
I love everything there! Only thing was it was a bit confusing to use the shower. Wasn't sure which to turn on and was drenched in cold shower. Not sure if the front office advised my husband beforehand as he checked in first
Breakfast is great!
Oct 2021
The room was great. Love the spacious design. We enjoyed the breakfast very much, the food was good and comes with lots of variety for us to choose from.
We faced some issue with the TV console when switching to certain channels. We reported the issue and the staff who attended to us tried their best to fix it while we were outside. It was reported that the issue was fixed but when we tried again, the same problem came back. Although this is a one off small incident, we wish it could have been better managed.
Great customer service, very clean and comfortable room
Jun 2021
The room is great! The bathroom is large, and the bed is very comfortable. The amenities are nice. The guest services were excellent and definitely exceed expectations. They gave us free cake when they knew we are getting married. All social distancing and safety protocols have been followed.
Not really for the hotel, but cabs find it hard to find the lobby for pickup.
Nice hotel with great location
Dec 2022
The room is clean and tidy. Staff is friendly
The plates and glasses in the restaurant are not clean, there are stain on most of them.
The room is big, but mostly because the toilet is huge. Bathtub was big as well, with a mirror/TV. Interesting touch but the angle was not ideal because the TV was not at eye level (which made everything on screen appears darker). Perhaps the screen can be tilted to face downwards towards the tub? Toilet area has this electronic panel which controls the bidet and an air dryer, kind of cool. Shower has 3 different heads, including a rain shower, so that was great as well. Minibar was free. But as one would expect from a free minibar, the items are limited. No food, just drinks.
Pool was closed for some renovation. There was a replacement pool, but even that was closed due to someone puking in it the night before. Contractors could only come in on our check out day to clean the pool. Terrace space was a bit narrow. Furnished with only 2 chairs and 1 table. It rained during our stay and there's no shelter on the terrace, which made the whole area wet. Would have been great if there was some sort of shelter which allows one to head out despite the rain, and preferably keep the terrace area dry and clean as well. Carpark was a distance away from the hotel lobby. There's a lift which says it goes to the B3 carpark, however, the lift led to some linen area which was locked. Presumably due to COVID? Have to make a long detour around the mall instead in order to reach the carpark/lobby. Room was big but there's barely any space for guests to sit. Because the toilet took up a huge part of the room space. Cupboard design and construct was a bit flawed, the cupboard couldn't open fully, which kinda blocked the safe? Can't utilise the safe because of this. Some of the sockets are a bit faulty? The plugs need to be at a certain angle to use the electricity.
great location and staff, felt as warm as home
Sep 2022
the property has a prime location, great staff, and it has Arcade mall which is an extension to capitol kempinski
The shower . Location of the shower heads The blinds were not working. The lighting system a bit confusing
We did a staycation for New Year's Eve. The hotel is well appointed, luxurious, and stuff work hard to make you happy.
Jan 2022
the location was great The staff go out of their way to help you lots of great local places to eat and get coffee
the pool is a undersized for the facility, but work well enough.
The location, the hospitality, the staff
No bathtub in a grand deluxe room
overall it was good
Jan 2023
the locations and it's cleanest. the staffs are so helpful and friendly
the power point are loose so we can't charge our phone. no power pint anywhere in the bath to blow dry my hair
Value for money with a great location and facilities. but need improvement in problems management
May 2022
The location of the hotel is in CBD and convention. Hotel staff are accommodating either the lobby, luggage service, the restaurant and the guest service. The room facilities are excellent with a bathtub, brand name amenities, clean and comfy bedding, big screen TV and accessible to casting / connecting to your mobile devices and the alarm clock with cable and wireless charger.
There are many things in the room doesn't work, such as The AC controller button, and wireless charger (but you can ask for swapping) I also found a situation that needs the hotel to improve. On Sunday morning, 8-9 AM, while I was sleeping, I was disturbed by noises from construction by the contractor store on the first floor (my room was on the second floor). After 3-4 times calling the guest service asking for the solution and asked for a new room more quietly. They took me to a higher floor and offered me a new room with a quiet, nice view on the fourth floor. This scenario is not what I expected to experience from the 5stars hotel, without notice prior by email or letter, or at least they should keep this room close and provide guests with the other room far away from the construction area when they check-in since. And I also didn't get any complimentary but only just apologies from the staffs.
The location is perfect, with easy access to Raffles City shopping center and train station.
Our room may be vacant for a long time, the welcoming fruits in our room look not fresh, and there is a dust net floating on the roof. Also, the smart toilet seat doesn't work.
Staycation at Capitol Kempinski
Sep 2021
The location is good and the food was great as the staff will very helpful.
The hotel is very good relocated. Is 2 min by feet from metro. To Merlion park is 10 min by feel. Trading center is also 2 min by feet. Good rooms, very polite and nice staff. Tasty breakfast.
Wie viel kostet dieser hotel im Vergleich zu anderen in Singapore?

Der Durchschnittspreis für eine Anmietung in Singapore beträgt EUR 48 pro Nacht. Diese Miete liegt EUR 145 über dem Durchschnitt.
Ist das Parken in diesem hotel inbegriffen?

Ja, das Parken ist als Ausstattungsmerkmal bei The Capitol Kempinski Hotel Singapore aufgeführt. Für weitere Informationen empfehlen wir Ihnen, sich mit dem Anbieter der Unterkunft in Verbindung zu setzen, um zu erfahren, wo Sie parken können.
Gibt es in diesem hotel einen Pool?

Ja, bei The Capitol Kempinski Hotel Singapore steht ein Swimmingpool zur Verfügung. Genießen Sie das Wasser!
Ist The Capitol Kempinski Hotel Singapore haustierfreundlich?

Leider ist dieser hotel nicht haustierfreundlich. Versuchen Sie erneut zu suchen und filtern Sie nach "Haustiere erlaubt"
Welche Ausstattungsmerkmale sind bei The Capitol Kempinski Hotel Singapore verfügbar?

Wir haben 13 Ausstattungsmerkmale für diese Unterkunft gefunden. Dazu gehören pool, klimaanlage, küche/kochnische, internet/wlan und rauchen erlaubt.