Alpine Escape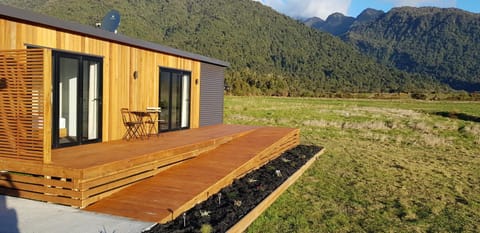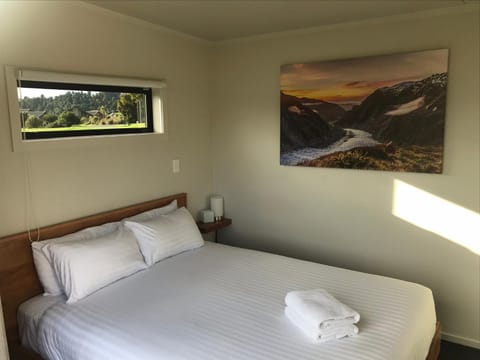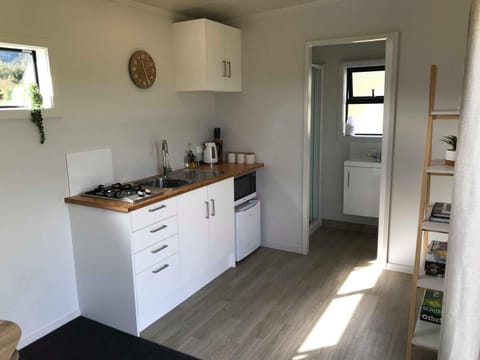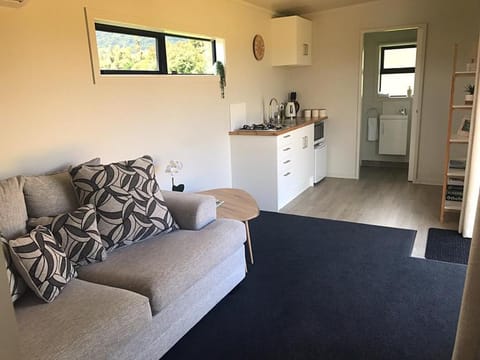 Hotel in Franz Josef / Waiau
Klimaanlage
Küche/Kochnische
Internet/WLAN
Gelegen in Franz Josef / Waiau, dieses charmant room in hotel für EUR 77 pro Nacht ist ein großartig Auswahl für Ihr nächstes Pause. Das Alpine Escape in Franz Josef an der Westküste bietet Unterkünfte mit kostenfreiem WLAN und kostenfreien Privatparkplätzen.
Klimaanlage
Küche/Kochnische
Internet/WLAN
Parkplatz
Balkon/Terrasse
Fernseher
Karte von Franz Josef / 

Waiau
100 % verifizierte Bewertungen
4.6 / 5

"Herausragend"

(271 Bewertungen)
Wow the views. This place is stunning. Excellent amenities, great host communication but the major winner is the views and quiet. Very simple drive into town for food and adventures.
Tiny house in a beautiful location
Oct 2022
We loved the quiet ambience, great views of the mountains and the beautiful horse in the paddock out front. The house was like a small cabin but beautifully done and thoughtfully decorated. The bed and couch were comfy and the hotplates and small kitchen appreciated. The space was small and there were some hooks but no where to unpack anything so our luggage got in the way a bit. We knew all of this but was probably a bit too small for us. The bathroom was really tiny, needed to come out of it to dry yourself properly. Had decent privacy from the other cabin next door, both set back from each other. A nice deck out front to enjoy in the sun. Smart TV was great. Only 5 mins drive into town to the supermarket. All in all we loved our stay here.
We had the heating on all night, which was effective. There was a very light doona on the bed, additional doona or blanket is needed for the colder months to be more comfortable.
We loved everything about It, It was peaceful, well maintained, everything you needed cleaning, cooking to keeping warm at night. The location is perfect just a few minutes out of town. The views are amazing! Mountains and glaciers
We had a lovely stay here. We liked having board games and books present so we could enjoy ourselves while waiting for the rain to stop. The cabin is clean and nice.
Location wise it feels like being in the middle of nowhere. I imagine that the view can potentially be beautiful, but during our short stay it was very rainy and foggy so we didn't see much. The bathroom is incredibly tiny, might be challenging for bigger people.
Fabulous View. So Peaceful and Private!
May 2022
View was spectacular. Very peaceful and private.
More space/hooks or shelving for belongings. But everything else was so good this wasn't really a problem. The sofa was one of the most comfortable, especially as it was quite wide. We will definitely stay here again. The last few times we stayed in Franz Josef we didn't enjoy because of the property we stayed in and there were too many tourists. Finding the Alpine Escape has reinvigorated our desire to return. Well Done!
Didn't want to leave!
May 2023
This place is beautiful! We thought it was going to be smaller from the photos but, it's actually a great size and very cosy. Very comfortable and great location! The board games are a great touch.
Perfect in every way
Dec 2022
This cabin was absolutely perfect in every way. It was exceptionally clean and fitted out to a very high standard. The views and location were stunning. We would not hesitate to recommend staying here.
The views were exceptional. The property was clean and well laid out, easy to find and very comfortable.
The views are amazing and the property was so clean and fresh. It was the perfect size for me and my friend. The outdoor seating was an added bonus and so was the board games. It was so nice to sit outside playing board games watching the sunset behind the mountains
The view from the house was absolutely stunning. and the interior was really nice.
The sind in the bathroom was rather small.
Franz Josef holiday
Oct 2021
The view and surroundings were breathtaking, it was super clean and well decorated. Homely, comfortable and warm, just perfect! Has everything you need.
The room is cozy, clean, and beautiful. We can see the glacier just from our room. At night, you can see lots of stars in the sky. We had a great time in this house.
The place is so nice, very clean and cozy! We loved our stay very much! The view is amazing too! The surrounding is very relaxing.
Overall a nice and comfortable place to spend an overnight in.
Mar 2023
The place is nice and clean
The bathroom is tight and the bathroom basin is more to wash your hands in and not where you would brush your teeth and wash your face
The open views was comfortable & had all the amenities Blue Ice restaurant was very good
Perfect location!
Mar 2022
The location was perfect 👍 able to see the glacier from bed. Well appointed and the bed was comfortable
one word "Stunning "
Jan 2023
The location was fantastic,you could sit on the decking and look at Franz Josef,absolutely stunning.
Could do with a table lamp in the seating area,the main lighting was too bright to sit and relax.
The location is perfect in a grassy field with a mountain view about a 5-10 minute drive from the town centre. .
Maintenance of the inside of the tiny home not up to the best standards. We experienced flickering lights, poor drainage from the shower and water damage to the window sill above the sink. The WiFi connection was very temperamental. The bathroom is extremely small.
Clean room with a superb view
Dec 2022
The apartment was prefect. It was very clean and towels and handwash were provided and you get a great view from the bedroom and living area and we wake up to a clear view of mount cook the next morning. And although we arrive late at night, we didn't have any problem finding our way to the apartment as the owner was very thoughtful to put up sign along the way near the apartment to ensure guest doesn't get lost. Highly recommended!
The alpine escape was the perfect hideaway for our time in Franz Josef. It was warm, dry and cosy and had everything we needed.
The accommodation and location where excellent. Very relaxing
Mar 2023
The accommodation was excellent. Nicely furnished, very clean (felt very new), well equipped. The highlights were milky way views before the clouds rolled in and then the view of the glacier in the morning after the cloud lifted - spectacular (see piccof glacier taken from front deck). Wish we had more time here and sad to leave this little gem.
Super location with a fine Mountain View
Stunning views from this small but beautiful cabin. Spotlessly clean. Can watch the sun set over Franz Josef Glacier from the deck. Very comfortable bed.
Gorgeous rural hideaway!
Oct 2021
Stayed here for one night over Labour weekend. It is set on a rural outlook with views of the mountains. The space was clean, comfortable and spacious. There was a horse in the paddock next door which was galloping around and putting on a show for us. We did not meet the hosts in person but when I contacted them on the phone at arrival they were very helpful. Gorgeous place to stay, would definitely come back.
The only small issue was that kids of the neighbouring property were playing nearby the house when we first arrived and were being quite silly constantly saying hello. This didn't bother us too much as we understand kids just being kids, but could annoy some people.
Great place to spend a few nights in Franz Josef
Apr 2023
Spacious, clean and very comfortable
lovely unit right outside town with a great kitchenette included.
Apr 2023
self-contained unit that was welcoming and easy to use.
WiFi seemed a bit odd as didn't load a lot of common apps.
Why stay at a hotel?
Jul 2021
Secluded and peaceful location. Cozy and modern fitout. Good for stargazing.
Extremely hard to see at night time as there aren't any street lights or down the driveway. Could not locate wifi password anywhere but was able to get a swift response from the property manager. No shampoo.
The views were stunning and very quiet place
Jan 2023
We did not receive check in details and were lucky to have caught the cleaning lady as she was leaving. The bathroom was extremely small and not really any complimentary toiletries. WiFi and TV channels were advertised as a feature, but the WiFi didn't work for the Netflex or TV and our phones.
Wie viel kostet dieser hotel im Vergleich zu anderen in Franz Josef / Waiau?

Der Durchschnittspreis für eine Anmietung in Franz Josef / Waiau beträgt EUR 85 pro Nacht. Diese Miete ist EUR 8 günstiger als der Durchschnitt.
Ist das Parken in diesem hotel inbegriffen?

Ja, das Parken ist als Ausstattungsmerkmal bei Alpine Escape aufgeführt. Für weitere Informationen empfehlen wir Ihnen, sich mit dem Anbieter der Unterkunft in Verbindung zu setzen, um zu erfahren, wo Sie parken können.
Gibt es in diesem hotel einen Pool?

Wir haben keinen Pool gefunden, der als Ausstattungsmerkmal für diesen hotel aufgeführt ist. Es kann sich lohnen, noch einmal zu prüfen, ob ein Pool für Ihren Aufenthalt wichtig ist.
Ist Alpine Escape haustierfreundlich?

Leider ist dieser hotel nicht haustierfreundlich. Versuchen Sie erneut zu suchen und filtern Sie nach "Haustiere erlaubt"
Welche Ausstattungsmerkmale sind bei Alpine Escape verfügbar?

Wir haben 6 Ausstattungsmerkmale für diese Unterkunft gefunden. Dazu gehören klimaanlage, küche/kochnische, internet/wlan, parkplatz und balkon/terrasse.